Kim Lamothe has never been one to rest on her laurels, so to speak. She and fiancé Christopher Moon co-own Greenlion, a garden and floral design company based in Newport, Rhode Island, where she serves as creative director. Named a top floral designer by Martha Stewart Weddings, she's in high demand and maintains a busy schedule making brides' and homeowners' dreams come true.
Over the last several years, Lamothe's added a variety of workshops to her offerings, spurred by a love of helping others discover and enjoy the process of assembling natural decorations from local and foraged materials.
"I took some workshops early on when I was getting going and found them inspiring. Connecting with fellow flower and garden lovers, just the camaraderie of it, was really nice," she remembers. "I wanted to be able to share."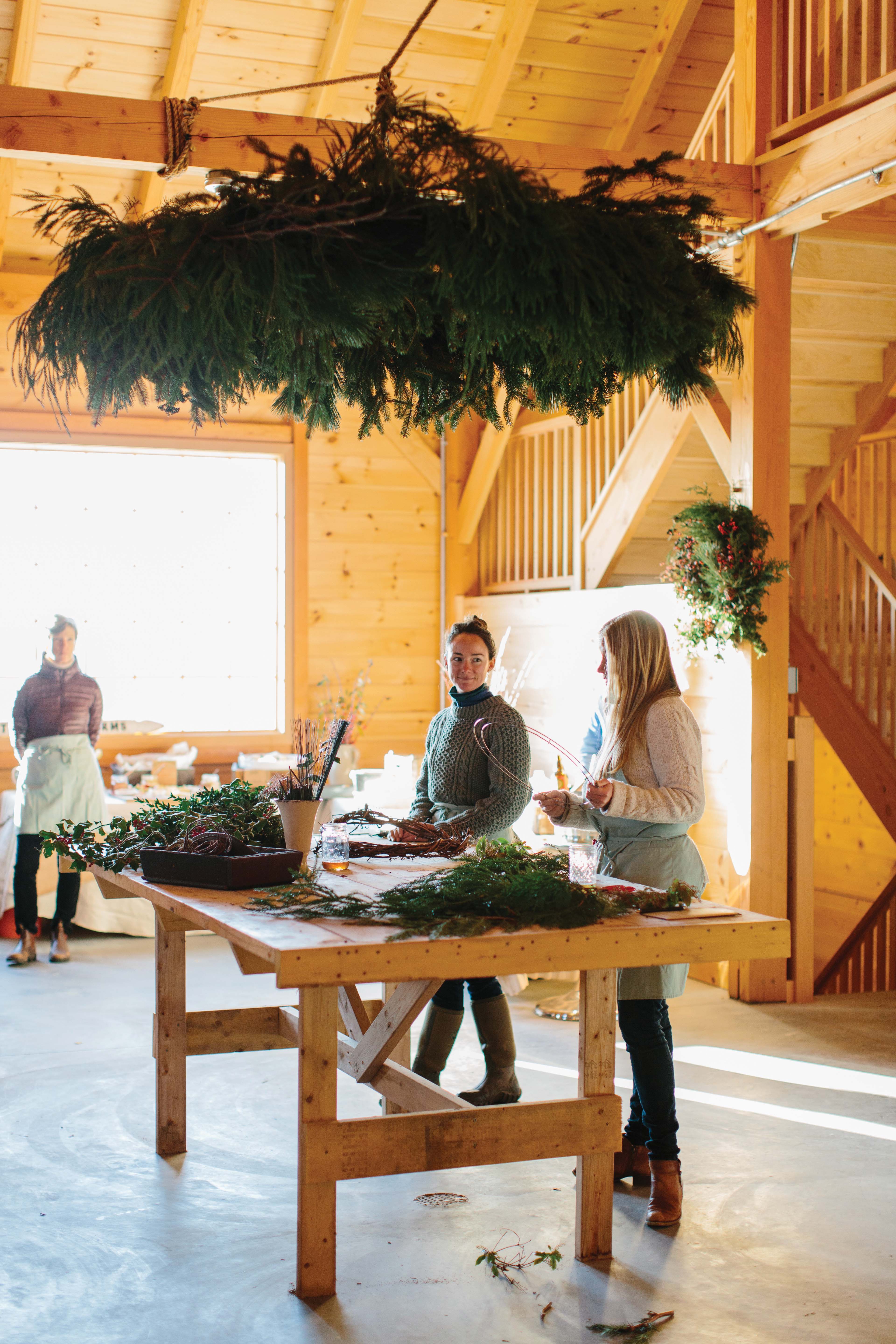 Now she revels in her own students' "aha" moments. Come early December, her workshop of choice is holiday wreaths, when she leads participants in making take-home versions using a variety of materials foraged from Greenlion's private gardens and local natural areas.
One past workshop was held inside the newly constructed event space at Weatherlow Farms in Westport, Mass. The charming barn fits right in among the farm's pastoral views and grazing fields. Weatherlow raises livestock but also produces flowers for event design and wholesale, making it the perfect host for this wreath extravaganza.
Moon set the scene by making an enormous evergreen wreath and suspending it from the ceiling beams. Participants received a hand-dyed apron to take home and were guided in their own creations using materials like pine, fir, southern magnolia, cryptomeria, andromeda, and dried items from Lamothe's garden.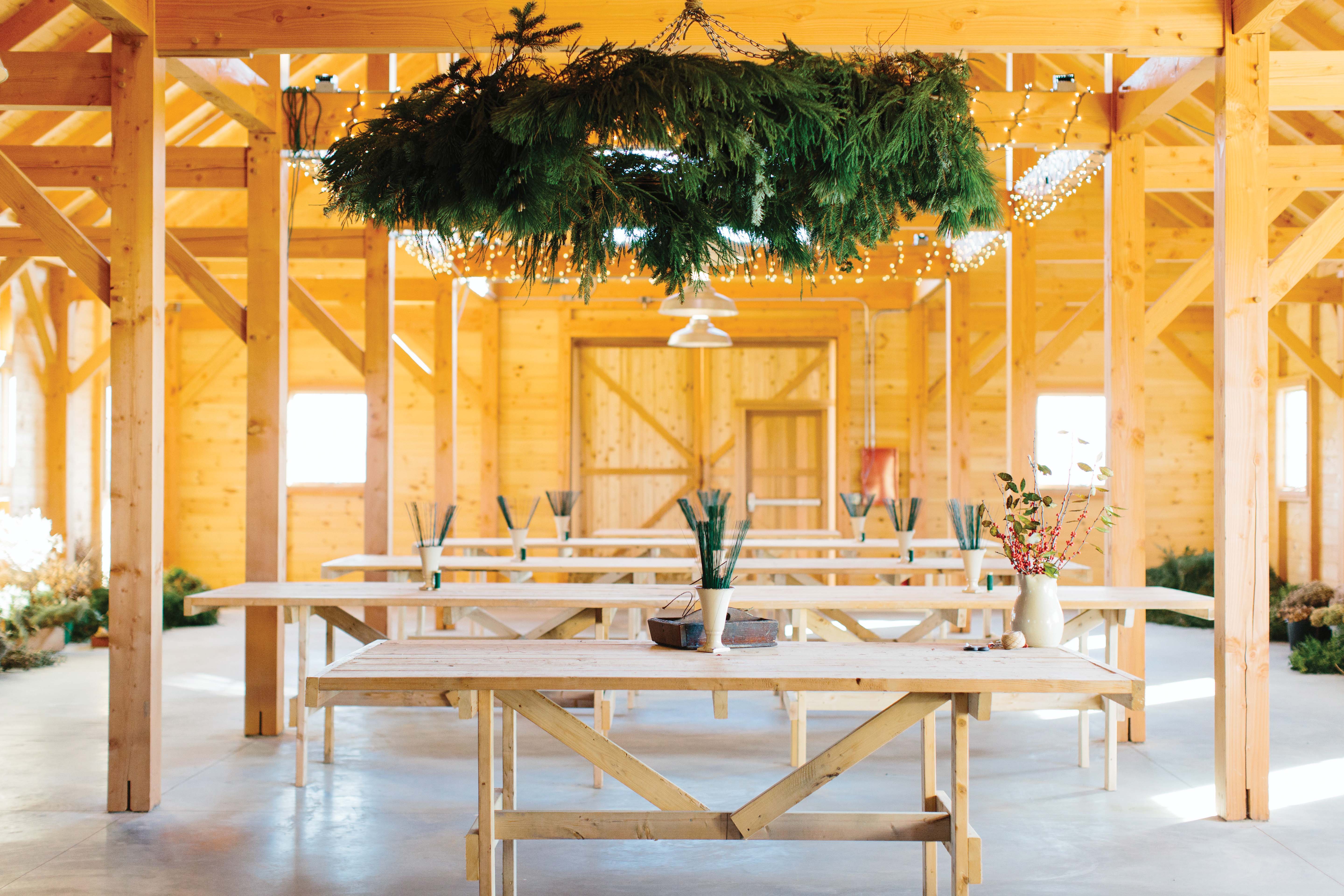 Lamothe started the session with a demonstration and then assisted as wreath-makers used pre-cut wire to shape their chosen vegetation and elements. Weatherlow's floral manager Phoebe Poole was also on hand to lead a tutorial on making wreaths with grapevine. A sociable event, the afternoon included local beer and wine, seasonal bites, laughter, conversation, and, of course, concentration.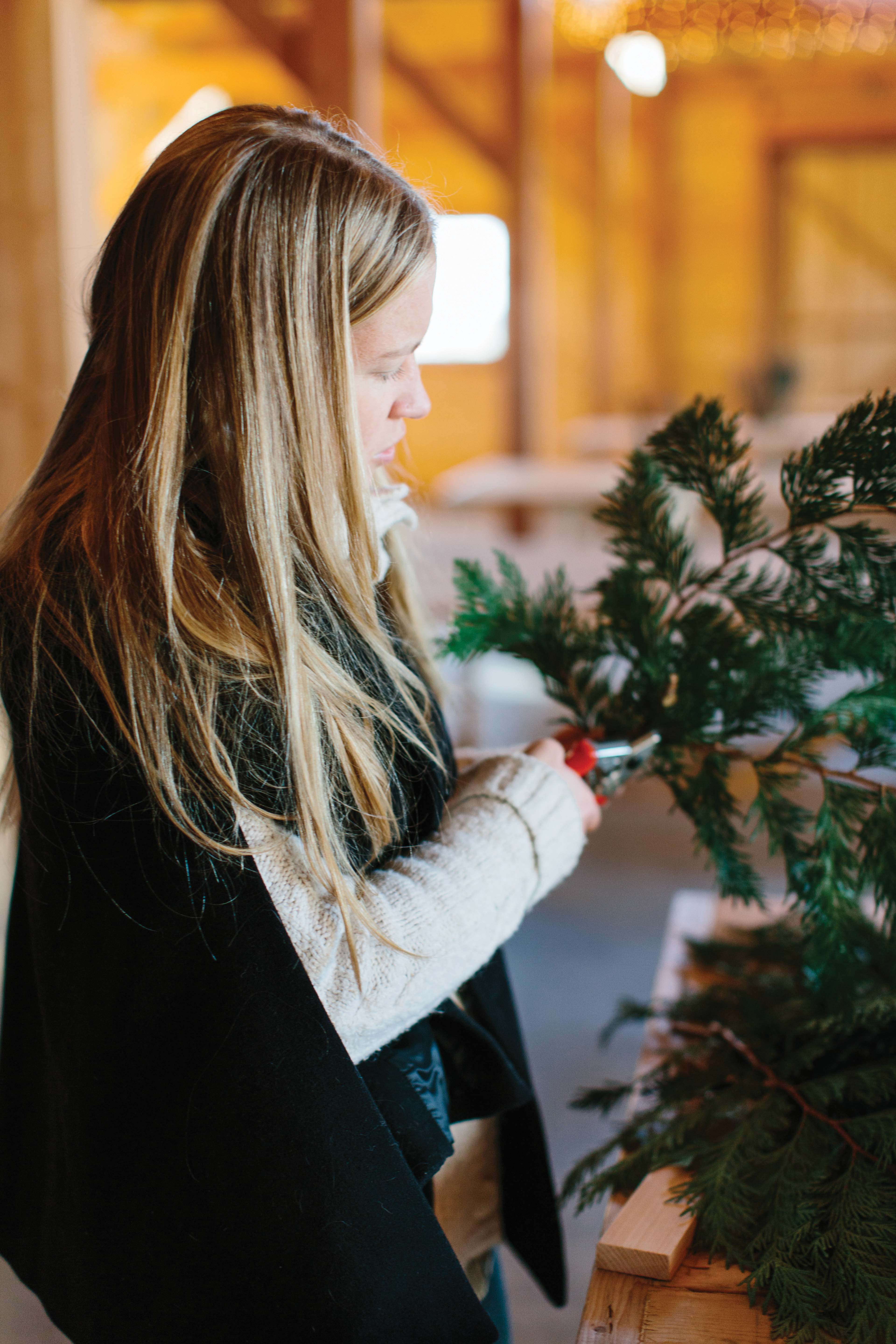 Since the materials used are so fresh—often cut the same week as the workshop—the wreaths last far longer than those sold in shops. (Commercial versions are often made from evergreen boughs cut months earlier and sourced far away, such as in the Pacific Northwest or Canada.) "I didn't take mine down out until March," asserts Lamothe.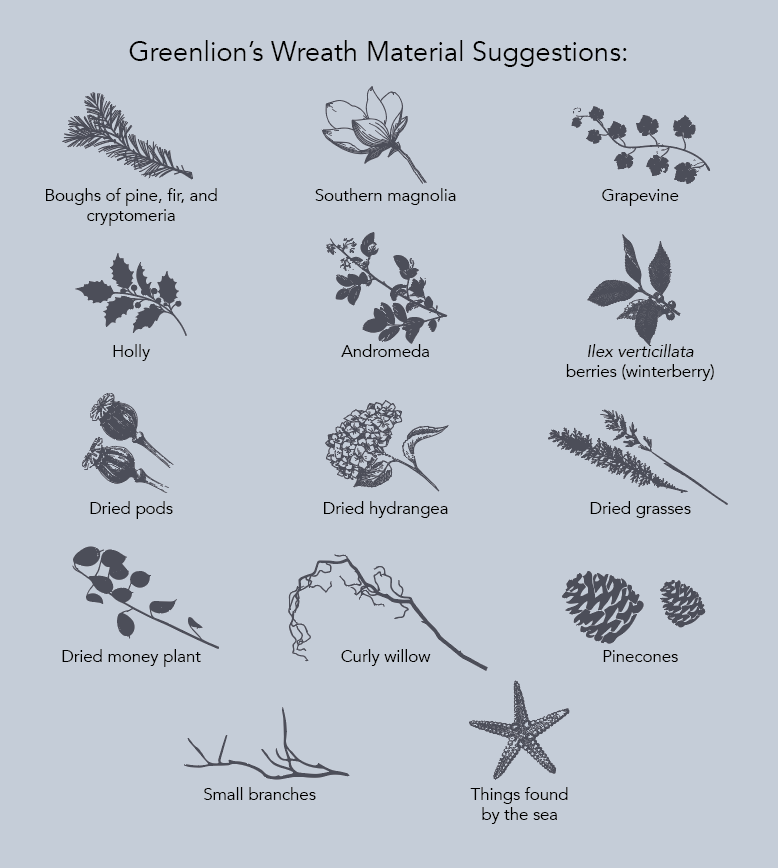 Beyond the Front Door
Lamothe shares her ideas for decorating creatively with wreaths:
Hang an oversized wreath on an upper deck, balcony, or above your garage door using heavy-duty, weightbearing zip ties.
Use ribbons to hang small wreaths inside your windows or from the mantel.
Find unexpected places for miniature wreaths, such as stair rails and interior doors.
Frame a round mirror with a wreath just the right size.
Of course, you don't need to take a workshop to make your own wreath. "I would encourage people to get things from their garden or knock on their neighbor's door and ask if they can take a few limbs of something," Lamothe advises. "There's a plethora of material right at your fingertips that's fresh and local and interesting texturally, but people sometimes don't see it."
Lamothe and Moon wait to trim back the trees in their garden until they're ready to use the branches for wreaths, even if they have to live with evergreen boughs blocking their sunshine.
Those branches will come in handy this year as the entrepreneurial couple plans yet another workshop for fellow foragers-at-heart. The reason this in-demand design firm keeps adding workshops to its calendar? It's an enjoyable experience for those who attend—but also for the professional wreath-makers.
"I actually learn a lot from the workshops; it's fun," Lamothe says. "If people aren't creative or just don't have the opportunity to be creative, in their job or otherwise, then this is the perfect outlet for them."
Greenlion's next wreath workshop will be held Saturday, December 7, at the Quonset Hut in Tiverton, RI. Visit greenliondesign.com for more information. 
By Katherine Gustafson / Photography by Erin McGinn