By Lannan M. O'Brien
Sometimes artwork adds the finishing touch to a renovation. And other times, it's an integral part of the design itself.
When Pierre Matta of Newton Kitchens & Design was contacted by a Lexington couple, he learned they were working with an old, outdated kitchen. Now with adult children and grandchildren, the homeowners decided it was time to elevate its look. "They wanted a lighter, brighter kitchen that was more usable to cook, prep, and clean," said Matta. They also wanted to entertain their guests while they were cooking, Matta adds. "They didn't want guests to feel like they weren't part of the conversation."
The couple requested that a copper dining table, gifted by the husband to his wife for their 25th wedding anniversary, be incorporated into the design. Matta situated the table on the back of an L-shaped island, with interior banquette seating— upholstered in shagreen vinyl, a durable alternative to leather—and modern chairs on the outside.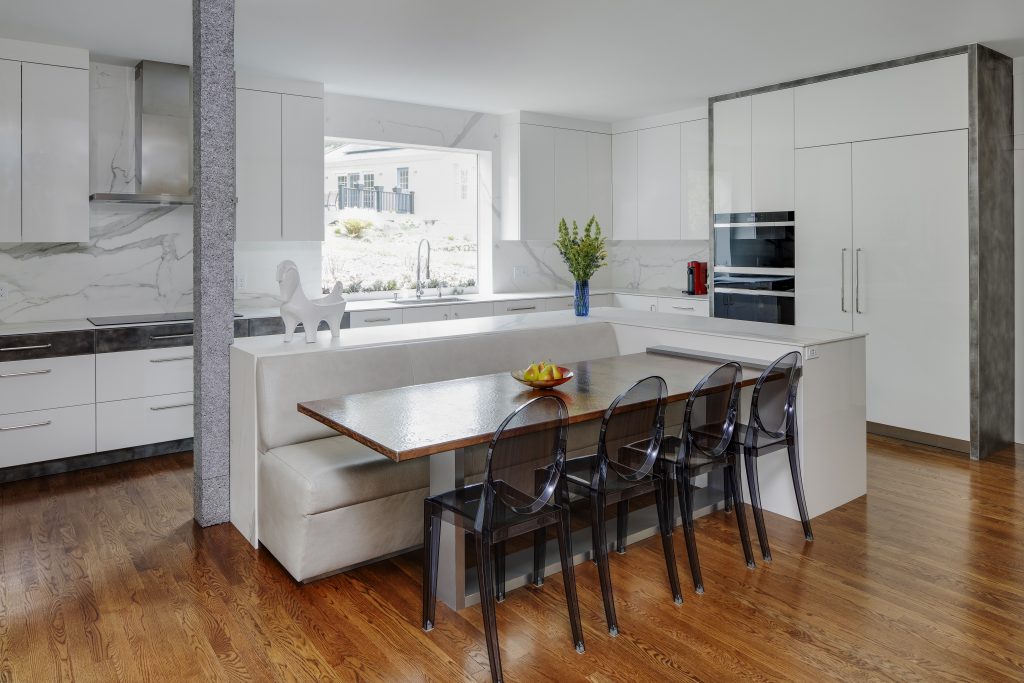 Porcelain countertops, a matching Neolith backsplash, and a large window extending directly to the countertop helped establish a bright, white aesthetic. Outdated appliances were replaced with a sleek Sub-Zero Designer Series refrigerator and Wolf wall ovens and cooktop.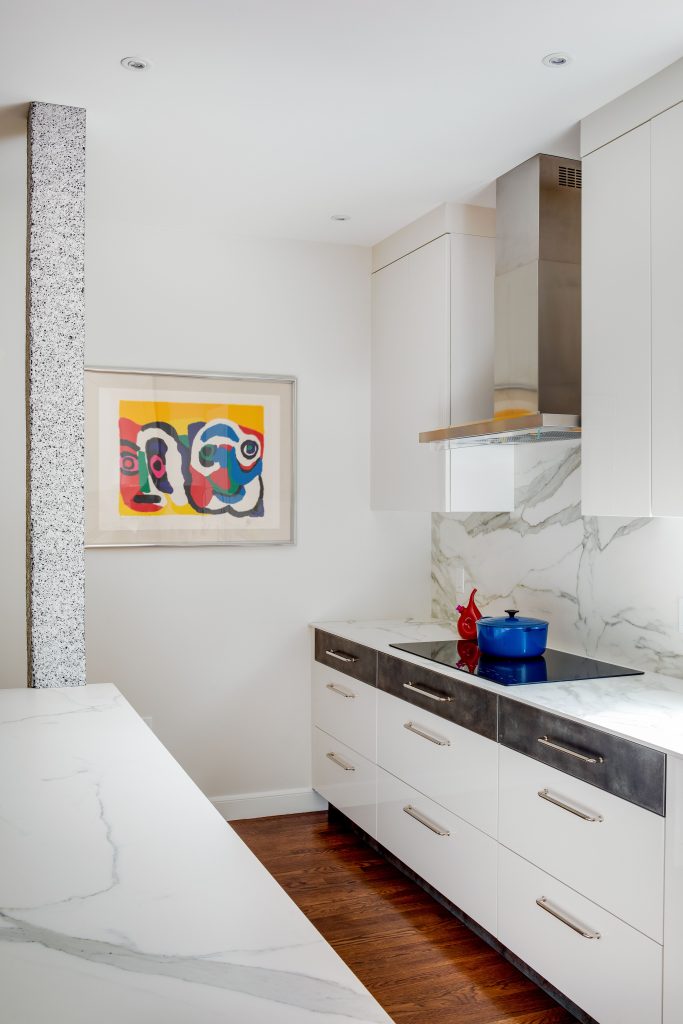 The homeowners needed ample storage, and while they skewed toward contemporary in style, they hoped to avoid a look that was "too modern and cold." To meet both goals, Matta sought the help of a friend, renowned artist Giovanni DeCunto. Working with a Newton Kitchens custom-built, floor-to-ceiling pantry, Matta commissioned the global expressionist to transform the pure white doors into a colorful work of art.
After the pantry doors were removed and the floor and walls of the Needham showroom were plastered, Matta and his clients had the pleasure of watching DeCunto work. "He was blasting music, throwing the paint all over the place," Matta said. Once finished and signed by the artist, the masterpiece was clear-coated. "I said, 'Don't look at it as cabinets with art—it's art.'" Since the doors are handle-less, opening with a push-touch mechanism, Matta notes that if they ever wanted to move, "they could take [the doors] off and display them as art."
Newton Kitchens & Design also renovated the adjacent living room, complete with another work by DeCunto above the fireplace. Matta happened to be there while two of the clients' children were visiting: "Everyone was smiling and so happy to be there. I just felt so good to see something like that, and to know that I helped create it."