A vacation allows you to travel to new places, experience new things and create lasting memories.  But what if your time off from work is limited, or your budget doesn't allow for a weeklong trip to an exotic locale? That's where a staycation comes into play.  Defined as "a holiday taken near home", a staycation can, with a little research and planning, be every bit as enjoyable as a vacation, and at a fraction of the cost.
Massachusetts
If you're a history buff, consider spending the day in the Concord area.  Begin at Walden Pond, where Henry David Thoreau spent two years attempting to "live deliberately".  Visit the reconstructed cabin where Thoreau wrote Walden, enjoy a lazy swim in the pond or enjoy birdsong as you walk along its shores.  At lunchtime, head to Concord center and pick up provisions at The Concord Cheese Shop, purveyor of gourmet foods and wines.  After lunch, visit Minuteman National Historical Park, to see where our ancestors stood and fought for freedom.  Explore the park's Battle Road Trail or stand on the North Bridge, the site of "the shot hear 'round the world".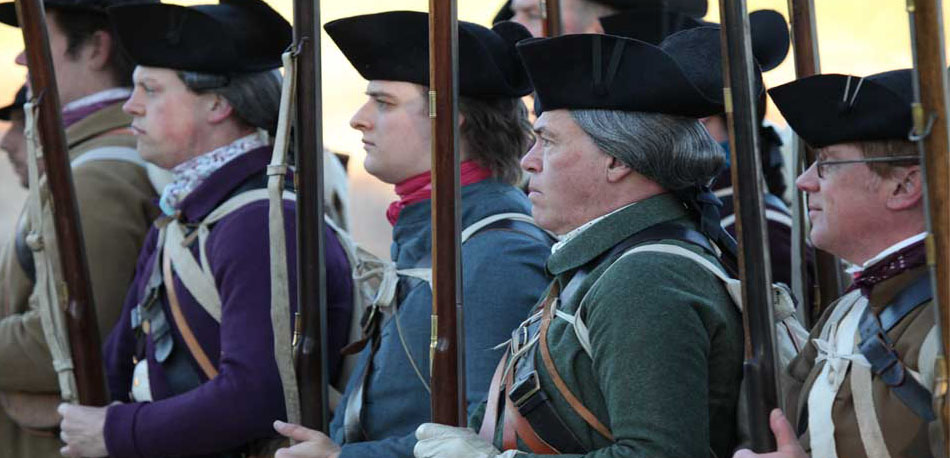 Rhode Island
Destination Providence! Begin with a stroll through the lush grounds of Brown University and enjoy the beautiful, Ivy League campus once home to JFK Jr., Emma Watson and Ted Turner.  Just steps away, as you head towards the river, discover the Rhode Island School of Design Art Museum, which houses over 100,000 pieces of art and design from ancient to modern. For lunch, catch a cab to Fellini Pizzeria, a frequent winner on multiple "best pizza" lists. The variety is mind-boggling; thankfully you can order an assortment of individual slices for those who just can't pick one pie.  Relax and digest as you recline in your very own gondola on the Providence River.  As the sun sets, enjoy Waterfire, a permanent art installation along the river that features 80 bonfires. Who needs Venice?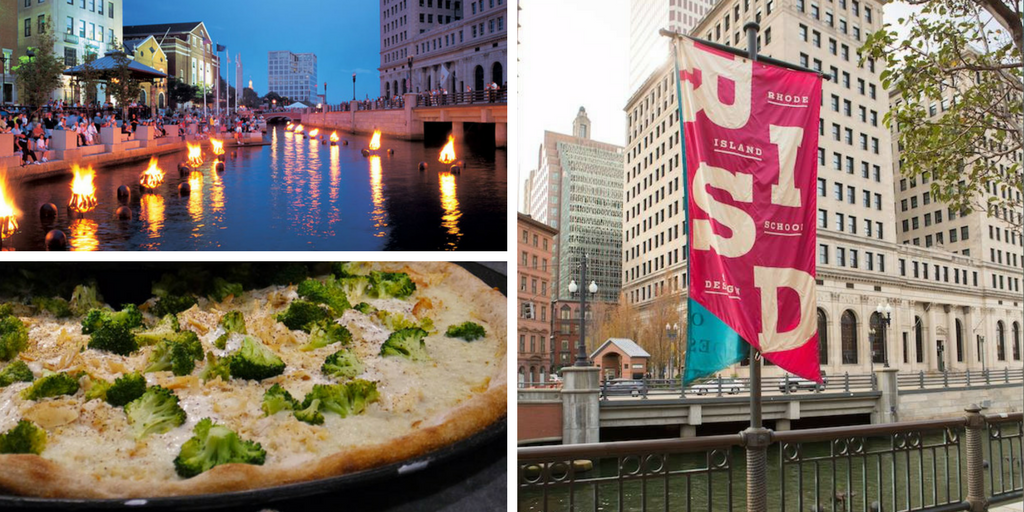 Connecticut
You've dreamed of visiting wine country since that first viewing of "Sideways" but your budget won't support a week in Napa or Sonoma. Luckily there's the Connecticut Wine Trail.  With over 34 wineries located throughout the state, there's bound to be several nearby regardless of your location.  Plan your day by enlisting a designated driver, then visit ctwine.com to plot your journey.  The calendar page lists special events that include live music, wine and chocolate pairings, barbeques and yoga.  Because let's face it, everything is better with a glass of wine…even yoga.  Pick up your Passport to Connecticut Wineries at any winery and see how many stamps you can earn.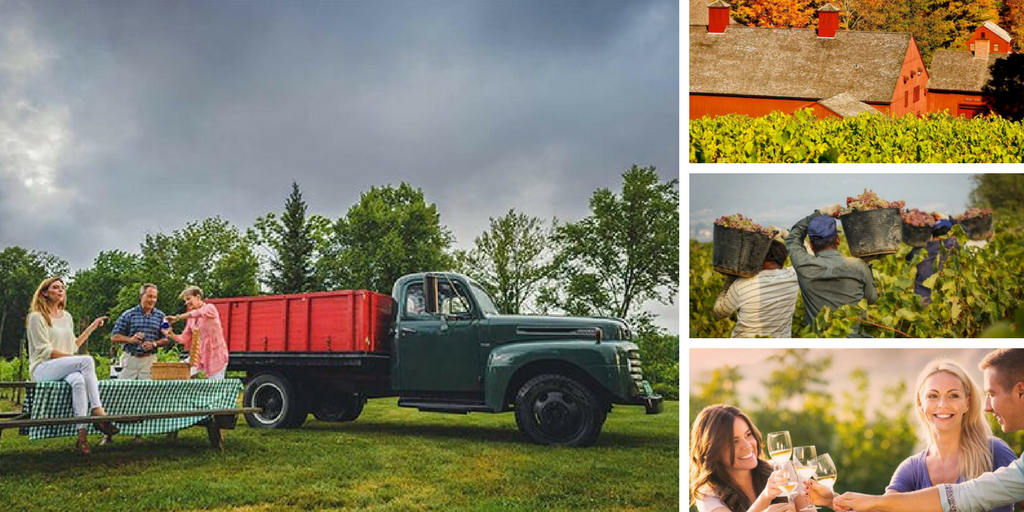 New Hampshire
Can't get enough of the outdoors?  Spend the day at Franconia Notch State Park where you can hike, bike, boat, swim and climb to your heart's content.  Start your day by fueling up with Eggs Benedict or Banana Bread French Toast at the nearby Sunny Day Diner.  Once inside the park, choose from any number of activities. Bike the Franconia Notch Bike Trail to work off your breakfast or rent a canoe or paddle boat at Echo Lake Beach, with stunning views of Mt. Lafayette and Cannon Mountain.  Take a walk through Flume Gorge, a natural gorge extending 800 feet at the base of Mount Liberty.  For those who crave a different point of view, hop on the Cannon Mountain aerial tramway, to the summit and enjoy vistas of New Hampshire, Maine, Vermont, New York and Canada. Before heading home, stop at One Love Brewery for a bite and a brew.  After all, you've earned it.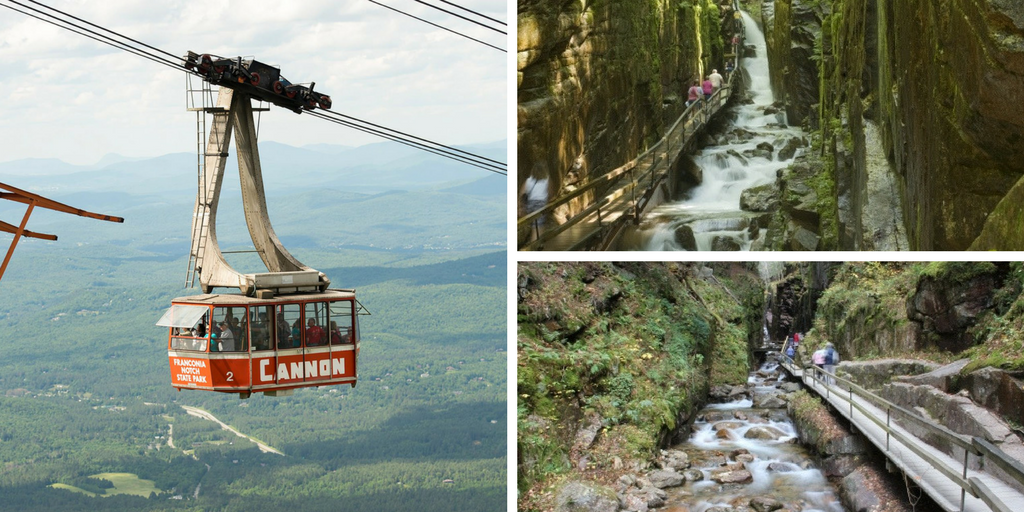 Vermont
Ever look at something and wonder how it's made?  Spend the day learning how some of Vermont's most popular exports are created.  Begin your day in Shelburne at the Vermont Teddy Bear factory, and see where the world's most lovable bears come to life.  Head north to Dakin Farms in South Burlington to learn how Vermont maple syrup, smoked ham, cheese and other specialty foods are made.  From there it's just a short trip over to Lake Champlain Chocolates, world-renowned chocolatiers.  Take the weekday tour, which features sweet samples at tour's end, or stop by for one of their free weekend chocolate tastings.  Finish out the day at Magic Hat Brewery, which brews over 175,000 barrels of beer each year.  Enjoy a pint of their #9 Not Quite Pale Ale or their Blind Faith IPA.  The brewery now serves food so grab a Reuben with your suds before you head home.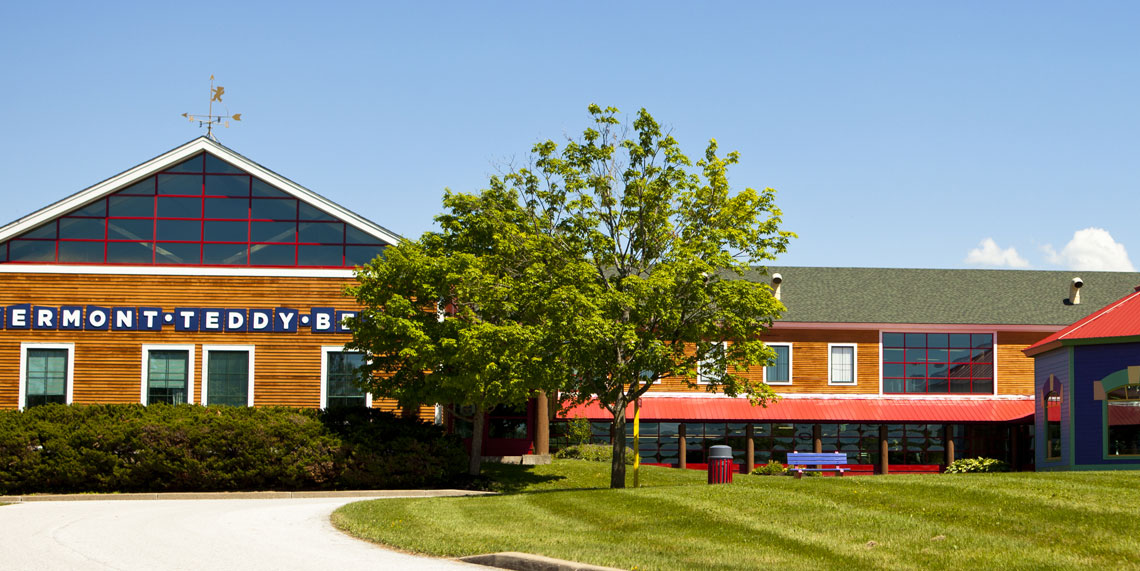 Maine
When former President George H.W. Bush wasn't busy running the free world he was relaxing in one of Maine's most charming coastal towns: Kennebunkport.  Start your day with a peaceful kayak ride.  Bring your own or rent one from Coastal Maine Kayak, which offers tours of the Kennebunk River, Coastal Porpoise Lighthouse and the Mousam River Estuary.  Once you've paddled up an appetite, dive into a decadent lobster roll from The Clam Shack, Port Lobster or Mabel's.  Take your roll to go and head to the sparkling sands of Goose Rock's Beach, located in the Kennebunkport Conservation Trust.  Dig your toes in the sand as you watch harbor seals frolicking offshore. Before you leave town stop by Auntie's House in Kennebunk for one of their famous Whoopie Pies, the Maine state treat.