Shopping can be exhilarating and exhausting, especially in Freeport, Maine, where the opportunities to quench your browsing (and purchasing) thirst are virtually endless. So, after a day of searching for bargains at L.L. Bean's flagship store, along with name-brand outlets such as Calvin Klein, Brooks Brothers, Nike, Nordica, Old Navy and Talbots (there are more than 170 factory outlet stores in Freeport), what could be better than checking in to the new L.L. Bean Guest House at the Harraseeket Inn?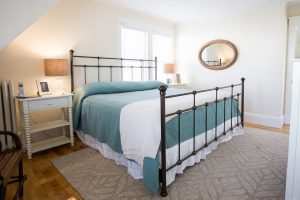 Located only two blocks from the L.L. Bean store, the inn is a family-owned property that provides the ideal base for a weekend shopping excursion, a family vacation or a romantic getaway.
The new L.L. Bean Guest House will almost make you feel like you've never left the main store, except that is, for the lack of crowds and the peaceful, cozy surroundings. The recently restored historic home is beautifully furnished with outdoor-inspired artwork, classic American-made furniture and luxurious linens courtesy of L.L. Bean. The three-bedroom cottage features a wood-burning fireplace and sunporch for the ultimate experience in relaxation. The cottage sleeps up to nine, which is a great number should you decide on a game night on the outdoor deck.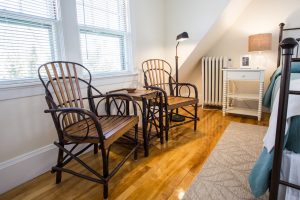 And there's no need to venture far if you choose to dine out. The inn has two award-winning restaurants: The upscale Maine Harvest Restaurant and the more casual Broad Arrow Tavern, both set against a backdrop of dazzling grounds and gardens.
So, shop Freeport 'til you drop, and then rejuvenate in the best possible way in a historic and inspirational cottage.