Discover Southern New England's to wineries by following the Coastal Wine Trail
Written by Laura Kanzler
I fell in love with New England for many reasons, one of which occurred over a glass of Westport Rivers' sparkling wine. Located down a rolling drive off Route 88 in Westport, Mass., Westport Rivers Vineyard and Winery is surrounded by 80 acres of fields, farmland and row upon row of grape vines. It's a peaceful oasis where wine growing meets wine making for the purpose of wine enjoying.
Owned and operated by the Russell family since 1982, Westport Rivers specializes in aromatic, crisp vinifera wine. Besides its table and aperitif wines, including a popular Chardonnay and an in-demand Pinot Noir Rosé, Westport's Méthode Champenoise sparklers have garnered numerous accolades and have even been requested for presidential tastings.
"Visitors learn about our land, our passion for our farm and how that passion comes out in particular grapes and particular vintages," says President Rob Russell.
HITTING THE TRAIL
The good news for vino enthusiasts like myself is that a trip to Westport marks the beginning of a more comprehensive wine appreciation experience. The Russells' off-the-beaten-path winery is just one stop along the Coastal Wine Trail, a network of nine independently owned wineries stretching from Westerly, Rhode Island, to Truro, Mass.
The "trail" has no official start or end and there are no rules. It can be experienced in its entirety in two to three days or savored at a more leisurely pace. Whether you visit just a few or frequent all nine destinations, you've satisfied the program's mission: enjoyment of the region's unique, vibrant viticulture.
Regardless of speed, visitors are rewarded for their travels by the Passport program, whereby each visited winery equals a passport stamp. At the end of a calendar year, completed passports can be entered into a drawing that boasts prizes ranging from getaways to gift certificates (prize values increase with the number of stamps; visit coastalwinetrail.com to learn more).
A LITTLE HISTORY
The Coastal Wine Trail winds through the heart of the Southeastern New England American Viticultural Area (AVA). AVAs, also known as appellations, are federally recognized growing regions scattered throughout the nation. Used in marketing and labeling, they describe a wine's geographic pedigree.
The Southeastern New England AVA's boundaries never venture farther than 15 miles inland from shore. This proximity to the Atlantic Ocean moderates seasonal and daily temperature extremes; plus the region's south-facing coastline captures the warm Gulf Stream waters in summer and fall. The overall climate is suitable for cold-hardy vinifera varieties, such as Chardonnay, Pinot Noir and Riesling, as well as French hybrids, including Seyval and Vidal Blanc. It is a cool grape-growing region with most wineries concentrating on white and sparkling wines.
Westport Rivers is one of the trail's founding members. "In the early nineties, five wineries formed a nonprofit called The Coastal Wineries of Southeastern New England," explains Russell. "As part of its mission to promote the appellation, the nonprofit participated in a collaborative study with UMass Dartmouth, and the Coastal Wine Trail resulted as one of the study's marketing ventures.
"Our hope is that visitors place more value on visiting several wineries during a day trip rather than only one," he adds.
STOP, SEE & TASTE
On a warm summer afternoon, I visited with Maggie Harnett, events and tasting room manager at Greenvale Vineyards, a historic farm in Portsmouth, Rhode Island. We chatted while watching the neighborhood dog greet visitors and meander through the ripening vines.
"We're unique in that we grow all of our fruit onsite and make our wines specifically from that," shares Harnett. Although Greenvale's winery is not on the property, visitors can tour the grape fields and experience the climate, the soil and the landscape firsthand. "It paints a more complete picture of where our wine comes from and how it is made," she adds.
Surprisingly, the trail also winds through the cobblestone streets of New Bedford, Mass. Travessia Urban Winery is nestled in the city's historic downtown, amidst shops, galleries and restaurants, just a few blocks from the working harbor. Owner and winemaker Marco Montez specifically chose New Bedford for its urban environment, noting that, historically, winemaking centered in village centers, with disparate parcels of grapes brought in to make wine.
"You have to be a little crazy to start a winery, and I am! It's a lot of work and a big investment," laughs Montez, who originally hails from a small village in Portugal. His childhood was steeped in winemaking traditions: he spent season after season harvesting and stomping grapes with his family in order to make artisan wines. Even in the U.S., he remained connected to the world of winemaking and, in 2007, left the corporate world to become a winemaker at Running Brook Vineyards in N. Dartmouth, Mass. (also part of the Coastal Wine Trail).
One year later, he took the plunge and opened the micro-winery Travessia, where he makes, largely by hand, delicious wines, including Chardonnay, Pinot Grigio, Vidal Blanc and Pinot Noir, in small lots with primarily Mass.-grown grapes. With maroon walls, a high industrial ceiling and a solid wood bar, the tasting room is warm and intimate, with approximately five Travessia wines for sampling or sale at any one time.
All in all, each winery along the Coastal Wine Trail is unique—some harvest their own grapes; others house only production facilities. But all invite the leisurely exploration of vintages with tasting rooms; guided tours are usually a possibility as well. And best of all, your favorite labels can be transported home by the bottle or case for future enjoyment.
FOLLOW THE TRAIL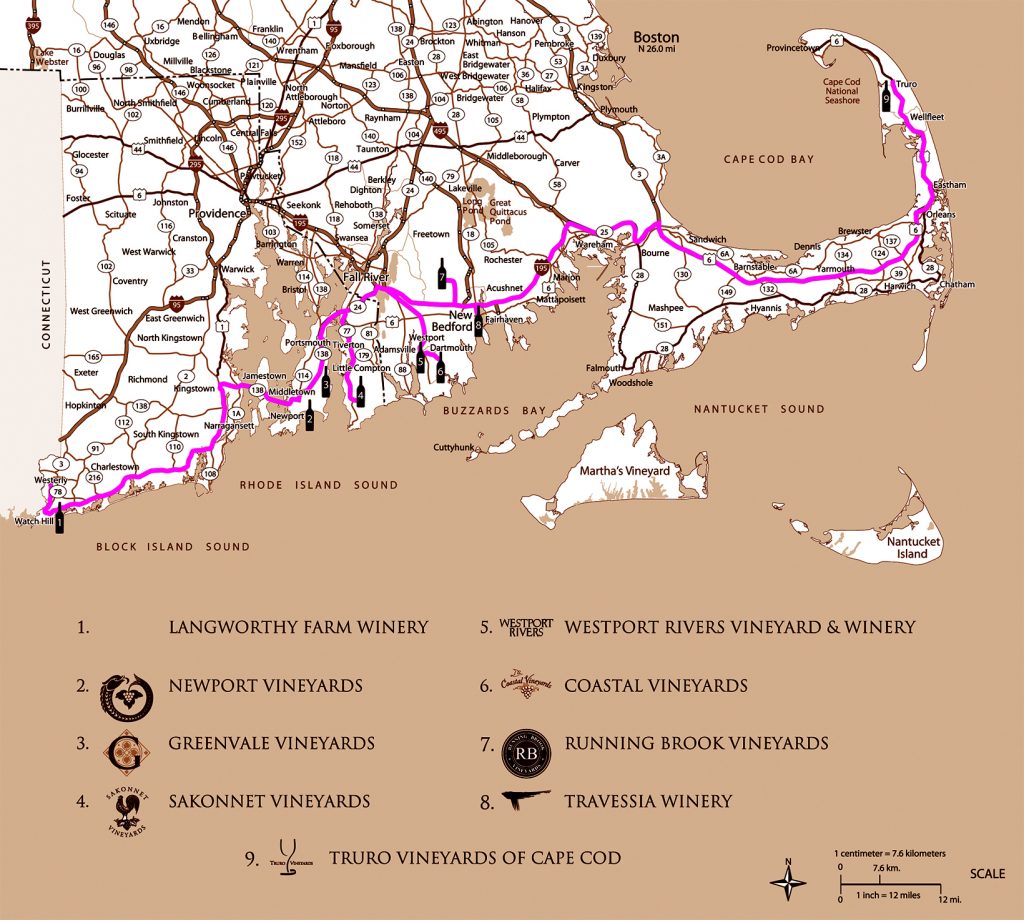 Before visiting, check each winery's individual website for hours, tastings, tours and special events. For more information, visit coastalwinetrail.com.
Langworthy Farm Winery
308 Shore Road; Westerly, RI(Route 1A)
401-322-7791
langworthyfarm.com
Greenvale Vineyards
582 Wapping Road; Portsmouth, RI
401-847-3777
greenvale.com
Carolyn's Sakonnet Vineyard
162 West Main Road; Little Compton, RI
401-635-8486
sakonnetwine.com
Westport Rivers Vineyard & Winery
417 Hix Bridge Road; Westport, MA
508-636-3423
westportrivers.com