In New England Living magazine, the companion publication to New England Living TV, writer Kelly Chase shared info on great places to stay and dine, and fun things to do, in six particularly charming downtown areas in New England. With our April 23rd episode focused on Camden, ME we thought we'd share Kelly picks for the coastal town.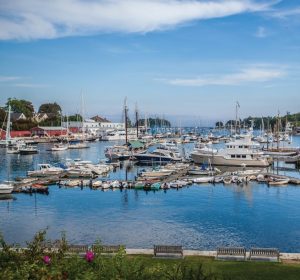 Whatever season you decide to explore this mid-coast town, you'll be swept away by its natural beauty and enjoy fine local food. Camden is one of only two places on the East Coast where the mountains meet the sea. Arrive by boat to the harbor and see how tree-covered Camden Hills State Park rises above town. The view from the top of these mountains looks over island-studded Penobscot Bay. But you'll probably be traveling by car, and if you're coming from the south, you'll arrive in downtown Camden via Elm Street, where you'll pass Long Grain, a cherished Thai-inspired restaurant, where there's usually a crowd, but the curries and stir fries make it worth waiting for a table.
In Camden, there are shops to pop into year-round. Swans Island Company has an exceptional collection of wool blankets, scarves and hats handwoven by Maine artisans. Just off Main Street, the Goose River Exchange offers a curated a collection of vintage books, posters and photography. Nearby Francine Bistro is a romantic sight as it glows from the street with twinkling lights. James Beard-nominated chef Brian Hill creates French cuisine using seasonal ingredients (share the poutine—fries, gravy, cheese and no regrets).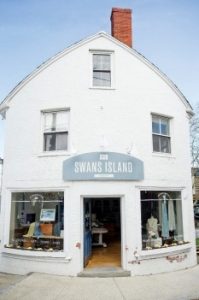 The Drouthy Bear is a cozy, naturally lit pub with wood stoves that make it an ideal pit stop on a winter afternoon. If you're craving a craft cocktail, try 40Paper, which has a modern bar and drinks like Viva Negroni made with mezcal, Campari, and Cocchi Torino Sweet Vermouth. The kitchen cranks out traditional Italian plates. Up the way, a Relais & Chateaux experience awaits at the Camden Harbour Inn; the inn's restaurant, Natalie's, has a rotating tasting menu for a dinner to remember. In the winter, the town has the Camden Snow Bowl and the U.S. National Toboggan Championships, in the fall there's Camden International Film Festival, and in summer there are sunsets on schooners and camping in Camden Hills.