The sun on your shoulders, the breeze in your hair and the quiet "tick tick tick" of the spokes beneath you; what better way to leave worries and cares behind than seated on a bicycle?  Whether you ride for exercise, to commune with nature or just for the sheer pleasure of experiencing the world around you, there is a bike path waiting for you to explore.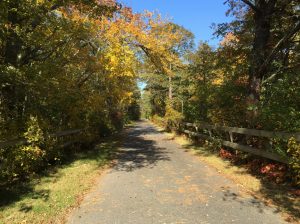 Massachusetts – Cape Cod Rail Trail
The Cape Cod Rail Trail is a 22-mile paved path between Dennis and Wellfleet, that features ever-changing views of forests, salt marshes, cranberry bogs, coastal towns and sandy beaches. No bike?  No problem.  Visit Barb's Bike Shop at the trailhead in South Dennis and gear up with a rental bike. Midway down the trail you'll find Nickerson State Park, offering restrooms, camping, swimming pools, hiking and biking trails, and picnic areas.  There are many great places to eat along the trail but The Hole-in-One in Orleans is a favorite, featuring hand cut donuts and homemade corned beef hash.  Learn about the Cape Cod National Seashore when you stop into the Salt Pond Visitor Center at mile 16. At trail's end in Wellfleet, take a short ride down Lecount Hollow Road to Maguire Landing Beach, where you can refresh your tired feet before heading home.
Rhode Island – East Bay Bike Path

If city vistas are more your thing, take a spin down the East Bay Bike path, one of the most popular paths in Rhode Island.  The path runs 14.5 miles from India Point Park in Providence to Independence Park in Bristol.  Begin with panoramic views of the Providence skyline then enjoy more rural scenery as you bike through salt marshes and ponds in Barrington and Bristol.  Hop off the path in Riverside and take a ride on the Crescent Park Carousel, a masterpiece of wooden sculpture built in 1895.  When your blood sugar gets low, stop into the Vienna Bakery in Barrington for a sweet snack. Once you breeze into Bristol, visit the McIntosh Wildlife Refuge and Audubon Society, complete with meadows, an orchard, a cornfield and a butterfly garden.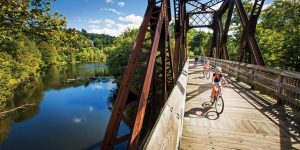 Connecticut – Farmington River Trail
The Farmington River Trail is an 18.2-mile loop that branches off from the larger Farmington Canal Heritage Trail.  The Farmington River is one of just two National Scenic Waterways in the state, affording cyclists some truly spectacular views of forests, rapids, ponds, waterfalls and even a few old mill buildings.  The forests provide plenty of shade; a welcome respite for cyclists on hot summer days.  Treat yourself to lunch at the LaSalle Market & Deli while passing through Collinsville, or poke your head into the On the Road Bookshop in Canton.
Vermont – Island Line Rail Trail
The Island Line Rail Trail is a spectacular 14-mile trail that snakes along the waterfront in hip, artsy Burlington, affording cyclists some truly breathtaking views of Lake Champlain and the Adirondack mountains. A unique feature of the trail is the Colchester Causeway, a 4-mile stretch that gives riders the sensation of bicycling on water. The trail also includes the Winooski River Bridge, a 2,500-foot elevated boardwalk as well as a ride on a unique bike ferry.  With a thriving arts and music community, there's plenty to do in Burlington. Church Street Marketplace is the downtown pedestrian mall offering an eclectic mix of shops, restaurants and nightlife.  Fuel up for your ride at The Skinny Pancake, a charming creperie on the banks of Lake Champlain committed to serving delicious, healthy meals from locally sourced ingredients. Give your wheels a rest and head out on the lake in a sailboat, paddleboard or kayak from the Lake Champlain Community Sailing Center.
New Hampshire – Franconia Notch Recreation Path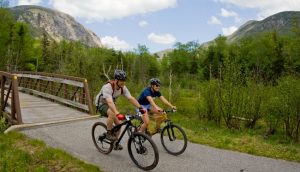 Located within Franconia Notch State Park, this path takes cyclists on an awe-inspiring, nine-mile odyssey of the park's most beautiful sites. Pack your bathing suit and take a dip in Echo Lake or The Basin.  Trek the walkway at Flume Gorge and pay your respects to the Old Man of the Mountain site. The trail is perfect for beginners and can be accessed from multiple parking lots, so cyclists can choose the length of their ride.  The park also offers fly-fishing, rock climbing and an aerial tramway.
Maine – Eastern Trail
The Eastern Trail is a 24-mile, off-road path that is part of the larger 65-mile East Coast Greenway. Begin your journey at picturesque Bug Light Park in South Portland, where the quaint Portland Breakwater Lighthouse stands guard.  Here you can see sailboats, tankers and ferries chugging in and out of the harbor. You'll pass the Casco Bridge that spans the Fore River, connecting laid-back South Portland to its busy neighbor to the north.  A portion of the trail winds through Scarborough Marsh where riders can view an impressive assortment of birds and other wildlife.  The trail continues through Saco and ends in Kennebunk.  When you return to South Portland, reward yourself with a freshly baked treat or an iced coffee at Scratch Baking Company.
Top photo by Jennifer Kain DeFoe.