The waterfront home featured in the York, ME episode of New England Living TV sits on the banks of the York River. A major renovation of the historic house was completed prior to its current owners, Kara and Mike, purchasing it two years ago.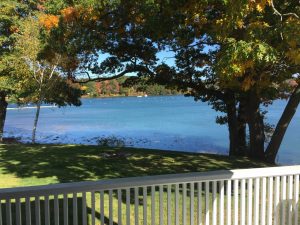 Kara, a Grammy-nominated singer/songwriter, and Mike, a former art teacher turned general contractor, have created an inviting atmosphere that effortlessly pairs modern art with family heirlooms. A large, abstract photograph from German fine art photographer Wolfgang Tillmans is positioned alongside antique portraits of Kara's family and Mike's own contemporary paintings. It is a striking blend of contrasts that works beautifully.
The renovation, done by Brian Sleeper, founder and president of Period Design Restoration, opened up what had been a series of small rooms. The back, river-facing side of the home now features an open floor plan where Kara has created a sense of intimate rooms with thoughtfully arranged furnishings. With casual, overstuffed upholstered pieces sprinkled throughout the space, and the playthings of the couple's children, Elora and Greyson, tucked into corners here and there, nothing about the home feels formal. This is a home that's meant to be lived in; to be enjoyed.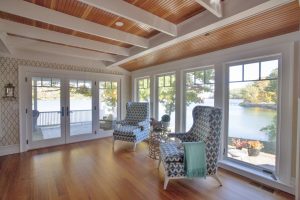 "Nothing feels fussy, but it's so elegant," is how Host Parker Kelley describes the home as she enters it.
After spending time touring Kara and Mike's home, and checking out Mike's "office" – the family's boat, the Elora Greyson, tied up at their dock – Parker heads to Earth at Hidden Pond, a favorite restaurant of the homeowners located in nearby Kennebunkport. While there, she and Chef/Owner Justin Walker harvest fresh produce from the restaurant's own gardens which will be used to prepare dinner for Kara and Mike, and a group of friends, that evening.
As the sun sets on the brilliant autumn day, Kara and Mike welcome friends into their home to enjoy a feast of fresh, locally-sourced food prepared by Chef Justin and his team, and a glass of wine – or two.
This is New England Living.
Please join us on WBZ | CBS Boston on Sunday, April 16th at 11:30 a.m. for the York episode of New England Living TV.