Boston's Seaport District, once a relatively sedate area that offered a handful of upscale restaurants but little else, has become one of the hippest, most popular neighborhoods in the city. From trendy retail shops and lively bars to museums and music, the Seaport District has it all.
Here are our 6 Picks of things to do:
Institute of Contemporary Art, 25 Harbor Shore Drive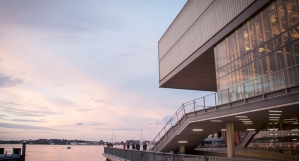 The ICA is located on the water and always features a multitude of intriguing exhibits, music, films, tours and family activities. Concerts are held on the outdoor patio in the summer, and even when it's a bit chilly there are inside performances and films worth checking out. DJ dance parties are on tap every Friday from July 14 to Aug. 25, while British pop and soul singer Olivia Swann brings big vocals and expressive lyrics on July 6.
Row 34, 383 Congress Street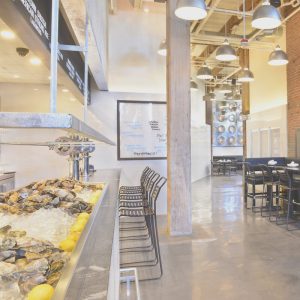 It has been said that the Seaport neighborhood has more than four restaurants for every residential home, so there is no shortage of dining options. But Row 34 is one of the best choices, especially if you love fresh seafood and shellfish. Their slogan reads "If we could eat oysters and drink beer for every meal, we probably would." And they walk the walk. This stylish brick-and-wood restaurant offers more than 15 types of raw oysters, along with roasted monkfish, pan-seared striped bass, oyster Po-boys and warm buttered lobster rolls. Check out the side dish of brown butter cauliflower with anchovy and fried bread. Wash your meal down with one of their numerous craft brews and you're living life.
Boston Harbor Cruise, 1 Long Wharf
The Seaport's inner and outer harbors are beautiful and legendary. During 90-minute tours you will be regaled with stories of the Revolutionary War and local legends of the sea. You could also journey out to Stellwagen Bank Marine Sanctuary for a whale watch, where you might also glimpse dolphins, sea birds and other marine creatures. For something more heart-stopping, take a ride on Codzilla, a 70-foot boat with two turbo-charged diesel engines and 2,800 horsepower that spins on a dime and will leave you breathless with thrilling 360-degree turns as it blasts across the water at 40 mph. Finally, end the day with a romantic sunset cruise that provides spectacular views of Boston's skyline.
Lucky's Lounge, 355 Congress Street & The Whiskey Priest, 150 Northern Avenue
It's impossible to limit yourself to just one bar in such a happening neighborhood. After all, you're there to let loose, right? Lucky's Lounge has been voted the "Best Neighborhood Bar" by the Improper Bostonian. This Sinatra-themed bar will send you down memory lane with retro cocktails as the Rat Pack comes to life. At The Whiskey Priest, you'll be transported to Ireland with pints of Guinness, Gaelic sliders and the Blarney Burger, which can all be enjoyed from a waterside rooftop deck. Both bars feature nightly live music.
Harpoon Brewery & Beer Hall, 306 Northern Avenue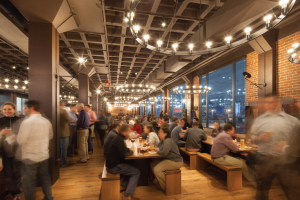 Take a guided tour and taste ales brewed on site, while chowing down on homemade pretzels baked with Harpoon beer and sprinkled with malted barley. And don't forget the dipping sauces for the pretzels, such as ale mustard, bacon ranch, mango-berry sriracha and peanut butter whip. At the end of your visit, be sure to take home your favorite brew in a 64-ounce collectible growler.
7 Tide, 7 Tide Street
When you step into the 7 Tide showroom, you are likely to feel immediate inspiration. Artfully arranged kitchens, outfitted with Sub-Zero and Wolf appliances, and the Marvin Inspiration Center offer a tactile design adventure, providing an experience that brings your vision to life. The structure was built in 1943 and is adjacent to Boston's Dry Dock #3, which was the only dry dock in New England large enough to accommodate Cunard's Queen Elizabeth 2 when it ran aground in 1992. Look up at the ceilings and you'll see massive Douglas Fir timbers crafted from trees that are no longer found on the planet. A jam-packed event schedule featuring designs stars from the region and around the country, including a recent visit from Rachel Ray, make regular visits to 7 Tide an absolute must.