Over thirty years after he lived in Back Bay, the inimitable designer returns to work in Boston and goes beyond, to the Berkshires.
By Jaci Conry
After graduating from college in the late 1980s, Ken Fulk moved to Boston where he lived in apartment on 208 Commonwealth Avenue. He worked in marketing—a job he hated, but his apartment was pretty fabulous. "It was definitely beyond my means at the time," recalls Fulk. He was captivated by the view from that parlor unit: his windows looked out at the leafy Commonwealth Mall and across the way to The Algonquin Club, the regal Beaux Arts McKim, Mead & White-designed building of Boston's old-guard elite social club.
"I'd watch the folks coming and going from The Algonquin. I was always a little bit fascinated by the activity over there," recalls Fulk, who delighted in many aspects of Boston back then, especially the city's historic architecture.
Yet he wasn't destined to remain Boston. He made many friends here and met his future husband in a local laundromat, but he moved to San Francisco after a couple of years. "At the time, I felt like an alien, like I was always looking out the window. I needed to go somewhere I could be free to invent myself and I couldn't do that at the time in Boston," says Fulk.
By the mid-1990s, Fulk had found his calling and was well on his way to establishing himself as the extraordinary hospitality and residential designer he is today. With no formal training, Fulk has an innate, utterly unrivaled design sensibility. He is propelled to create experiences for his clients with layered interiors that exude a sense of glamour and magic. A captivating blend of custom elements, antiquities, high-caliber art, and modern whimsy, Fulk's multifarious projects manifest mystique and maximalism and history. Simply put: his spaces never disappoint.
While Fulk's 100-person business is based on the West Coast, he spends nearly half of his time on Cape Cod, at his home in Provincetown. As such, it's not too surprising that he'd find himself working in Boston at some point. The twist, however, is that three decades after he observed the activity at The Algonquin Club from his apartment windows, he was tasked with setting the aesthetic for a new club—The 'Quin House—housed in the storied stone building.
Transforming the six-story Gilded Age masterpiece was a $50 million overhaul. While the 1888 building had been built to be a social club, there was much work to be done to make it stylistically relevant. The goal was to honor the character of the stately structure—think ornate hand-carved ceilings, onyx columns, herringbone floors, mahogany paneled walls—while creating a vibe that suited a 21st century club with a diversely aged membership of innovators, thought leaders, creatives, and entrepreneurs. Fulk's approach was to reference American styles through the 20th century, "so the design felt evolved over time and would retain a sense of history and gravitas," he says. Elements of Art Deco, Arts and Crafts, and Midcentury Modernism are tied together with a streamlined palette of colors and materials throughout the 56,000-square-foot space.
While immersed in the planning stages of The Quin, Fulk was given the chance to design a space in another iconic Boston building: the restaurant at The Newbury, the new hotel at the former Ritz.  Built in 1927 as one of the first Ritz Hotels in the U.S., Fulk recalls: "When I lived in the city, the old Ritz really represented posh Boston. Having drinks there with a band playing, it really seemed utterly glamorous to me."
Coined Contessa, the restaurant harkens back to the days of three-martini lunches and high tea, presenting an opportunity for guests to dress up. Fulk took cues from Old World European resorts, layering Neoclassical motifs with Art Deco references and Midcentury details. Informed by the views of the Public Garden, Contessa is designed like a grand conservatory with a retractable glass roof. Featuring velvet seats, tufted banquettes, and nautically inspired enameled-topped tables, potted trees and climbing vines add to the sense of being in sky-top secret garden.
Indeed, Fulk has a love affair with history. "I love historic houses, I live in historic houses," he says, noting that antique buildings should be protected and elevated to be the best version of themselves "Some of the greatest housing stock in America has been lost and ruined and I want to do what I can, where I can, to make sure that doesn't keep happening."
Fulk recently took on another Massachusetts project when he became part owner of Blantyre, an enchanting Tudor-style mansion built in 1902. The Lenox retreat was built as a summer "cottage" for wealthy industrialist Robert Patterson and has been run as a luxury hotel for several decades. "I've long had a romantic notion of the idea of the Berkshires and its place in American lore as summer haven for the wealthy during the Gilded Age," says Fulk.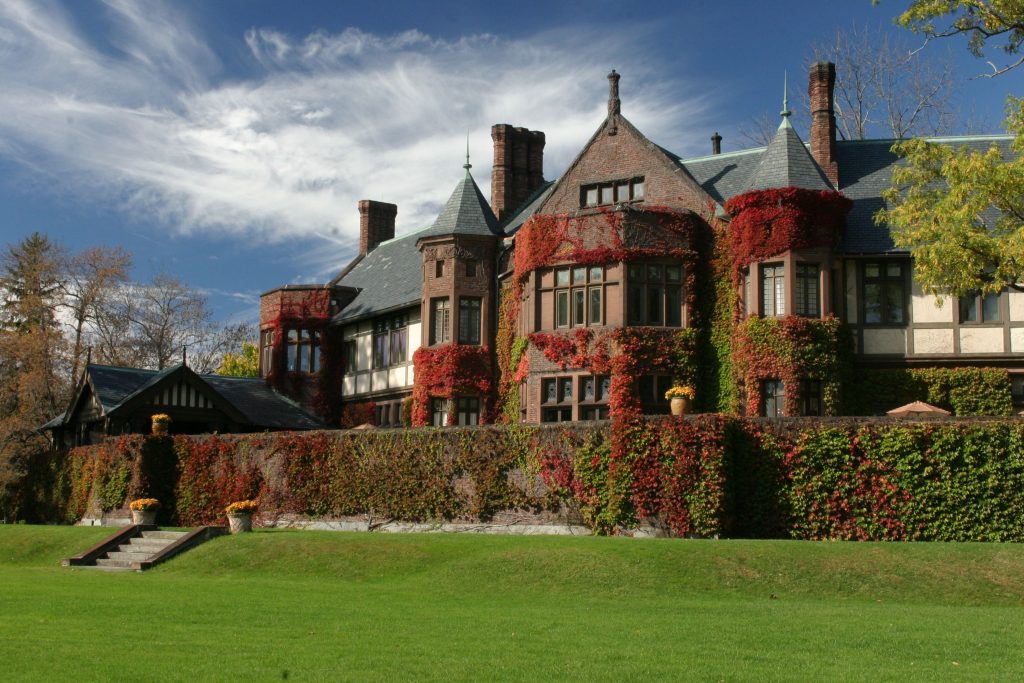 Fulk had begun to take ownership stakes in some of his hospitality projects, including the Commodore Perry Estate, a hotel in a 1928 mansion in Austin, Texas and a couple of restaurants in California. "In the end of those projects, I'd hand the baby over and step away from it," says Fulk. However, he plans to retain his ownership of Blantyre after he completes its revival. Fortunately, the estate is somewhat of a "white elephant," he notes, "in that it hasn't been mucked up. It felt like a rare jewel that might not have been as well cared for as it could have been, it certainly hasn't been screwed up."
The hotel has been closed for a top-to-bottom overhaul for several months, with plans to reopen by the end of the year. Fulk's vision is to keep its amazing historic bones intact, while reviving the sense of grandeur experienced at Blantyre and its neighboring cottages during the Gilded Age. "So much of hospitality in the United States has become homogenized and branded," he says. "That's not a bad thing. But I'm not interested in building a brand. I want to create a place that welcomes you as you would be welcomed in my house."
Fulk is not done yet in New England. While he's mum on specifics, he's working on yet another hospitality project in Boston that involves redoing the restaurant and public spaces of a "very posh and glamorous building. It will be new Boston meets old Boston in a very exciting, thoughtful way," he confides. "I pinch myself that I get to work on these iconic spaces here. I can't believe it all."