A pool house designed to recede with the setting is privy to pristine river views.
After a renovation of the main house, the homeowners were ready to tackle phase two, which involved adding a pool house to their riverfront property. The idea behind the design of the new structure, says architect Sabrina Foulke, was to tuck the pool house to the side of the main residence so its view of the river wasn't impeded. "We also wanted the pool house to blend in and feel as though it had always been a part of the setting," says Foulke, noting that the exterior of structure is made of granite and is integrated with stone retaining walls that surround the pool area.
"Traveling from the main house down to the pool, we wanted one to come upon the house as a hidden surprise that felt like an old ruin," says Foulke. Seamlessly integrated with the Ipe pool deck, the pool house is capped with a copper roof and uses Marvin's corner multi slide doors. Two walls of the structure are made up of three ten-foot high by five-foot wide motorized doors—totaling 15 feet of glass on each side. A motorized system enables the oversized doors to slide open.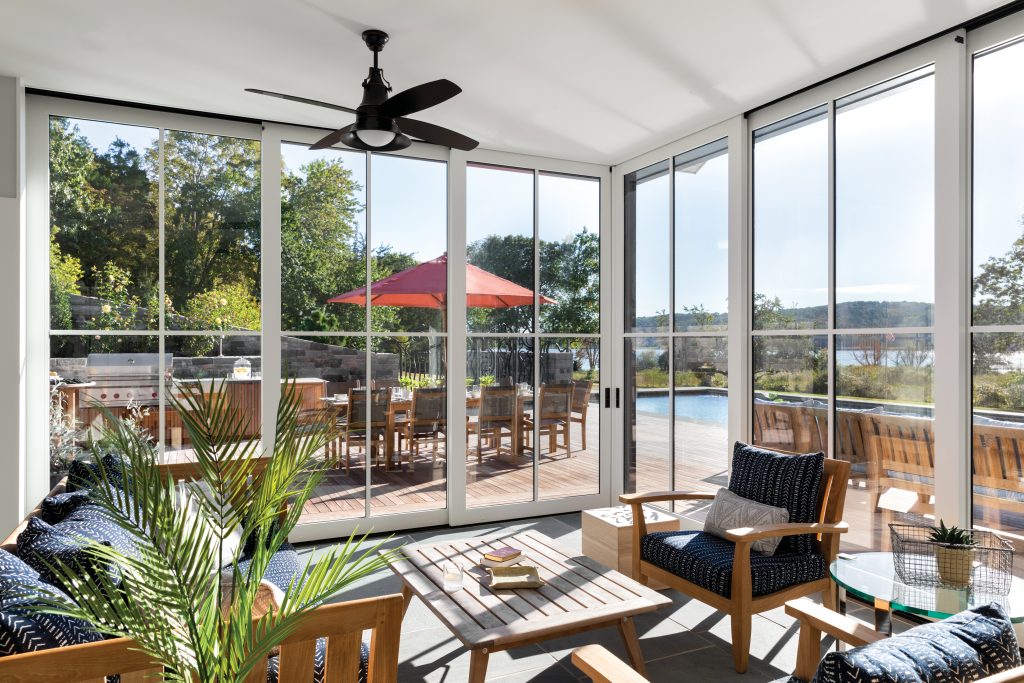 The pool house has three changing rooms and a full bathroom in addition to the large main room that integrates fully with deck when the doors are open. "The homeowners didn't want a tv in the space so that if it was pouring rain or 100 degrees and you had to be under cover, you could go inside and with the doors open and still feel like you were outside," says Foulke.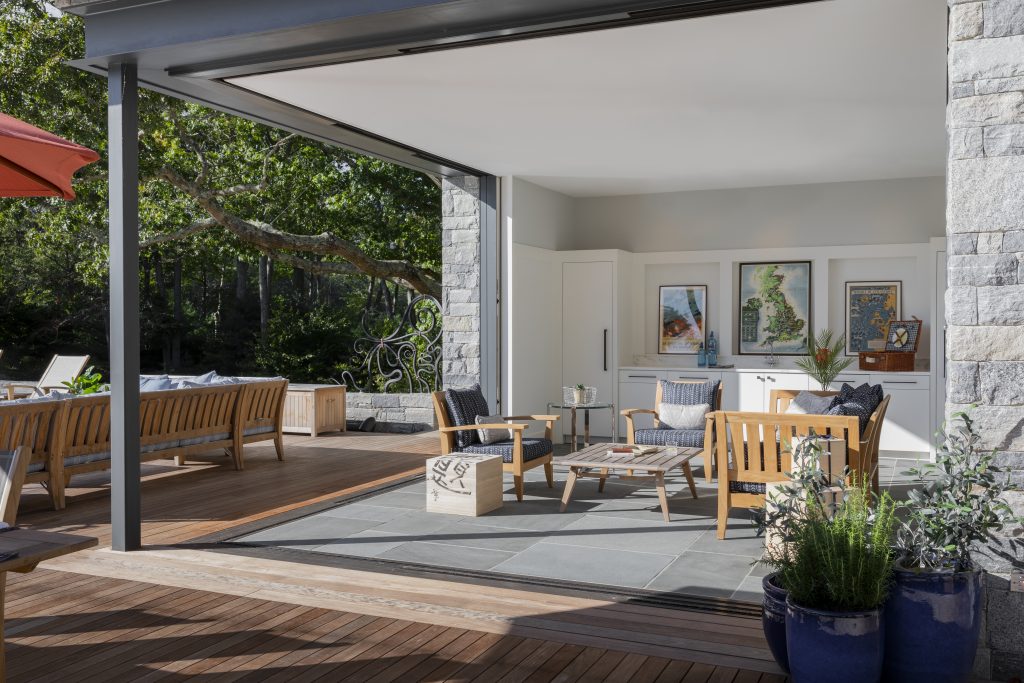 In order to be flush with the deck, the sills of the doors are under the decking material, where a complex water drainage system was installed as well. The exterior framing for the doors and a structural steel beam were painted grey to match the stone veining, while the doors, which align up to the ceiling, remain white on the interior. Rather than opt for open swaths of glass, the doors are divided into four panes so they match the windows of the main house. The bluestone flooring has an outdoor feel which emphasizes the idea that the space is considered an outdoor room.
Architect: PointeOne Architects, pointonearchitects.com
Builder: Herrle Custom Homes, herrlecustomhomes.com
Marvin Dealer: Ring's End, ringsend.com