Looking for a quick little jaunt that feels a world away but is actually just a few (13 to be exact) miles out to sea? Want to ditch your car and hop aboard a ferry that cruises right into paradise? If this sounds like just what the doctor ordered, then we highly recommend you drop everything and "sail away on the Block Island Ferry" as soon as possible!
Block Island boasts 17 miles of beaches and miles and miles of preserved land. It offers unparalleled natural beauty, including sweeping vistas, sandy shores, rolling meadows, breathtaking cliffs, wildlife, farmland, and more. Whether you're seeking relaxation and wish to enjoy the scenery from the perch of an Adirondack chair, or you're more of an adventurer, Block Island truly has something for everyone. Here are a few insider picks for what to do, see, eat, and drink while on the Block.
Getting There
The only way to reach Block Island is via plane or boat. You can take a ferry to the island from Montauk, NY; New London, CT; Fall River, MA; Newport, RI; or Point Judith, RI. Point Judith offers the fastest service in the summer: about 30 minutes aboard their high-speed boat. It's also the only place with year-round service and vehicle transport aboard their traditional ferry. If you want to bring your car, you'll need a reservation well in advance, so consider leaving it at home and instead exploring the island by bike, moped, or on foot.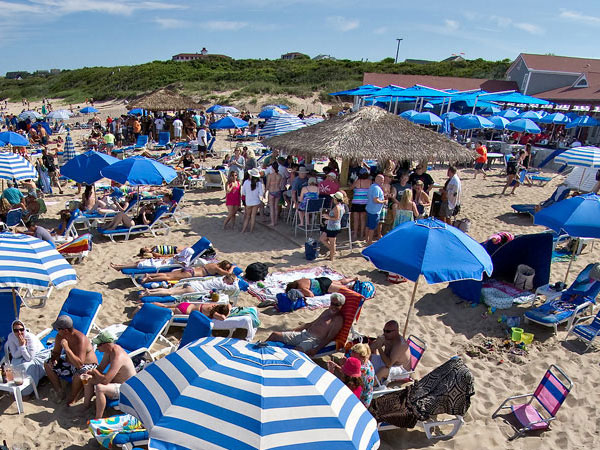 Beaches
As you pull into Old Harbor aboard the ferry, you can't help but notice the bustling scene at Ballard's Beach, located just steps from the ferry landing. Ballard's is definitely a place to see and be seen, and many day trippers don't make it beyond its confines. There's a hotel, restaurant and bar, live music, volleyball, tiki bars, chair and umbrella rentals, and cocktail service right on the beach.
If you're looking for something a little more low-key or family friendly, head to the strip of shore known as Crescent Beach, where you can find Baby Beach to the south, followed by Fred Benson Town Beach, equipped with concession stands, rental service, a bathhouse, and lifeguards.
Our absolute favorite beach though is a little farther down a dirt road. Mansion Beach, named for the mansion that previously sat on its shores, offers a more secluded spot with spectacular views and perfect waves for swimming in the surf.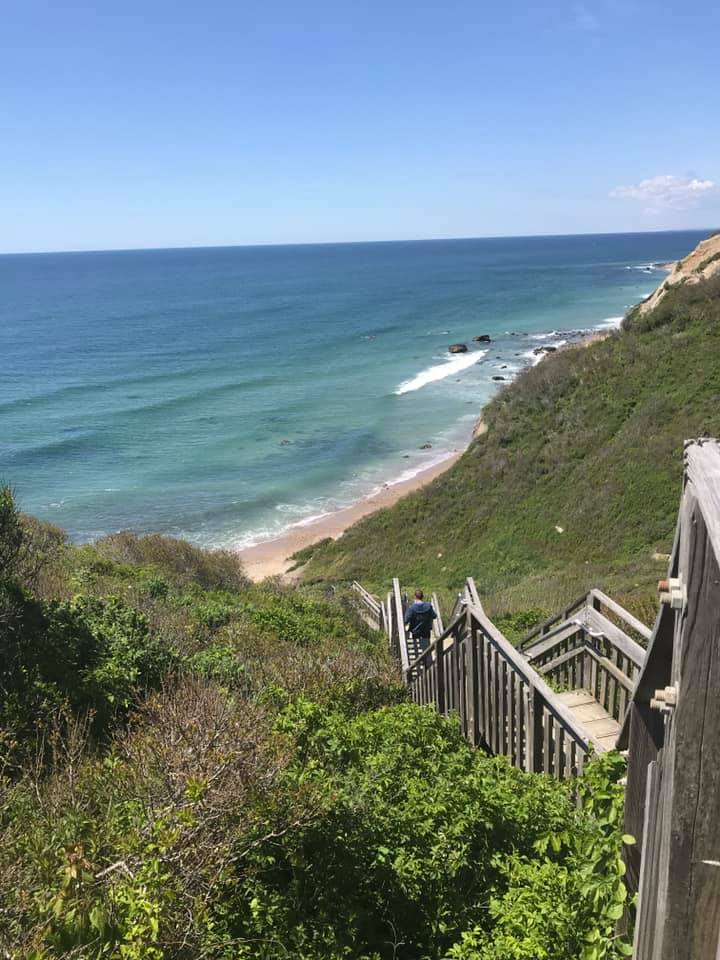 Nature
With 28 miles of walking trails, Block Island boasts some of the most diverse flora, fauna, and wildlife in our region. There's lots to see – here are a few destinations that top the list if you're short on time.
Mohegan Bluffs: This jagged and picturesque strip of coastline sits 200 feet above sea level and offers stunning views out to sea. If you're up for a challenge, you can climb down the 141 stairs to the beach below, where you'll be rewarded with more stunning views and a pretty, private little beach. Just remember, you need to make it back up the stairs eventually!
Rodman's Hollow: The result of a melting glacier, this area offers all kinds of natural beauty, including an array of wildlife, ocean views, and a unique black rock beach. It's also a relatively easy walk.
Eat and Drink
Mudslides are the official cocktail of Block Island and are served up just about everywhere. Among the best, though, are the ones served at Champlin's (walk down to the bar at the end of the dock), The Oar, and Ballard's (try their organic banana mudslide).
No trip to the island is complete without a lobster roll. And the only thing that can make a lobster roll better is when you add avocado – and bacon, which is exactly how they serve it at Dead Eye Dick's.
For tapas, cocktails, and a view worth trekking up the hill for, check out The Atlantic Inn. For delicious and family-friendly eats, we like Aldo's, Poor People's Pub, and Mohegan Café & Brewery. For fine dining, Eli's and the Spring House are standouts. And finally, if you're a donut person (who isn't?), you must try one of Payne's "killer" donuts.
Stay
New this year, the iconic Surf Hotel was rebuilt and is now the Block Island Beach House. With direct beach access, a beachfront bar, and vintage-inspired rooms, it looks to be a sweet new addition to the island. Other places to rest your head are The Sea Breeze Inn and The Darius Inn, both quaint and charming bed and breakfasts.
Once you've experienced the relaxed pace of life on island time, you may never want to return to the mainland. Just remember the mantra, "There's always the next ferry!"
Text by Allie Herzog