Shake up your next holiday party with these locally concocted cocktail recipes.
Winter Harvest Cocktail
(1 cocktail; 1 quart of apple/ginger shrub or enough for 20 cocktails)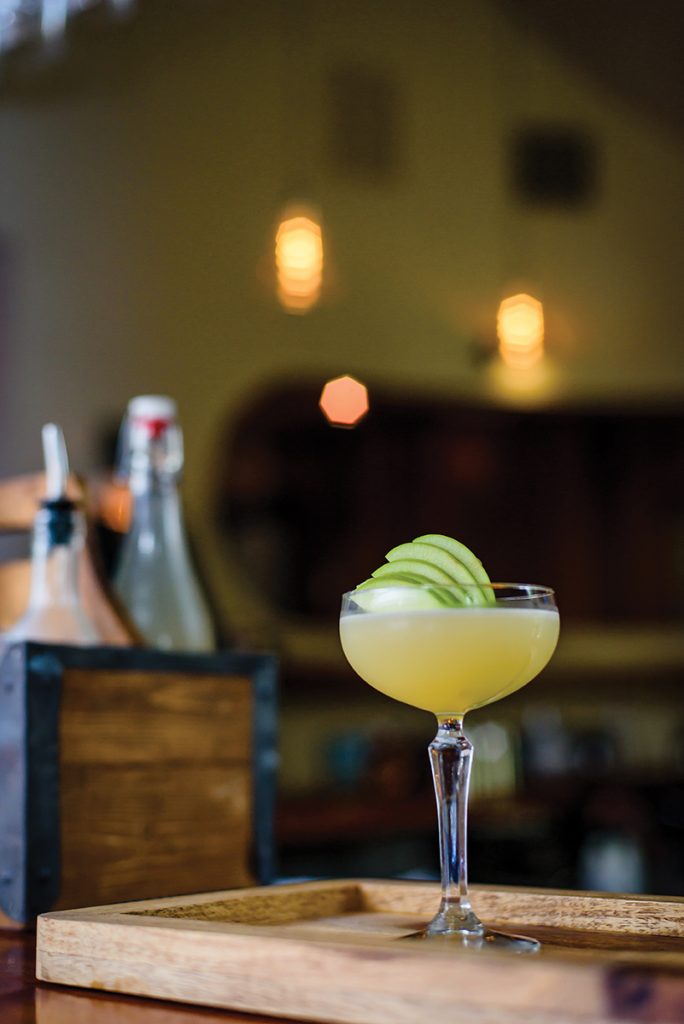 For the apple/ginger shrub
Ingredients
8 tart apples (preferably Granny Smith)
1 cup grated ginger (freeze the ginger first for easy grating)
3 cups white sugar
2 cups apple cider vinegar
2 cinnamon sticks
1 star anise pod
10 allspice berries, cracked
5 whole cloves
Directions
Cut the apple into 2-inch chunks (be sure to use the top and bottom of the core but not the core itself). Combine the apples, ginger and sugar in a food processor and blend until mixture is reduced to a smooth pulp (1-2 minutes). Place in a non-reactive container in the refrigerator for 48 hours. Steep the spices in the vinegar in a non-reactive container at room temperature for 48 hours. Combine the two and strain the pulp through a fine mesh chinois, pressing out all the juice with a ladle. Discard the pulp and repass the syrup through the chinois a second time to catch any remaining fine pulp. Store in the refrigerator in a non-reactive container for up to 6 months.
For the Winter Harvest Cocktail
Ingredients
2 oz. Tito's vodka
1 oz. lemon juice
1 oz. apple/ginger shrub (see below)
Candied ginger for garnish
Directions
Combine first 3 ingredients in a shaker. Shake vigorously for 10 seconds, until well chilled. Dip a martini glass in a cinnamon/sugar mixture. Strain the cocktail into the martini glass. Garnish with a piece of candied ginger.
The Quarry, 415 Whiting St, Hingham, MA, thequarryhingham.com
*This recipe originally ran in South Shore Living December 15th Issue.
Cranberry Pimms
(1 cocktail; 1 quart of cranberry orange syrup or enough for 20 cocktails)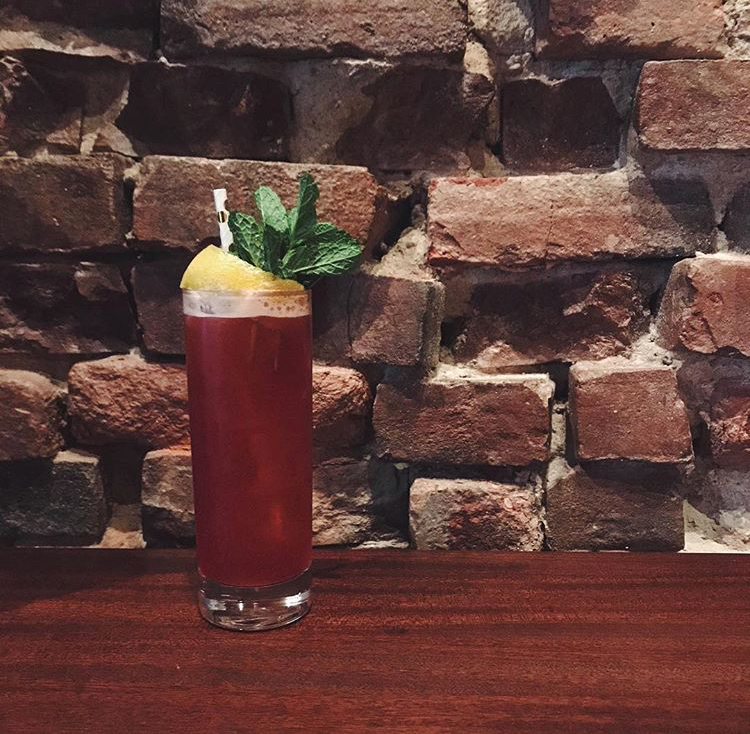 For the cranberry orange syrup
Ingredients
2 cups cranberries
1 cup sugar
1 orange
3/4 cup water
Directions
1. In a food processor or blender combine sugar and cranberries and blend/chop, zest 1 whole orange into mixture, and refrigerate for 24 hours.
2. Combine cranberry orange sugar mixture and water in a pot and bring to a boil to dissolve, stir frequently.
3. Once combined, let cool; strain with fine mesh strainer into sealable container. Shelf life is 1 week. Should yield about 20 cocktails.
For the Cranberry Pimms
Ingredients
1.5 oz Pimms
0.75 oz lemon juice
0.75 oz cranberry orange syrup (see below)
3 oz ginger ale
Directions
1. Combine pimms, lemon juice, and cranberry syrup in a shaker with ice.
2. Shake well, then strain over ice in a collins style glass.
3. Top with ginger ale, then use a long spoon or straw to combine the ginger ale and cocktail mixture.
4. Garnish with fresh mint and lemon twist.
The Eddy, 95 Eddy St., Providence, RI, theeddybar.com
Americillin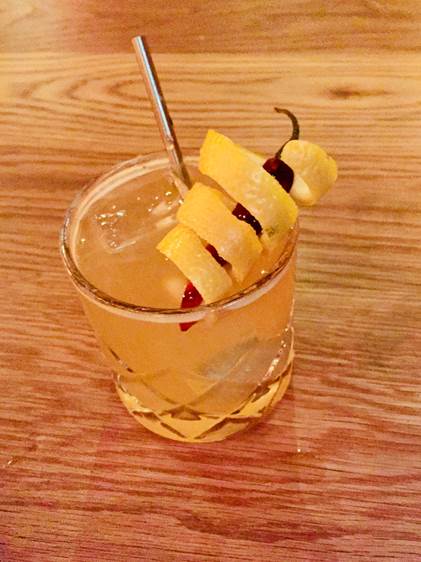 For the Thyme and Chili Honey Syrup
Ingredients
0.5 cup honey
0.25 cup water
2 Arbol Chili's
1 sprig of thyme
Directions
Bring water to a simmer, and add all ingredients. Let simmer for 2-5 minutes (until honey and water are combined). Strain and use.
For the Americillin
Ingredients
1.5 oz. Son's of Liberty Battle Cry Whiskey
0.5 oz. Domaine de Canton ginger Liquor
0.75 oz. lemon juice
0.5 oz. Thyme and Chili Honey Syrup (See below)
Directions
1. Combine all ingredients with ice and shake.
2. Rinse rocks glass with Corsair Triple Smoke Whiskey.
3. Add fresh ice and strain cocktail into glass.
*Optional: Add 6 drops bitterman buckspice ginger bitters in before the shake.
Durk's, 275 Thayer St., Providence, RI, durksbbq.com
Old Fashioned Canadian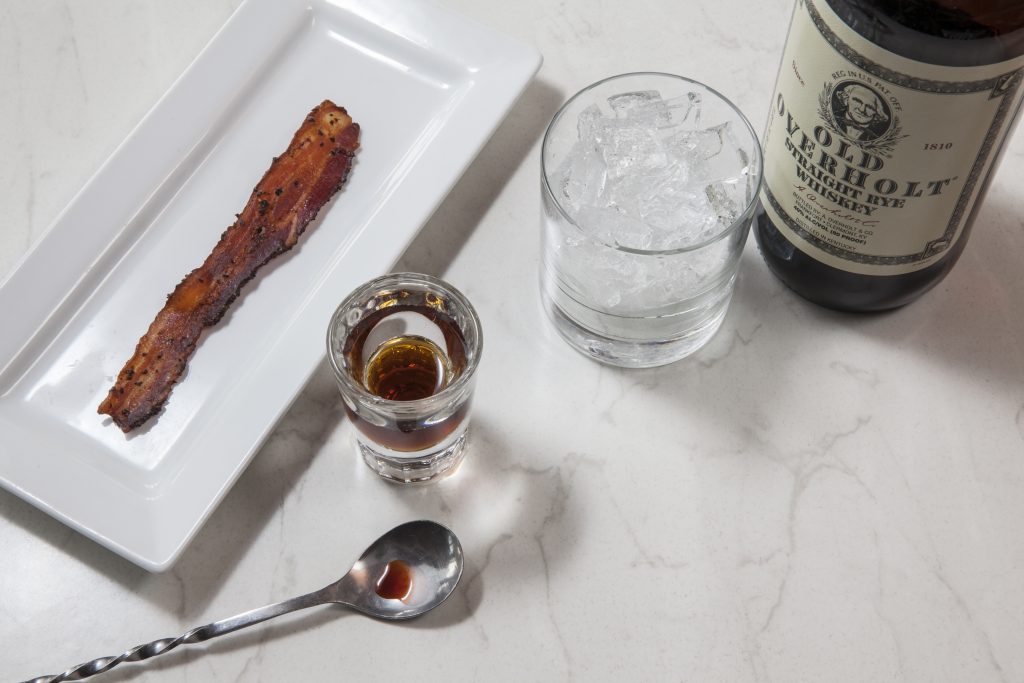 Ingredients
3 ounces Old Overholt rye whiskey
1 ounce maple simple syrup
2 dashes Angostura bitters
1 slice crispy bacon
Directions
1. Make maple simple syrup: Combine 2 cups water and ½ cup maple syrup in a small saucepan. Simmer until maple syrup has dissolved completely. Cool to room temperature.
2. Pour first three ingredients over ice and stir. Prepare a second glass by standing up slice of bacon in glass, then adding ice. Strain drink into prepared glass.
Quick's Hole Tavern, 29 Railroad Ave, Woods Hole, MA, quicksholewickedfresh.com/tavern
*This recipe originally ran in Cape Cod Magazine's 2015 April Issue.