It's been a rainy spring here in New England, which may not yield a good hair day but is "berry" good news for fruits and vegetables. We checked in with some local experts to share their favorite berry dessert recipes.
I really enjoy cooking with berries in the summer, and New England's blueberries are especially great. This year, we offered a unique blueberry cheesecake at ArtScience that highlights a number of sensorial elements specific to summertime, including charring and pickling techniques with fruity and floral accents. – Ryan Boya, Pastry Chef, ArtScience Culture Lab & Café
BLUEBERRY CHEESECAKE
Graham Cracker Crust:
2 cups of crushed graham crackers (about 13 full sheets)
6 tbs melted butter (enough to make the graham cracker stick to form the dough – add more if needed)
Bake at 325 degrees for 8 mins.
Filling:
1 pound cream cheese
1 pound Mascarpone
1 1/3 cups sugar
4 eggs
Vanilla to taste
Salt to taste
3/4 cups blueberry purée
Cream the cream cheese and mascarpone together until very smooth. Add sugar, salt, and vanilla. Mix until smooth. Add eggs, one at a time, and scrape in between each egg. Slowly add the purée while mixing. Scrape and strain through a strainer into a baking dish. Bake in a water bath until done. About 45 minutes.
Cheesecake Image by Pat Ford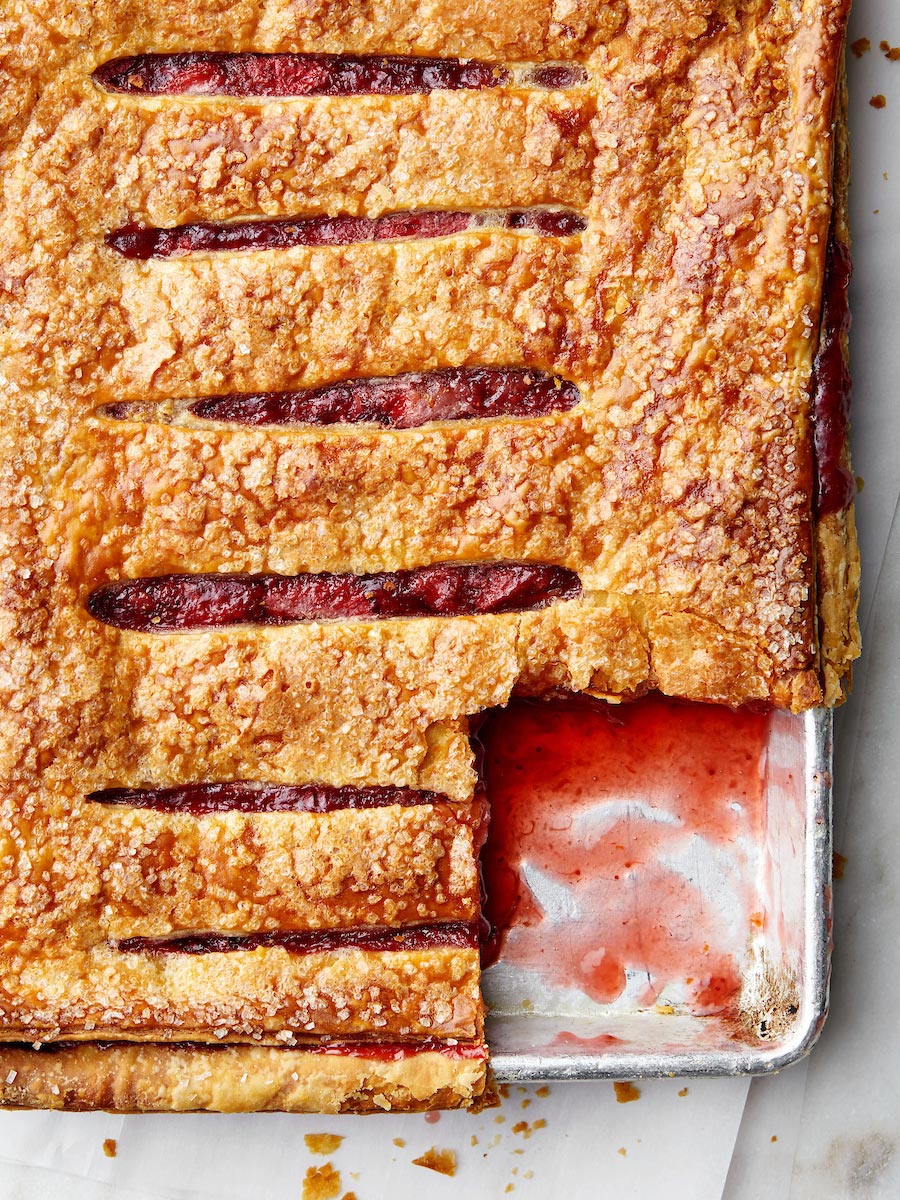 One of my all-time favorite spring berry recipes is Strawberry Slab Pie. Instead of a traditional pie pan, I bake this in a rimmed baking sheet, which ensures a flaky, buttery crust with every bite. The strawberries are lightly macerated with a touch of sugar and piled onto the baking sheet – they get juicy and jammy. I love a pie that just focuses on fragrant strawberries and nothing else. – Joanne Chang, Owner, Flour Bakery
Strawberry Slab Pie
Serves 8-10
1 quart (1 1/2 pounds) fresh strawberries, quartered
1 cup sugar
3 tbs cornstarch
1/2 teaspoon fresh orange zest
1/4 teaspoon kosher salt
1 large egg
3 tbs sanding or pearl sugar
Pâte brisée (recipe follows)
Preheat the oven to 350 degrees and place a rack in center of the oven.
Divide the pâte brisée in half. On a well-floured work surface, roll out one dough half about 1/4 inch thick so that it covers the bottom of a rimmed 9″ x 13″ quarter sheet pan.Line the bottom and sides of the pan with the dough, making sure to press it into the corners. Place a piece of parchment paper on top of the dough and fill the pan with pie weights to blind bake the bottom. Bake for about 20 to 30 minutes until the dough is matte and pale golden brown. Remove the pie weights and the parchment and set aside.
In a medium bowl, combine the strawberries, sugar, cornstarch, zest, and salt and toss to combine well. Pour the fruit onto the pie bottom. Roll the remaining brisée into a rectangle about 1/4″ thick to cover the whole top of the pie. Drape the dough on top of the pie and press down slightly on the rim to adhere the edges of the pie. Trim any excess dough so that there is just a slight overhang (the dough will shrink after baking so you want a little extra along the edge). Whisk the egg in a small bowl to make an egg wash. Using a pastry brush, lightly brush the top of the dough with the egg and sprinkle the top evenly with sanding or pearl sugar. Slit the dough decoratively in 6 to 8 places to allow steam from the fruit to escape while baking. Place the pie in the oven for 40 to 50 minutes until the top is dark golden brown.
Remove the pie from oven and let it cool until cool enough to slice. Serve warm or at room temperature. Store the pie well covered at room temperature for up to a day or in the fridge for up to 3 days. If you store it in the fridge, it's best served warmed – so reheat the pie in a 300-degree oven for 15 to 20 minutes until the top and bottom crisp up a little.
Pâte Brisée:
2 cups all-purpose flour
4 tsp sugar
1 tsp kosher salt
18 tbs (2 1/4 sticks) cold unsalted butter
2 large egg yolks
4 tablespoons cold milk
Using a stand mixer fitted with a paddle attachment or an electric hand mixer, paddle together the flour, sugar, and salt for 10 to 15 seconds. Cut the butter into about 12 pieces and add it to the flour. Paddle slowly until the flour is no longer bright white, holds together when you clump it, and there are still lumps of butter the size of a pecan throughout, 60 to 90 seconds. Whisk together the yolks and milk in a small bowl and add all at once to the flour-butter mix. Paddle very briefly, just until it barely comes together, about 30 seconds. It will look really shaggy and more like a mess than a dough.
Dump the dough out onto a table and gather it into a tight mound. Using the heel of the palm of your hand, smear the dough, starting at the top of the mound and sliding your palm down the sides of the mound along the work surface, until most of the butter chunks are smeared into the dough and the whole thing comes together. (This technique is called fraisage and makes for a very flaky dough.) Wrap the dough tightly in plastic wrap and press it down to make a flattened disk. Refrigerate for at least 1 hour before using. The dough may be stored in the refrigerator for up to 4 days (wrapped in another layer of plastic if storing for more than 1 day) or for up to 4 weeks in the freezer.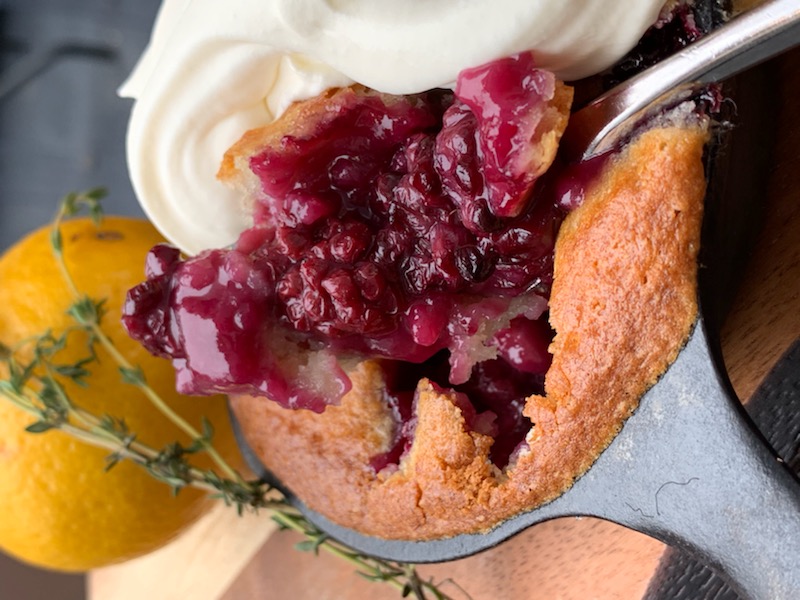 Nothing says summertime in New England like cooking with fresh seasonal ingredients. One of my favorite desserts to make in the warm weather months is Blackberry Cobbler with local blackberries. The blackberries are an upgrade to your classic cobbler, giving this dessert a rich flavor that is perfect for a New England summer night. Serve this with a scoop of vanilla ice cream and it's a guaranteed hit at your next barbecue. – Sean Dutson, Executive Chef, Rebel's Guild
BLACKBERRY COBBLER
Filling:
2 pints fresh blackberries
1 cup granulated sugar
Juice from 1/2 lemon
Preheat oven to 350 degrees. Add blackberries, sugar, and lemon juice to a medium mixing bowl and toss until berries are well coated with sugar. Set aside.
Cobbler:
2 1/2 cups flour
1 1/2 cups sugar
1 tbs baking powder
1 1/2 tsp salt
2 cups milk
1/4 cup melted butter
1 tbs fresh thyme leaves
Zest of 1 lemon
Combine ingredients in mixing bowl to make a smooth batter. Coat the inside of six 5-inch cast iron pans with melted butter. Fill pans about halfway with batter. Divide blackberries between pans in a single layer. Bake in a 350-degree oven for 45 minutes. Serve with whipped cream or vanilla ice cream. Yields six small Blackberry Cobblers.
Text by Stacey Marcus