Lifestyle blogger and cookbook author Kate Bowler loves a good outdoor party and that crisp New England fall air only enhances the experience in her opinion. She's a big fan of cozy fall gatherings around a fire pit and offers tips and menu ideas in her new book, New England Invite. She recently shared some of her secrets with us, so grab a cup of hot cider and read on to start planning your own fall fiesta.
Make sure the bar is outside. We all know this is where everyone tends to hang out, so set the tone by directing everyone outside for their cocktails, and they're likely to stay nearby to mingle.
Give people a heads up that it will be an outdoor affair that way they can dress appropriately.
Keep them cozy with a fire, warm blankets, and extra sweatshirts.
Serve seasonal fare and comfort foods, like a warm and hearty pumpkin and root vegetable soup.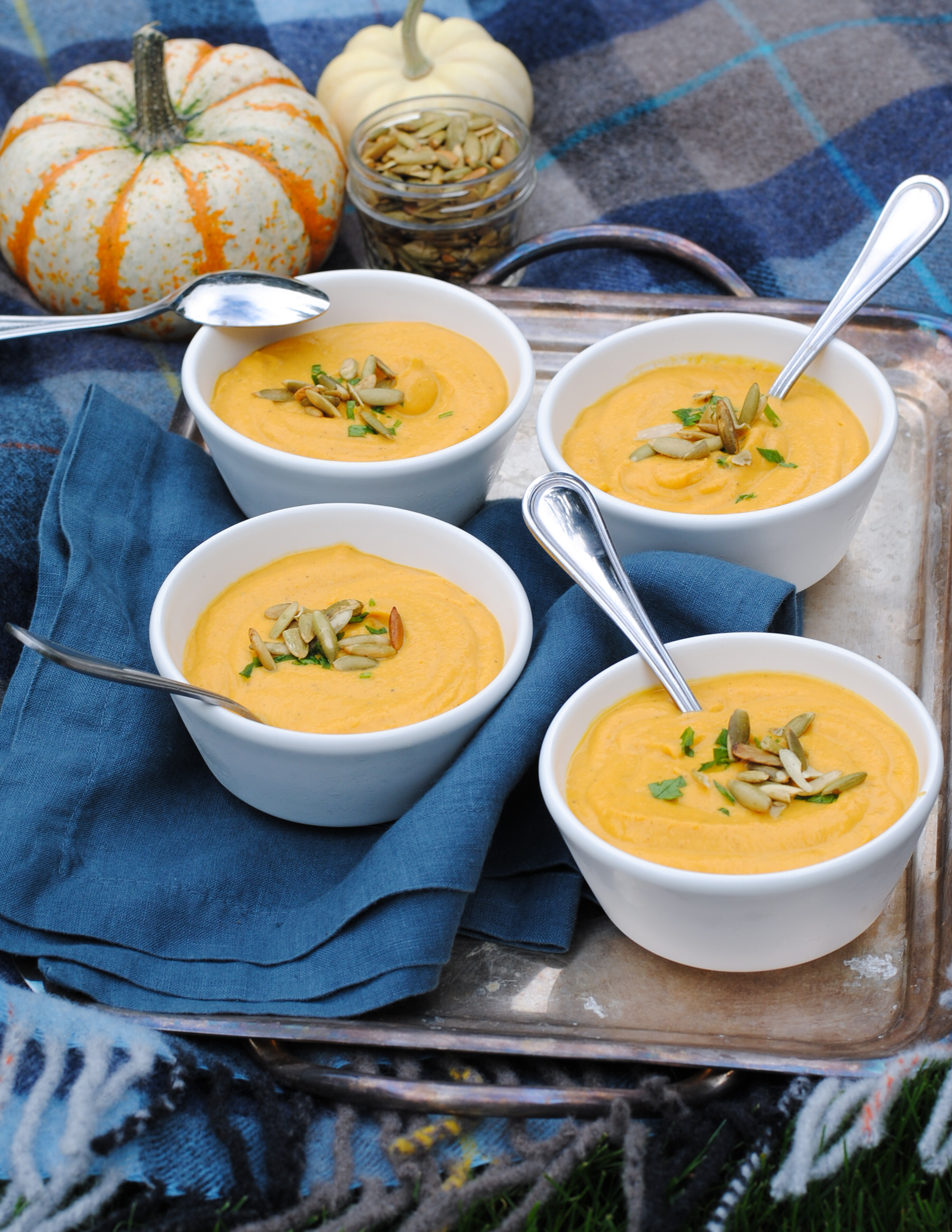 Autumn Root Vegetable Soup
(Served with Toasted Pepitas and serves 4-5 guests)
Ingredients
1/2 butternut squash (about 3 cups)
2 medium parsnips (about 1 cup)
5–6 carrots (about 11/2 cups)
1 apple
1/2 yellow onion
Olive oil
1/2 teaspoon cinnamon
1/2 teaspoon cumin
Salt and black pepper
3 sprigs fresh rosemary
3 sprigs fresh thyme
3 sprigs fresh sage
2 1/4 cups chicken broth
1/2 cup heavy cream
1/4 cup pumpkin puree
Instructions
Preheat oven to 425°F.
Prepare the vegetables: Peel and cube the butternut squash and parsnips, peel and slice the carrots, and peel and quarter the apple and onion.
Arrange vegetables on a rimmed baking sheet; drizzle with olive oil and season with cinnamon, cumin, salt, and pepper.
Add the fresh herbs on top of the vegetables and roast at 425°F for 55–60 minutes, until vegetables are softened.
Remove fresh herb sprigs and transfer the roasted vegetable mixture to a blender. Pulse until the mixture breaks down and starts to become smooth.
Add chicken broth, heavy cream, and pumpkin puree to the blender and pulse until smooth.
Transfer soup to a dutch oven on the stovetop and simmer to keep warm for serving. Garnish with pepitas and fresh herbs, and serve with rustic crusty bread for dipping.
Text by Allie Herzog | All images courtesy of Kate Bowler