A new book compiles the stories and images of some of Martha's Vineyard's most vibrant artists.
By Juliet Pennington
Martha's Vineyard has it all: beautiful beaches, picturesque landscapes, amazing sunsets, quaint and funky towns, and an impressive culinary scene. One lesser-known facet is its sense of community, which is the theme running through the beautifully written Vineyard Folk, by Tamara Weiss and Amanda Benchley, featuring stunning photographs by Elizabeth Cecil.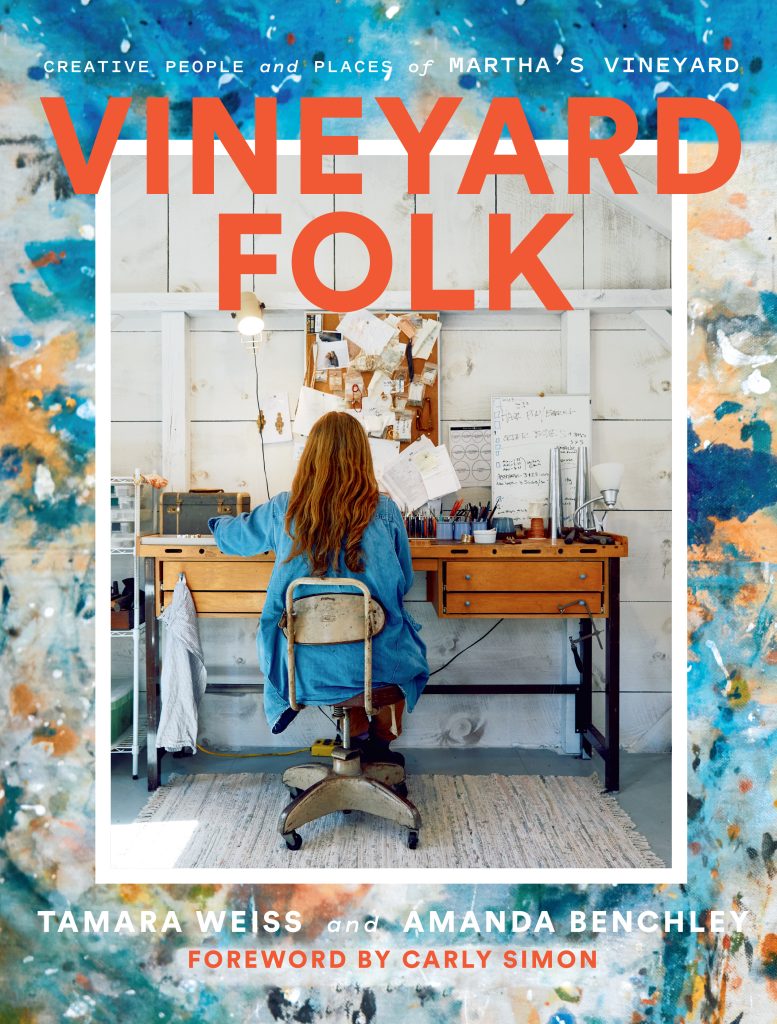 The local creative scene comes to life in the new release as the authors delve into artists' lives to discover why they call this 87.5-square-mile isle off the coast of Cape Cod home. More than 30 artists, ranging from painters and jewelry makers to musicians and actors, are featured in Vineyard Folk, and, the authors say, with so much talent on the island, limiting the list was no easy feat.
"We thought it was important to include a variety of creative people who are from different parts of the island—from Chappaquiddick to Aquinnah—and ensure that the book feels inclusive and diverse," says Weiss, who has called the island home for nearly 30 years. "There's a lot of talent on this island, a lot of talented people in this book."
Benchley, who lives in New York City and has been spending her summers with her partner on Martha's Vineyard since 2018, met Weiss through a mutual writer friend and soon connected with many of Weiss's island cohort.
Benchley was previously married to the son of Peter Benchley, who wrote the blockbuster novel Jaws, the movie adaptation of which was filmed on the island. During her 20-year marriage Benchley vacationed in the Hamptons, so discovering all the pockets of creativity on Martha's Vineyard was "very eye-opening and exciting," she says.
The successful journalist and author was so impressed by the people in the island's arts community that she suggested to Weiss they write a book about them.
Together, the writing pair grew excited with the idea of letting the rest of the world know about the unique community of artists and creatives who live on the Vineyard. "But at the same time, we felt it was important that we point out some of the challenges of being here," says Weiss."
While the 270-plus page book is an enthusiastic celebration of art and creativity, another thread runs through its pages: the reality of housing insecurity faced by many of the artists who call Martha's Vineyard home. It was important to Weiss and Benchley to also convey the fact that the next generation of talent on Martha's Vineyard may feel compelled to leave the island because of housing insecurity.
"There's something called 'the Vineyard shuffle' and it's done here all the time, where people move from a summer place to a winter place to a spring place," Weiss says. "There was one woman we interviewed, Flavia [Gaeta], a Brazilian DJ, who asked us to meet her at the West Tisbury Library because she didn't have a place where we could go and interview and photograph her."
Jewelry designer Nettie Kent and painter Colin Ruel, parents of two young children, each grew up on the island and have been moving from rental to rental—and even living in a yurt at one point—since they cannot afford to buy a home on the Vineyard, where the median house cost is $1.64 million.
"It is very difficult for many of the young people—even if they were born on Martha's Vineyard—to remain here," adds Weiss, noting optimistically that there is a lot of energy going into finding solutions. "Everyone recognizes the difficulties of living here year-round. Maybe things will change."
Benchley says that the more she learned about the island's creative core, the more she realized why artists do whatever they have to do to stay. "It underscores the point of what Martha's Vineyard is," she says. "The artists here are so welcoming to other artists and there is such a '70s Bohemian spirit."
Many of those featured in Vineyard Folk also reference the draw of nature on the island, and how they find inspiration and solace in the ocean landscape. "But this island is changing drastically because of the climate crisis," Weiss cautions. "Beachfronts and vistas that have been painted for years no longer look the same."
One of the most well-received sections of the book—which has a foreword by Carly Simon, whose son, Ben, also a musician, is featured in the pages—is the chapter where Weiss and Benchley ask the subjects where on the island they go to "tune in or tune out."
"Everybody has a place, and their answers were so thoughtful," says Benchley. For artist Margot Datz, her outdoor bathtub is her go-to spot. "My bathtub is my church," reads one of Datz's quotes in the book. "I watch these trees grow; they are so high. They tell me time is moving on."
For film and TV writer, director, and producer Brad Silberling, it's working on his laptop at a picnic table outside of the Texaco gas station in Menemsha that gets his creative juices flowing. "People come and say hello and get gas or a cup of coffee," he says in the book. "I love writing there."
"What it really comes down to is that the people here are just very fantastic," says Weiss. "That's why I'm here," she adds. "It's a funky kind of magic Martha's Vineyard."
For her part, Benchley continues to understand how her adopted island has such a mystical allure. "What is it about this place?" she asks "Why is it such a muse?" The answer for both authors of Vineyard Folk is the creative community that flourishes here.