Art is very much a part of the stunning Hingham home featured in the premier episode of "New England Living." While the home's interiors – which the homeowner, Beth, designed herself – are a symphony of the warm, muted tones she prefers for their calming effect, Beth surprised herself when she felt drawn to the colorful paintings of Rockland, MA-based artist Page Pearson Railsback.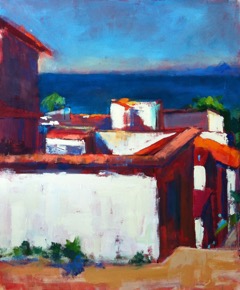 Beth stumbled upon Page's work at a church art fair on Main Street in Hingham and was instantly taken with it. "I saw this painting and there was something about it that I just loved," Beth said of the piece that now hangs in her home.
Although initially hesitant to bring such a colorful piece of art into her neutral home, when Page brought it – along with several others – to the home she shares with her husband Ed, Beth found the piece offered just the right pop of color and purchased it. Beth was so enamored with the artist's colorful abstract painting that she decided to buy five or six of the works Page brought in that day.
Host Parker Kelley met with Page in her loft studio where Page talked about her background and her work.
"I have been painting for 38 years," said Page. "It's just something I do; I just like to push paint around."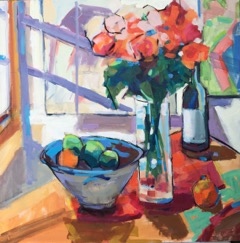 The self-taught artist describes her painting as "spiritual heartwork" in the artist's statement on her website, with each day "…a fresh start to create through vibrant color and shape." Working in a variety of mediums, including acrylic paint, pastels, oil sticks and charcoal, Page "pushes and pulls until the painting is revealed," the statement goes on to say.
Page Pearson Railsback is a juried gallery artist at the Copley Society of Boston and the South Shore Art Center in Cohasset, MA. Her work is shown in galleries throughout the South Shore, and across the United States and in Mexico. When not painting, Page offers workshops and private classes to aspiring artists.