Two cookbook authors encountered separate obstacles when it came to preparing the final meal of the day. Susie Middleton faced the challenge of coming up with fresh and flavorful vegetarian meals each night. Sarah Waldman had to feed her family of four. Yet the two prevailed under a common philosophy—a delicious dinner made with your own two hands is of the utmost importance to a great quality of life.
Middleton and Waldman have another thing in common, too. They both live year-round on Martha's Vineyard, which lacks street lights and big box stores, but boasts easy access to the outdoors and a close-knit, creative community. Island isolation has its challenges when it comes to filling the pantry and setting the table, but both authors found ways to create a year's worth of healthy, tasty recipes.

Sarah Waldman's "Feeding a Family: A Real-Life Plan for Making Dinner Work"
Photographs by Elizabeth Cecil
Sympathizing with busy families everywhere, in her book Waldman makes a case and a master plan for cooking homemade meals. "What I encourage myself and other people to do is to give cooking for yourself and planning meals as much importance as you do other things in your family." The same time you dedicate to planning schedules around soccer games, should be equally as important as your family meal. That simple act also teaches your ever-observant kids what to value themselves. We love her fall favorite, Baked Apple Cider Donuts: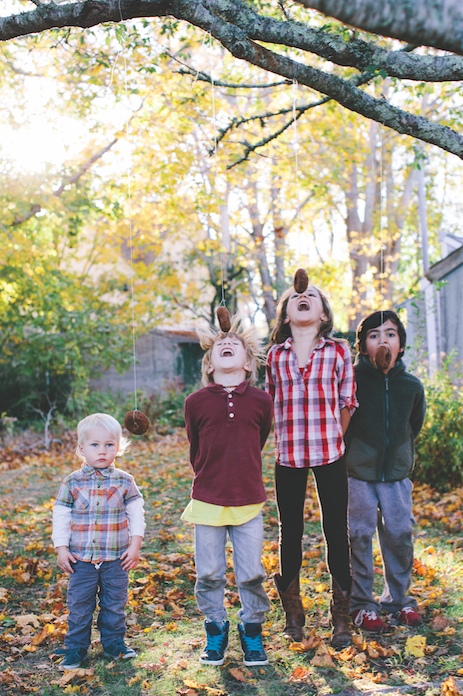 Baked Apple Cider Donuts
(makes 12 donuts)
Ingredients
3 tablespoons canola oil, plus more for brushing the pan
2 cups unbleached all-purpose flour
1½ teaspoons baking powder
1½ teaspoons baking soda
½ teaspoon kosher salt
2 teaspoons ground cinnamon
1 large egg, beaten
2/3 cup coconut sugar
½ cup apple butter
1/3 cup pure maple syrup
1/3 cup spiced apple cider
1/3 cup plain full-fat yogurt
Topping (optional)
2 tablespoons pure maple syrup
2 to 3 tablespoons ground cinnamon
¼ cup pure cane sugar
Directions
1. Preheat the oven to 400°F. Brush a donut pan with canola oil. (If you don't have a donut pan, these also make yummy mini muffins or small loaf cakes.)
2. In a mixing bowl, whisk together the flour, baking powder, baking soda, salt, and cinnamon. In a separate bowl, whisk together the egg, coconut sugar, apple butter, maple syrup, cider, yogurt, and 3 tablespoons of canola oil. Add the dry ingredients to the wet ingredients and stir just until moistened.
3. Spoon 2 tablespoons of batter into each donut round (don't fill the batter to the top or it will overflow).
4. Bake the donuts for 10 minutes, until puffed and golden brown. Remove the pan from the oven, loosen the edges, and invert the doughnuts onto a wire rack to cool. Wipe out the pan and then re-coat it with canola oil. Repeat the baking process with the remaining batter to make a total of 12 donuts.
5. For a special topping, brush the baked donuts with maple syrup and sprinkle them with a mixture of cinnamon and sugar.
* For Baby: Reserve a plain donut (before dusting with cinnamon and sugar) for baby to hold or try crumbs from.
* Kids Can: Who doesn't love to sprinkle donuts with cinnamon and sugar? Invite the kids to the party.
Susie Middleton's "Simple Green Suppers"
Photographs by Randi Baird
As a cook, former food magazine editor, farmer and author, Middleton was by no means a novice, but her new vegetarian diet came with a culinary challenge. "I found myself with real conundrum of fixing a simple vegetarian meal every night and I realized there's quite a bit of strategy involved in that," she says. "Simple Green Suppers" offers tips and techniques for creating a successful vegetarian kitchen. Middleton suggests making items ahead of time, such as sauces and dressings, to plan for the busy work week. She also helps you get organized in the kitchen—think mason jars full of dry grains and beans lining an open shelf. Her light tone throughout the book feels like she's a really good friend, good enough to help you clean out your pantry and your fridge. With a chill in the air, we love her recipe for Ramen-esque Noodles in Rich Vegetable Broth with Late-Season Veggies: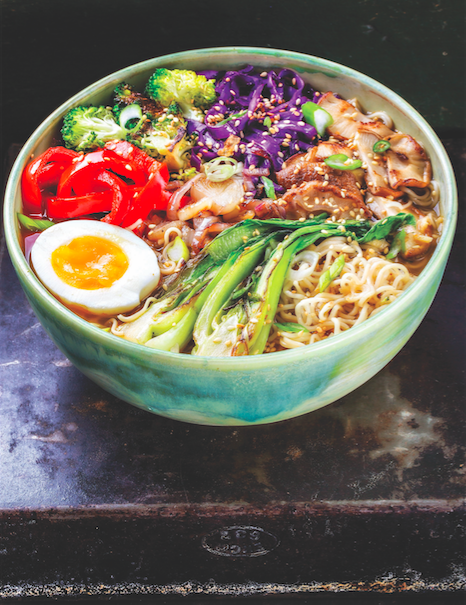 Ramen-esque Noodles in Rich Vegetable Broth with Late-Season Veggies
(Serves 2)
Ingredients
4 to 5 ounces dried Chinese curly wheat noodles or baked ramen noodles
1/2 teaspoon kosher salt, plus 2 pinches
1 tablespoon white (shiro) miso
1 tablespoon low-sodium tamari
1/2 teaspoon toasted sesame oil
1 tablespoon grapeseed oil
3 cups late-season vegetables, sliced or chopped into similar-size pieces (a combination of four or five of the following: bell peppers, onions or shallots, mushrooms, eggplant, cauliflower or broccoli, bok choy, napa cabbage, and/or red or green cabbage)
1 tablespoon minced fresh ginger
3 cups Rich Vegetable Broth
2 soft-cooked eggs or poached eggs (see note), optional
Freshly ground black pepper
1 to 2 tablespoons chopped fresh cilantro
1 to 2 teaspoons toasted sesame seeds
1/4 to 1/3 cup sliced scallions (any parts)
Directions
1. Bring a medium pot of salted water to a boil and cook the noodles until done, about 2 minutes. Drain them well in a colander and rinse briefly under cold water. Let dry a bit in the colander, then transfer to a medium bowl and season with a big pinch of the salt.
2. In a glass measuring cup, whisk together the miso, tamari, sesame oil, and 2 tablespoons of water. Set aside.
3. In a medium Dutch oven or large saucepan, heat the grapeseed oil over medium heat. When the oil is hot, add the vegetables and 1/2 teaspoon of the salt and increase the heat to medium-high. Cook, stirring, until the vegetables are browned in places and starting to shrink but still a little bit firm, 5 to 7 minutes. (Alternatively, you can stir-fry each type of vegetable individually and set aside separately, for arranging in the bowls at serving time; add a little oil to the empty stir-fry pan before continuing with the recipe.) Add the ginger and cook, stirring, until just softened and fragrant, about 30 seconds. Add the Rich Vegetable Broth and bring to a boil, then turn off the heat. Whisk the miso mixture into the hot broth and remove the pot from the stove.
4. Divide the cooked noodles between two wide, deep soup bowls and ladle the broth and vegetables over all. (Or arrange the separately cooked vegetables "around the clock" over the noodles, then pour in the hot broth.) Add 1 egg to each bowl and season the eggs with a pinch of salt and a couple of grinds of black pepper. Garnish with generous amounts of chopped cilantro, sesame seeds, and scallions. Serve right away with a fork, spoon, and napkin.
Note: To poach 2 eggs: Fill a wide, deep skillet with water. Add 1/2 teaspoon of white vinegar and 1/2 teaspoon of salt, and bring to a very gentle simmer (about 180°F). Crack 1 egg into a small bowl and slip it gently into the simmering water. Repeat with the other egg. Lower the heat to just below a simmer and leave the eggs to cook for 4 minutes. Use a slotted spoon to lift the eggs from the water and serve immediately, or if cooking ahead, transfer to a plate to hold.
Family, food, connecting to nature and each other are all good philosophies for building a life in a specific place. They also happen to be good reasons to pull a chair up to the table each night. You have all the tools and explanations, so, what's for dinner tonight?