At the heart of each episode of New England Living TV is an exquisite home. For our first episode, airing on April 2nd at 11:30 a.m. on WBZ | CBS Boston, we were invited into the waterfront home of Ed and Beth.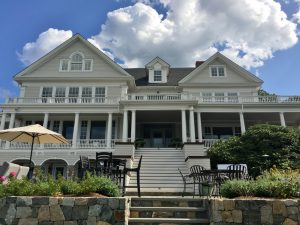 Built in 1905, the home was originally twice its current size. When it was listed for sale in the 1950s, there were concerns that it was too large to sell, so it was split in half. The other half of the home is now right next door to Ed and Beth's residence.
With several major home renovations under their belt, Ed and Beth are something of serial remodelers. The couple is drawn to turn-of-the-century architecture and, when looking at this home's stately presence, it's easy to see why.
The couple brought in Architect Brian Cavanaugh, who designed a floor plan that combines wide open spaces – perfect for Ed and Beth's large family and frequent dinner parties – with "…lots of private spaces," as Beth put it.
Beth, an experienced interior designer, handled the interior décor herself. White woodwork and walls done in soothing, neutral shades are contrasted with a rich, ebony hue on the wood floors that run throughout the home.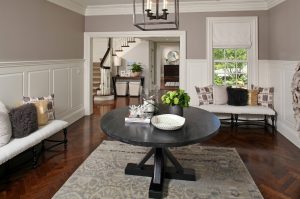 "I like to come home to something that gives you peace," said Beth of her color choices.
One exception to Beth's overall neutral palette is the artwork from Rockland, MA based artist Page Pearson Railsback. Page's abstract paintings rely heavily on bright, eclectic color, and Beth surprised herself by falling in love with Page's fun and funky work.
While the staircase, a truly stunning architectural element located in the center of the home, needed to be rebuilt to address structural concerns, its banister was removed and refurbished, and then set back atop new hand-turned balusters.
The windows throughout the home, all double hung with true dividers from Marvin Windows and Doors, were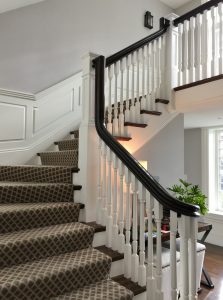 custom designed to replicate the original windows.
Parker takes viewers throughout the home during the episode. She also spends time enjoying the expansive yard and spoke with Landscape Architect Sean Papich about his vision for the property, which includes multiple terraces and an infinity-edge pool overlooking the harbor.
As the episode nears the end, Art D'Allessandro, chef/owner of Art's Restaurant in Hull and a personal friend of Ed's, adds local flavor – in every sense of the word – as he and Parker prepare a meal for the homeowners and a group of friends. Wines to accompany the meal were selected by Iris Dicicco, an Italian wine specialist.
Join us on April 9th as we visit Cape Cod and the charming town of Chatham.