Gus & Ruby use classic letterpress techniques paired with artistic and modern sensibilities to create heirloom-quality invitations.
By Danna Lorch
Like pencil to notebook, or washi tape to scrapbook, these two friends are a perfect pairing of entrepreneurial and creative. Whitney Swaffield and Samantha Finigan are the co-owners of Gus & Ruby, a custom design and print studio and trio of brick and mortar retail stores in New England.  "Whitney has awesome technique and an incredible legacy of printing. And I had always wanted to own my own business," explains Finigan.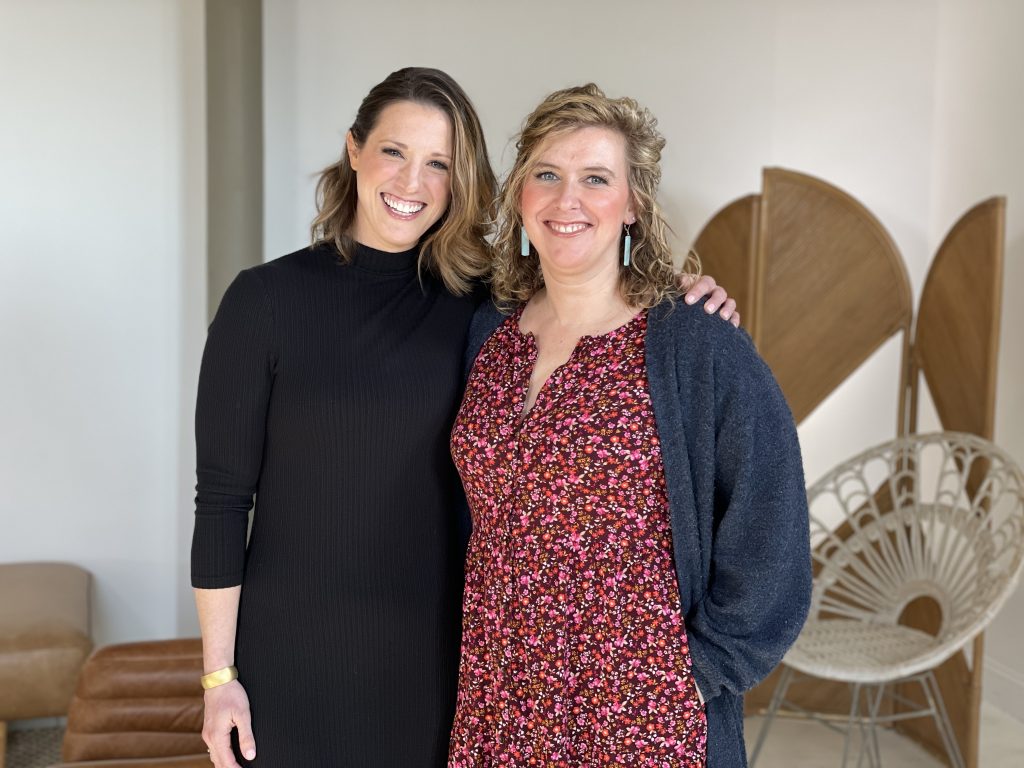 The duo first met pre-husbands and pre-kids while working together at an advertising agency. They grew close while walking their dogs, the eponymous Gus and Ruby.
When Swaffield got engaged it was obvious that as a designer, she should create her own invitations. "I knew that letterpress had come back into style because I was seeing it on all the wedding blogs," she remembers. Her grandfather was a letterpress printer, and her father continues to run the family printshop in Wolfeboro, New Hampshire. "My dad had two letterpresses at his shop, and I asked him if we could dust them off and get them going."
A bridesmaid, Finigan got hands-on with the project, literally rolling up her sleeves to help print the invitations. After the wedding, they continued creating projects for friends' nuptials, first working on a 19th century Chandler & Price press that required hand-feeding paper into the printer, before purchasing a vintage 1950's letterpress that demands less elbow grease.
Finigan remembers, "We noticed pretty quickly that although there were a lot of cool new wedding planners and venues, no one in the Portsmouth, New Hampshire area was offering contemporary wedding invitations." They took a daring leap and founded Gus & Ruby in 2009 to fill that niche.
From the beginning, Gus & Ruby broke with classic letterpress technique (which leaves a flat impression), and instead pushed the printing plates into ink and paper, making the letters deep enough to trace with a fingertip. The effect is charming, handmade, and sometimes wonderfully imperfect.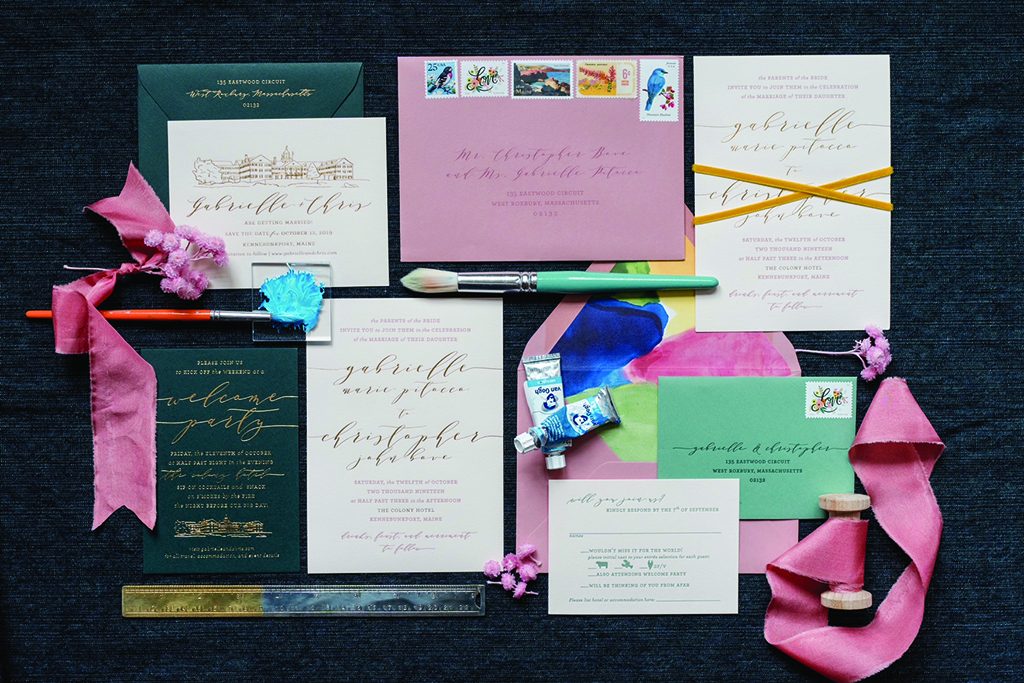 In 2009, the friends opened the first brick and mortar Gus & Ruby location in Portsmouth's historic district, immediately recognizable by its façade painted a shade of blue that calls to mind summer hydrangeas. Gus & Ruby now has additional locations in Portland, Maine and on Charles Street in Boston, which opened in 2020. The shops are loved for their imaginative window displays in whimsical themes like honeycomb or mushrooms with colorful stationary offerings mixed in.
If you visit, you might bump into Swaffield and Finigan's tribe of kids. "I really hope they will want to take over the business someday," the friends wish out loud, almost in unison.
Rather than offering a boring sample invitation album to flip through in the back of the shop, Gus & Ruby offers a high-end, utterly bespoke experience. When couples arrive for a consultation, Finigan and her team pour flutes of champagne and scribble copious notes on inspiration, color palette, and little details about their clients' lives. Next, Swaffield and her designers infuse the invitations with thoughtful personality.
Finigan shared one of their favorite wedding invitations: "We had a couple that drank espresso martinis in the North End on their first date after a Red Sox game, so on their Save The Date we printed a tiny martini glass."
Last year, two clients emerged following the pandemic lockdown to plan a summer wedding on Martha's Vineyard.  Their palpable joy comes through in the invitations. Warm sunset oranges and pinks communicate a laidback East Coast weds West Coast vibe that truly set the tone for celebrating love. "We hope that these invitations will become a tangible heirloom of the day," Finigan says wistfully.
Watch the video here.