Text by Haley Grant / Headline Photo Courtesy of Terramor Outdoor Resort
They say it's all about the journey and not the destination, but why should you settle for humdrum hotels, uninspired inns and lackluster lodgings once you get there? Part of the problem is that it's becoming harder and harder for accommodations to move the needle when it comes to amenities. After all, even the most loaded minibar and breakfast buffet can only inspire so much. So for your upcoming summer vacation, we've rounded up a roster of New England's most mind-blowing escapes. From glamping in the White Mountains to tending a lighthouse in Narragansett Bay, here's your ultimate exit strategy.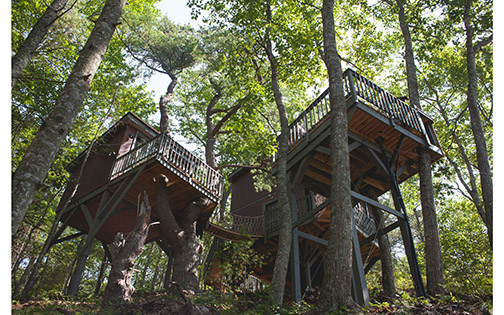 Indulge in your childhood dreams of sleeping high among the pines in a rustic treehouse. Perched minutes away from Maine's Reid State Park as well as the renowned Five Islands Lobster Co., Seguin's tree dwellings overlook a twenty-one-acre wooded hill that stretches out to breathtaking river views. Connecting travelers with a truly heightened sense of nature, Seguin encourages rejuvenation and restoration for anyone willing to take their sense of adventure up a notch. You can choose from one of three treehouses for your overnight stay: Souhegan ("Watching Place"), Madawaska ("Where Two Rivers Join") or Isle Au Haut ("High Island"). Each dwelling is different in structure and design, but all score high marks.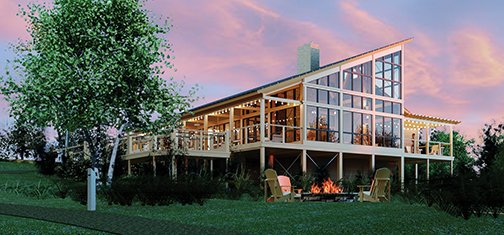 Newly opened this summer on the doorstep of Acadia National Park, Terramor Outdoor Resort is where authentic tent camping meets rustic elegance. Located only a stone's throw from Bar Harbor's happening shopping and dining scene, Terramor boasts luxury tents complete with a king- or queen-size bed and an upscale bathroom, topped off with charming décor. Wake up to a cup of artisanal coffee on your private front deck before grabbing a picnic lunch and spending the day hiking, kayaking, boating or biking through the park's historic carriage roads. Once you've had your fill on the trails, soak up the late afternoon in the property's pool or hot tub before treating yourself to a post-hike massage. Cap off the night with a fresh cocktail around Terramor's campfire.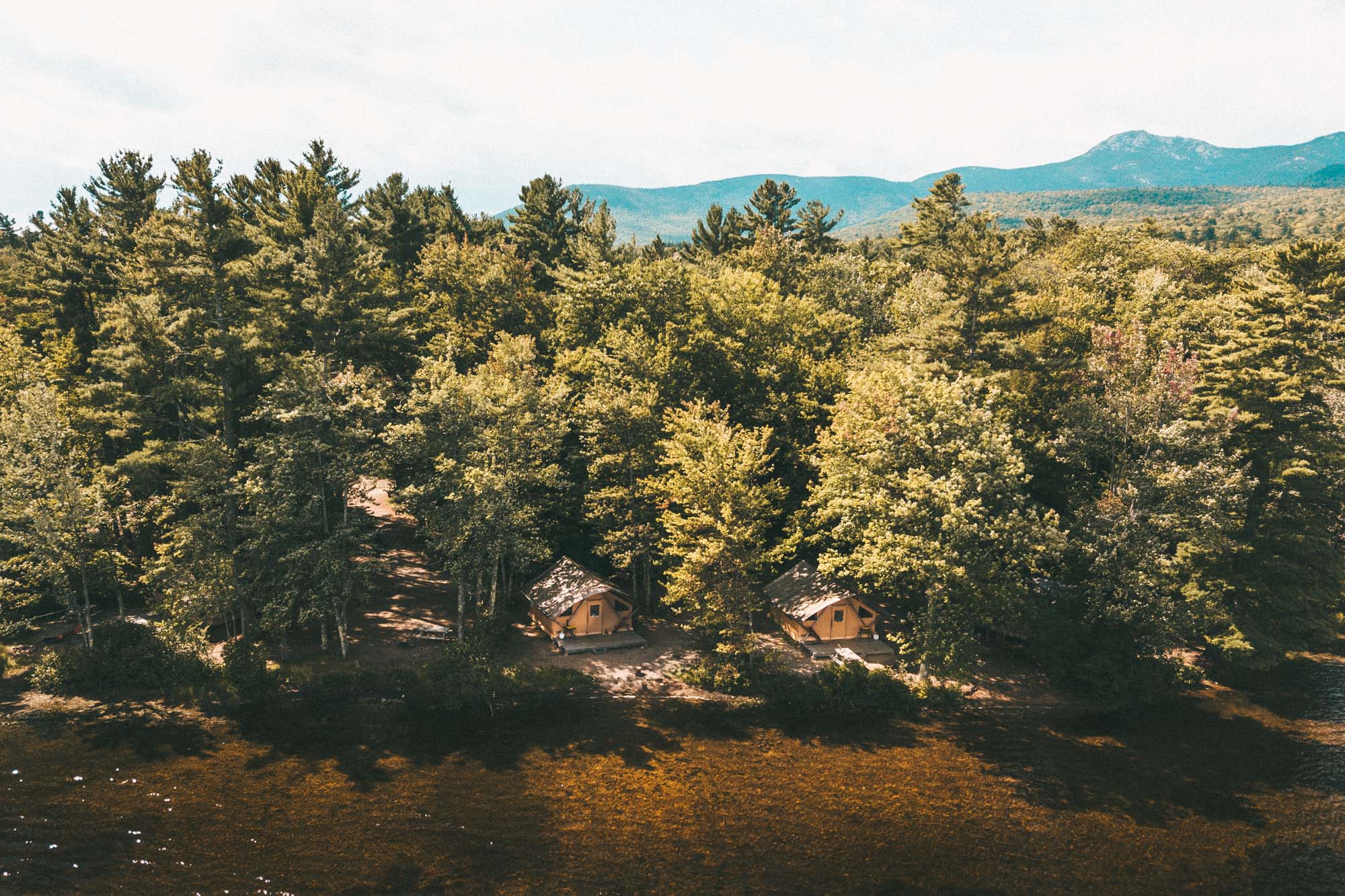 Immerse yourself in the tranquility of New Hampshire's White Mountain National Forest at Huttopia. Nestled along a serene lakefront, Huttopia boasts wood-framed huts and cozy cabins where you and five of your family or friends can answer the call of the wild. Beyond the enchanting accommodations, Huttopia has a small grocery store, a wine bar, a common terrace, a pool and a lounge area equipped with Wi-Fi—should you feel the need to check in with reality. Spend your stay boating, paddleboarding, swimming or simply sunbathing on the beach. For dinner, Huttopia fires up homemade pizza that's served alongside handcrafted cocktails they shake up in the campground's Airstream.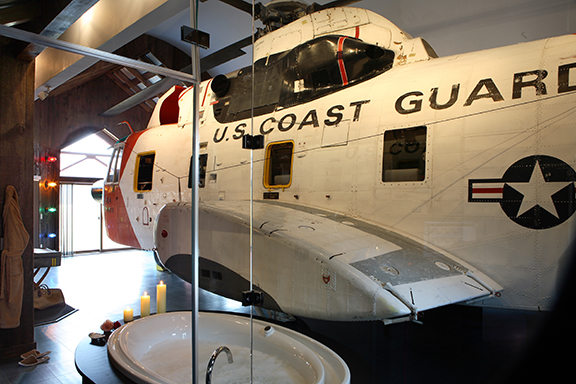 For a truly extreme escape, consider staying in Winvian Farm's Helicopter cottage in Connecticut. Built around a fully restored 1968 Coast Guard chopper, you can sip cocktails in the cockpit or catch a movie in the cabin. Situated on 113 acres of wooded farmland, Winvian Farm offers more than a dozen eye-popping cottages, each with its own theme, while also providing luxurious amenities. Soar to new heights with yoga classes, aromatherapy spa treatments, mountain biking, hiking, hot air ballooning, kayaking and horseback riding. For dinner, land in Winvian's seed-to-table restaurant led by celebrated executive chef Chris Eddy. When it's time to retire, head back to your helicopter cottage where a night's sleep has never been more thrilling.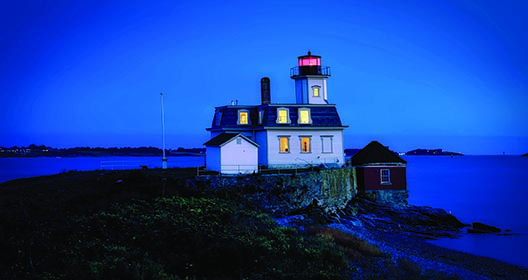 Hop aboard the thirty-two-foot Starfish that ferries visitors out to Rose Island where you'll discover a truly enlightening overnight. A mile off shore in Narragansett Bay, a historic lighthouse stands on this eighteen-acre island and offers five romantic accommodations, including the Curt Bunting Room, the Wanton Chase Room or the Keeper's Apartment, each of which are steeped in rich nautical tradition and boast breathtaking views of the the surrounding bay. In the morning, stroll the two-acre lighthouse reservation and admire the birds and other wildlife that inhabit the island, before grabbing a fishing rod and kayak to try and catch dinner. If you return empty-handed, the ferry will take you for a bite in nearby Newport. Don't worry if you stay out too late—they'll keep the light on for you.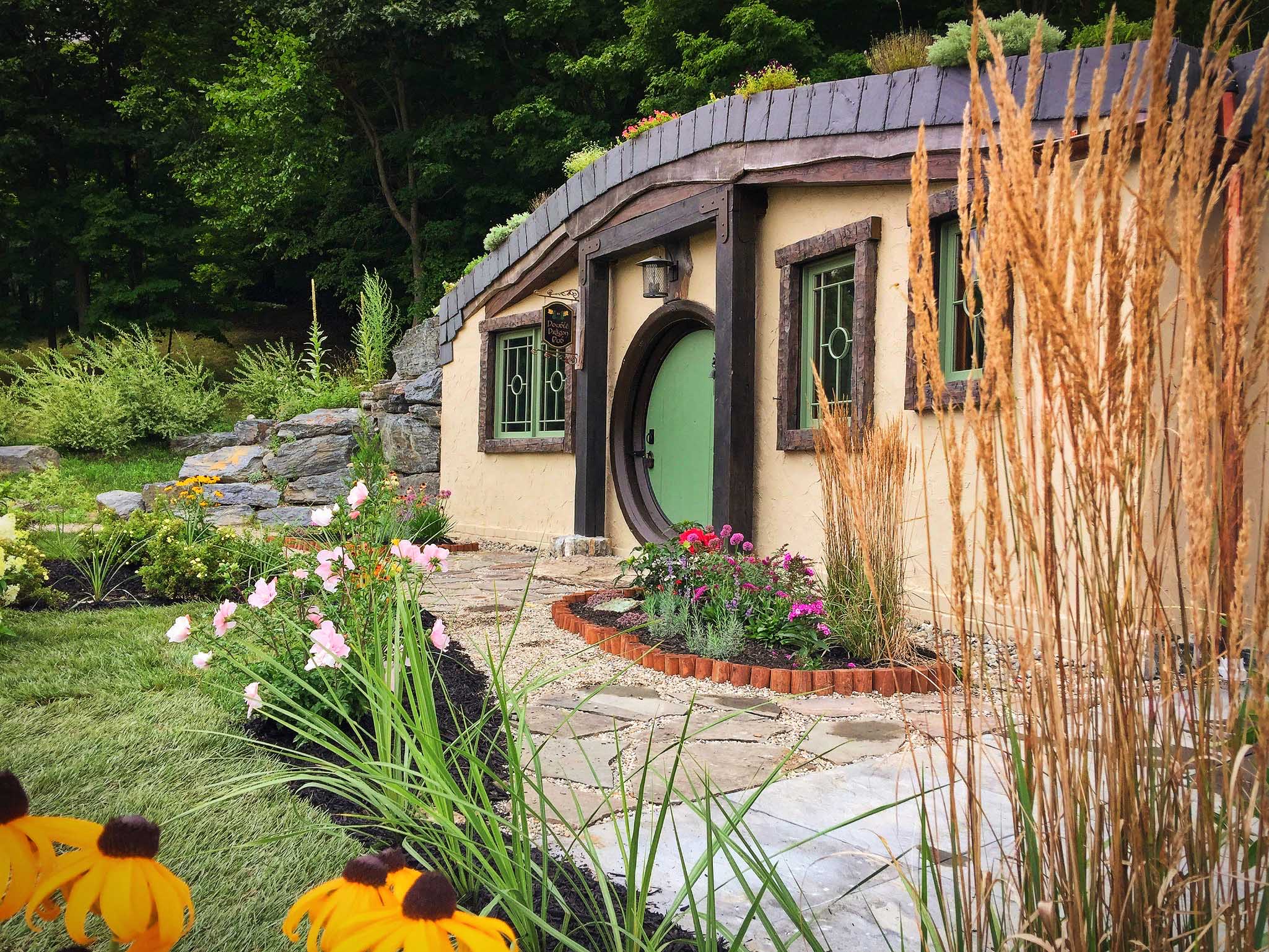 BAGG'S INN Middletown Springs, Vermont
Tucked into a lush Vermont hillside, this charming Hobbit home will transport you into J.R.R. Tolkien's epic fantasyland. Filled with curious antiques and set on twelve rolling acres, this 1,100-square-foot underground dwelling was completed last spring by Pepper and Cynthia Clayton. Inspired by watching Lord of the Rings nearly twenty years ago, the Claytons designed the home with two sections. The "Bagg's Inn" entrance opens up to a living room, full kitchen, master bedroom nook and a bathroom with a claw-foot bathtub, while the "Double Dragon Pub" boasts a bar, a queen-size Murphy bed and a full bathroom with a shower. After enjoying the sunset from atop the home's grassy roof, you can walk five minutes down the meadow path to Sissy's Kitchen, a top-rated gourmet café for dinner. When it comes time for bed, Bagg's Inn sleeps four adults—or eight Hobbits. NEL