Michelle Lee Designs' flair for material and color choices makes the kitchen, pantry, and bathrooms in a Rhode Island modern farmhouse sing.
By Janice Randall Rohlf          Photography by Erin Little
Lisa Rutherford had been living in a traditional colonial-style house with her husband, son, and daughter for years, and, she says, they had done extensive renovations to that house to make it just the way they wanted it. Nevertheless, the itch for something new eventually got the better of her. "We looked for a couple of years to find the right place to move," shares the homeowner, "and we found this lot [in Greenwich, Rhode Island], which we liked. But we had no idea what kind of house we wanted nor whom we wanted to design and build it."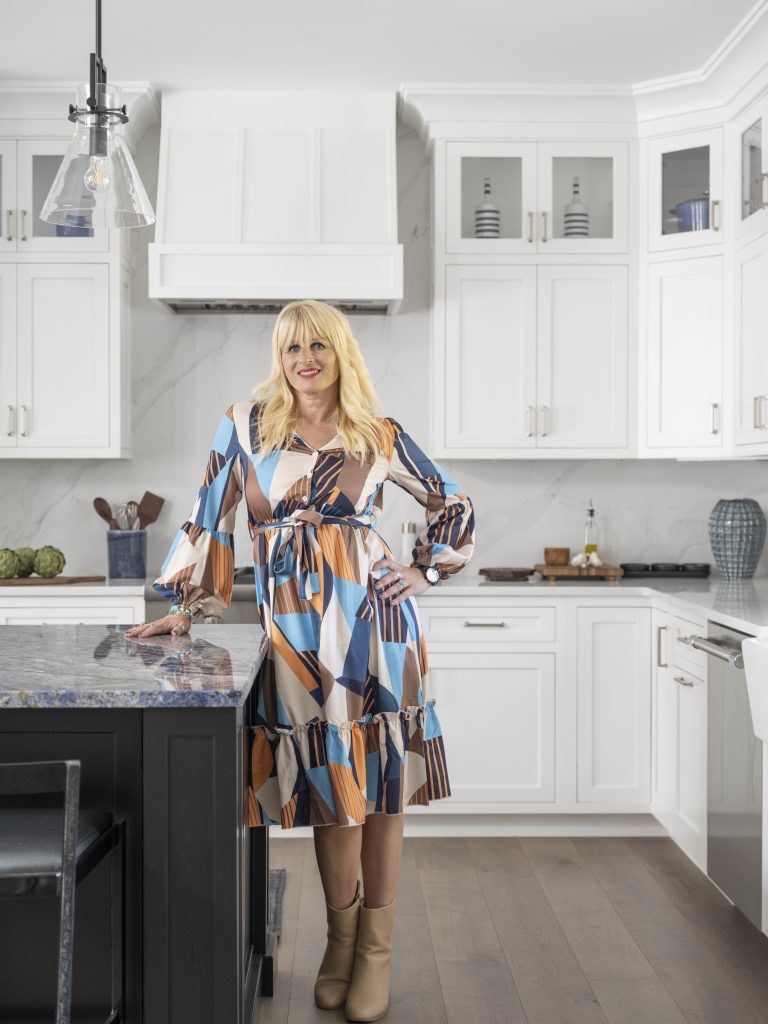 Rutherford, a savvy businesswoman who runs her own company, took matters into her own hands when the first builder she worked with didn't live up to her expectations. "We ended up changing the whole design," she says, explaining that she went online to comb through numerous house plans. To achieve the style she was after, she adds, "It took a combination of two sets of plans."
Modern farmhouse design spoke to her. "I wanted something a little more modern than the house we were moving from," she says.
With the exterior look locked in—white board-and-batten siding with black windows and a farmer's porch—it was time for Rutherford to turn her attention to the inside of her under-construction home. She reached out to her new, more responsive builder, Jimmy Tavarozzi of Titan Associates, who recommended she contact design consultant Dana Breggia at Supply New England's Kitchen & Bath Gallery in Warwick. Breggia came on board and, to round out the team, she urged, without hesitation, "You have to call Michelle."
Michelle Lee Parenteau of Rhode Island-based Michelle Lee Designs and Breggia have been collaborating on projects for 12 years. They were the perfect tag team to address the design ins and outs for five bathrooms, a kitchen, and a pantry in the Rutherford's 6,600-square-foot home, which includes a huge finished basement with a bar and a three-TV outfitted den for diehard sports fans. Parenteau was the designer for the whole house.
Over the course of several preliminary meetings, the designer got to know her client, her lifestyle, and her aesthetic preferences so that when the two were ready to make final decisions, they were completely in sync. Both agreed that carrying the board and batten inside but used sparingly to accent the open-plan living area was a perfect nod to 'modern farmhouse' without going overboard. This was the idea for the kitchen too, which anchors one end of the vaulted main-floor space.
"I was going to go for white in the kitchen, for sure," says Rutherford, who, despite this assertion, remained open-minded. For instance, hers was a typical search for the perfect countertop granite in a showroom containing a mind-boggling number of options. "We walked through layers and layers of granite and other stone to try and figure out what direction to go in," she says. "Then I walked by this piece of beautiful granite called Blue Bahia." Decision made! The rare stone from Brazil is the bluest granite available on the market today. "I'd been dying to use Blue Bahia in one of my client's homes," says Parenteau, whose tagline for Michelle Lee Designs is "Bringing color into your life."
Complementing the showpiece slab of Blue Bahia granite on the island, the Compac Quartz Calacatta Unique used for the perimeter and bar surfaces brings the palette back into a neutral zone, as does the white inset-door cabinetry from Mouser. The ebony island and bar cabinets, also from Mouser, provide contrast, and the black is picked up by the four chandeliers from Innovations Lighting above the island. At the farmer sink, a semi-professional kitchen sink faucet with a three-function sprayhead from Kohler's "Purist" line makes clean-up easy.
Tucked behind the kitchen, a cheery ocean-blue pantry with open food cabinets has an inviting vibe. "We wanted to go crazy with the tiles," says Rutherford of the beige and light blue tiles with flowers that look like sunbursts. "People think it's wallpaper." In fact, bold choices, such as these tiles, are a signature element of the five bathrooms as well.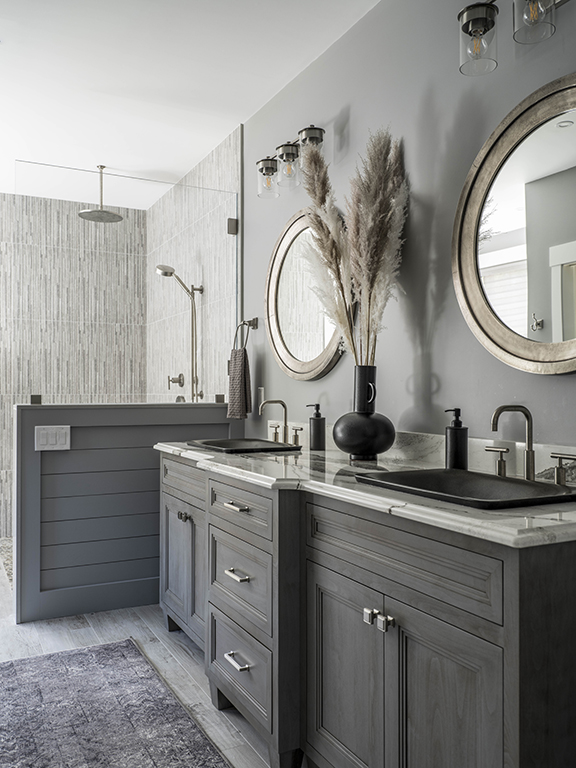 "Each bathroom is very unique," says Parenteau. "We didn't just say, 'Let's do white and gray everywhere. Each space has little bits of color here and there." Along with their Mouser vanities, each painted a different color, the bathrooms' common feature is hardware from Kohler's "Purist" line, all in brushed nickel except the powder room, which has polished nickel.
In close proximity to the kitchen and pantry, Parenteau made the most of the small powder room by painting its vanity a moss green and choosing patterned floor tiles that pick up the earthy tone. She used the same quartz as in the primary bathroom for the sink surround and hung an abstract painting from Compliments Art Gallery in North Smithfield, also the source of additional artwork in the house. The definitive pop comes from the Kohler black vessel sink with a subtle paisley design etched into it.
Black Kohler sinks, this time rectangular in shape, are featured as well in the primary bathroom, a spa-like space with both an open shower and a curved Kohler "Veil" freestanding tub. The room suits the outdoors-loving homeowners, with its wide-plank floor tile emulating wood and the wall tiles that, in winter, echo the silhouettes of bare tree trunks outside. "We wanted to bring the outside in," says Parenteau. The vanity holding the duo of black sinks is painted in "Gull" gray, which pairs beautifully with the taupe-green veined Skara Brae Quartz Cambria countertop.
In the upstairs guest bathroom, the vanity painted in "Inkwell," a deep blue-black hue, sets a moody tone in tandem with the rustic-looking distressed tiles that clad the shower.
The careful thought and planning behind all the design and décor choices throughout the home speak to Parenteau's artistic nature and to her meticulous work habits. With a homeowner open to pushing the envelope by her side, the result is a modern farmhouse that reinterprets the popular but predictable style with a flourish of imagination.