Anna Rossi of Brave Apron shares tips for entertaining like a pro
Something remarkable happens in New England in the fall. The crisp air and brilliant colors bring with them a motor of inspiration and energy that touches me every year. Fall is filled with new and resurrected routines for the family and is also special because it stands as the gateway to the season of holidays, entertaining and gathering. As the days get shorter and the nights get cooler, it is habit to head indoors. However, I challenge you to push against that urge and stay outside just a little longer.
My godmother was Scandinavian, and I studied abroad in Denmark in my teens. That was when I first learned about the word "hygge." It was described to me as a feeling of everything warm and good, like cozy, but bigger and deeper. The Scandinavians are masters of embracing their seasons and they do this by finding ways to celebrate the value of what each time of year has to offer with an equal balance of time indoors and outdoors.
My husband AJ and I love our time outside—cooking, entertaining and playing with the kids—and we're working to create a home that makes that easy. We keep our grill open all year long and use that as a compelling draw to stay outside, even traveling down a shoveled path in the snow. Not to mention, it keeps the commotion low in the kitchen!
Let's fire up the grill together, throw on an extra layer and pour ourselves a warming cocktail. I promise the candles will be lit and the music will be on when we head indoors. But first, here's to fall!
Recipes for fall: Porchetta with Garden Herbs and Fig Sauce; Arrosticini; Brown Butter Brussels Sprouts; New England Clammer's Stuffie; Roasted Oysters with Oregano and Chorizo Oil; and How To Upgrade Your Home Bar.
Tips for a Happy Gathering!
1. Prepare anything you can in advance.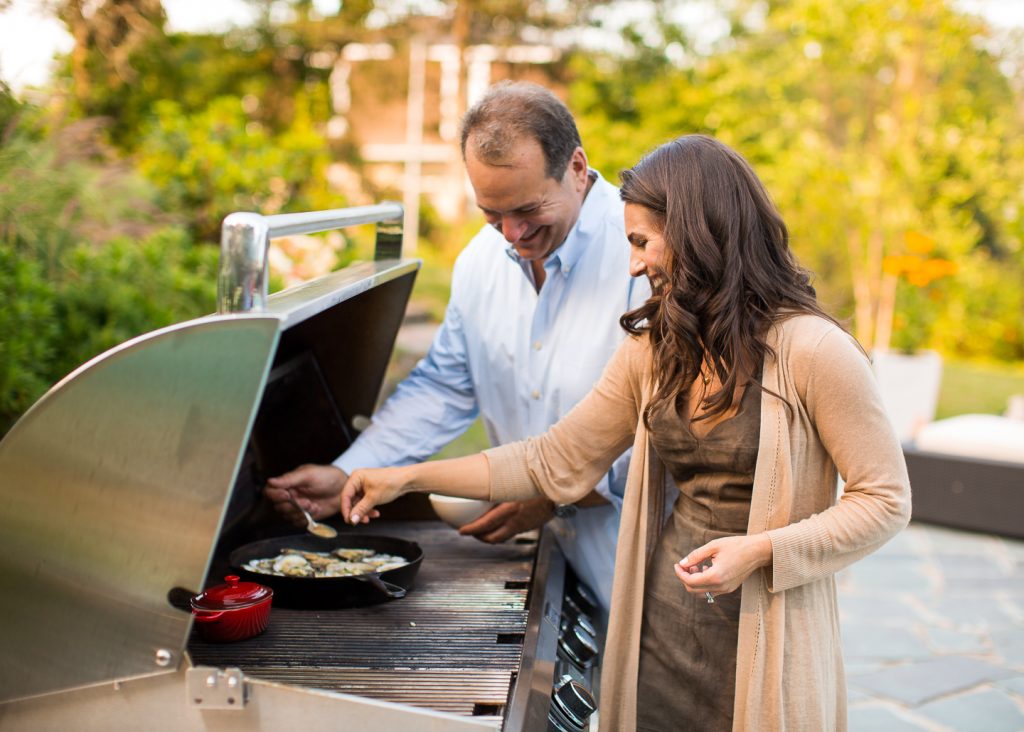 Take time to menu plan and outline what can be done ahead of time. I like to set the table before I go to bed the night before because I don't like to rush when it comes to details. The day of the actual event should really just be about assembly, final cooking and plating. Your hard work and organization will look like magic to your guests!
2. Tell your friends to bundle up.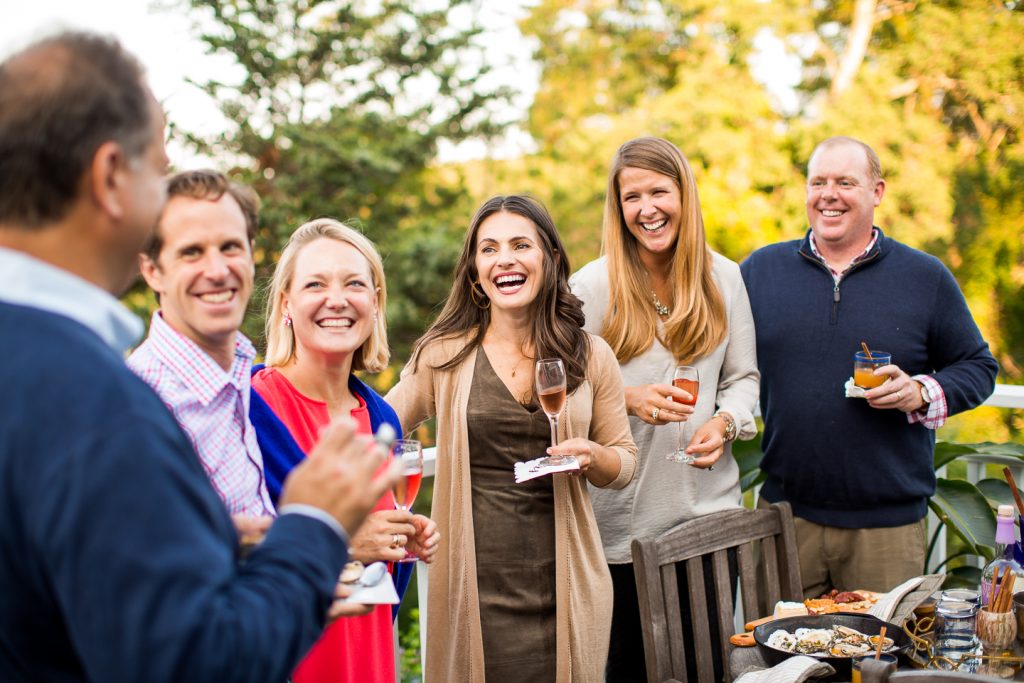 We love New England for the seasons. Let your friends know if you plan to spend time outside on a chilly evening so they come prepared. The right shoes and an extra layer make people more likely to get into the spirit. Extra blankets and toddies are also persuasive aids to pull even the most reluctant souls outdoors!
3. Everything in the right place.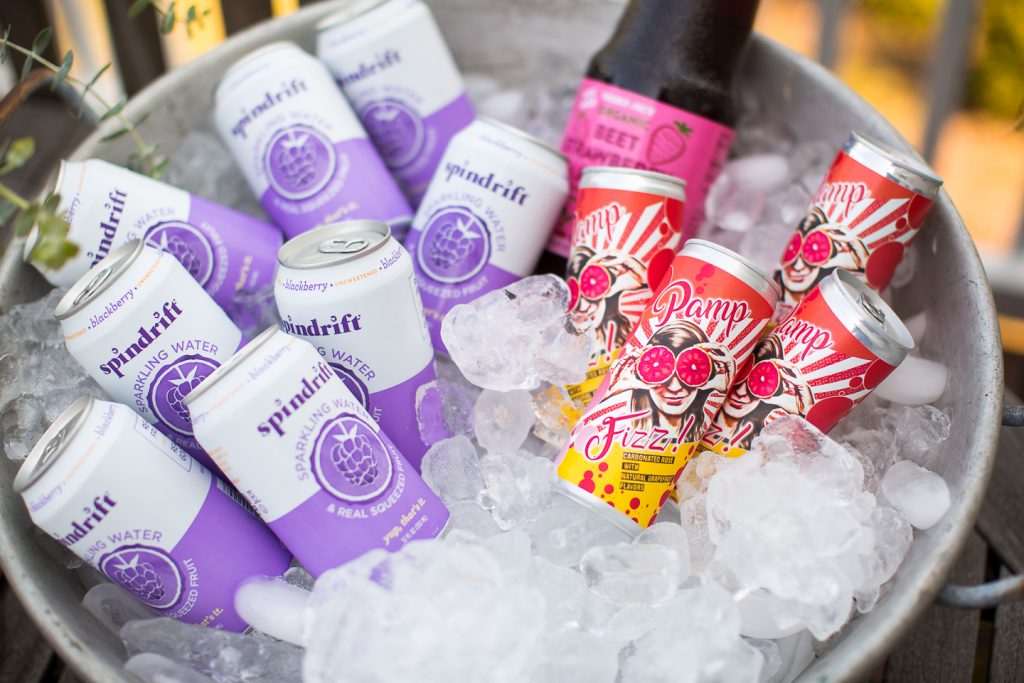 A warm fire, delicious nibbles and a well-stocked bar are a crowd magnet. Position them where you want your friends to congregate. Trust me, it works!
4. Make it special.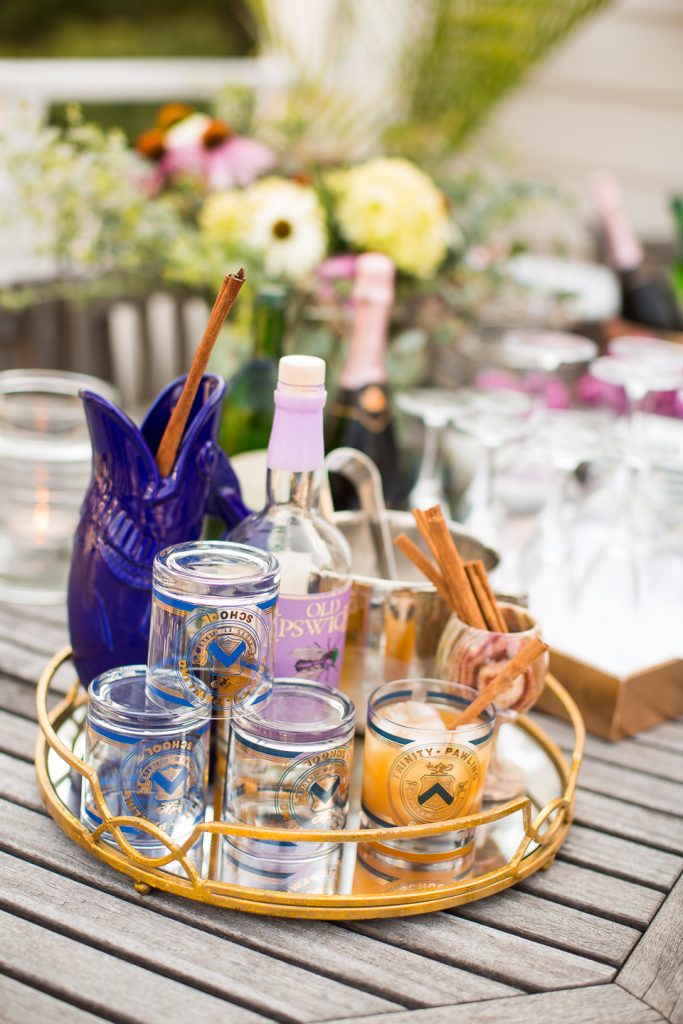 Find a special tray that is reserved for glasses of your signature cocktail. A small, designated space will make the ingredients feel that much more curated and deluxe.
5. Let there be bubbles!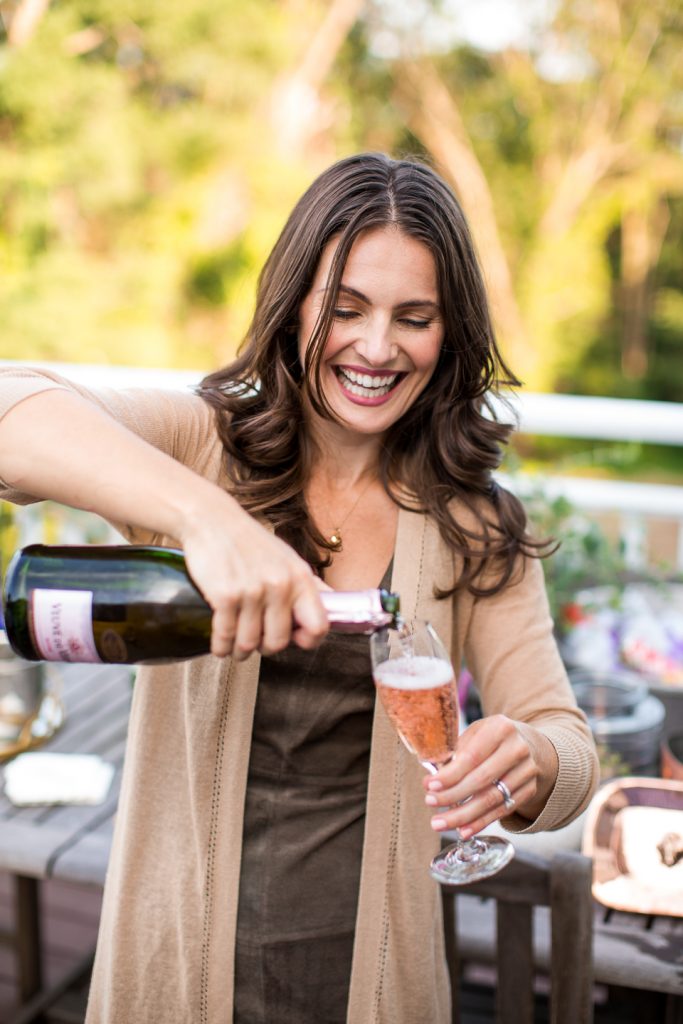 No matter what I have at the bar, I will always have a bottle of bubbly. It's like a page out of Pavlov's book. The sound of a cork popping is directly associated with celebration. For that reason alone, keep a bottle on ice!
6. The kids should be in on it.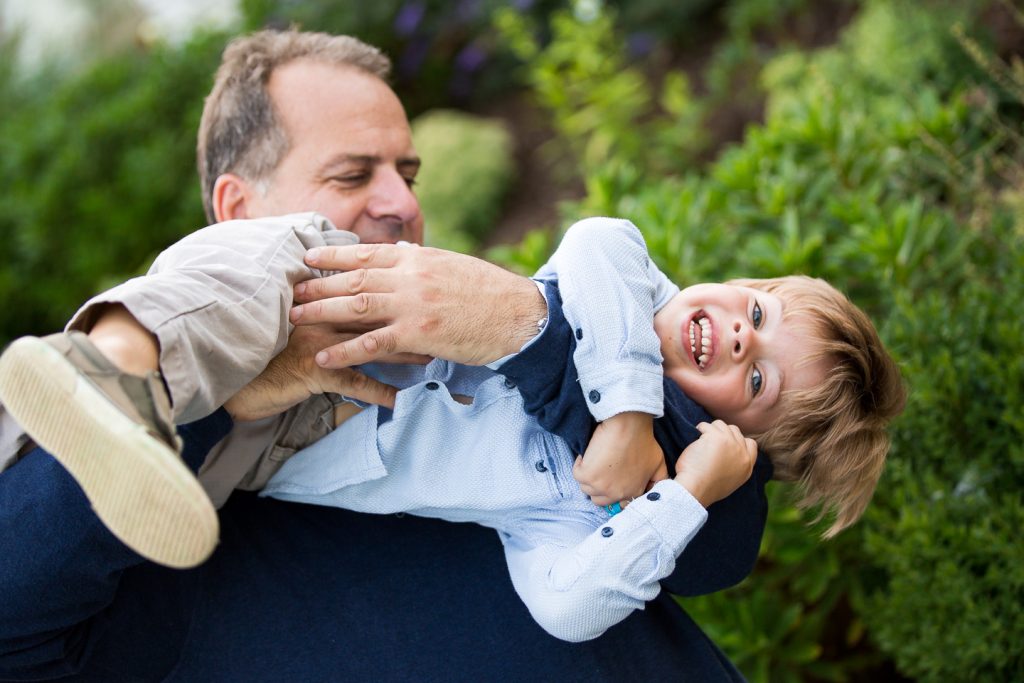 If you have kids, think about what they will enjoy. Aside from food, a seasonal handcraft will keep them entertained and in the spirit of the gathering.
7. Don't forget the music!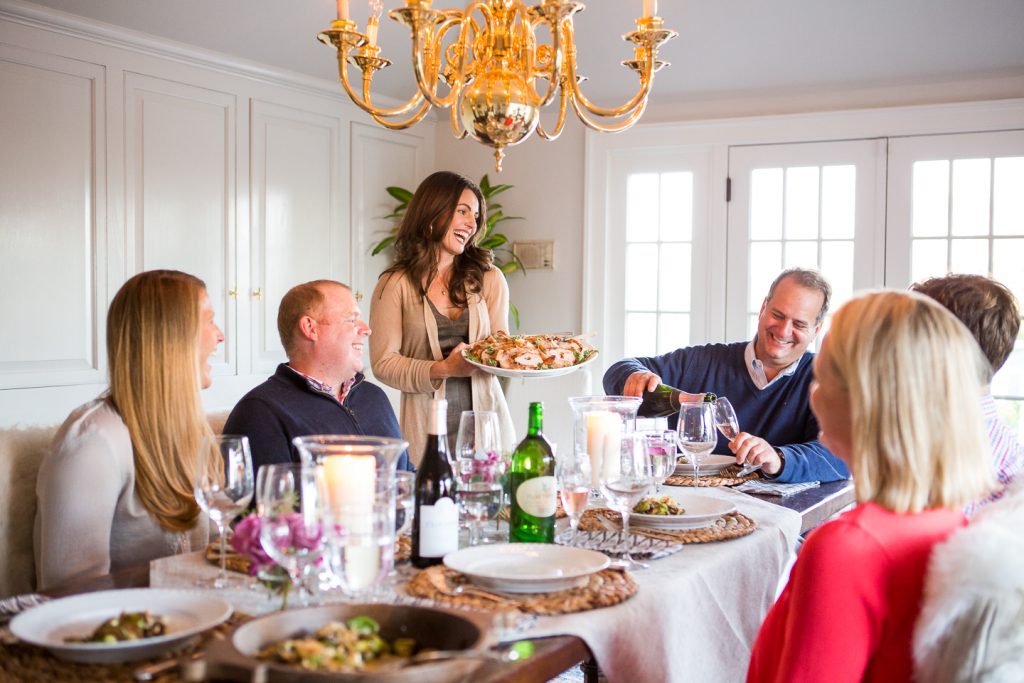 Music is personal but gypsy jazz or a classic crooner is always is a great place to start in my book.
8. There's no such thing as too many blankets.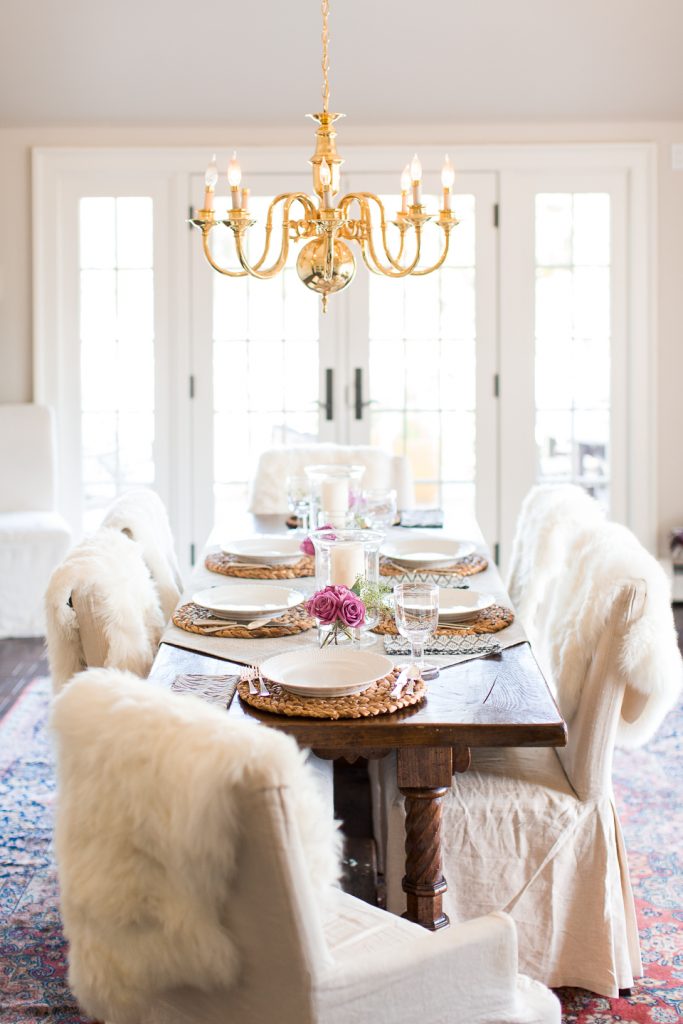 Indoors or outdoors, add texture and warmth to chairs with plush blankets and sheepskins. Ikea is a great place to stock up.
9. Before the doorbell rings, pour yourself a drink.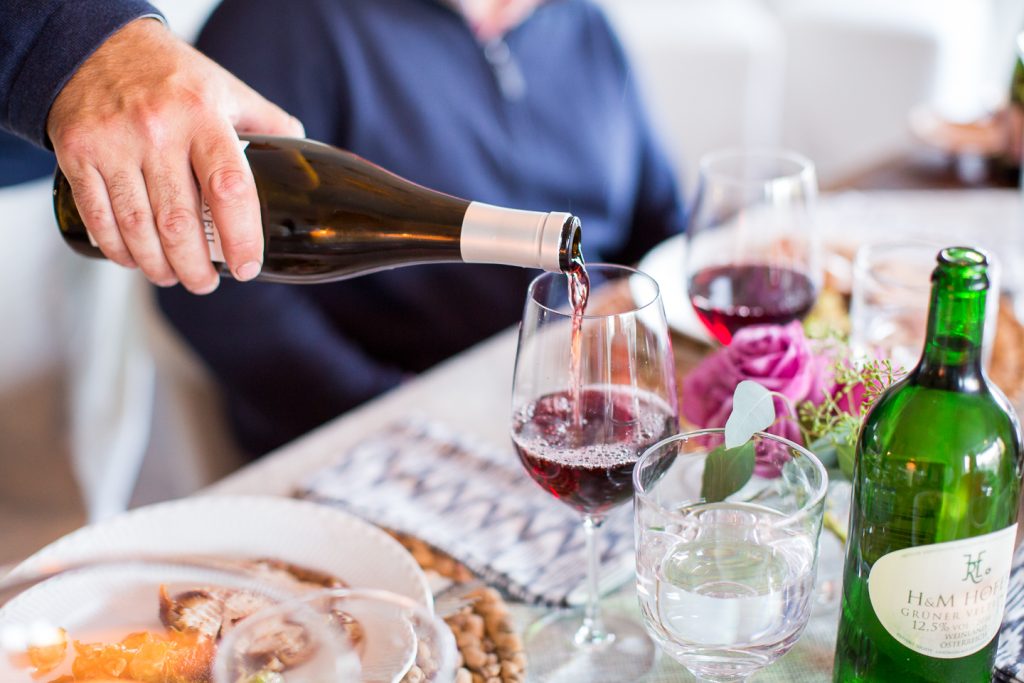 Sheila Lukins is one of my favorite cookbook authors and this was one of her first rules. I love that it forces me to hop into the fun so that I'm in the zone when the first guests arrive. We've worked hard to bring so many things together, let's make sure we enjoy the night, too. Cheers!