From boat builder to fabrication innovator, a Rhode Island craftsman makes art larger than life.
By Lisa Cavanaugh
Paul Amaral was a busy boat builder working at a marine manufacturing firm in Bristol, Rhode Island. One day, in the mid 1980s, an artist appeared with a wooden maquette (a model for a larger piece of sculpture) of a spoon with a cherry at the tip.
"He was looking for someone to build a 50-foot sculpture of the design out of aluminum and steel," says Amaral, who admits he had no idea at first that the gentleman was renowned Swedish-American sculptor Claes Oldenburg. The resulting artwork, Spoonbridge and Cherry, by husband-and-wife team Oldenburg and Coosje van Bruggen, installed at the Walker Arts Center's Minneapolis Sculpture Garden, went on to become one of the most recognized pieces of 20th-century public art.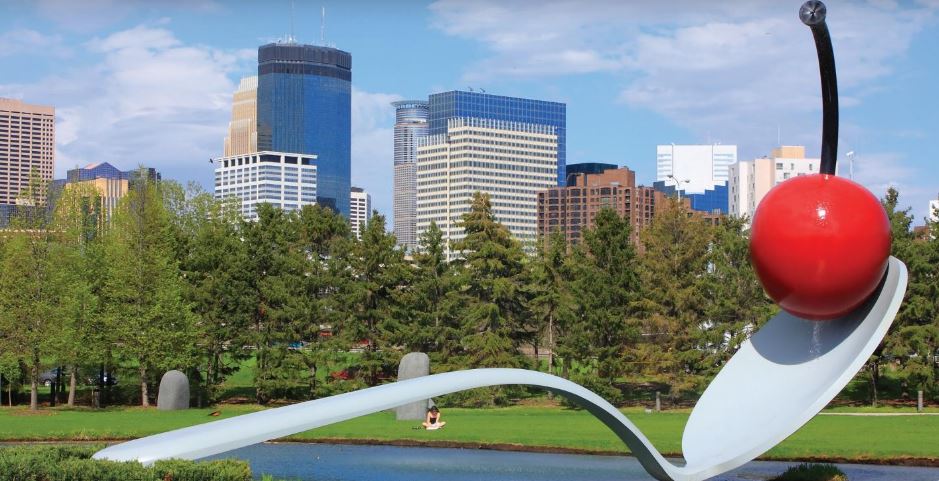 Amaral, the project consultant on that job, soon found himself making a career pivot. "People were sending us newspaper articles from Berlin and Vienna with features on Spoonbridge and Cherry," he says. "It was a lot of fun, so I decided to start marketing our company to artists. I didn't even know who Roy Lichtenstein was, but I called him up anyway."
Cold calling the famous pop art innovator led to a long-standing collaboration, including the construction of Lichtenstein's Six Brushstrokes aluminum sculptures at Singapore's Pontiac Marina. The collaboration continues to this day with the late artist's foundation.
Amaral dramatically increased his then-company's fortunes through this sculptural sideline, which ballooned into most of its revenue. But when boat building transitioned from metal to composite materials, his previous employer did not follow the new trend. Amaral took that opportunity to go out on his own, founding Amaral Custom Fabrications (ACF) in 1997. Most of his business remains in sculptural fabrication and restoration, with some additional clients in the oceanographic industry requiring custom hydrodynamic, marine-grade components.
Since his childhood days of working on his family's farm in Seekonk, Massachusetts, Amaral has perfected his techniques for precise and resilient sculptural fabrication. "Living on a New England farm in the 1950s and '60s meant doing everything by hand," he says. "I learned how to fix and build every kind of farm equipment. Then I just fell into boat building because that is where I could get a job."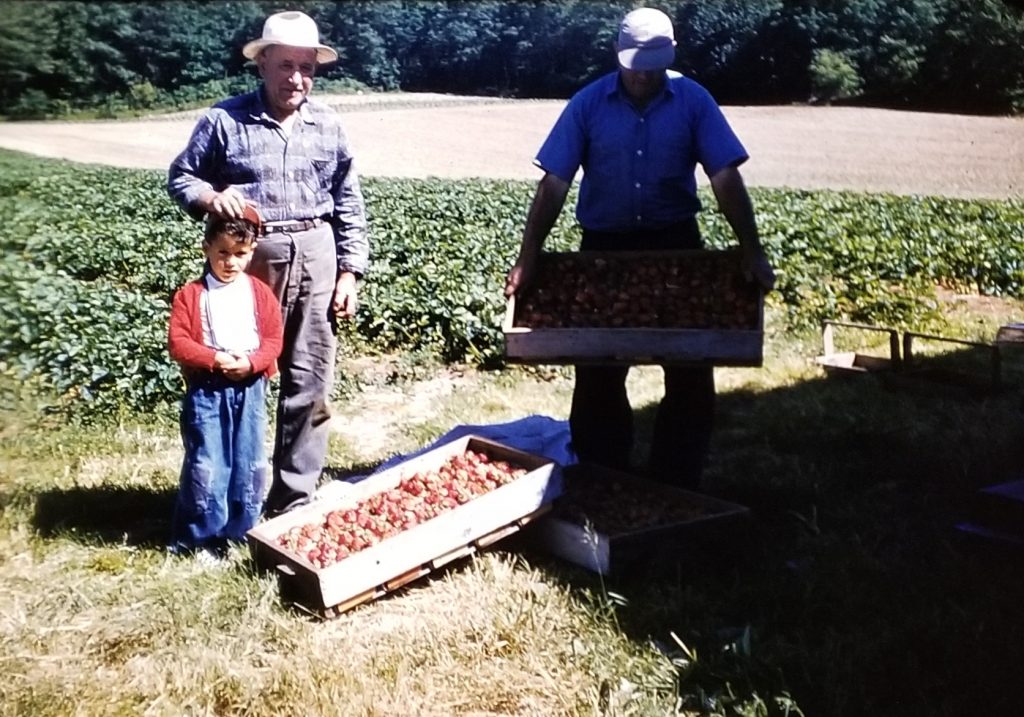 He believes that he has been able to attract the patronage of world-famous icons like Keith Haring, Martin Puryear, and Jeff Koons as well as up-and-coming artists like Hank Willis Thomas because he truly understands what they are seeking. "I can hear them, I can listen to them, and I can communicate their wishes and desires," he says. "I have the perfect skill set to do that effectively."
In addition, his boat building techniques, which had to align with the official standards of the US Coast Guard and Lloyd's Register of Shipping, translate well into the needs of large-scale public art installations. "We brought that level of quality over to the art world, and we've made a significant, long-lasting impact on the way these structures are fabricated."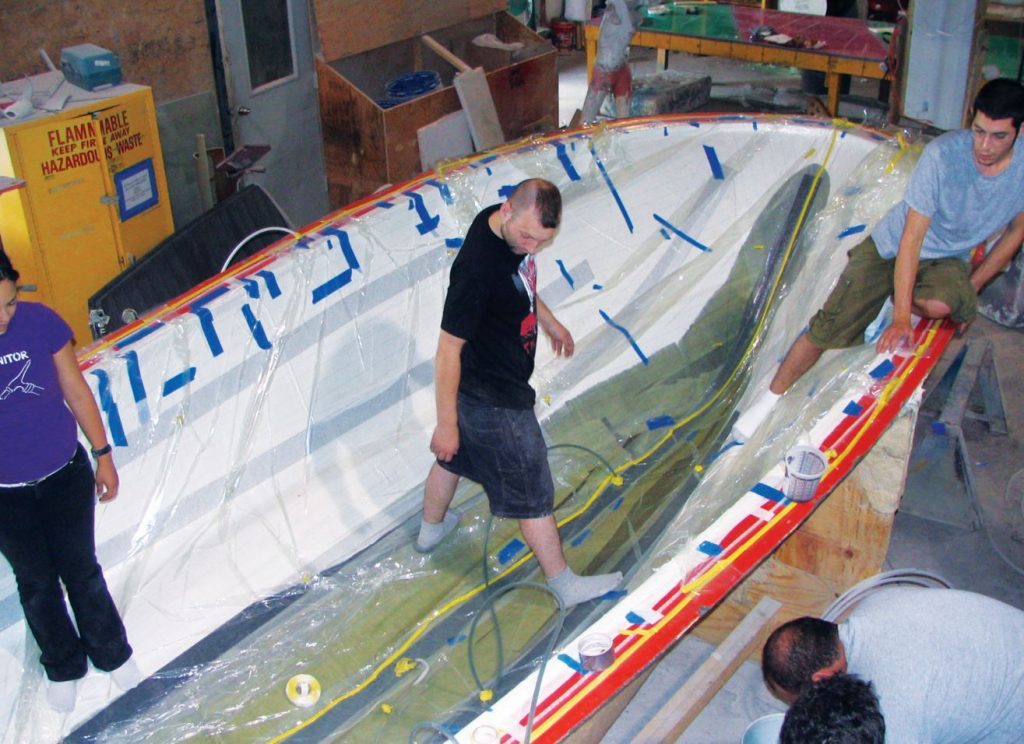 But even the best-made art pieces, if exposed to the elements, will need TLC eventually. "We've been doing this for so long that pieces I did in the early 2000s have enough wear and tear that we're restoring and renovating them," explains the entrepreneur. "It's not unexpected, since public art takes a lot of abuse."
Recently, ACF, located in East Providence, received some Keith Haring pieces from Liechtenstein ("the country, not the artist," jokes Amaral) for renovation. "They sent 11,000 pounds of steel to Rhode Island at great expense because they needed our expertise to restore the artwork."
At any given time, Amaral's team consists of between 12 and 28 skilled craftspeople who cut, weld, and finish both metal and fiberglass composites. Potential customers no longer appear with wooden models; instead, most create computer renderings, although Amaral says he still prefers to sketch by hand.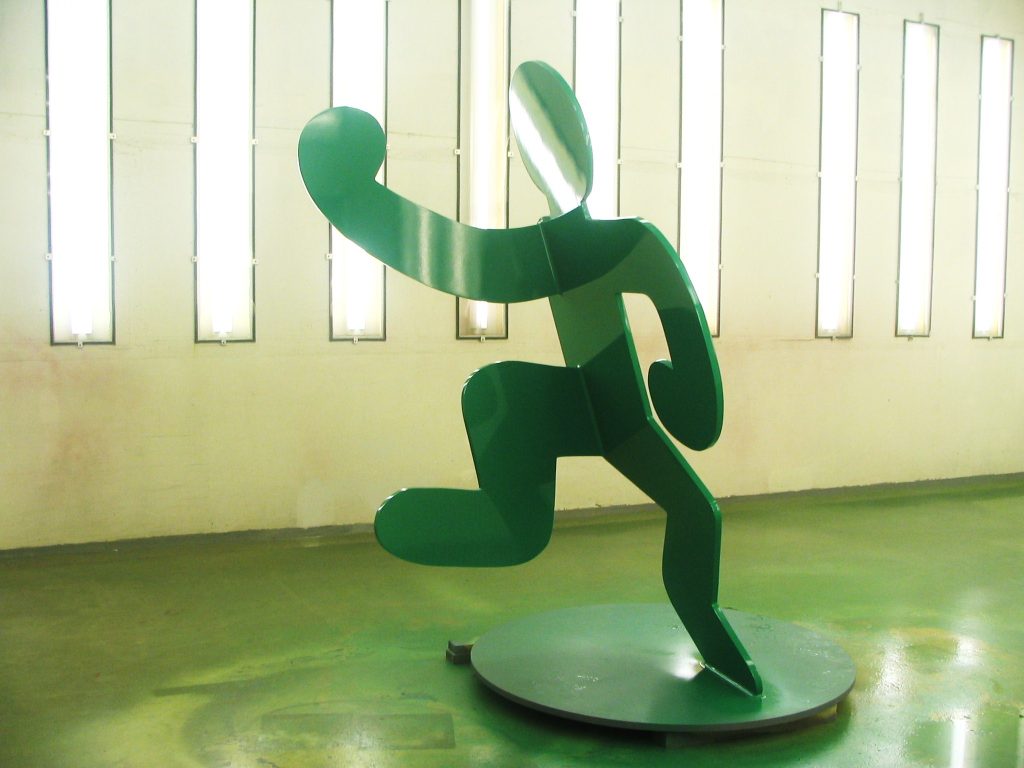 While he's not ready to stop working yet, the business owner is already planning for succession by continuing to train his long-time employees for when he finally retires. Then perhaps he can take the chance to see some of his works in their final destinations. A few are in New England, such as Hydro by Nancy Selvage in the Hamilton Canal District of Lowell, Massachusetts, but many are far flung.
"Most of my fabrications are west of New York City," he says, "so I'd love to take a road trip, maybe check out Oldenburg's Shuttlecocks in Kansas City. And after all these years, I've still never seen Spoonbridge and Cherry," he adds. "It would be nice to visit."