Exploring the creative potential of custom bars.
Photography by Dan Cutrona
---
A great deal of thought goes into the style of a home. From paint colors to finishes to fixtures, there are many moving parts that together must constitute a cohesive—and marketable, if the owners are going to sell down the road—whole. But good looks are not the only consideration: function is also key, which is why Rockland, Mass.-based design-build firm Roomscapes Luxury Design Center spends a great deal of time customizing features to fit its clients' lifestyles.
On Roomscapes' reputation for providing innovative design solutions to high-end residences throughout Greater Boston and the South Shore, owner Cameron Snyder, CKD (Certified Kitchen Designer), says: "Our achievement is largely the product of steadily raising the company's levels of aspiration and expectation. We won the PRISM Gold award for best showroom in the Greater Boston area in 2009, and yet we are continuously updating and tweaking it. The day we stop improving our showroom, training our employees or researching new products and solutions for our clients is the day we stop growing and securing our reputation as the area's best design firm."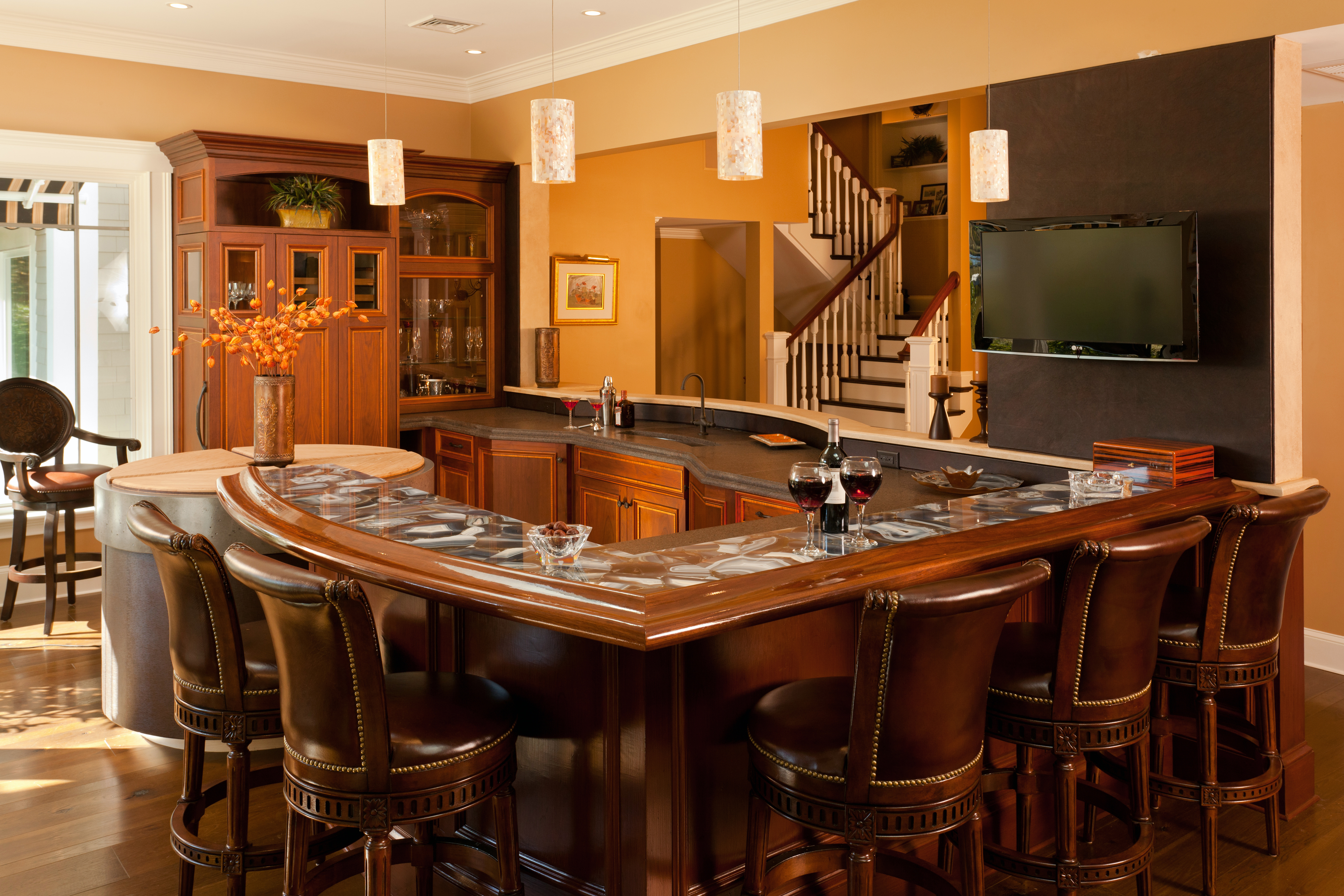 When it comes to designing personalized spaces for clients, entertaining is always a consideration, and what better entertaining destination than a bar? Whether it's the centerpiece of a dedicated room or built into a nook or even poolside, a bar encourages unwinding and socializing but also has a variety of practical advantages in terms of function, storage and cleanliness.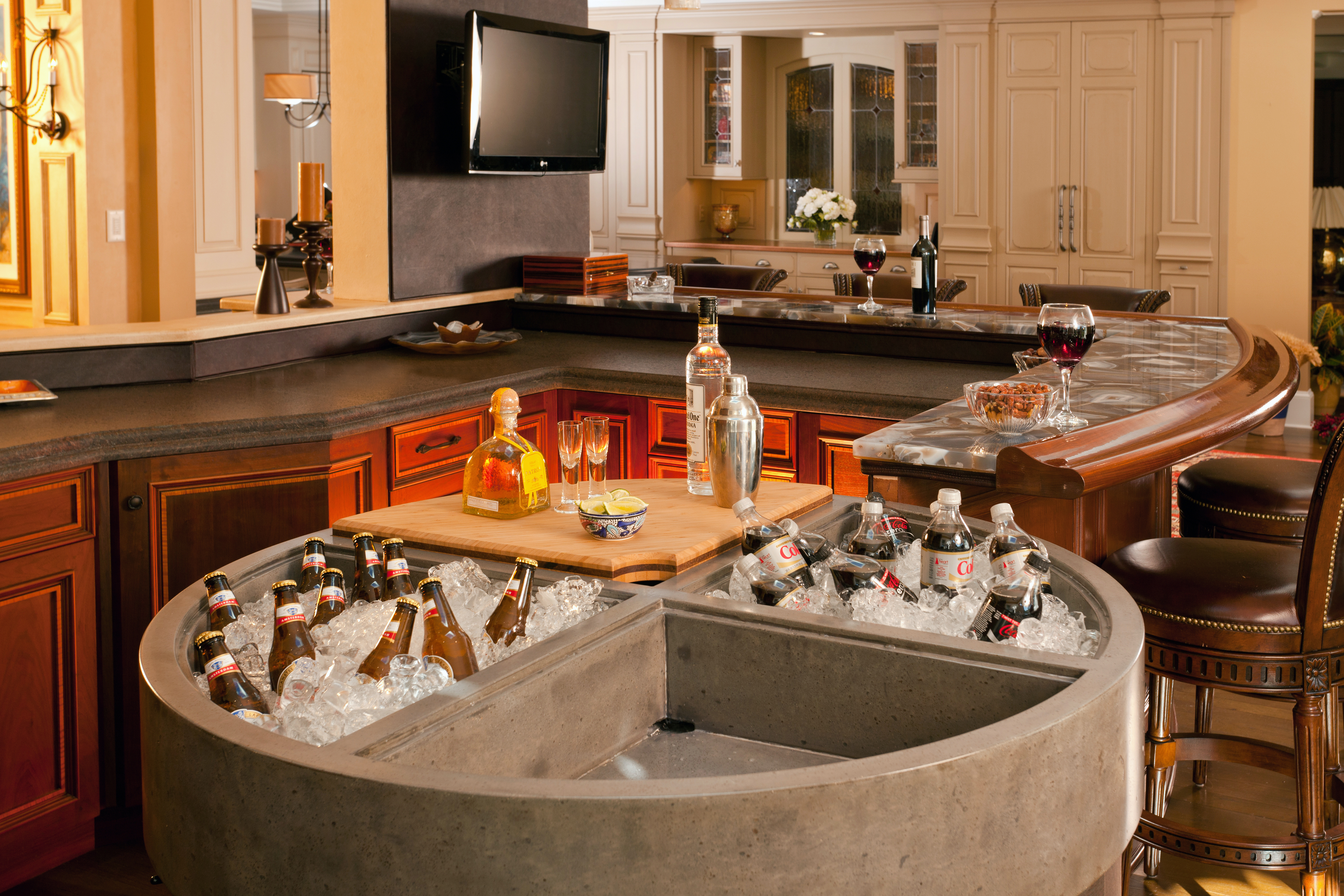 "Our newer home designs often include bars," says Mercedes Aza, marketing director for Roomscapes Luxury Design Center. "A bar should be installed where you host most of the time. Sometimes that's next to the kitchen, especially in modern homes with open floor plans. Other times it's built in to a wall in a dining room, great room, library, office or even in your outdoor space."
To inspire your next bar design, the Roomscapes team has assembled a variety of completed projects, ranging in size and style, which all feature design ingenuity, superior materials and great attention to detail.
---
THE FULL BAR
A full bar benefits homeowners who entertain frequently by accommodating specialized glassware and organizing wine bottles and spirits. Not only does it free up storage space in the kitchen, but it can also be a fun, more casual gathering spot that differs from the norm of just congregating around a kitchen island.
Desirable bar features include shelves for glassware, oftentimes sited in illuminated upper cabinets behind glass doors. Or, some homeowners opt for open shelving for quick and easy access to glasses and cocktail accessories. Ideally there is enough space for a sink, dishwasher and dedicated wine and/or beverage refrigerators, particularly if the bar is far removed from the kitchen. "We've seen a rise in demand for wine storage cabinets and built-in ice makers," adds Aza.
"While most homeowners want to keep their homes transitional and marketable, the bar room is where they allow themselves to be more personal," she contends. "It can morph into a man cave or rec room," she continues. "Wine aficionados can indulge their love of collecting with a full wine cellar and tasting table, and sports fans can opt for a pub-style bar with stools, beer taps and a giant flat screen."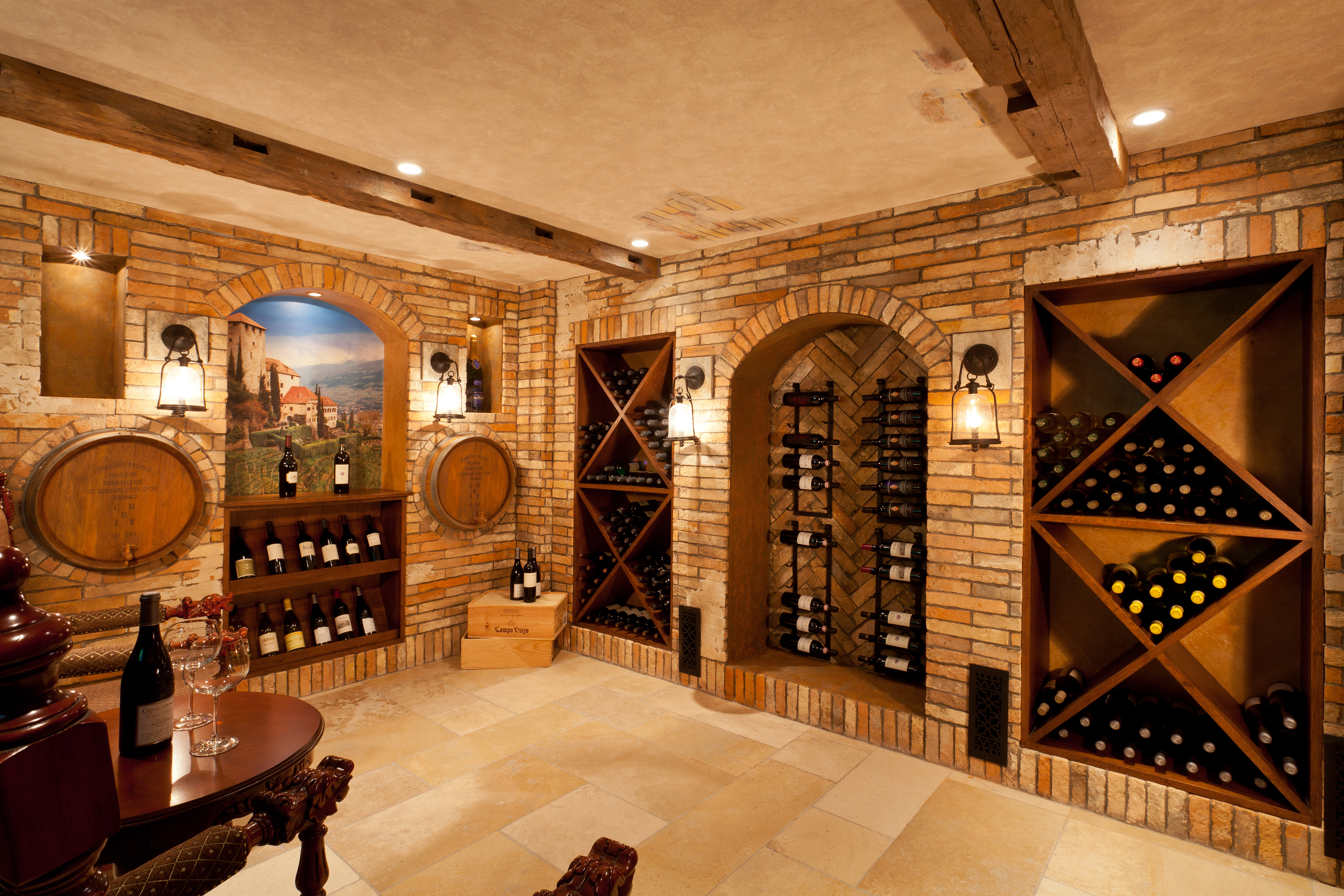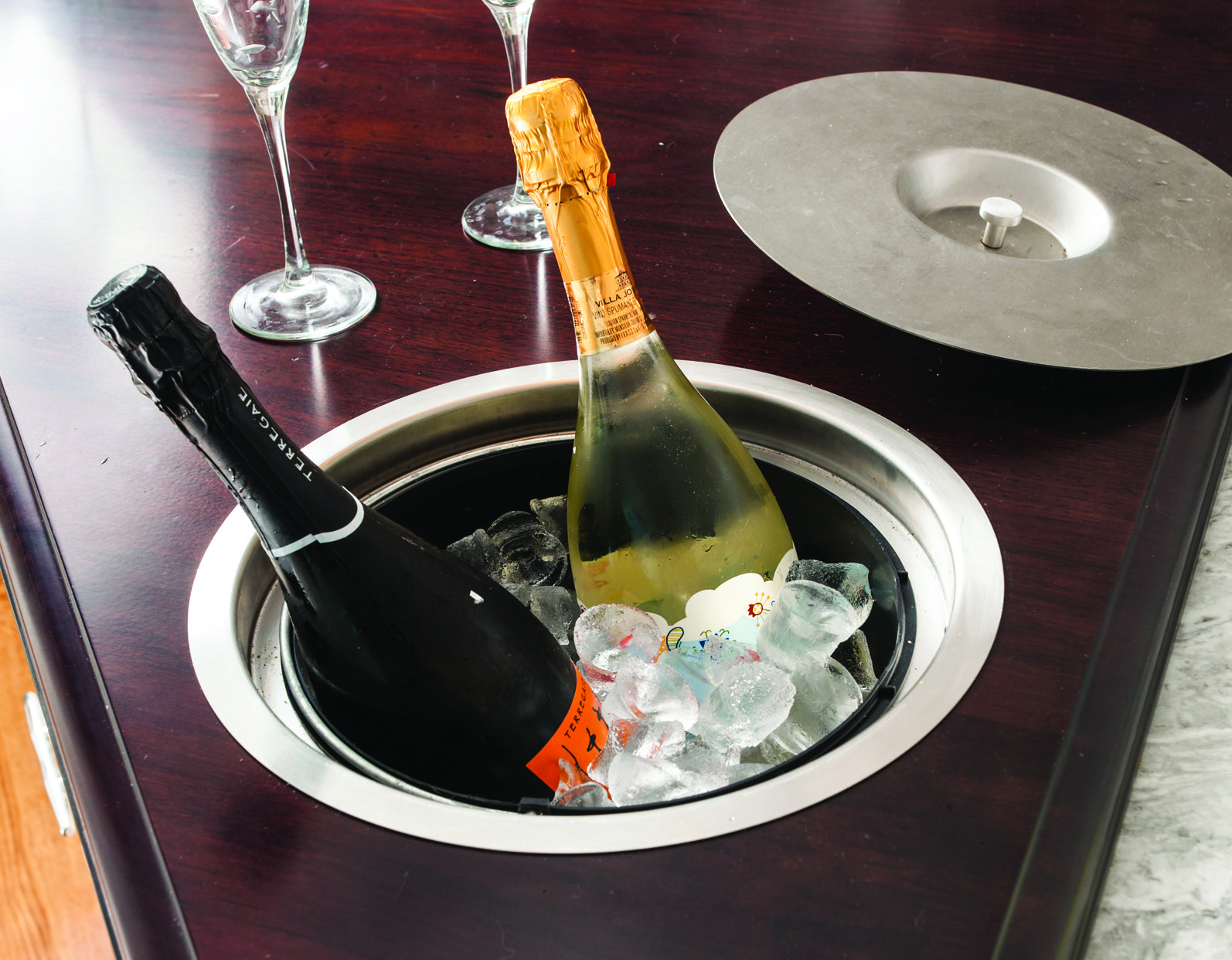 ---
THE WET BAR
Most modern kitchens incorporate a wet bar: a separate area for alcoholic beverage storage and preparation with its own dedicated sink. Typical refrigeration choices include smaller under-counter refrigerators, Sub-Zero drawers and a built-in icemaker. "On occasion, we also incorporate a small dishwasher or even a dishwasher drawer," says Aza. If countertop space is limited, one of Roomscapes' clever tricks is to include a sink or ice bucket that can be seamlessly covered with a lid of countertop material when not in use.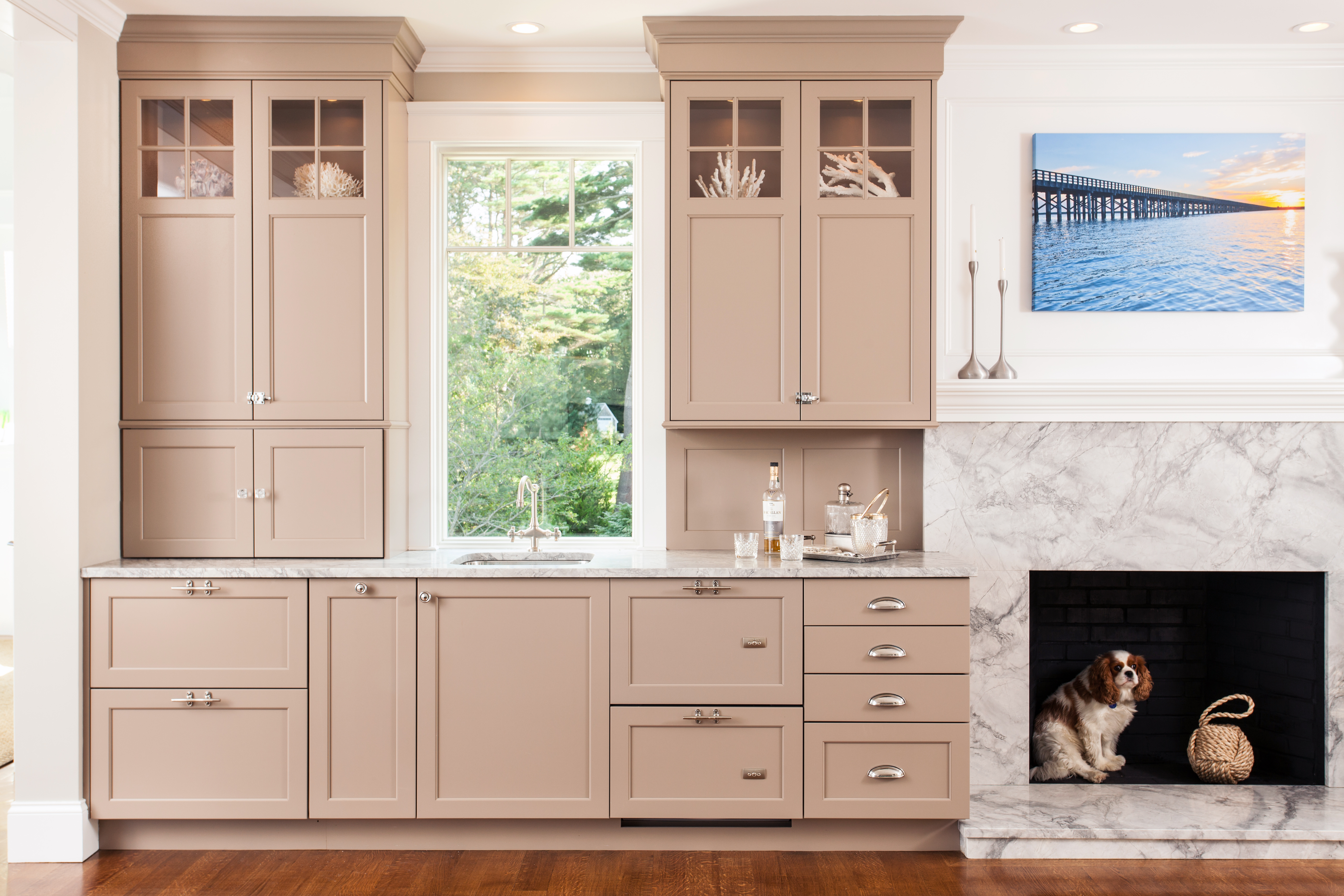 ---
THE FURNITURE BAR
Siting a bar inside a dining room or adjacent to it is a popular choice among Roomscapes' clients. "In these cases, a large emphasis is placed on making the bar look elegant," notes Aza. "The cabinetry tends to be more custom with delicate finishes, versus the lighter colors you would use for a bar in the kitchen."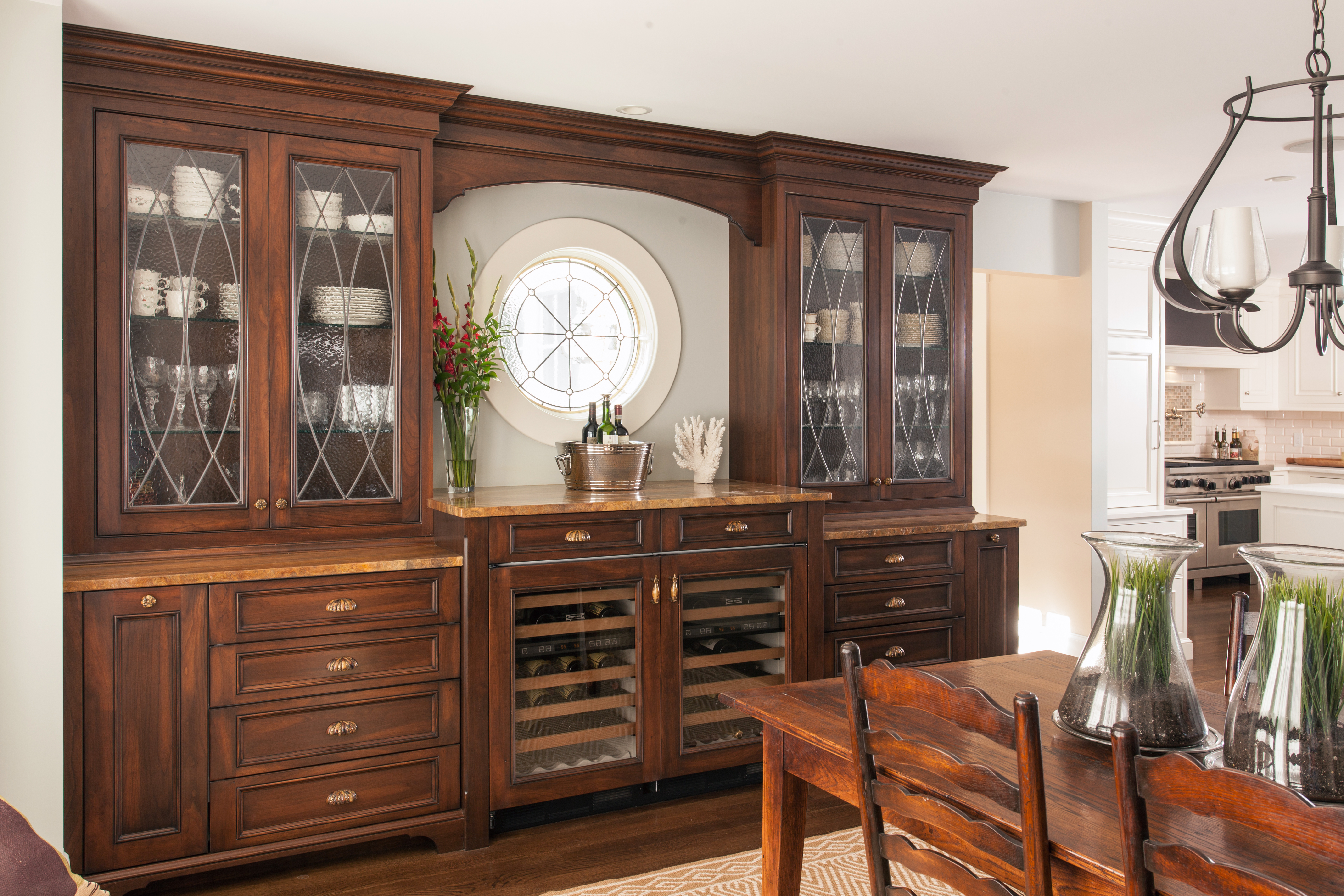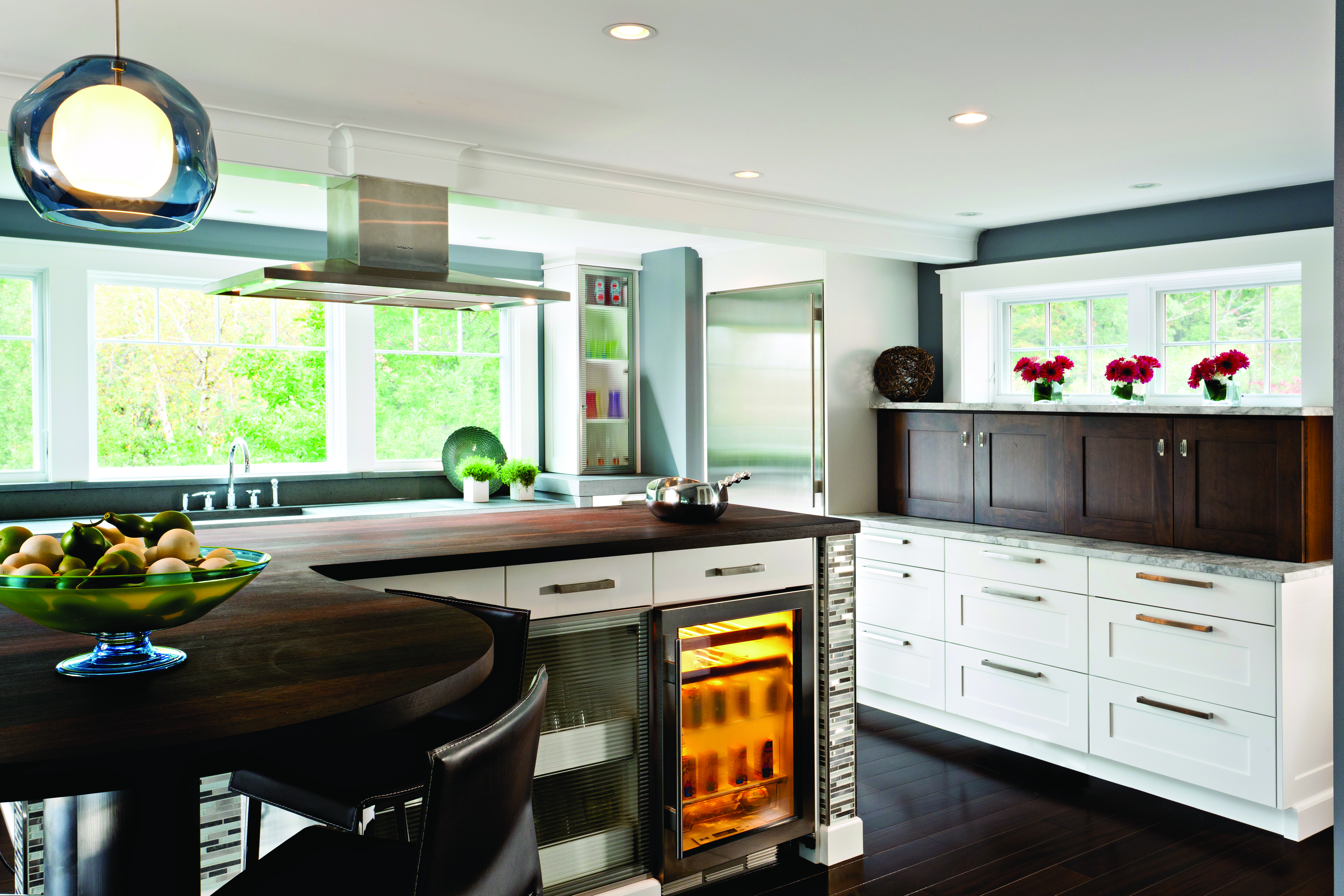 ---
THE HIDDEN BAR
In smaller spaces, the bar is usually concealed behind a closet door or in a cabinet or hutch. This scenario is ideal for homeowners who don't want their bar's contents on display all the time.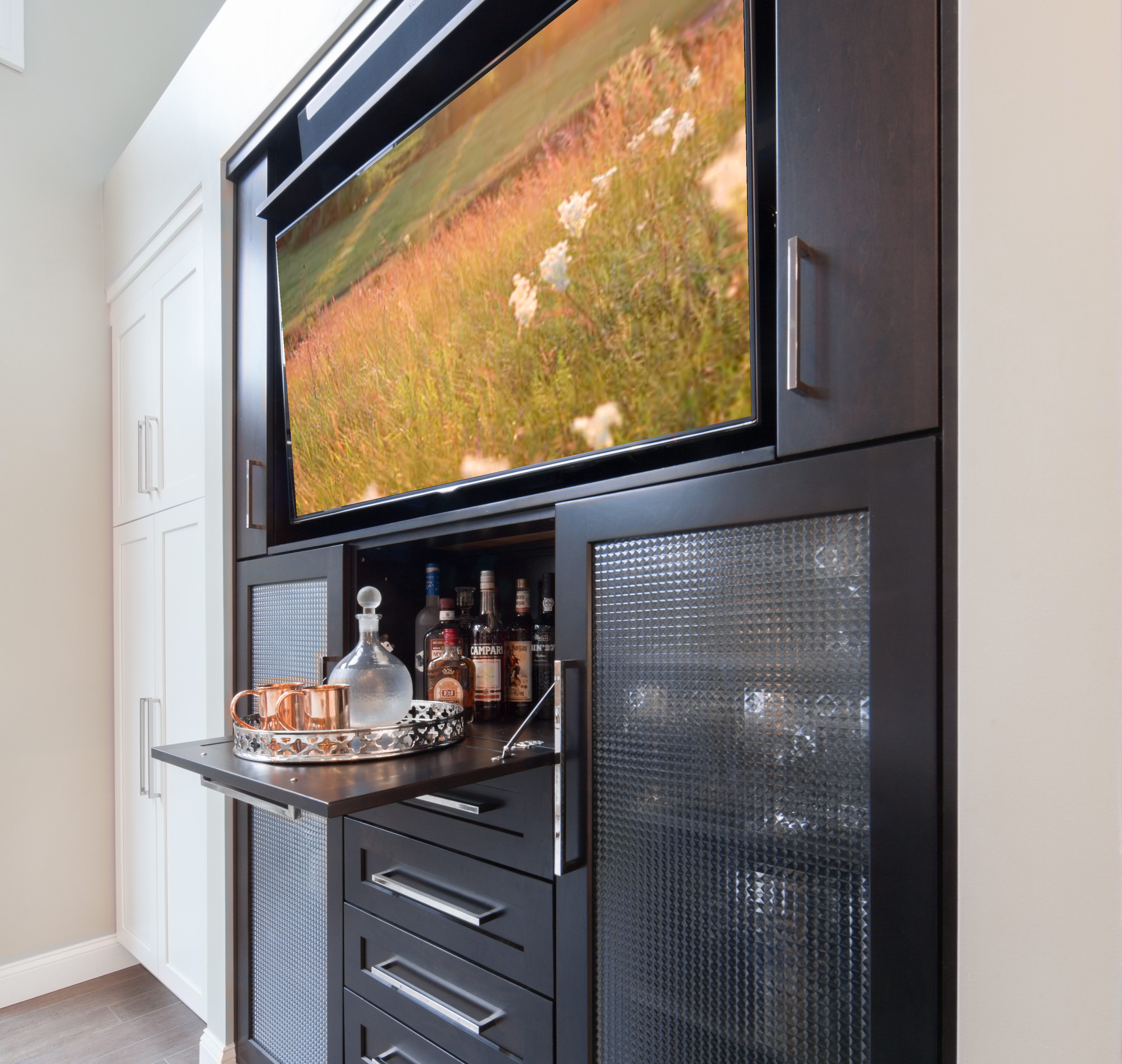 ---
THE BREAKFAST BAR
One interesting and popular addition to the kitchen is the breakfast bar, a separate section dedicated to breakfast prep. The most important meal of the day requires a lot of small appliances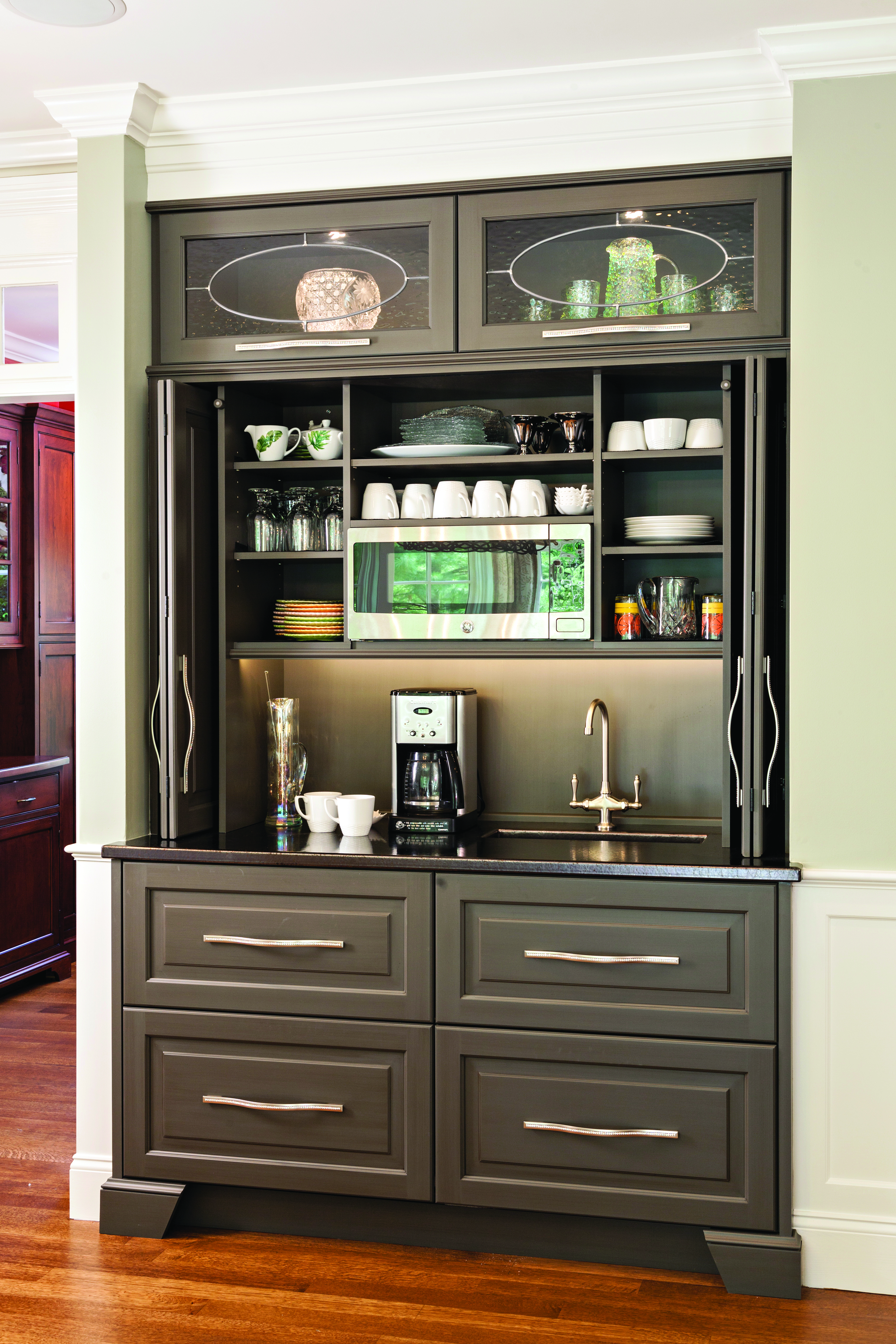 —coffee maker, espresso machine, milk frother, toaster, juicer,
blender—which contribute to countertop clutter. The solution: grouping them all inside a hidden appliance "garage" in the breakfast bar.
And don't forget all the mess-inducing accouterments of lunch preparation: travel mugs, lunch boxes, sandwich bags, thermoses and Tupperware. Roomscapes corrals these items with specially designed rollout and adjustable shelves.
Besides its functional features, the breakfast bar offers a variety of aesthetic opportunities. Homeowners can opt for different colors and materials than those used in the kitchen proper, and the latest trend is to conceal a breakfast bar inside a hutch, which looks just like a piece of furniture when closed.
---
THE SNACK BAR
Families with young children usually like to designate a specific cabinet for snacks and munchies. Roomscapes takes this concept to the next level with a snack bar, outfitted with an easy-to-reach under-counter microwave and a Sub-Zero drawer or small refrigerator for accessible beverages. Snack bar positioning depends on the family's lifestyle but possibilities include in the kitchen or media room or near play or homework zones.