By Lisa Cavanaugh   Images by Randi Woodrow/ AmpSurf
It's early on a late June morning as longtime surfer Mark Kielpinski arrives at Scarborough State Beach in Rhode Island. He has traveled in the pre-dawn hours from his home on Cape Cod to the shores of Narraganset, where he will spend the day not catching any waves of his own.
Instead, Kielpinski, along with several dozen other volunteers, will guide new surfers onto boards and into the sea as part of AmpSurf, a national adaptive sports organization founded in 2003 by former Marine Dana Cummings. Cummings, a native of Maine, lost his lower left leg in a car accident shortly after returning from active service overseas. He turned to surfing as part of his rehabilitation and soon created a learn-to-surf program for other amputees.
Since then, AmpSurf has expanded its program to serve all people with disabilities and their families through Adaptive Surf Therapy and other outdoor activities. Their goal is to bring the healing power of the ocean to these individuals for an experience that is both mentally and physically rewarding.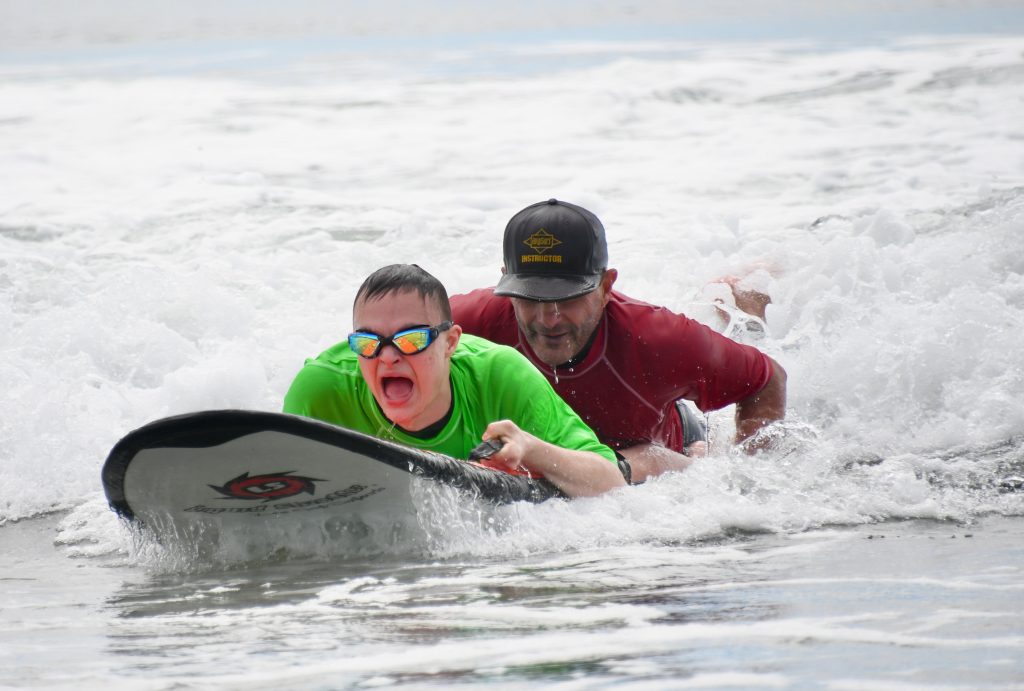 "The effect that the ocean has on people is completely amazing," says Elizabeth Kellogg Ph.D., the National Board of Directors Secretary and one of AmpSurf's trained adaptive surf instructors. "But I think what is most remarkable is the instant shift in beliefs about oneself and what you can and cannot do. They get on the board, and right away, the limitations just fall away."
Kielpinski says that he sees this effect every time he works with AmpSurf participants. One young man at the Scarborough beach day clinic was on the Autism spectrum and really encapsulated the transformation that this program provides. "We had some waves that day, three feet or so, and we got him in the ocean, and he was so excited just playing and splashing and diving under like you do when you're a kid," says Kielpinski. "Then we were able to get him out on a board for around twenty minutes, catching some waves, and when he came in, he was so full of joy. He literally just ran around in circles on the beach, clapping and smiling and hooting it up. It was just so beautiful, so fantastic."
For some people, just trying surfing once is enough to see that they can actually accomplish something they didn't think they could do, says Kellogg, but other people "really spark to it and want to keep coming back and getting better and better at it."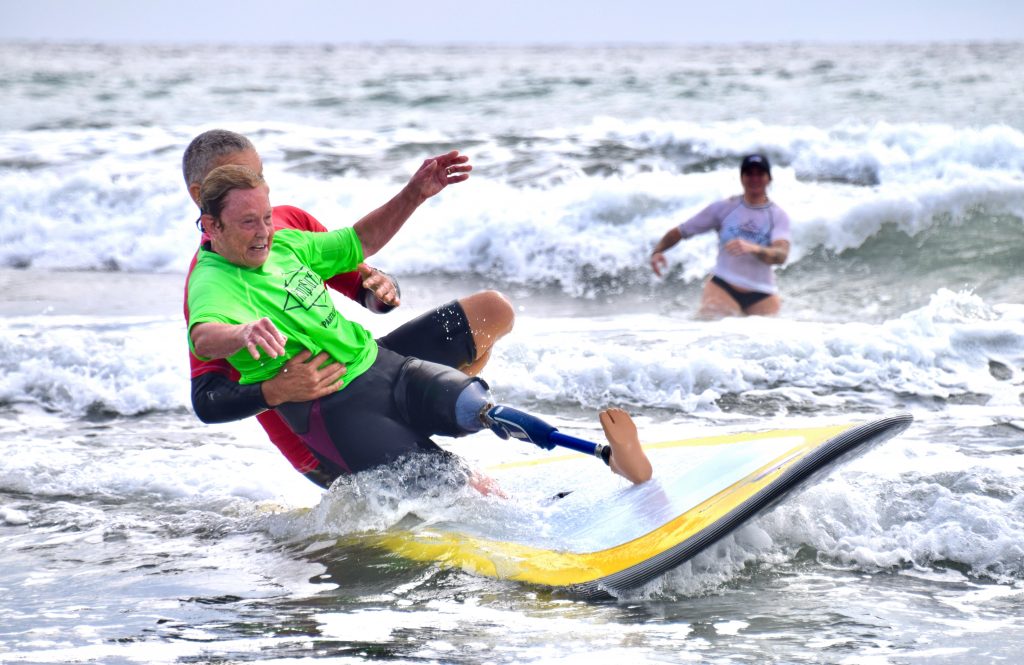 AmpSurf's New England Chapter, which boasts hundreds of volunteers and participants, hosts around six to eight surfing workshops each summer from Maine to Rhode Island, along with several other Veterans-only programs in conjunction with the Veterans Administration. Logistics can be a big challenge – finding an ideal, easily accessible, not too crowded beach with the right level of surf – so the events are planned carefully to have the optimum chance of success. Participants are invited via collaborations with social service organizations, physical and mental health therapists, and word of mouth.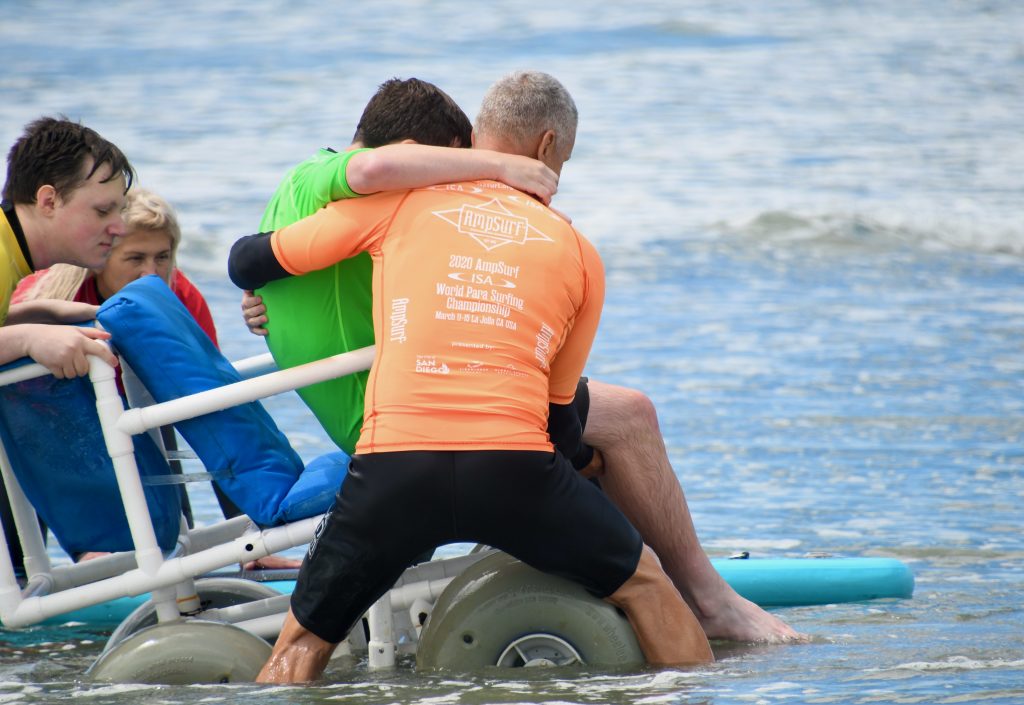 A rigorous training and certification program is offered before each season to prepare instructors for the work ahead. "There are all kinds of things you have to learn, like how to do wheelchair transfers, what to expect with different disabilities, how to assist amputees in waist-deep or chest-deep water, or how to help someone back onto the board," says Kielpinksi. He says that water helpers – volunteers who are not certified instructors – are incredibly important. Each instructor gets three or four water helpers to support the process, control the board, and become spontaneous cheerleaders. "It happens every single time," says Kielpinski, who began as a water helper himself when he joined AmpSurf six years ago. "Very quickly the water helpers are just caught up in the amazing positive vibes that are going down. They are screaming and cheering for the participants, clapping, high-fiving, and fist bumping. The stoke just happens."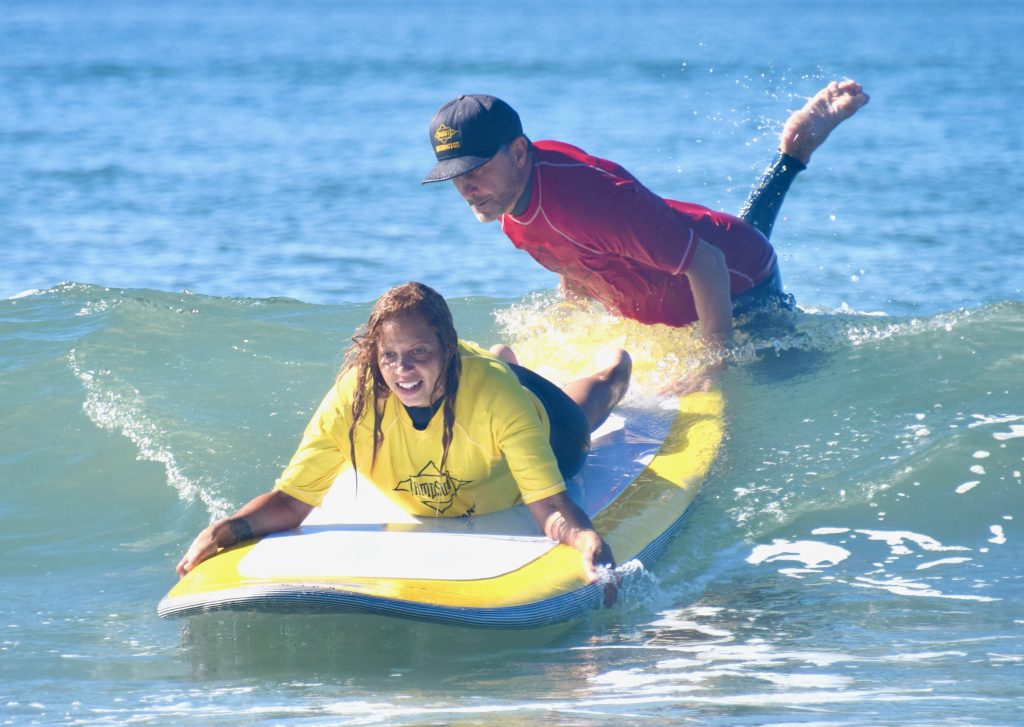 Another benefit, especially for the youth participants, is discovering the local surf culture. "Not everybody realizes there's great surfing here in New England," says Kellogg. "People think of Hawaii and California and don't always key into the fact that there are good waves here too. So, it's amazing for the kids when they go back to school to say to their friends, "I went surfing this summer!"
Like most of the AmpSurf team, Kellogg, who has a doctorate in psychology and is an educator in the Expressive Arts Therapy graduate program at Lesley University in Cambridge, volunteers her time with the organization. Beyond sharing her passion for surfing, what keeps her involved is seeing the "light bulb moments" when a participant feels that everything is potentially more possible. "I've had folks tell me that the AmpSurf experience is a game changer," says Kellogg. "A few clinics ago, there was a woman who had her leg amputated and hadn't been in the water for seven years. She sent me a note afterward saying, 'this changed my life.' It's a huge moment when they feel the capabilities they thought they had lost, are still there."
Kielpinksi stresses that he and other instructors adapt to whatever level and kind of surfing the participants are comfortable with. He recalls a day when he worked with a student surfer who was born with no legs. "He had learned to do everything with his arms and hands. And we got him out on a board, and he was doing handstands riding the waves. It was so insanely cool. Right then you could see the ocean doing its magic."
For more information: visit AmpSurf