By Jennifer Sperry    Photography by Nat Rea
Nantucket has long been a cherished haven for the homeowners. Which is why, in 2017, they approached Mellowes & Paladino Architects about redeveloping a property they owned in Surfside, a beach community on the island's south shore. The couple, who have grown children and grandchildren, wanted a retreat exemplifying New England coastal style with plenty of room for their expanding family tree.
The idea was to purchase an adjoining lot that would double their property's footprint and build a compound where everyone can gather and also have room to breathe. Firm principal and lead architect Bob Paladino spearheaded the compound's design, which includes an 8,000-square-foot main home (plus garage/guest house), 5,800-square-foot secondary home (plus another garage/guest house), and a luxe poolscape.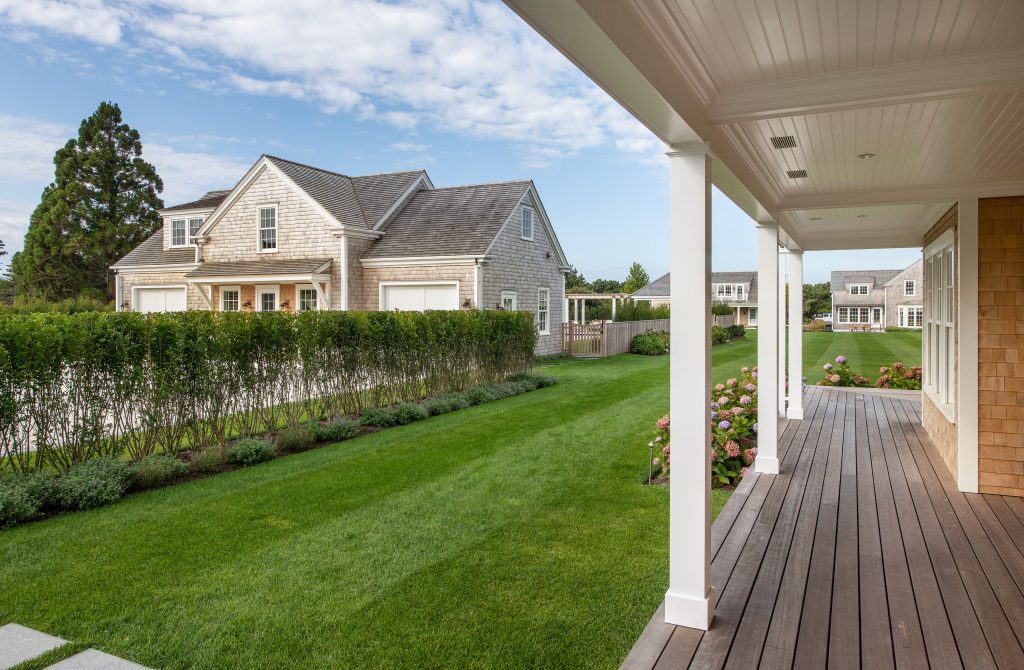 "Previously, these clients owned a property overlooking the harbor, but it wasn't big enough to fulfill their vision of a generational home," explains Paladino. "They had no qualms about trading ocean views for the more pastoral, private feel of a slightly inland property with room to grow." Project manager Emily Sanders Coutu agrees of the homeowners' priorities: "This couple is all about views of their grandchildren now."
Working with the Nantucket Historical Commission's strict architectural language, the architects developed timeless Shingle Style exteriors. Height restrictions led to a prevalence of living spaces arranged within dormers and gables. "With all of Nantucket's rules about architectural forms and materials, it's hard to distinguish yourself on the outside," elaborates Paladino. "But the benefit of these restrictions is that individual houses lend themselves to a cohesive visual fabric that stretches island wide."
For their interiors, the clients wanted a beachy feel. They envisioned something lighter and breezier than their more traditional Boston residence, also designed by Mellowes & Paladino Architects. Composing two homes on the same property for one client was an intriguing challenge for the firm. "We had no interest in designing the same house twice," notes Coutu. "We used similar materials in both houses—bleached white oak, tiles, plumbing fixtures—but bumped up the level of detail and introduced more formal molding profiles in the primary residence."
At the heart of the primary home is a bright, white kitchen. Form and function were prioritized equally in this space. A Wolf range and two Wolf wall ovens do the heavy lifting for family meals. Meanwhile, two full-size refrigerators, under-counter wine storage, and a refrigerated drawer—all Sub-Zero models—accommodate the needs of a full house. Paneling effortlessly blends the hefty appliance allotment into the supporting custom cabinetry.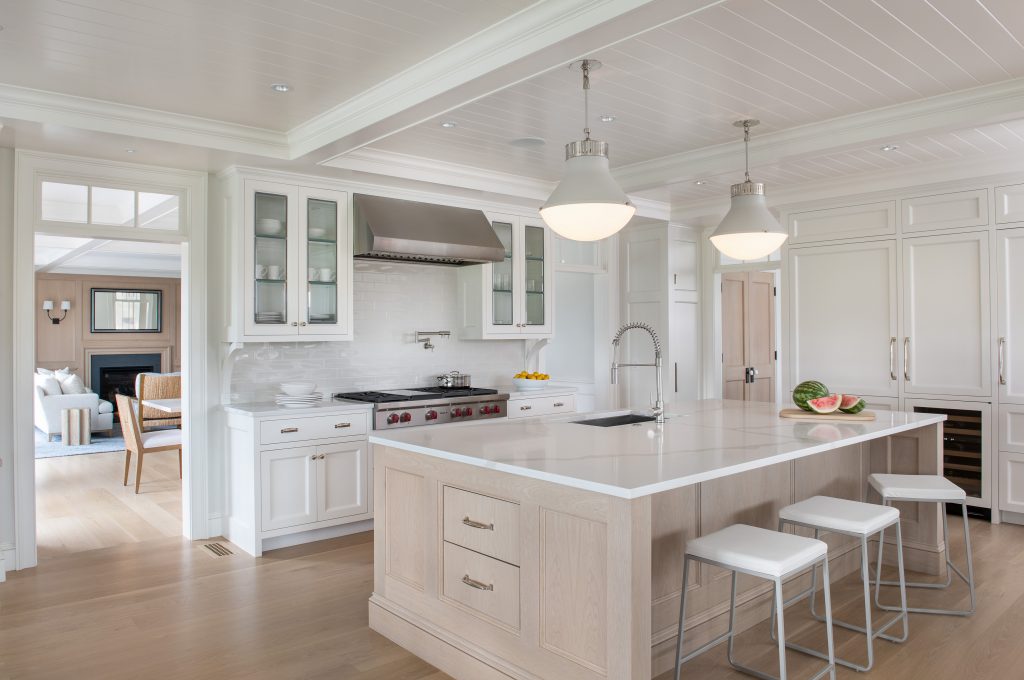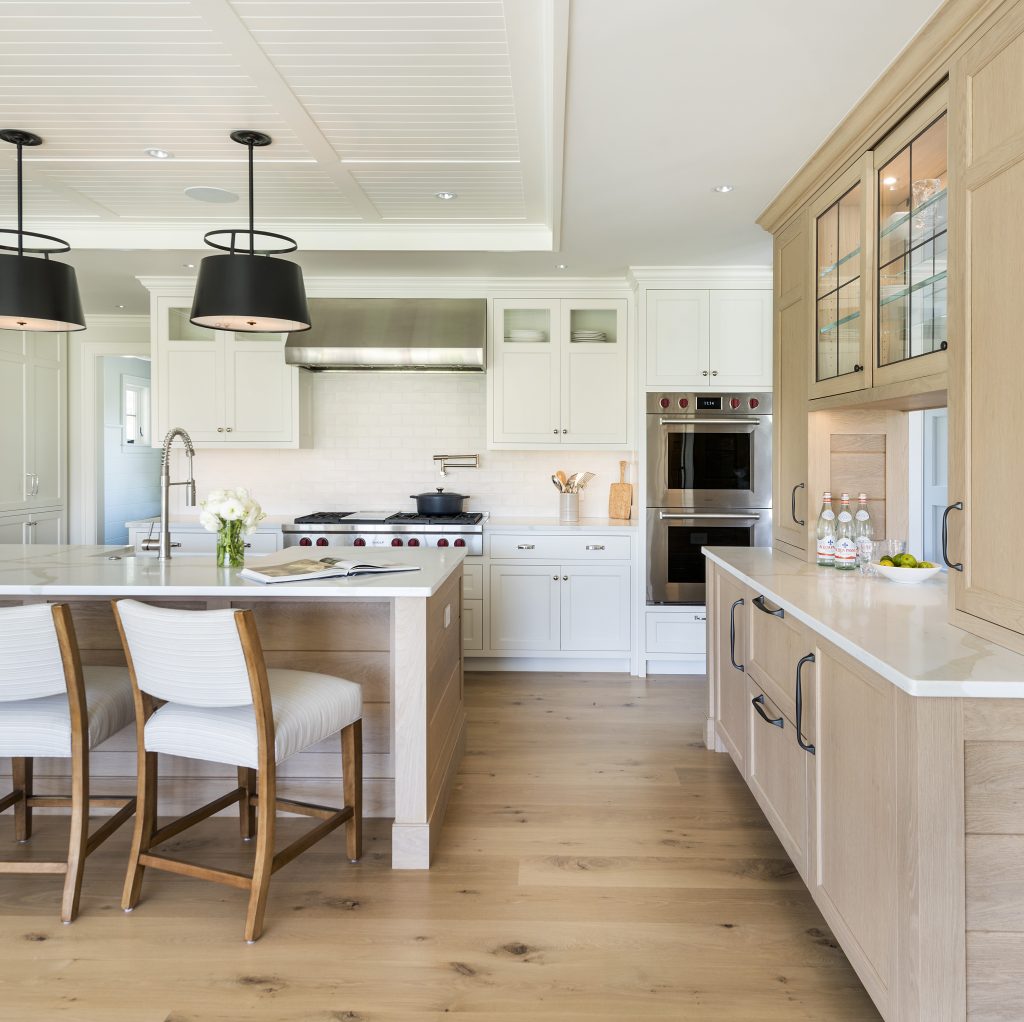 Radiating off the kitchen are two informal gathering spots: a breakfast nook tucked into a window-lined alcove and a family room with TV. A ceiling treatment of V-groove wood and paneled beams unites these core spaces. "We wanted to keep the kitchen feeling central and connected but didn't want a completely open plan," notes Paladino.
Architectural formality increases in the living room, where white oak paneling frames a soapstone fireplace surround. A flourish of the home's exterior architecture created the opportunity for a recessed window seat on the room's outer wall. "Paneled with wainscoting, it's a fun little nook for reading or napping," says Paladino.
"Our goal with the interior architecture was to achieve a classic aesthetic," asserts Coutu. "The shell, with its paneling and wainscoting, leans towards traditional, but we kept things fresh with more contemporary-leaning tile and fixtures."
"The effect is a timeless look with updated details," says Paladino. "There's a richness to the materials but the overall palette is very clean." Besides a master suite in its own separate wing, the main home boasts four en suite guest bedrooms and a basement-level bunkroom for young guests.
Outside, the inviting pool area offers all the comforts of home within two pavilions. One houses a kitchenette and bathroom and the other a TV. In between, a pergola-covered sitting area overlooks the linear pool, which stretches all the way to the main property's guest house on its opposite end.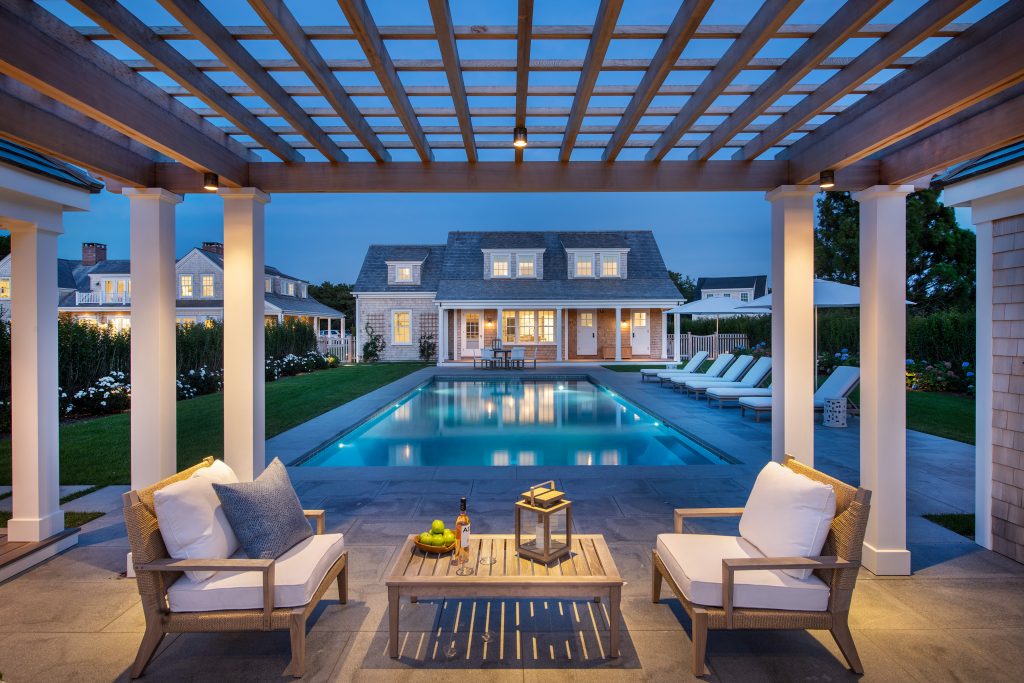 The four-bedroom secondary home is oriented on its own lot about 200 feet from the primary house. Its kitchen, dining area, and living room are lined up in one long, hangout-friendly rectangular stretch.
Subtle differences in materials and molding profiles establish this secondary home as more relaxed than its larger neighbor. "The flooring is a different grade of white oak; you can see the knots," says Coutu. Similarly, the kitchen cabinets and paneling around the living room fireplace are simpler in profile. "Everything is a little more rustic and casual," she adds. Not to be outdone, it has a bunkroom of its own to lure younger guests.
The compound was completed in 2019. Since then, the family has filled both houses every summer weekend. Children play on the lawn, splash in the pool, and stay up too late in the bunk rooms. Adults lounge poolside or stroll down a dirt road for an afternoon at the beach.   From corner to corner, the property is filled with gathering opportunities and memory-making potential. It's exactly what the owners had in mind.
Architecture: Mellowes & Palladino
Builder: Cross Rip Builders
Interior Design: Cynthia Hayes Interior Design
Cabinetry and Millwork: Jutras Woodworking