The photographs that line the walls of David Josef's unassuming Waltham atelier belie a star-studded career of dressing notable women, and dressing them fabulously. Debbie Reynolds, Diana Ross, Raquel Welch and Kaye Ballard are just a few of the grand dames that stand out, but perhaps the brightest star in this workshop—laden with racks of colorful satin gowns, delicate lace sleeves, and intricately beaded bodices—is his own.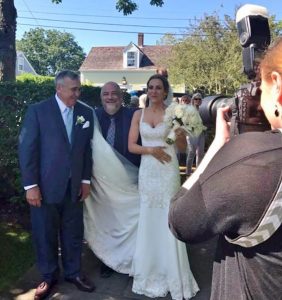 As the child of a talented seamstress, Josef began sewing very young, and went on to create the costumes for his school plays. Fast forward just a handful of years, and he had already hit the big time, opening his namesake boutique in 1978 at the tender age of 21. Soon after, his designs were scooped up by the luxury department stores Bonwit Teller, Neiman Marcus and Bloomingdale's. Iman modeled his clothes in Harper's Bazaar, and in 1989, as Josef recalled in a recent Boston Globe interview, "I had all the windows at Bonwits on 57th and 5th. That was one of the few moments I thought, 'Wow, you've really kind of made it.' "
Today, he leads a slightly less hectic life with his husband of 37 years, Daniel Forrester, and focuses on designing custom pieces for the who's who of Boston women, from broadcast journalist Gail Huff to former Boston Mayor Thomas Menino's wife, Angela. His impeccable craftsmanship, his ability to rework just about anything and his intuitive capacity to manifest the needs and desires of his clients in the form of a perfect, couture creation, also make him a go-to for wedding pieces. Whether it's a bride who wants to update her mother's gown, a mother of the bride who is looking for something to make her shine, or a bride or bridesmaids who just can't find off the rack pieces that fit their body type or specific religious dress expectations, Josef is a pro at helping make their wedding dress dreams a reality.
More than merely clothing "his girls," as he calls them, Josef's personality and sense of humor are infectious, and many of the relationships that he forms in dressing a client last for a lifetime.
It isn't unusual to see him personally tending to the train of a wedding dress moments before a bride sets off down the aisle. On Facebook, he regularly shares photographs of each of his creations, but the post is often more about the story of the woman wearing the piece than the piece itself. With such careful devotion to his customers, it is no surprise that he, in turn, has earned a legion of devoted followers.
We had the privilege of asking David a few questions about his stellar career, his philanthropic efforts, and his most recent couture masterpieces, below.
First thing's first. You've just returned from the wedding of Jennifer Schmitt and Stephen Belichick on Nantucket. What was the experience of seeing this couture creation through all the way to the bride's walk down the aisle like?
Helping Jennifer Schmitt become Mrs. Stephen Belichick was quite an honor and a definite highlight of my 41-year career. I met Jennifer when she was 9 months pregnant with Blakely Rose. I had not known Jenn before so I didn't know her body before pregnancy. WOW!!! Jenn gave birth to Blakely in December 2016…and we started on the gown, which went through many phases. Jenn is an athlete—a professional lacrosse player—she dropped all of her baby weight and then some.
We designed her gown so that it would flatter all of Jennifer's curves, but made sure it was a gown that Steve would go GAGA over…HE DID!!! What a lovely, beautiful couple (and now, family!).
As a designer with a long career, you must have an interesting perspective on the evolution of fashion from the start of your career, in 1978, to today. What are some things that strike you about how fashion has changed…or stayed the same?
I have recently recognized my design influences. When I was just a young homo living in my mom's home in Providence RI—my parents were divorced—I was a TV addict. Strong women were my fashion muses, from I Love Lucy to MTM to That Girl, but mostly Bob Mackie's designs on Cher for The Sonny and Cher Show. I knew that [fashion] was what I wanted to do with my life. My mom and grandma had always sewn, so I just started one day at eight years old…and never stopped.
Fashion has evolved in so many ways, but when you look at my creations, they truly are timeless. I will give a nod to a trend so my designs look contemporary, but just a nod. I don't follow trends. My clients want dresses they can wear forever.
You've mentioned the kinship you feel for the women you've dressed in the past. How do you think this closeness translates in the custom pieces you create for them? Are there any particularly memorable moments you've had with clients that you can share?
Doing custom work with my ladies is a very personal experience: I fall in love with every client. Right now, I am jones-ing because I miss Jennifer, and another recent bride, Abby Brown Boyd.
Each dress is so personal, but I feel my best talent is that I simply listen. Every woman knows what she wants her dream dress to be, but sometimes she doesn't know how to express it. I can hear what they are saying, and be able to put it on paper.
Last year I did an emergency ensemble for a new client who wasn't feeling well. She was recommended to me by another client. We were going to get together after her appointment at Beth Israel. When Linda came in, she was pale white. Her son's wedding was just three weeks away, she had no outfit…and she had just found out she had bladder cancer!
She cried in my arms, but made the decision not to tell anyone because she didn't want to ruin her son's special day. I banged out the MOST BEAUTIFUL black beaded jacket, tank and slim leg pants. Linda looked like Elizabeth Taylor. She couldn't wait to wear it. Her spirits were lifted and she felt beautiful.
Linda passed three months later and was buried in our creation. To this day I weep when I tell this story, as I am now on the keyboard.
I have a million more amazing stories, like the lady with the boob job who liked to strut around while she changed into other dresses [laughs]. I'm gay…she couldn't have been safer!
Philanthropy has also been a steady theme of your career…what are some of the causes that you feel particularly drawn to supporting?
My philanthropic work started in the mid 1980's as an AIDS activist. My husband of 37 years, Danny, and I were losing friend after friend to this disease. We teamed up with Fenway Community Health and the Aids Action Committee and raised lots of money for the cause.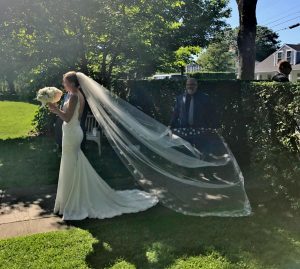 I recently founded FASHION TO THE RESCUE in 2015, where I would produce an event in Boston to raise money for my friend's animal sanctuary. Aimee's Farm Animal Sanctuary in Arizona has received over $300,000 since I founded FTTR. Most recently, we found the farm a wealthy benefactor who is taking care of its finances for the next 10 years. So now I am looking for some local charities to be the recipients of FTTR money. It's a mountain of work, and this year's event on April 28—produced by AJ Williams—almost killed me. IT WAS BRIDAL SEASON and I was producing an event for 500 people…OY!  I almost lost my mind.
What's your favorite thing about living in New England?
Honestly…everything, but I truly think [it's] the people. My family is here, my in-laws are here, and I met my Danny here. The world is so little now that you can just jump on a plane and be somewhere else in a few hours. I would never leave this beautiful part of the USA!
Daniel James Forrester photos.