The Stowe, VT episode of New England Living TV was filmed in the height of ski season. With its mid-winter blanket of snow, the northern Vermont village proves absolutely picture perfect as Host Parker Kelley explores the town and spends time in the home of Wendy Valliere, the owner and principal of Seldom Scene Interiors, the nationally-renowned interior design firm.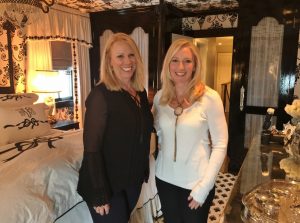 Wendy handled the interior design of her home, a renovated 1842 farmhouse in the heart of Stowe's downtown, herself and she's created spaces that are layered with visual interest. It's filled with warm colors and lush fabrics that provide her with a respite from the snow that covers the region six months of the year.
In this episode, Parker tours not the only the house, but the village as well. She visits with the manager at Stowe Mountain Lodge, where we stayed while filming, as well as the brew masters at Lost Nation Brewery, Architect Ernie Ruskey of Tektonika Studio Architects who worked with Wendy in remodeling her home, and Chef Jason Pacioni of Black Diamond BBQ. After hitting the slopes with Wendy, Parker joins Chef Jason back as the house to work with him in preparing a dinner that Jason explains will feature "…all kinds of local foods," including mussels steamed in beer sourced from Lost Nation.
New England Living TV is sponsored by Sub-Zero and Wolf appliances, Clarke Appliance Showrooms, Kohler, 7 Tide and Supply New England. Join us for the Stowe, VT episode on Sunday, May 14th at 11:30 a.m. on WBZ | CBS Boston.

L to R: Parker enjoying craft beer at Lost Nation Brewery; on the slopes at Stowe; Front Four Residences at Stowe Mountain Lodge.