Since ending her reign as Miss Universe Pageant in 2012, Rhode Island native Olivia Culpo remains a regular on the red carpet and on TV shows such as E! News. In the spring of '12, Culpo was featured on the cover of our sister publication, Southern New England Living.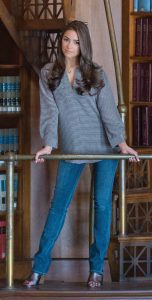 FROM THE ARCHIVES
On Top of the Universe
Rhode Island native Olivia Culpo's complete package of brains and beauty brings the Miss Universe crown back to the United States.
Prior to 2004, the Boston Red Sox infamously went 86 years without a World Series win. After the debacle that was the 2012 season, we'll refrain from further comment on this topic. In another notable competitive drought, it had been 16 years since Miss USA had gone on to win the title of Miss Universe.
All of that changed on December 19, 2012, when Rhode Island native Olivia Culpo won the Universe pageant in Las Vegas and brought the crown back to not only the United States but also to Southern New England.
She's not what you'd expect
 The first thought of anyone who meets Olivia has to be "what a smile." And the moment she speaks, the second thought might be, "She certainly doesn't sound like a beauty queen." As soon as Miss Culpo speaks in her throaty and—there's just no other way to describe it—cultured voice, all thoughts of Toddlers & Tiaras are immediately dispelled.
The route that Olivia took to becoming Miss Universe is, in fact, the antithesis of the young beauty pageant contestants and their mothers portrayed on TLC's oft-maligned reality show. Olivia, a gifted cellist who started playing at the age of seven, was a student at Boston University when she decided to compete in the Miss Rhode Island pageant. And her mother is actually on stage frequently but is not a stage mother—she's a violist with the Boston Symphony Orchestra. There's no childhood history of pricey miniature gowns and spray-on tans and, as Olivia tours the world and walks the red carpet at the Academy Awards and other events, there is no red-carpet treatment when she visits the Cranston, Rhode Island, home where she grew up and where her parents and siblings still live.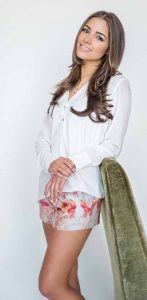 "They're very proud of me, but to be honest with you, I think it's hard for them to see me as anything other than 'Olivia,' " she says when asked what her family thinks of her sudden fame. "There's no special treatment and it's the same as before, the same dynamic," she adds.
The swan's saga
By her own account, Olivia was a late bloomer: "I was a little chub-ster. I went to music camp in the summer and always had a cello on my back." When a growth spurt hit in middle school, "My image changed a lot," she recalls. "I was still playing the cello and was still considered a bit nerdy; then I started getting attention and that was a bit strange!" she says, noting sardonically, "I was a middle child."
Olivia is, in fact, the middle child of five. She grew up in a large home on a quiet street in Cranston. When she's not jetting all over the world or trying to squeeze multiple appearances and photo shoots into each day, it's this home that she returns to for much-needed down time.
Both of her parents have a background in music. "My dad began playing trumpet [professionally] out of college—he also played in school; that's where [my parents] met—but he had a harder time getting work so he went into business," says Olivia.
Her father, Peter Culpo, owns several Boston restaurants including the Parish Café, The Hill Tavern, and Woody's Grill & Tap.
As for the rest of the family, Olivia's older brother works with Dad, her older sister is going to school to become a teacher, and her two younger siblings are still at home. Your typical Southern New England family. Well, up until last spring.
After outgrowing her "chub-ster" and "nerdy" look, Olivia quickly blossomed. At 18 she began modeling for Providence-based purse designer Andrea Valentini. Photos of Olivia are still on the designer's website and Olivia is "still very loyal toher," she says. When she was a freshman at Boston University, where she studied communications and acting, she signed with Maggie Inc., a Boston modeling agency. Despite being in school, Olivia found time for regular modeling gigs but it was her first big campaign, a Keurig coffeemaker commercial, which introduced her to acting.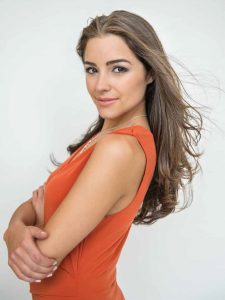 "I had to act out a scene with my supposed husband; I loved being in front of the camera and I got the job. That was when I realized that I love acting," she says.
Let the pageants begin
A desire to work on her stage presence led Olivia to impulsively compete in the Miss Rhode Island USA pageant in spring 2012. It's been widely reported that she wore a gown with a hole in the back that she'd rented for $20, and she confirms it.
"I rented it from RentTheRunway.com. It was a Nicole Miller pink dress and it arrived two days before the pageant. Two came and the only one that fit had a hole in the back and was too short," she remembers. "I told myself to feel confident and it worked; I pretended it was nice."
It may not have necessarily been the rental gown that won her the Miss Rhode Island crown but win it she did. Next up was the Miss USA pageant held in Las Vegas in June 2012. Once again, Olivia walked away with the crown.
In December 2012, Olivia returned to Las Vegas and joined nearly 90 other women from around the world in competing for the title of Miss Universe. And, once again, she walked away the winner. Life as she knew it was about to change…big time.
Introducing Miss Universe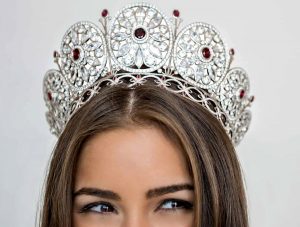 Following a whirlwind of post-pageant appearances on seemingly every major talk show, Olivia has settled into her new role, one that is pretty much nonstop action. "I get my itinerary every night for the following day at around 6:00 [p.m.] and it's usually an early start: working out, charity events, social media, live interviews and talk shows, photo shoots. Every day varies but there's always something."
There's also the world travel. "We travel a lot—a different place almost every week. It's a great   experience and I know I'm so lucky now and I just have to take advantage of every opportunity," she says. She cites Bali in Indonesia as her most remote destination ("such a different culture…I learned a lot") and Moscow as the swankiest cosmopolitan spot ("really nice").
This past February Olivia had the opportunity to attend the Academy Awards ceremony, where she walked the red carpet in a green Tony Ward dress. Olivia appeared in Ted, the Boston-based movie about a "live" stuffed bear with a penchant for babes, beer, and bad language. While her scenes ended up on the cutting room floor, she became friends with the movie's writer, Seth MacFarlane, which led to an Oscars invitation.
"I was with people I've only been watching onscreen and to see those people just hanging out, these movers and shakers of our time, it was just incredible," she says of the event. She singles out a couple of stars she was excited to see up close and personal: "I love Sandra Bullock—love her work—and Halle Berry because she's so beautiful and she was actually a USA girl representing Ohio."
On home and what's next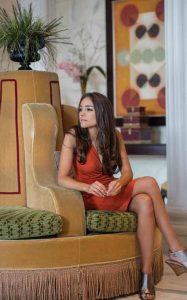 Olivia will be the reigning Miss Universe until next December's pageant. She'll continue traveling the country and the globe doing appearances and photo shoots and supporting her platforms of ovarian and breast cancer and HIV/AIDS awareness and prevention. She'll also continue to sneak a few days of downtime at home when the rare opportunity arises. Her local hometown favorites are Twin Oaks, a restaurant in Cranston owned by family friends where she "practically grew up," and Iggy's Doughboys & Chowder House "for clam cakes and chowder…or chowdah" as she says with a giggle.
Her education is, at least temporarily, on hold. She's not sure when she'll get her degree but is certain she will at some point. "[An education] is important to me and my parents encourage me to finish it but they also know that what's happening now is an incredible opportunity. So it might not happen right after this year, but it's going to happen," she says.
By Jennifer Kain DeFoe; Photos by Carla Ten Eyck
Shot on location at Renaissance Providence Downtown Hotel and the Rhode Island State House. Wardrobe Provided by T.K. Perry in Osterville, MA. Hair and makeup by Talya Caras, owner of SHINE at Strands Salon in Providence, RI.