Located on the "elbow" of Cape Cod, Chatham is one of Cape Cod's most picturesque villages. You'll find miles of sandy beaches, hundreds of swoon-worthy homes, a working lighthouse, a national wildlife refuge, and dozens of charming shops and restaurants. Should you plan on visiting Chatham for a weekend, or week, you will also find exceptional inns and resorts.
Wequassett Resort and Golf Club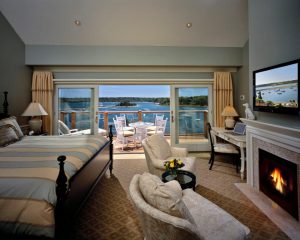 Set on a spit of land that juts out into Pleasant Bay, there is water, water everywhere at Wequassett. There are also dining options that range from the fun and casual Outer Bar & Grille to the posh Twenty-Eight Atlantic, the highest-rated restaurant on Cape Cod by Forbes, AAA and Zagat. A fun and inventive children's program proves a major attraction for families. A variety of guest accommodations are available, with some set in cozy, weathered cottages and others in the waterfront Signature Collection cottages which were designed by the renowned Chatham design | build firm, Polhemus Savery DaSilva. The primary swimming pool – there's a second one elsewhere – is beyond stunning as is the adjacent fire pit, both of which offer what are perhaps the best views of the water at this waterfront resort.
Chatham Bars Inn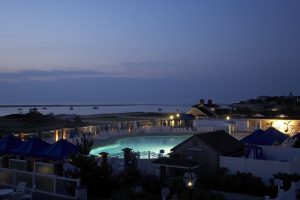 Chatham is fortunate to have not one, but two world-class resorts. Chatham Bars Inn was built in 1914, the heyday of the Victorian waterfront resort on Cape Cod. The original inn remains, beautifully preserved and situated high a hill overlooking the Atlantic, but over the years, CBI – as it's known locally – has expanded. Guest cottages now dot the expansive property with many of them located right on the water. Savoring a sunset cocktail on the veranda of the main inn is an absolute must as is dining at Stars, which offers true farm-to-table dining in a gracious setting with epic ocean views. The aptly-named Beach House, it is right on the beach, provides a more casual dining experience as does the Sacred Cod. A waterfront pool, a luxurious spa and kid-friendly activities make spending time at Chatham Bars Inn a summertime delight.
Chatham Wayside Inn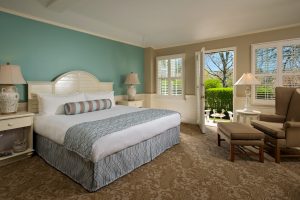 If you're looking for in-town accommodations, you'll find them at the Chatham Wayside Inn which is located on Main Street in the heart of all that Chatham has to offer. Originally the town's stagecoach inn, the Wayside is a unique blend of historic inn and upscale resort. It now includes 56 guest rooms, all of which have been beautifully decorated in fresh, modern colors, onsite dining at the Wild Goose Tavern and a swimming pool. Dine on the deck at the Wild Goose to make the most of the people-watching potential of the thriving village. The Wayside also offers three individual cottages. All are within walking distance of the inn which allows guests to take advantage of the inn's amenities while enjoying the privacy of a 'home away from home' while vacationing.
The Captain's House Inn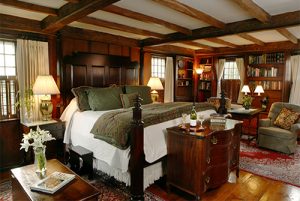 Those who love a classic historic inn experience will fall in love with The Captain's House Inn. Set on two meticulously-landscaped areas outside of the village center, this inn offers 16 individually-decorated guest rooms, and each is exquisite. Artfully-prepared breakfasts, served in the inn's sun-filled dining room, are included as is "Cream Tea" – tea, scones and sweets served in the afternoon. The inn's "High Tea," available to guests for a small upcharge, is considered destination dining by both visitors and locals. Evening snacks are also provided, the perfect addition to leisurely time spent poolside or fireside.