While interior design trends typically flame out after a few years – hence the term "trend" – our love affair with the color gray is showing no sign of abating. Unlike popcorn ceilings, shag carpeting and chintz, which all had their day, gray's universal appeal makes it unlikely we'll ever look at this craze in a 'What were we thinking?' kind of way.  Stenciled borders, sponge painting and mirrored wallpaper may have all gone the way of acid-washed denim, incorporating shades of gray – and its warmed-up cousin greige – in interior design appears to have the staying power of the LBD or a pair of diamond studs.
The timelessness of gray is being heralded everywhere. A story on ElleDecor.com has writer Devin Alessio making the case for gray being the Pantone color of the year, calling it "…calming, elegant or even electrifying." It's also gone "super viral" on Pinterest.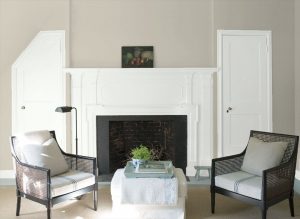 While the world may be hoping for the rapid demise of the 50 Shades of Grey franchise, the design community has thoroughly embraced the color gray as have paint manufactures who continue to roll out new shades a brisk clip. Yet tried-and-true shades of gray are still the go-to choice of designers.
In the same story on ElleDecor.com, noted interior designers shared their favorite gray paint choices. Erin Gates, whose Elements of Style blog is one of the darlings of the design community, loves Chelsea Gray from Benjamin Moore which she notes is the "…perfect medium-dark gray…" to use on cabinets and vanities. Interior designer Dana Gibson singled out Farrow & Ball's Elephant's Breath as a favorite shade, call it "…warm and luxuriant."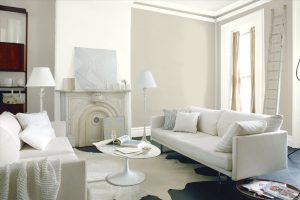 Elephant's Breath also makes the list locally. Caroline Warner and Robin Violandi, principals of the Scituate-based Violandi + Warner Interiors noted it as one of their favorites. Other fave grays of the design duo include Benjamin Moore's Edgecomb Gray and Revere Pewter as well as C2's Dorian Gray. Interior Designer Donna Stearns, of I Candy Design on Cape Cod, likes Sherwin-Williams Mineral Ice. It's a "…cool, bright gray with an icy blue feel," she says of this more saturated gray paint color.
We also polled our Facebook community on their 'fave shades of gray.' Elizabeth Meek weighed in with Benjamin Moore's Tranquility, and Bill Flynn cited Moore's Metropolitan.
Have a shade of gray that you love that isn't mentioned here? We'd love to hear from you!
Top photo:  Designed by Kevin Briggs, CMKBD, of Poggenpohl Boston, one of the display kitchens at 7 Tide beautifully embraces the color gray.