Boston's newest skyscraper reaches the pinnacle of stone design.
Text by Janice Randall Rohlf
Boston's newest high-rise, One Dalton Street, is all about superlatives. Standing at sixty-one stories, One Dalton is the third tallest building in Boston and the tallest residential building in New England. Moreover, "It is the highest level of luxury Boston has ever seen," says Dianna Walsh, a spokeswoman for the building's developer, Carpenter & Co. One Dalton's 742 feet of soaring steel and glass house a Four Seasons Hotel in its lower levels, with 165 luxury condominiums above, ranging from $2.5 to a reported record-setting $40 million for the penthouse.
"For this project, we picked the best architect, interior designer and contractors," said One Dalton's owner and developer, Richard Friedman of Carpenter & Company. Naturally, the skyscraper's architects, Pei Cobb Freed & Partners, in collaboration with Gary Johnson of the firm Cambridge Seven, focused on only the finest building materials available. Take stone, for example. Friedman sought out Cumar Marble & Stone's founder and owner Ivo Cubi at the beginning stages of the project, knowing that Cubi's expertise in luxury stone was second to none. 
"I've worked with Cumar for many years on projects, including my own homes," said Friedman. "Cumar's ability to translate the designers' intentions into reality within the building is testament to their love of working with stones from all over the world and crafting it into true art forms."
In addition to providing travertine and jet mist granite for the magnificent Four Seasons lobby (interior design by Bill Rooney Studio), Cumar was deeply involved with the residential component of the building. They supplied unique Blue de Savoie crystalline marble from France for the kitchen countertops and Silver Wind marble from Greece for the luxurious bathrooms.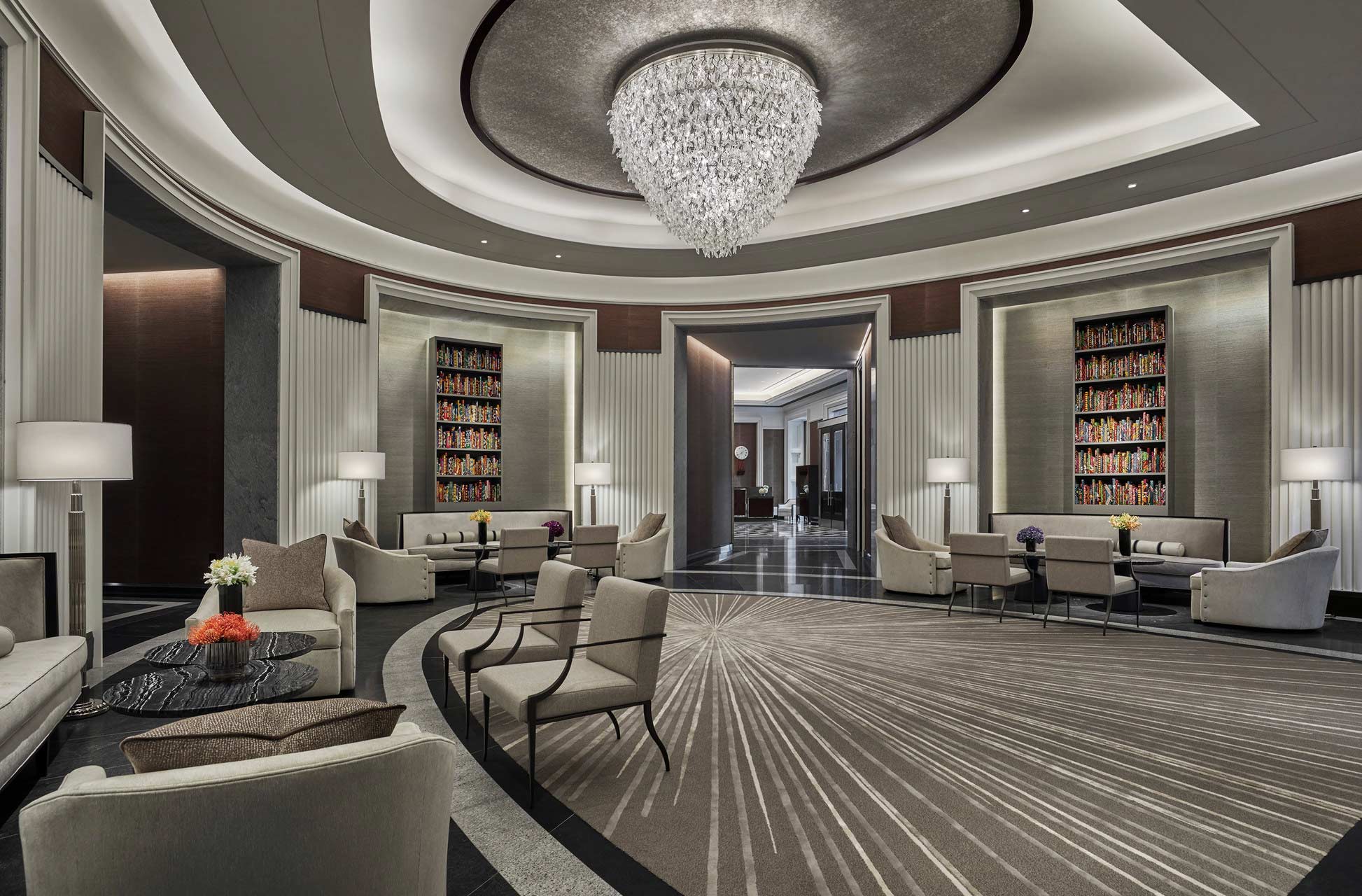 "The interior stone work at One Dalton is all custom, handcrafted product of exceptional quality and conveys the sophistication and elegance that a Four Seasons Hotel is known for worldwide," described Friedman. "Cumar's work on the project includes the interior hotel and residential lobby stone floors, front desk counter tops, Trifecta bar floor and counters, the residential kitchen tops, and the residential master bath stone tile."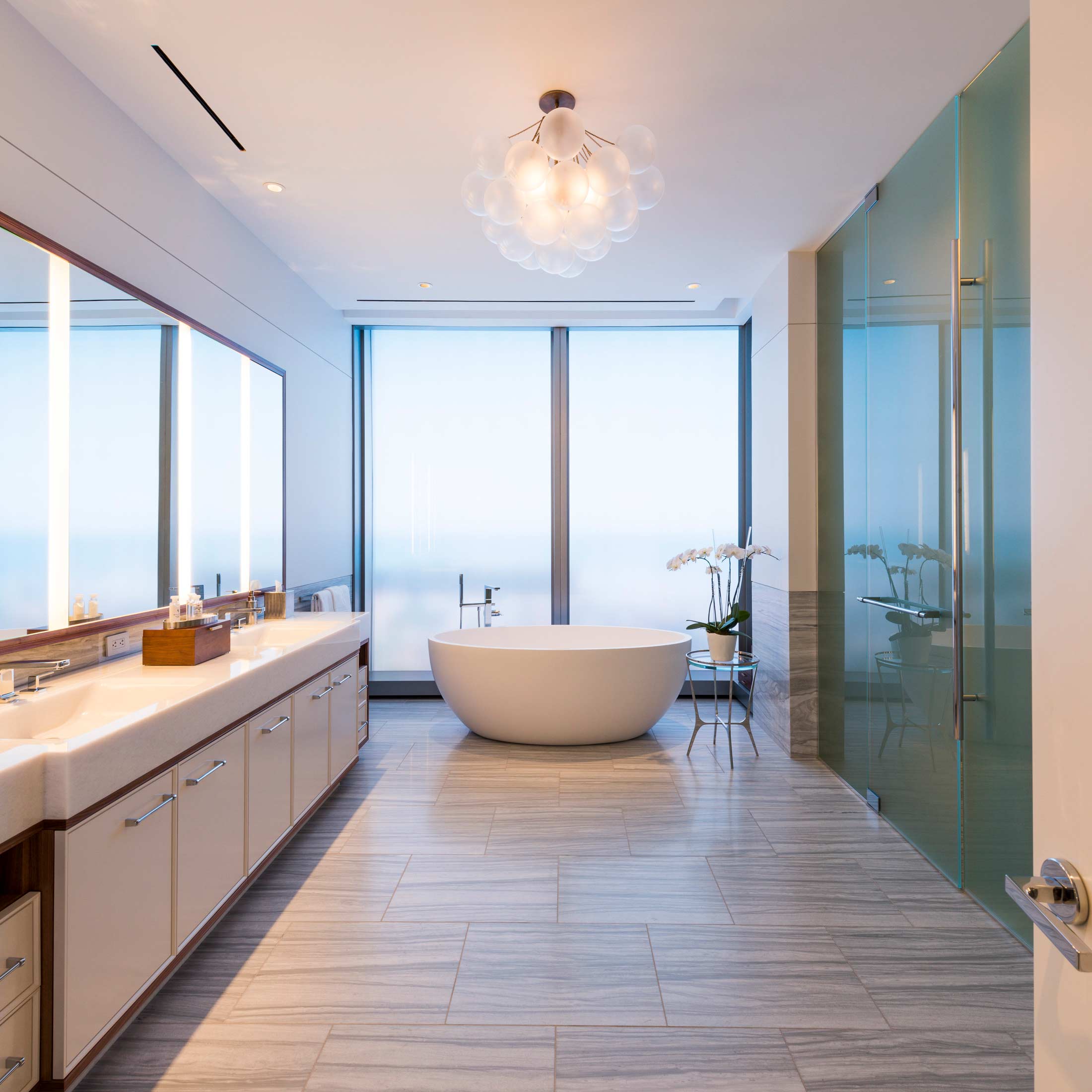 Architect Johnson, who shares Freidman's respect for Cumar, turned to the eighth-generation company without hesitation. "It was an easy decision to take the interiors of One Dalton and come up with a way to complement the exterior," he said, "to pair it with other stones to create more diversity and complexity inside." Johnson has traveled with Cubi to Italy to see how their stone is extracted and cut and spent considerable time in Cumar's warehouse examining each slab for One Dalton, an experience he refers to as "double, triple, quadruple quality control." As a result, the effect is singularly striking. "The magnificent stones from southern France and Greece that were used look beautiful as part of the overall expression within these very contemporary residences up in the sky," he noted.
There is a reason why Cumar is recognized as New England's preeminent source and fabricator of the finest marble, granite, quartzite and exotic stones. As Johnson said, "Cumar has a very elaborate and complete selection of product that you can look at, and their knowledge of the stone product is superior to most." Now their work is quite literally at the top of the town. NEL