Today's homeowners are always on the lookout for more convenience and customization. Digital technology in our most-used spaces is a huge trend in bath and kitchen design.
"We've seen a big influx of people who want to add digital to their bathroom spaces," says  designer Ashley Sousa of Kohler Signature Store Burlington. "Kohler has taken the lead in incorporating Alexa into kitchen and bathroom fixtures."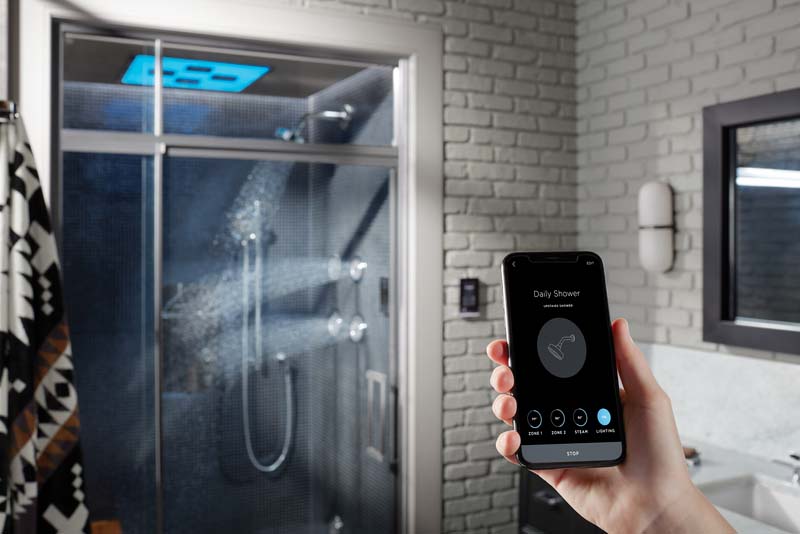 Digital Showering: "A digital shower completely changes your showering experience for the better. You can control your experience down to the tiniest detail: temperature, spray, steam, music, and more," explains Sousa.
Kohler's entry-level digital option is DTV Prompt, available with a two- or three-outlet valve. It coordinates up to three showering components. The next level is DTV+, which controls up to six ports. This system brings water, sound, steam, and light together via a touch-screen interface for a true multisensory experience. Using DTV+, you can preprogram different spa experiences: wellbeing, energy, or relaxation are all examples. Each hydrotherapy program starts with just a tap of the screen.
For the ultimate digital shower, Kohler offers DTV+ with its trademark Konnect technology—this introduces voice control. Using Google Assistant or Alexa, you can say things like "Start my morning shower" or "Set my shower to 105 degrees."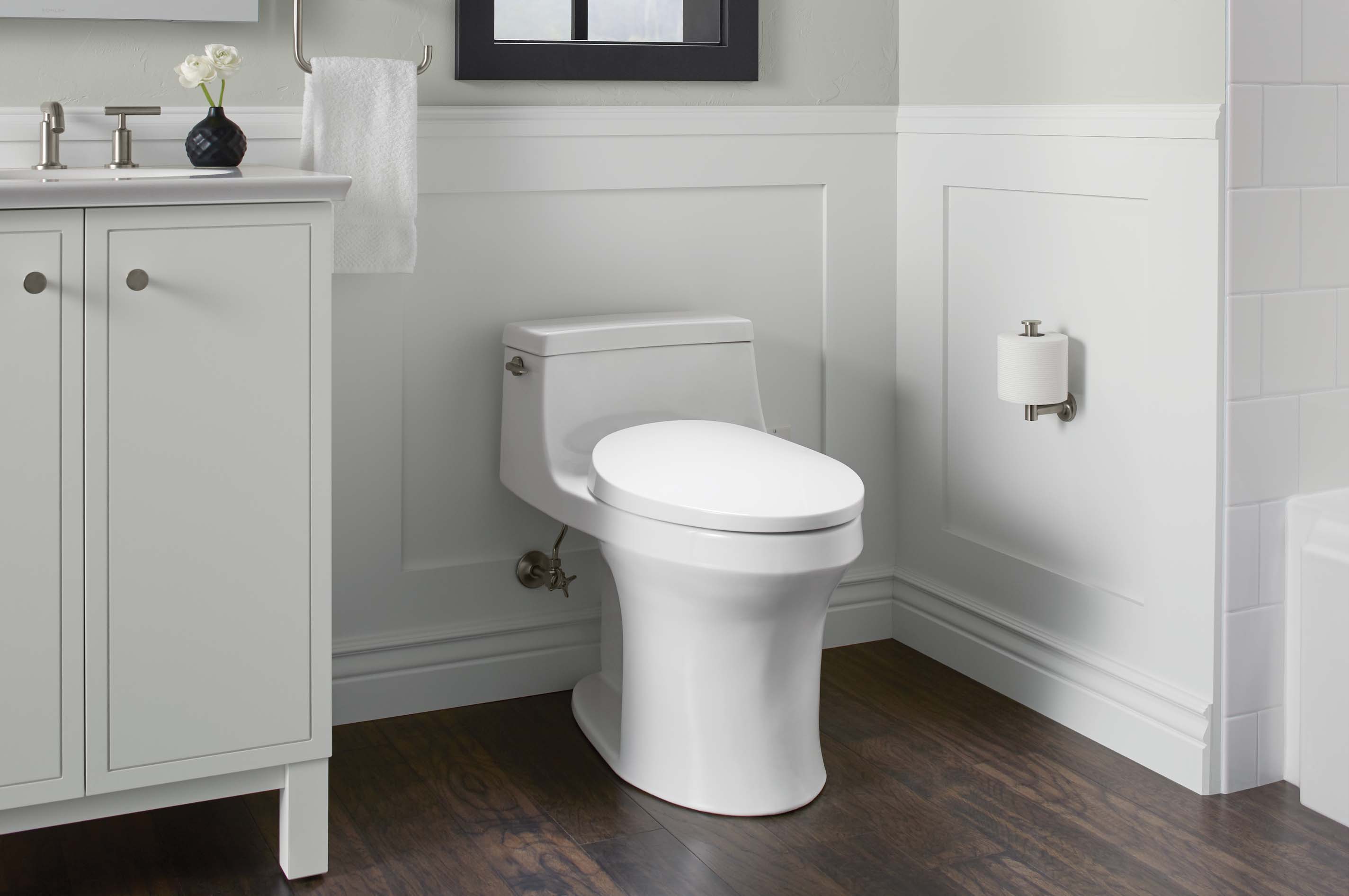 Toilet Talk: The Numi 2.0 intelligent toilet is Kohler's most advanced toilet yet. At night, its integrated nightlight guides you, the lid opens, and you are treated to a warm seat. Once you walk away, it flushes and closes. With the help of Alexa, you can control the toilet as well as check the weather, traffic, and news.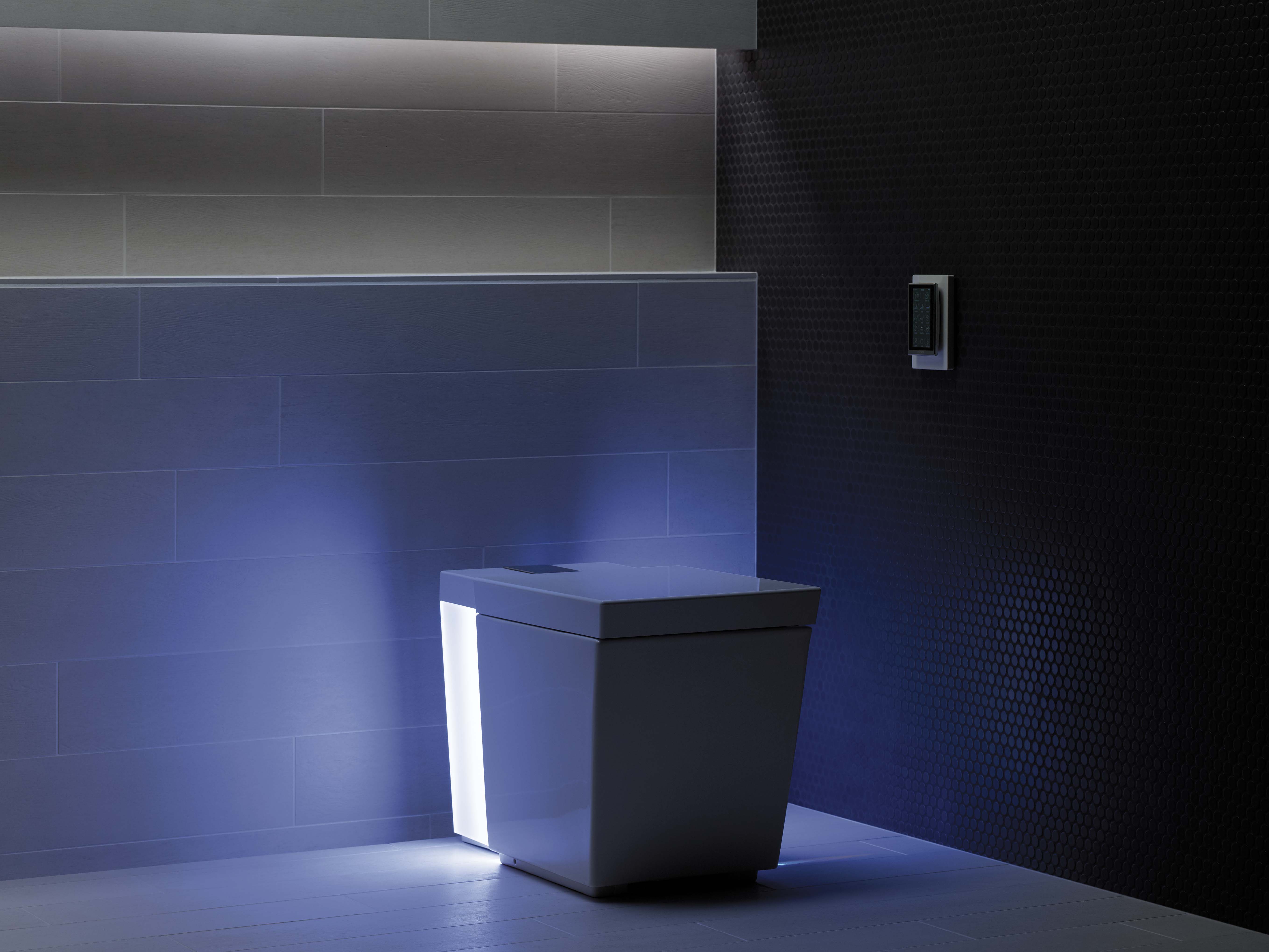 Smarter Bathrooms: Kohler Konnect also coordinates with other Kohler systems, allowing for a truly smart bathroom with preset functions controlled via voice. You can ask Alexa to reduce or brighten the Veil Lighted Bathroom Collection or draw an evening bath with PerfectFill.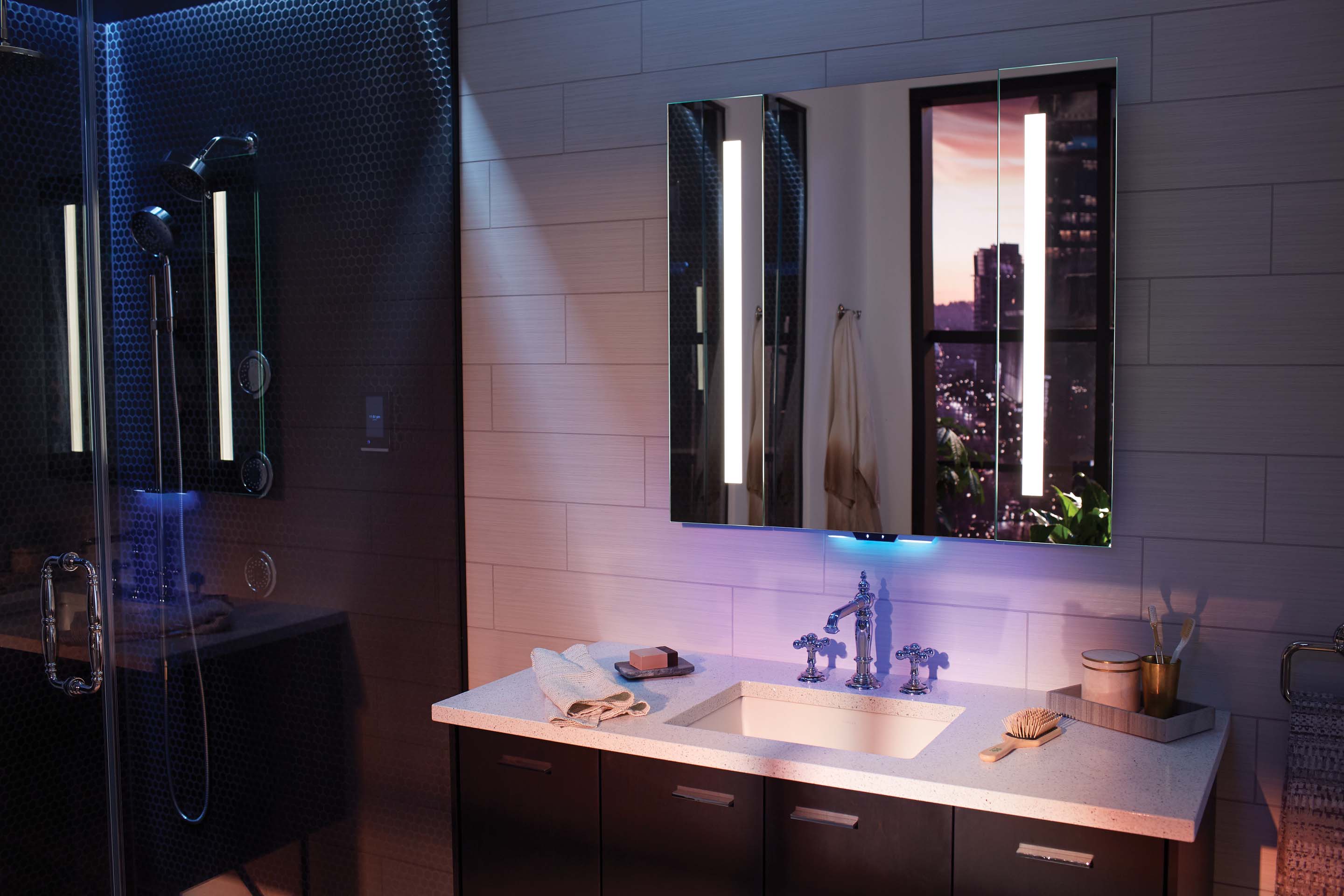 Mirror Mirror: The Verdera Voice Lighted Mirror has Alexa built right in and can therefore control any other Alexa-enabled product. You can add things to your shopping list, check the weather, or activate the shower while brushing your teeth.
Create personalized routines with the mirror's embedded LED lights. Ask for "makeup mode" or "good morning routine" and the mirror adjusts accordingly. There's also a motion-activated nightlight for safety. It comes in three different sizes: 24, 34, and 40 inches.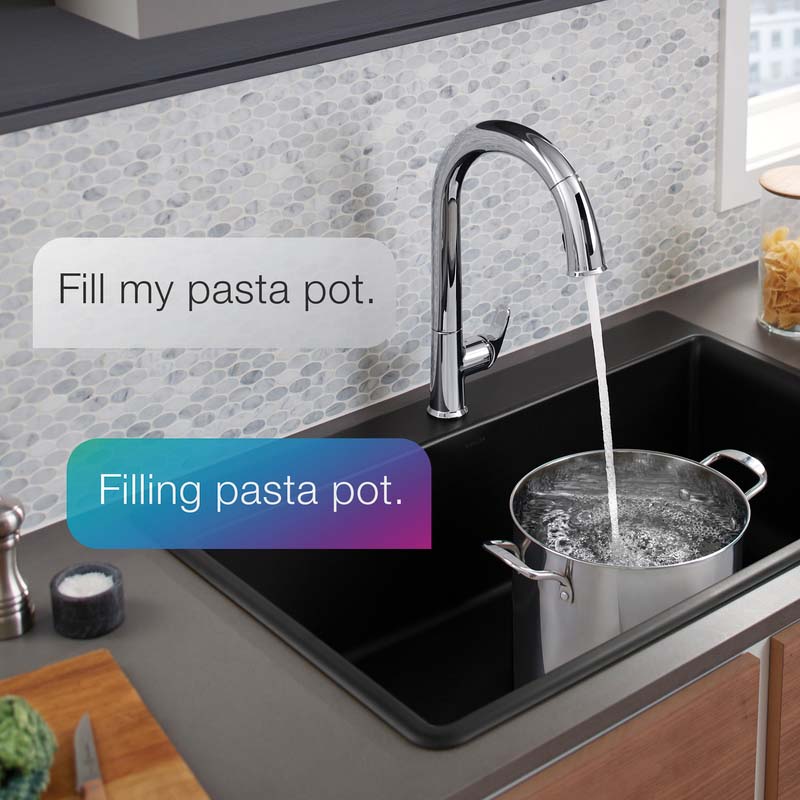 Perfect Fill: You're in the kitchen, cooking, and your hands are a sticky mess. You forgot to measure out the water. All you have to do is ask and the touchless Sensate faucet with Kohler Konnect will activate. "You can ask Alexa to fill a cup with six ounces of water, for example, or a whole pot for spaghetti," notes Sousa.
With increasingly demanding lifestyles, more and more homeowners are prioritizing life's simple moments: preparing for work, giving the kids a bath, getting ready for a night out. These latest home technologies are designed to make any moment more enjoyable.
Designing a bathroom?
"Think about how you're going to use the space. Don't look at all the trends—it will be overwhelming. Deciding on your needs will help narrow down the choices. Also, find a designer who can act as one point of contact and help you stay on budget."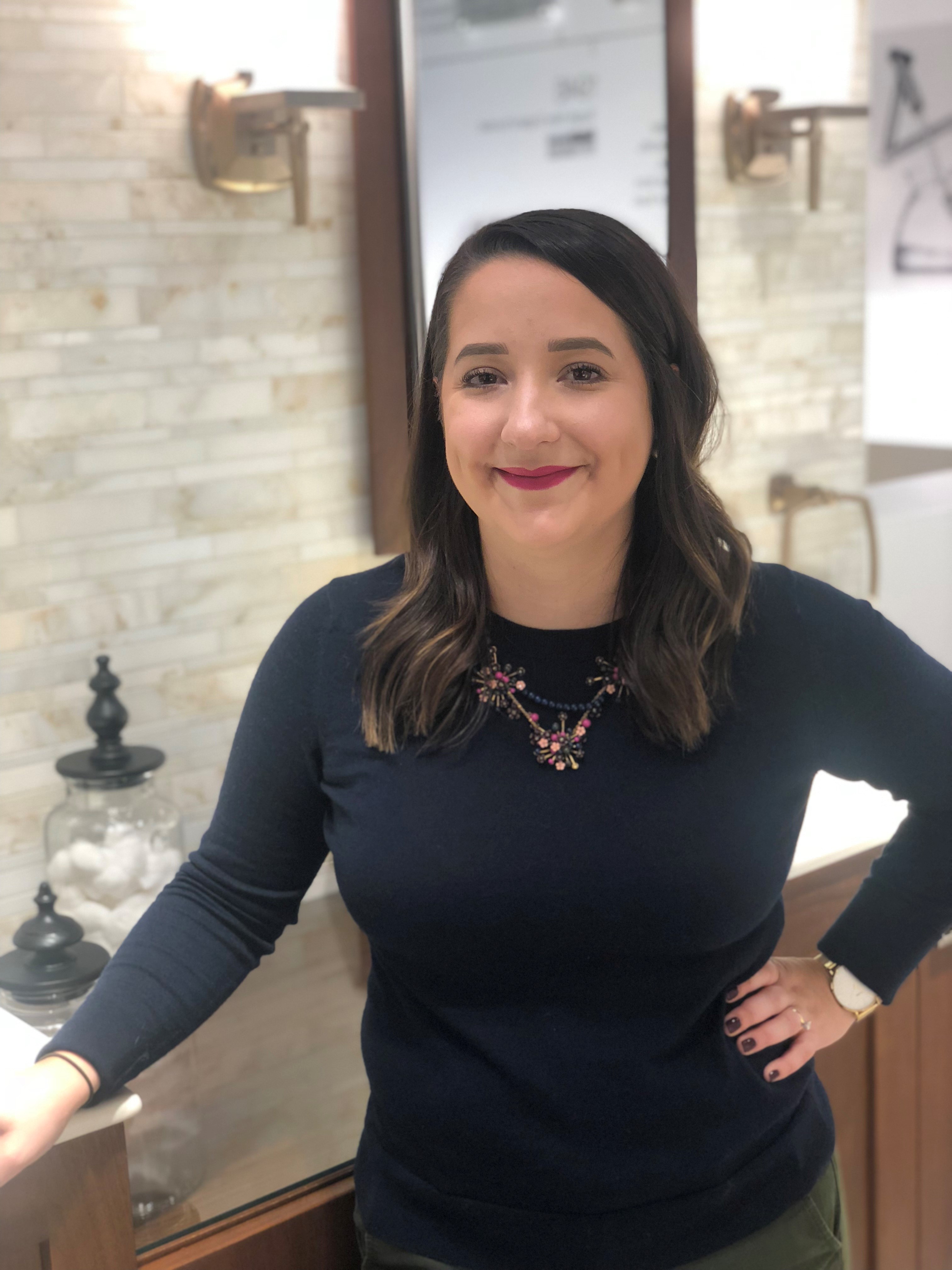 – Ashley Sousa, showroom designer,