Historically accurate and exceptionally crafted, The Standard is a new multi-use development with luxury condos and niche retail spaces in downtown Mystic.
If you're familiar with Mystic, Connecticut, it may be for any of several reasons. Historically, Mystic was a thriving seaport and shipbuilding center for more than a century, starting in 1784. To commemorate the small town's seafaring heritage, Mystic Seaport came into being nearly a century ago and has become one of the largest maritime museums in the country. The popular 1988 romcom Mystic Pizza, starring Julia Roberts, was based on a local pizzeria still in operation. Meanwhile, owner and executive pastry chef Adam Young of Sift Bake Shop put the small town on the map as winner of Food Network's Best Baker in America three years ago.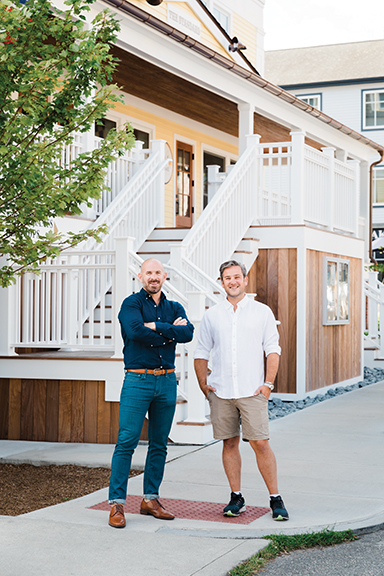 In fact, it was while they were working on a construction project at Sift that Eric Goodman and Kody Blake started musing about the property next door. "We kept looking at the site and saying to each other that so much more could be done with it," says Goodman, co-owner with Blake of K Blake & Company, their four-year-old construction management and general contracting business.
Goodman, a Mystic native and former lawyer, and Blake, who grew up in Plainfield, Connecticut, bonded over a shared passion for craftsmanship in the building arts that they regret has gone by the wayside. Both are self-taught builders who always had jobs in the trade during high school. And while project management takes up most of their time these days, they are happy to pour concrete or frame windows, if needed.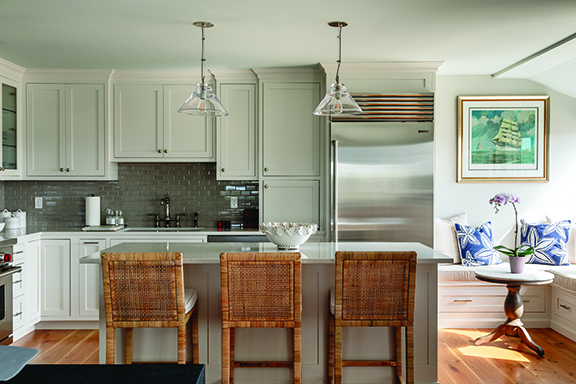 The Standard is a testament to the two men's willingness to roll up their sleeves and to their respect for historical architecture. A gracious 32,000-square-foot multi-use development featuring 14 luxury condominiums (all sold) and six premium retail spaces (fully rented), it rises on the spot previously occupied by a real estate office and hair salon. Once Goodman and Blake learned that the leases for these businesses were about to expire, they got to work. Together with architect Peter Springsteel and engineer Edward Wenke, both from the area, their vision for The Standard took shape, with nods to the Ocean House in Watch Hill, Rhode Island, and New Hampshire's Mt. Washington Hotel, both icons of early-20th-century resort architecture.
But it was an embellished etching of Hotel Wadawanuck on an old postcard they spotted one day at a restaurant that really spoke to them. The hotel, originally built by the Stonington Railroad in 1837 to accommodate passengers traveling between New York, Providence, and points north, never achieved the architectural glory of the etching.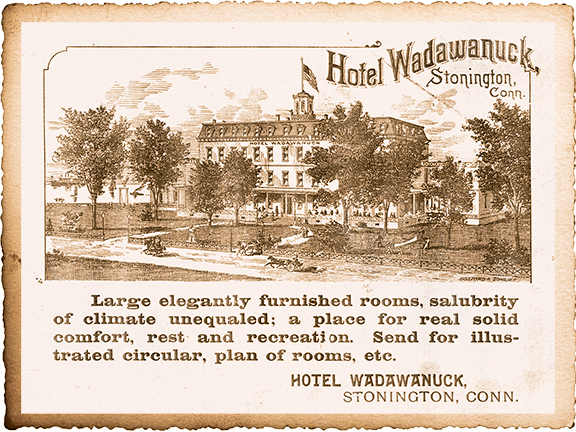 "It's a beautiful rendition of what could have been," says Goodman, noting its "three stories with mansard roof and cupola on top." Their research turned up another nugget, which gave the building its name. In the early 20th century, the Standard Machinery Company sat across the street from 3 Water Street, The Standard's address. The business employed many locals.
When it came time for Goodman and Blake to hire subcontractors and select vendors, they too turned their attention to the local population. "Because of a strong small-town ethic, these individuals were thrilled to be part of the project," says Blake, explaining how satisfying it was to have the money go right back into the town—the schools, restaurants, Little League. "We noticed that everyone was extra conscientious about quality because they wanted to be proud of their work," adds Goodman.
Painted a shade of yellow called Governor's Gold, from Benjamin Moore, The Standard is hard to miss yet blends in with its Historic District surroundings. "I hear passersby questioning the date of the building," says Blake. "It fits in so well."
That's no accident. Care was taken to select just the right materials—cedar clapboards, ipe decking, copper gutters, hand-bent copper flashing, double-hung windows—and procure them from Ring's End, a Conn.-based building supply company.
The Standard's big wraparound porch and rooftop patio overlooking the Mystic River serve as common spaces where tenants can mingle. The views are beautiful, and it was a priority to take full advantage of the location. Working as a team,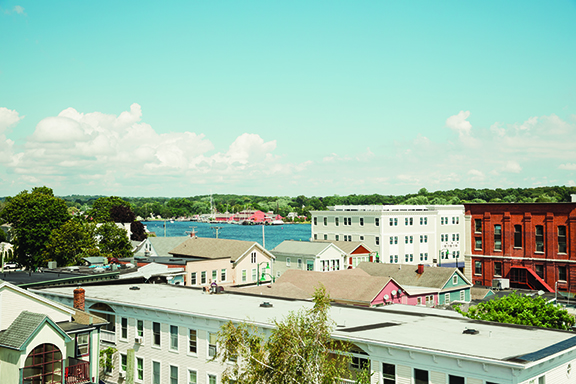 Blake & Company, Ring's End, and Marvin decided Signature Double-Hung Wood Interior, Aluminum Exterior Clad windows would provide a high level of quality and function. Insulation was especially key, with the building's proximity to the water. Marvin worked with K Blake & Company to create a classic window design that could be replicated repeatedly; The Standard has nearly 150.
"When I look out the window and I don't hear anything, take in the view of the seaport, see the boats going by and the sun glistening off the river—it's pretty impressive," says Goodman.  "By using products like Marvin that we would want in our own homes, we're passing on the ability for people to live here for as long as they want and be content," he adds. "We're happy providing a product that we know is going to stand the test of time."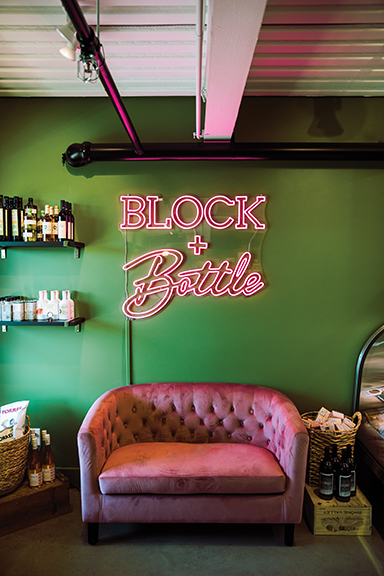 Blake and Goodman opened Block & Bottle in one of the retail spaces, a wine and charcuterie bar with fine wines, beers, cheeses, meats, and other goodies. And, they have taken a second space for their offices, as property managers of the building and condos. Other tenants include Burgee Mystic, selling men's and women's clothing, accessories, and home goods; seafood restaurant Abbott's Outpost; and chocolate shop ATY Confections, an offshoot of Sift Bake Shop. Tenants at The Standard have virtually everything they crave at their fingertips.
"There's a demand for this style of living right now," says Blake. "People want to be back downtown on Main Street America." In fact, Blake and Goodman feel so strongly about this that they'll soon start a similar project in a nearby town. Just like with The Standard, the emphasis will be on craftsmanship and history.
Written by Janice Randall Rohlf  | Images courtesy of Marvin | Drone photography by Sam Greenfield