A Connecticut teen has his professional soccer-playing dreams come true.
By Lisa Cavanaugh     Photography Courtesy of New England Revolution
Peyton Miller has had a soccer ball at his feet since he was 18 months old, so it is understandable that his family has long imagined that he would become a professional player. "In kindergarten, he was already talking about being a soccer player when he grew up," says his mother, Lindsay Miller. "And his quote in his fourth-grade yearbook was that he wanted to play for the New England Revolution."
Now, as the youngest player ever signed by the Revolution, New England's professional Major League Soccer team, Miller (15 years and 216 days old at signing) will first join the MLS NEXT Pro roster before ascending to the MLS roster in 2024 as a "Homegrown Player" on a four-year contract. The MLS Homegrown Player program enables teams to sign local players from their own development academies directly to first-team rosters.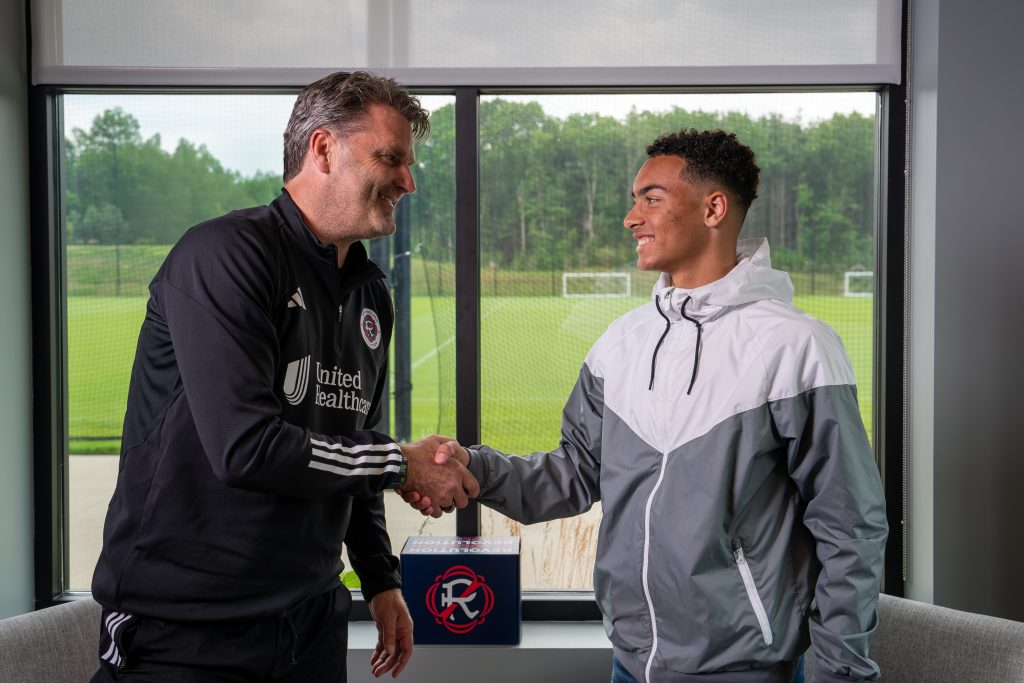 "I felt all the emotions when I found out I was going to be a professional soccer player because it has been a dream of mine since I was a little kid," says Miller. "And I'm very grateful for the opportunity."
Growing up in Unionville, Connecticut, Miller played recreational soccer until joining the Revolution Academy in 2021. The academy runs intensive camps and clinics at Gillette Stadium and other locations in New England, that train young players in all aspects of the game and help to develop talent for future potential. "Our pro-player pathway is designed to foster special players like Peyton and help them accelerate their growth as professionals," says Revolution Technical Director Curt Onalfo. "Peyton is still a young man, but he has excelled in every opportunity presented to him and is very deserving of this opportunity to prove himself at the next level."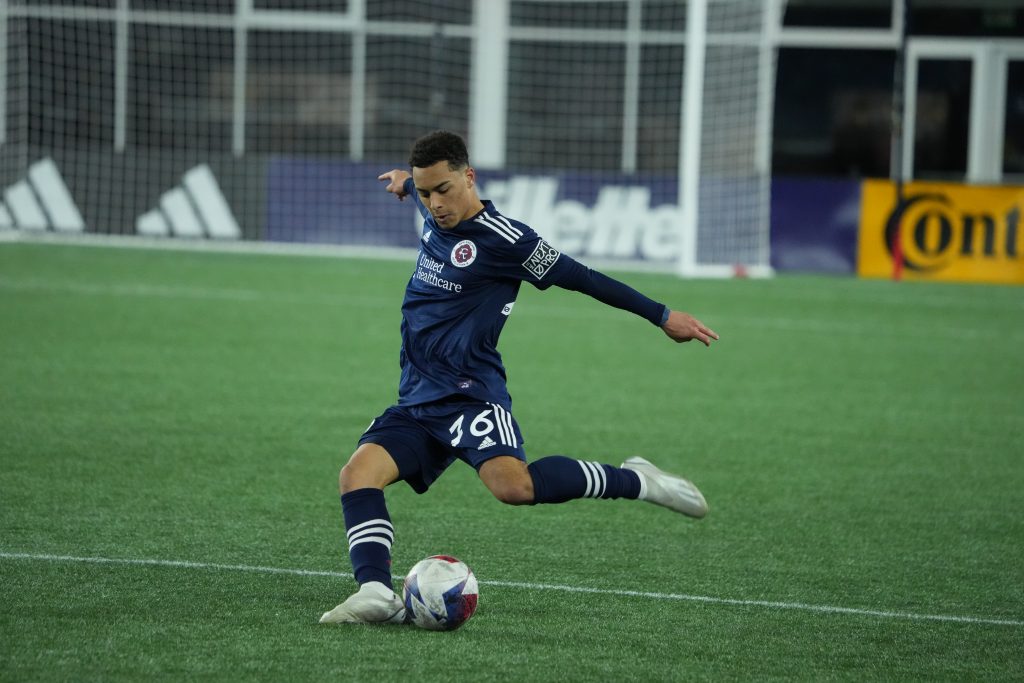 Onalfo says that when Miller first arrived, the young player had a lot to learn but improved dramatically. "He was a real talent and athletically gifted, but he needed to be taught the details of what it takes to be a player at the highest level," says Onalfo. "Over a one-year period, it was an amazing transformation for Peyton, really incredible."
Miller stresses that his coaches at the academy truly supported his development as a player. "I want to thank Bruce Arena, Curt Onalfo, Clint Peay, Marcelo Santos, BJ Noble, and Rob Becerra for their confidence in me," says Miller. "They helped me a lot, especially by making me feel prepared and making my transition to Revs II very smooth." Director of Youth Development Rob Becerra is eagerly anticipating what will come next for Miller. "I'm so excited about his development," says Becerra. "It never gets old to watch young people achieve their dreams."
Getting to this level took years of hard work and the kind of sacrifices young people aren't always willing to make. "I always chose soccer over going to hang out with friends," says Miller. "On the weekends, I would mostly stay at home and train and do schoolwork."
When the Revolution first tapped Miller as a candidate for a professional contract, the team met with the whole family. "The Revs brought us in and gave us a timeline," says Peyton's father, Larry Miller. "But as far as the final decision, it was Peyton's choice to do this, and we are always here to support him." The whole family, including brother Logan who also played soccer growing up, is ecstatic. "We are kind of speechless, knowing our 15-year-old is signing a pro contract," says Larry. Lindsay adds that it has been exciting to follow her son's soccer journey. "We always knew he had a special talent, and we hoped he would make it to this level," she says. "He has worked really hard, and he deserves it, and we are really proud of him."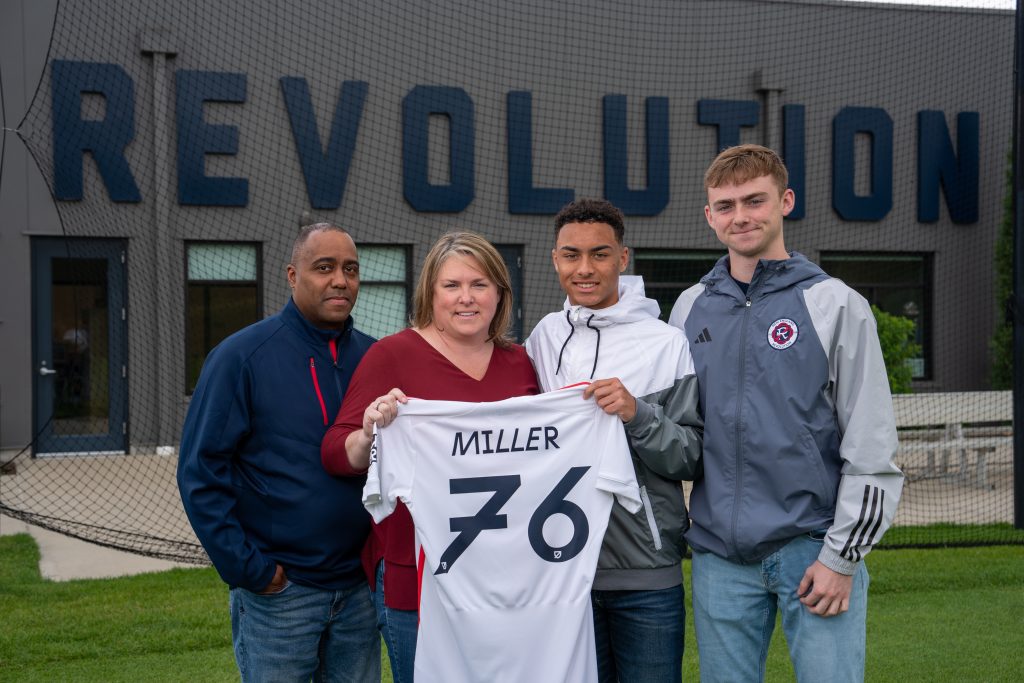 For his part, Miller believes he wouldn't be where he is without them.  "I appreciate my family and all of the coaches for the guidance and support that helped make this possible." Moving into the stratosphere of professional soccer hasn't altered this determined young player's ethic, however. "I am going to keep working hard every day, on and off the field."