When nineteenth century shipbuilder Frank Seavey decided he no longer wanted to work at the shipyards of East Boothbay Maine, he turned to running a small general goods store, eventually purchasing land and opening his own store on Ocean Point Road in 1893.
In the nearly one hundred and thirty years since, the store has been managed by a succession of owners, each catering to the changing needs of residents of  ~ and visitors to ~ this small coastal town.
Current owner Liz Evans, who bought the store fourteen years ago, lives upstairs in a four bedroom home with her two children and sees firsthand how the tenor of the store changes with the seasons. "It's a different store with different functions throughout the year," says Evans. " During the deep winter months it's a place to grab a hot cup of coffee and see who's around for a chat. In the summer it's a place where both locals and summer folk meet, and it's very busy, almost frenetic."
In the early years of ownership Evans tried closing for a few months each winter, but she soon realized that it was making people sad to drive by and see the shop shuttered. "From the exterior it was depressing, " says Evans. "For me as an owner, and one who lives above, it was also feeling lifeless. It's a building that welcomes people."
The structure itself is celebrated for it mansard roofs, turret, and iconic wooden barn next door.  "It's got all the stuff we love about old buildings- high ceilings, beautiful woodwork and moldings," says Evans. " I understand over the years plenty of shipwrights lent a hand in renovations."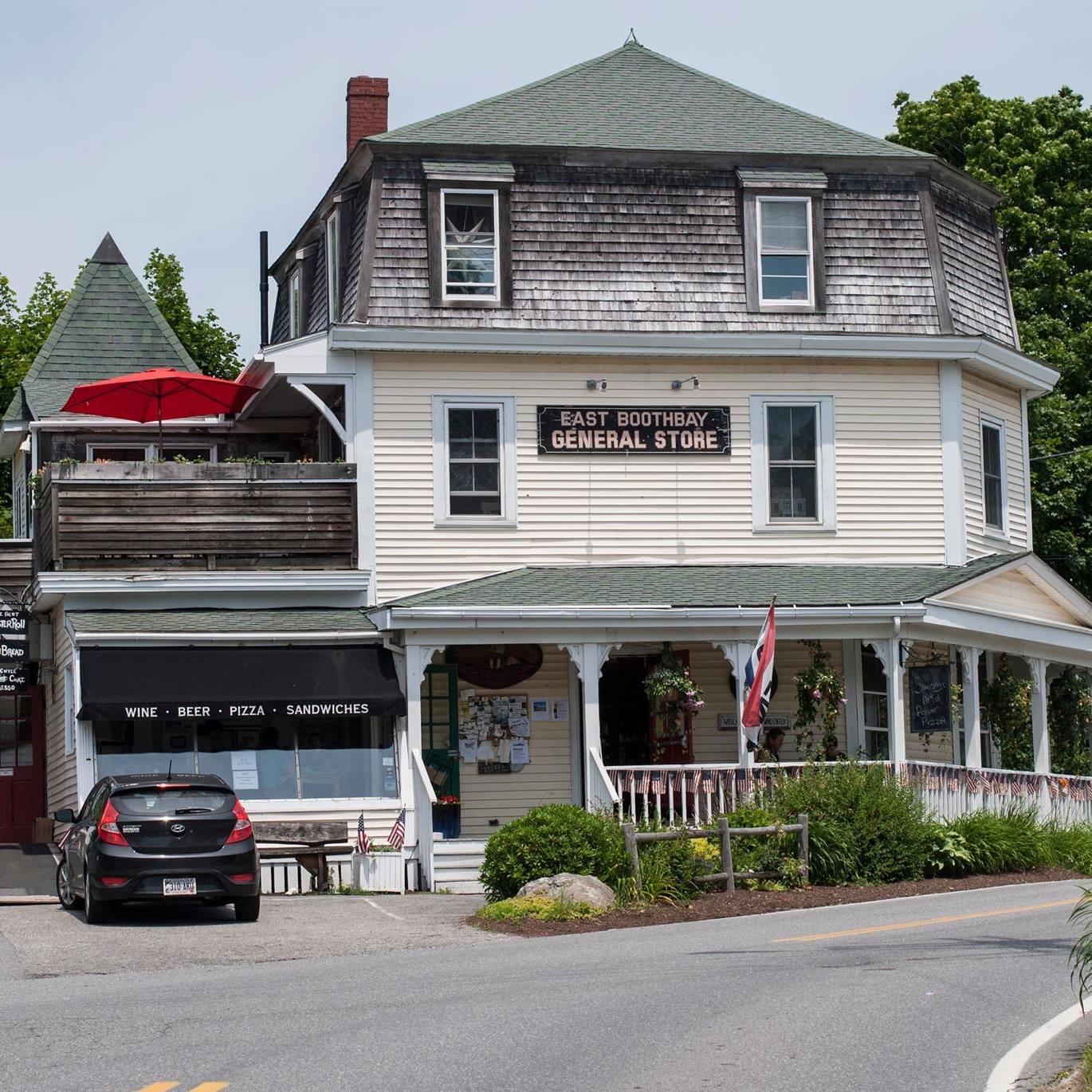 From the earlier decades of supplying townspeople with all their goods, the store has transitioned to being more of a café market now. " We do gourmet sandwiches, salads and pizza," says Evans. " Fancy cheeses move in the summer months and we do tons of espresso drinks." The store is also known for its doughnuts which are sold on weekends from Memorial Day to Labor Day.
While the pandemic did force Evans to close for a couple of weeks, she quickly rebounded and developed online grocery shopping with free delivery, as well as curbside service. "We also began making dinners to go. This served those who missed restaurant meals and was also fun for our kitchen staff to show some creativity beyond our regular menu," says Evans who found that connecting to her community felt more important than ever.
"Serving our customers in a variety of ways this year has helped both emotionally and financially," she says. "I feel like our General Store is really the heart of East Boothbay.  The building has its own soul, it has know many families before my own, and its past and future belong to the community.  I'm the latest custodian, and I'm grateful to be here."
Text: Lisa Cavanaugh