Indulge in a bit of French flavor for your New England fall décor.
By Lannan O'Brien
At the lowest points in her life, Sandra Sigman says that flowers have saved her. Whether she is designing one of her signature French-inspired arrangements or a table setting for a holiday gathering, the floral designer finds a sense of peace in her work. "You're in this zen kind of moment. I think it really can be transformative."
The owner of Les Fleurs flower shop in Andover, Massachusetts, Sigman was inspired to start the business with her mother, who was also a floral designer, after living in Paris for two years. Upon returning home to the U.S., the mother-daughter duo made the dream a reality. Sadly, Sigman's mother died shortly after they opened the shop. Through the pain of her loss, she says, "I thought, 'If my mom taught me, then I really want to teach others.'"
And she did exactly that. Through private and group workshops at Les Fleurs, people can learn the basics of floral arranging and tablescape design. Often, she says, the process of creating something beautiful for your home can be overwhelming. "I think people get all this stuff from the grocery store, and they're like, 'Well, what do I do first?'" she says.
Her advice? Start small by finding one item in your home that you love. It might be a scarf, a napkin, or a painting. Then examine it to determine what you appreciate about it. For example, if it's the color, use that shade as the base for your color palette. "If it's fall and you're not really an orange person, maybe you could go toward the really deep aubergine and burgundies. Then it's almost like a paint-by-number … it takes a little bit of practice and a little time to really put your thoughts into it."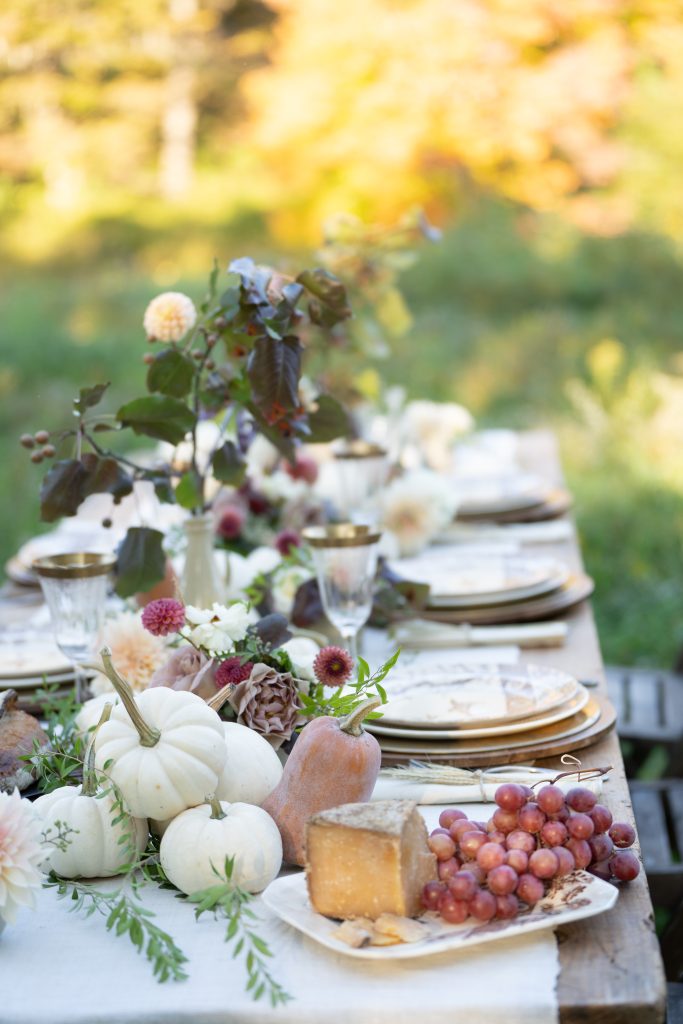 For Thanksgiving planning, Sigman encourages customers to bring their holiday napkins and dinner plates into Les Fleurs as examples of the styles and colors they gravitate toward. Occasionally, she will visit very busy clients at their homes to design their holiday tables. "I go into some of the homes, and everything is beige and sand and taupe, so of course, I'm not going to show them bright orange, yellow, and gold. Then I have other folks that love color, and everything from the drapes to the towels is luxe," she says.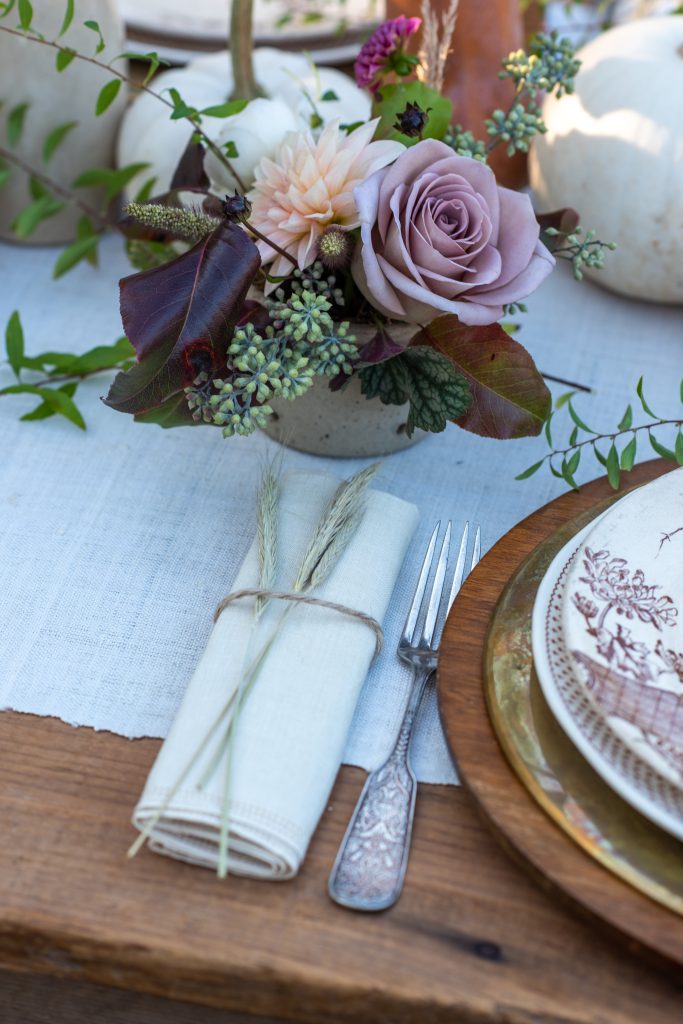 When it comes to creating a tablescape, the key is to be aware of the sizing. Sigman notes that many holiday hosts tend to place an oversized floral arrangement in the center of their table—and then remove it to make space for food. A tip: look around your house for containers, such as tiny jars or flower pots, that could be used as little vases, or find a small decoration to put at each guest's place setting, like mini white pumpkins or bunches of wheat tied onto each napkin. If you choose to have a buffet, the same decorations can be used for your buffet table. "There are options to doing just one massive arrangement on the table. You can do it in a more piece-specific, clustered-together look which I think is really sweet," she says.
For one of Sigman's favorite gatherings at home, she found vintage candles in different sizes and shades that she placed down the length of her table, each in a different brass candle holder. Between them were mini white pumpkins and hand-blown ink bottles, which she filled with wheat, dahlias, and strawflowers. The candles were lit before guests arrived to give them an aesthetically pleasing "drippy look." And the best part of "thinking small" with your décor, according to Sigman, is that you can gift some of the little items from your table to guests as they leave.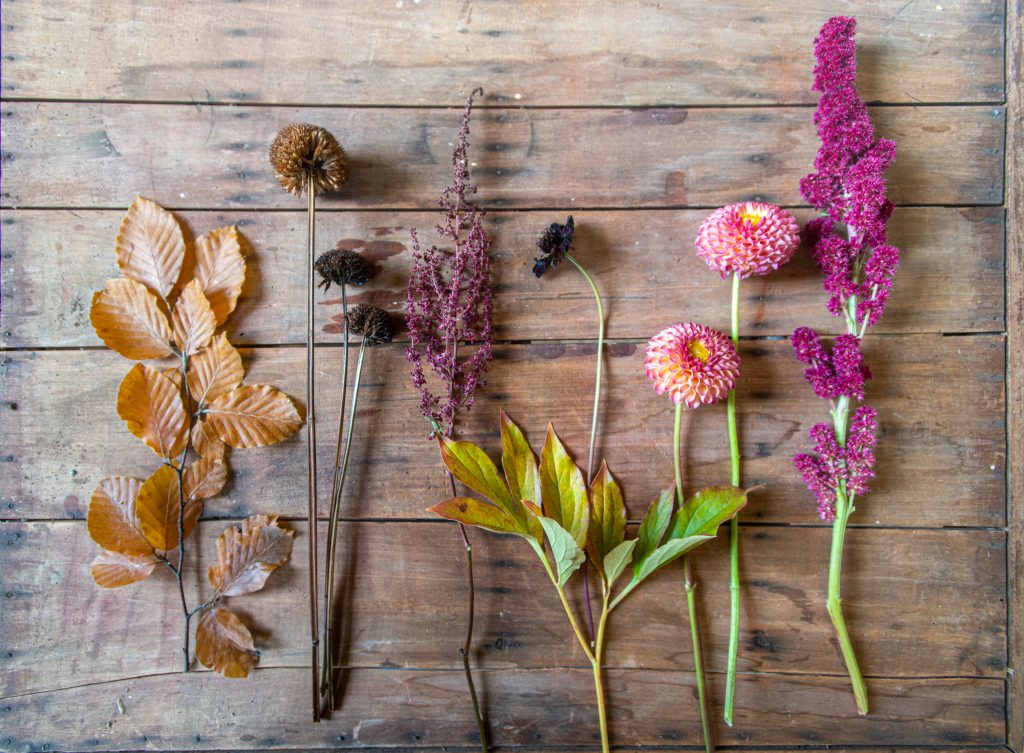 In the U.S., fall is associated with the ghouls and goblins of Halloween and the brightly saturated colors of seasonal foliage. Of fall décor in France, Sigman says, "It's much more understated. It's a lot more grasses, dahlias, and the other flowers that I love to use, so it's interesting to see their twist on it." It's a style she incorporates into her shop in the autumn when Les Fleurs is filled with dried bunches of flowers she grew in the summertime. Celosia, strawflowers, chamomile, and yarrow are wrapped in craft paper with fringed edges, and the space is decorated with little white cement pumpkins made by an artist in England. "People walk in and say, 'This is such a different take on fall," says Sigman. "I hear that so often."
In truth, there is a lot that's different at Les Fleurs. Those who come into the shop expecting mass-produced vases and premade arrangements will be disappointed. They will be met instead with sumptuous displays of fresh, seasonal flowers for custom designs. As they do in Paris, the shop stocks locally available blooms, many of which are grown in Sigman's garden. At Les Fleurs, it is like mother, like daughter.