The upcoming episode of New England Living TV was filmed in Newtown, CT. Established in 1711, Newtown is steeped in history and, despite is relatively close proximity to Manhattan, the village very much maintains its rural feel. The small town center has a host of cafés and restaurants, and locally-owned shops, as well as the Dana-Holcombe House, where we had the pleasure of staying when we filmed.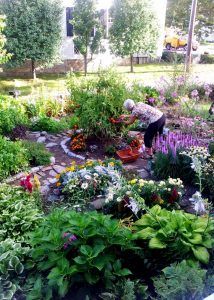 Set on the site of the Yankee Dover, a historic stagecoach inn which was destroyed by fire in 1981, the Dana-Holcombe is just 12 years old, but it was carefully designed to "…fit into the streetscape of Main Street as if it had always been there," explained John Vouros who, along with his wife Jane, owns the inn.
With an active historic zoning commission in town, it was crucial that the exterior of the Dana-Holcombe be reflective of the town's architectural style and history. The inn's classic Federalist design made for an easy "yes" from the commission and has proven a natural fit in the community.
John and Jane have beautifully carried the historic nuances of the inn's exterior into its interior which includes six guestrooms and several public spaces such as sitting rooms and the dining room where breakfast is served each morning.
A carefully-curated collection of antiques is spread throughout the inn, which is also John and Jane's home. "Everything has a story," said John of their collection.
This is just one of the things that set the Dana-Holcombe House apart from a typical B&B. John and Jane's presence is another, as is the inn's active role in the tight-knit community.
"When you walk into the house, Jane and I make you very, very comfortable, not like you're walking into a business," said John, adding, "You're embraced by the fact you're in our home."
"Embraced" was how exactly we felt during our too-brief stay. Hopefully, we'll return sooner than later and for what will be a longer, more leisurely visit.