Now that it is getting balmy in Boston, prospective homeowners will be looking for properties that offer opportunities for outdoor living. 
South End Townhouse
One such home is 149 West Canton Street, a completely renovated single-family townhouse in the South End, with direct access to the private Montgomery Park. "Being in the park doesn't even feel like you're in the city, even though you are in the middle of a great urban neighborhood," says Coldwell Banker listing agent Paul Whaley.  "It is so quiet and peaceful, with old-growth trees, gas lanterns, and a fountain. The park is run as a cooperative and is wonderful for everyone of all ages."
The ground-level entry to Montgomery Park is just one of several exterior living options that 149 West Canton provides. "The townhouse has four, potentially five, outside spaces," says Whaley. He describes a delightful private paved and landscaped patio off the garden floor, a parlor-level balcony that looks out over Montgomery park, and a front garden with a flower bed and window boxes that most residents in the neighborhood love to fill with bright and colorful plants. "The fifth possible outdoor spot is the roof," says Whaley. "There is direct access to the roof via a staircase and hatch, and an owner could certainly get a permit and build a fantastic roof deck," he says. "There are spectacular views of the city from there, and you wouldn't have to go any further on the Fourth of July than your own roof to get a front-row seat to the city's fireworks."
The circa 1860s building combines the best of traditional architecture with modern improvements, and the owner had Holland Construction do a total gut renovation in 2005. "The kitchen, bathroom, floors, heating and air conditioning –  everything was redone," says Whaley. "All a new owner might want to tackle would be some interior cosmetic work to match their own design aesthetic."  
The townhouse has five bedrooms plus an extra space that can be a home office or nursery, and three and a half bathrooms, making it an excellent investment for a growing family. "It is so well laid out with the kitchen, dining room, and half bath on the lower level, the master suite on the second floor, and two bedrooms on the top floor," says Whaley. "An older couple who didn't want to navigate a lot of stairs could live completely on the lower floors and keep the upper two floors for guests or visiting children. There is just so much space for whoever wants to enjoy this incredible townhouse." 
149 West Canton is a stunning home all year long, but Whaley stresses that is a perfect spot for the summer. "I don't think there's a better place in Boston for outdoor living," he says, noting that in addition to the private enjoyment of the home's exterior spaces, new owners would have the chance to meet their neighbors in Montgomery Park and join in the community fun.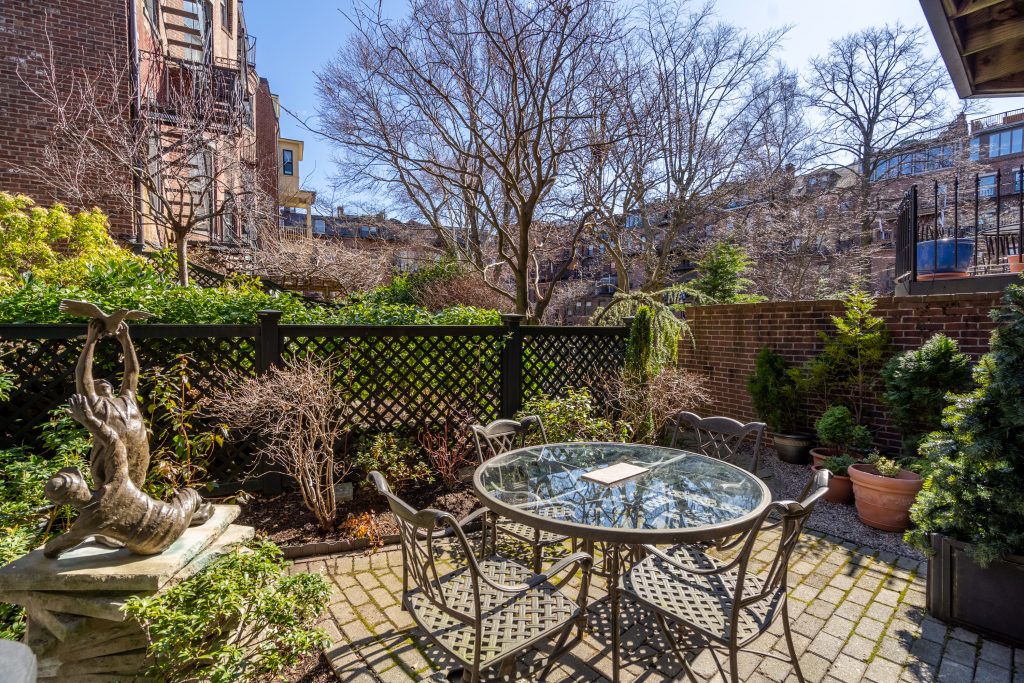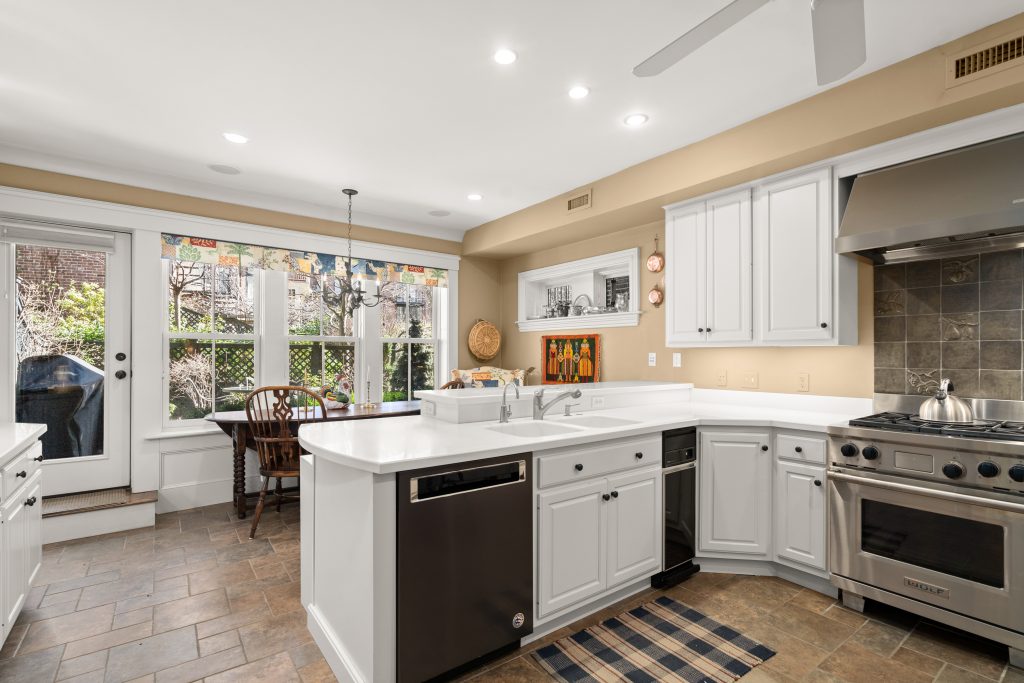 South Boston Condo
"This is the kind of home that is city-located but feels like you are on a beach vacation," says Kerrin Rowley, a top Coldwell Banker realtor, of South Boston's 794 East 7th Street, Unit D.  The City Point townhome condo has water views of Boston Harbor, sits directly across from a handful of yacht clubs and has easy access to Castle Island's parks and beaches. "You can spend so much time outside," says Rowley, who works out of the Hingham Coldwell Banker office. "The condo has water views from every single level. There is a cozy back deck just off the main living area and a spectacular private roof deck with amazing views of the harbor and Boston's skyline," she adds. "Not to mention the strolls you can take through the friendly, easy-going neighborhood."  
As one of the largest units in the 13-unit Boatyard complex, Unit D provides ample space for families and couples alike. "There are four levels above ground, so it's a good home for a family or even older couples looking to downsize." With its four bedrooms and two and a half baths spaced throughout its 1700 square feet, the home has an appealing multi-level layout.  "It is a terrific space for anyone, says Rowley, "and it has three dedicated parking spaces, including one in an attached garage, which is unheard of in Boston." 
The property has many recent renovations, including new kitchen, roof and decks, updated windows, an improved air conditioning system, and an upgraded electric panel. 
The neighborhood is ideal for both work and play. "It is an amazing location, "says Rowley. "You can walk to the Seaport, and you are close to the financial district and the beach is just steps away from your front door." City Point is considered very walkable and bike-able, with great access to downtown Boston, and boat owners will be enthused by the numerous yacht clubs nearby. "There is just such an ideal mix of waterfront ease and city living in this unit," says Rowley. "In my opinion, this condo checks off all the boxes."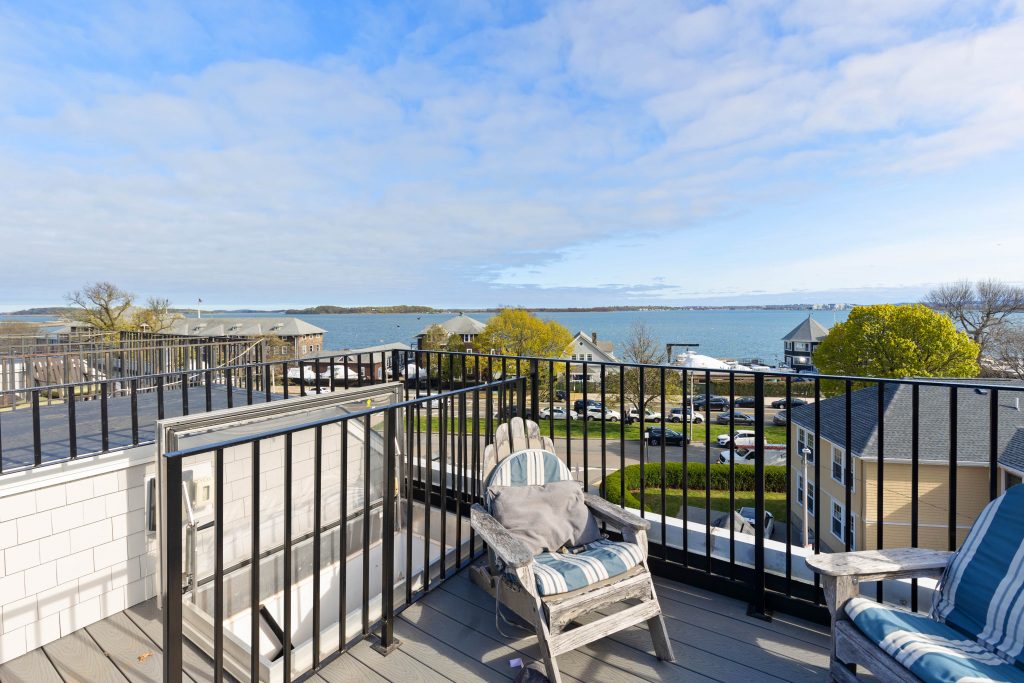 Text: Lisa Cavanaugh