At U.S. Bells, which is part of his family's Watering Cove Studios, a Maine craftsman builds a balanced life of art and connection.
By Lauren Wolk
It all started with bells. Cowbells came first. "It was a hippie thing," says Richard Fisher, founder of U.S. Bells, the cornerstone of Watering Cove Studios in Prospect Harbor, Maine. He made his cow bells from sheets of steel and sold them in Boston's Copley Square for a season in 1970. The following year, he made a fresh batch from sheets of brass and sold them at a craft fair in Bennington, Vermont. Then he got serious. About bells. About everything.
That's when he and his wife, Cindy, decided to head for Maine in search of a fresh start and a chance to build a home, a family, a living, and a life. Quality was at the heart of everything they sought and everything they built. The quality of their work. The quality of their lives. And the balance between the two. "We never looked back, "Fisher says.
After studying the process of using molds and molten metals, Fisher traveled to Japan to witness the creation of temple bells and then, home again, rented time in a foundry to get his feet wet before diving in headfirst and opening U.S Bells soon thereafter.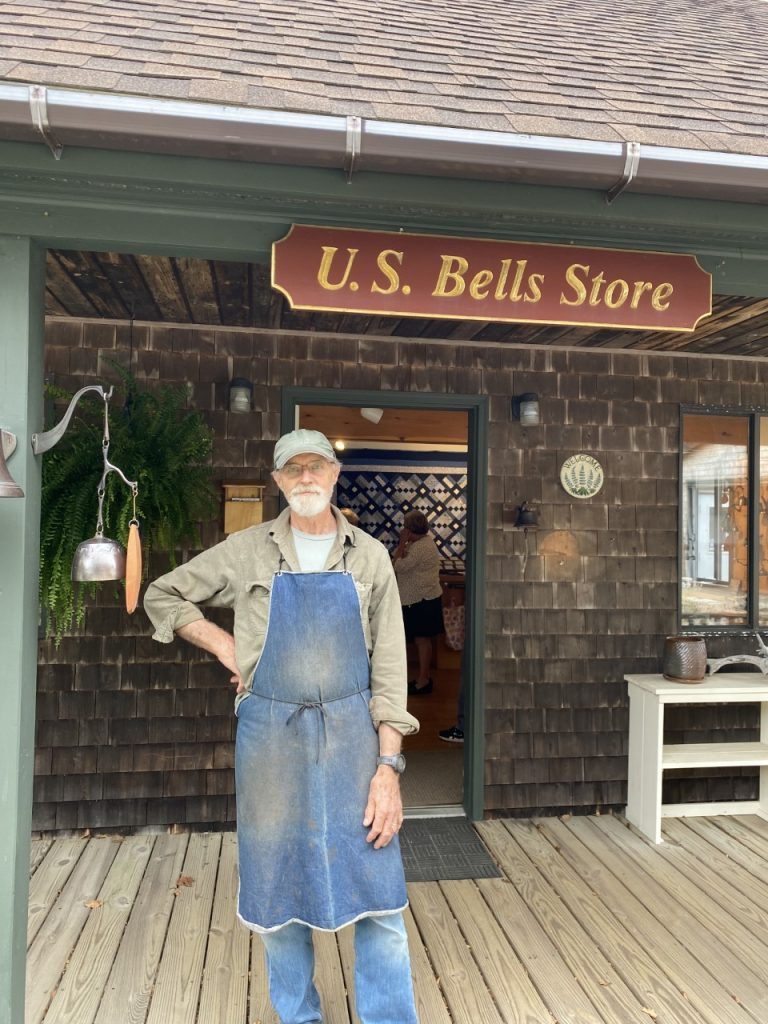 The work of creating his own bells involved sketching designs, making patterns, sand casting the molten bronze, and finally grinding, drilling, sanding, tumbling, adding patina, buffing, and assembling his bells and bell sculptures.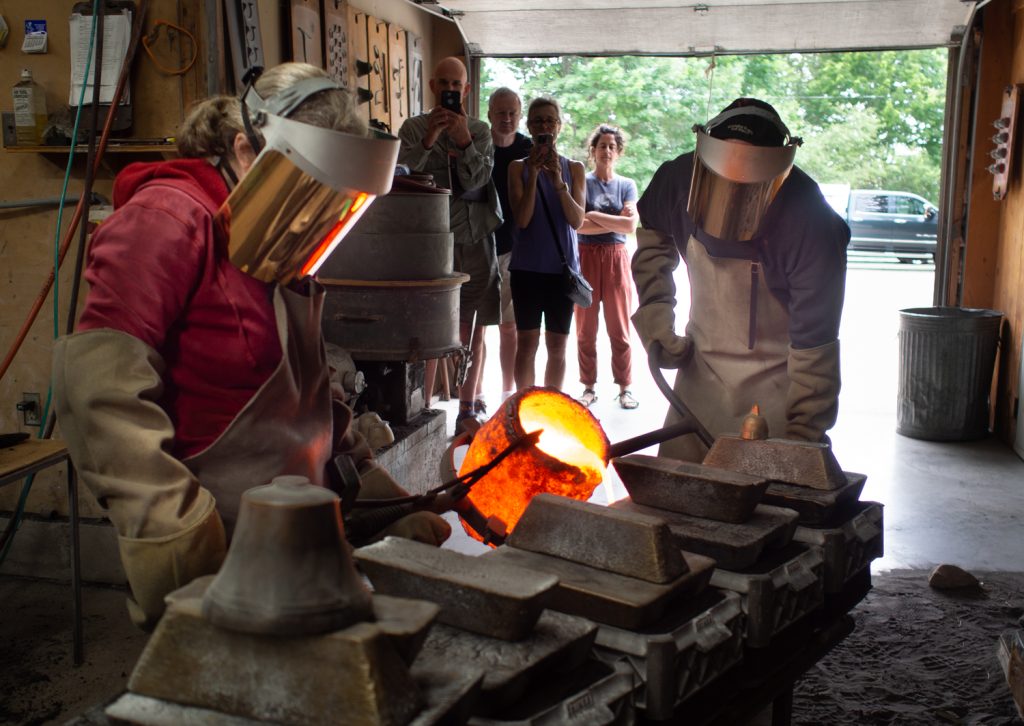 With the help of his longtime employees, Maggi McCaw and Newman Young, Fisher still makes every part by hand, from the bronze brackets and bells to the external mahogany clappers. The results look and sound beautiful, ringing with tradition, invention, passion, and skill.
But it didn't end with bells.
"We need some color," Fisher said to Cindy when they opened their shop and filled it with his creations. So she hung one of the quilts she often made for friends and family, a passion she'd inherited from her grandmother. "To my astonishment, somebody bought it!" she remembers. And, just like that, her "winter therapy" added a second layer to what would later become Watering Cove Studios.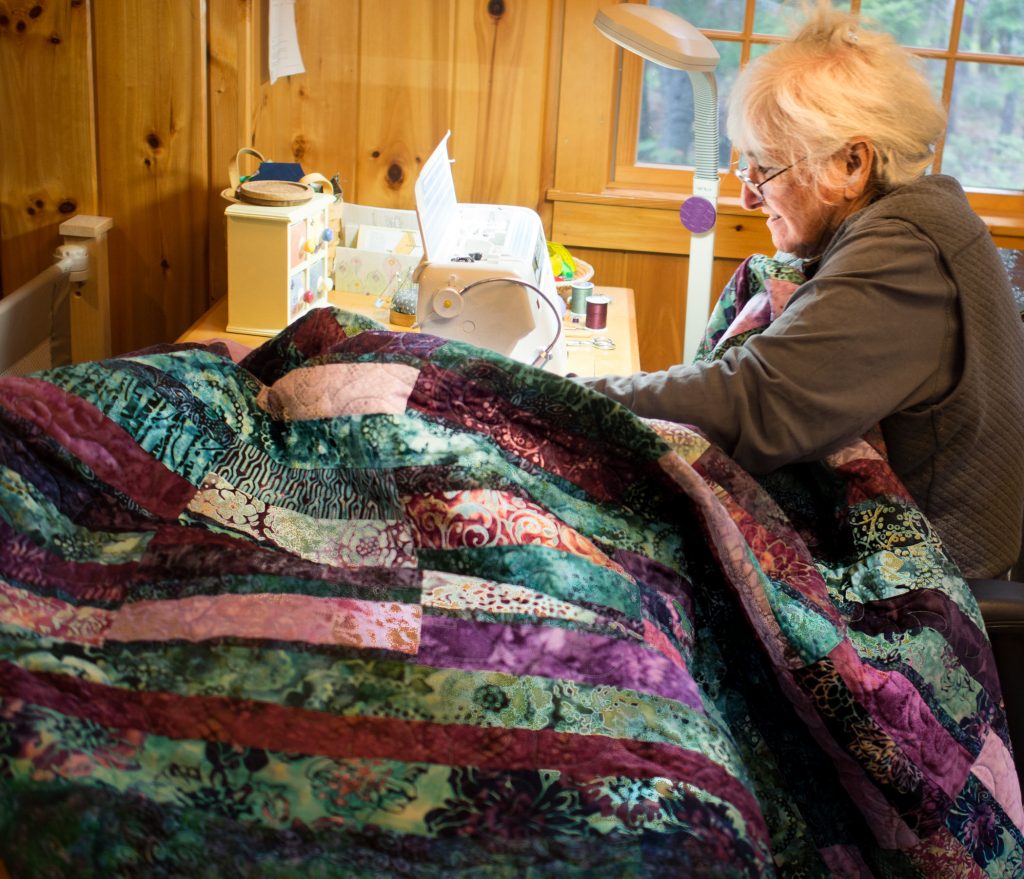 Now, four decades later, the Fishers lead a thriving collaborative that also features their son Tim's handcrafted woodwork and furniture, ceramic art by Tim's wife, Liza, paintings and illustrations by son Josh, photography by son Adam, and other fine art and craft.
The thousand bells that Fisher creates each year may still be the heart of Watering Cove Studios, but family is its soul.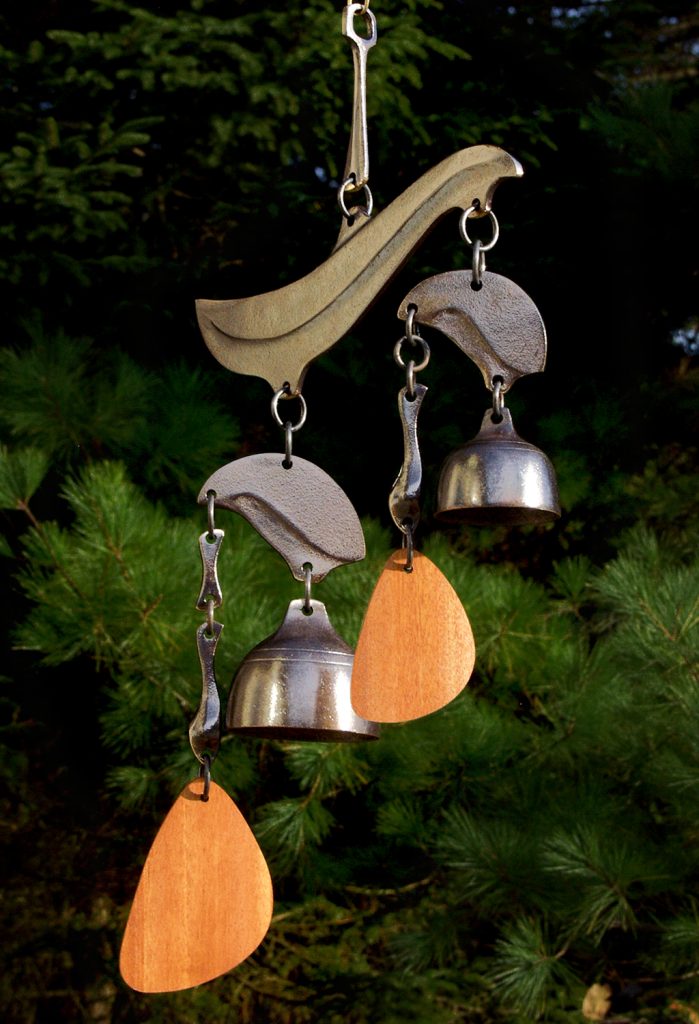 And while every bell is a stunning example of balance—between art and engineering, idea and execution, form and function—so is the life that the Fishers have forged in Prospect Harbor. Shops across the country may carry their creations, and the foundry furnace may glow all year long, but the Fishers take on only as much work as they can reasonably handle without compromising their commitment to excellence, family, and a healthy work-life mix.
Those who come to the shop and to the foundry to witness a "pour" seem to crave both the work that the Fishers create and the example they set. Visitors may take home a bell whose ring is as clean and bright as the light of Down East Maine. They may claim one of Cindy's heartwarming quilts, a piece of Tim's heirloom-quality furniture, a vase whose autumnal colors reflect the wood fires of Liza's kiln, or any number of other treasures from Watering Cove. But they'll also take home the idea that it really is possible to stay on the tightrope. And to be at home there.
For more about the Fishers and their work, visit wateringcovestudios.com