Warm woods, sleek black tones, and modern features harmonize in this transitionally styled Massachusetts home.
By Jennifer Sperry
When Stephanie and Jim Farrell greenlighted the construction of their new home in the quiet, rural town of Douglas, Massachusetts, Stephanie had a clear vision of its style-to-be.
"I like a country feel with vintage elements, but I'm also drawn to modern lines," says the homeowner of her transitional leanings. "I've always loved design and decorating and was prepared for this project with a lot of ideas collected over time."
Choosing the appliances, surface materials, plumbing fixtures, and lighting for a 5,500-square-foot, three-bedroom, six-bathroom home is no small feat. Stephanie, a busy VP of marketing at a leading IT services company, craved cohesiveness but endeavored to avoid predictability. She wanted each space to have its own dose of drama.
Since Jim, the CEO of a mergers and acquisition advisory firm, had worked with Supply New England in the past while in real estate development, the couple turned to the family-owned plumbing, heating, cooling, and supplies company to help navigate their selections. At the Uxbridge showroom, Stephanie joined forces with Kitchen & Bath Gallery design consultants Lauren Dworak and Heather LaFlamme on cabinetry and bathroom design, respectively.
"This is a custom house built from the ground up specifically for the Farrells' needs," explains Dworak. "Stephanie was a great client—she knew what she liked yet was open to collaboration. I would describe the resulting interior as a true modern farmhouse, with clean lines and rustic add-ons that give it warmth."
Stephanie's preference for neutrals is evident throughout, including in the kitchen, where white Mouser cabinets partner with black-honed granite countertops. "We brought the granite up as a backsplash behind the range to keep the cooking area easy to clean," says the homeowner.
To avoid the starkness of just white and black alone, the owner tasked Kevin Flanagan of Custom Home Finish, a Mendon, Mass.-based interior finish carpentry company, with creating a wood back for the island. Similarly, she requested a boxed surround for the vent hood— "I didn't want anything too ornate," she explains.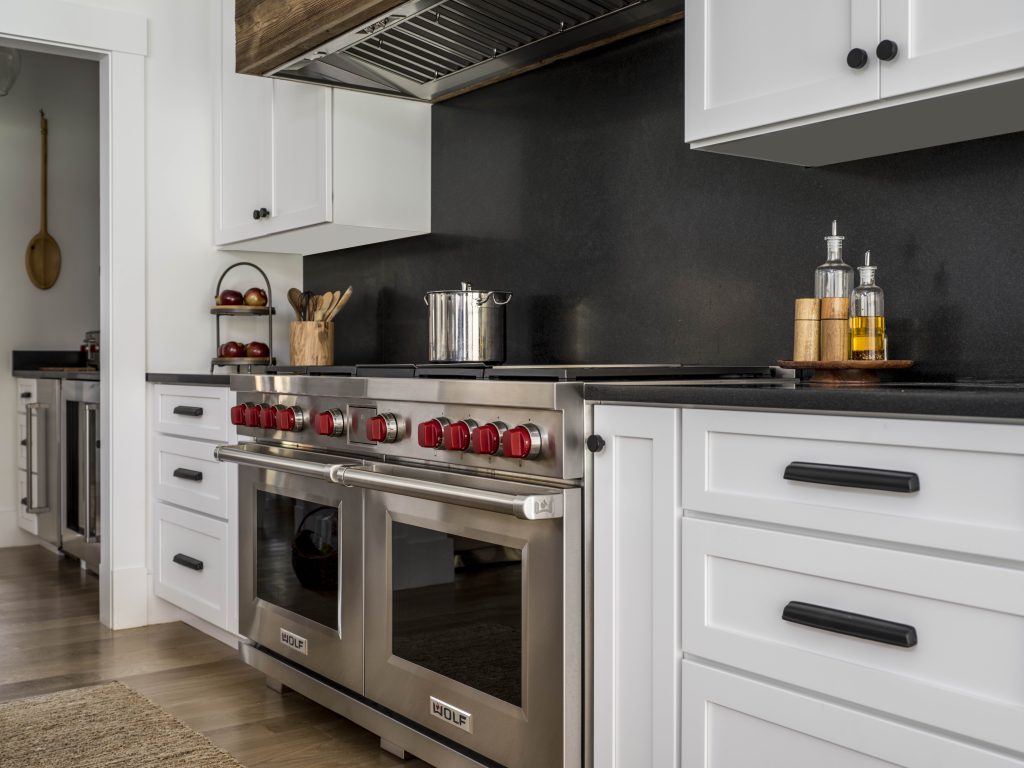 For the Farrells, functionality was just as important as looks in their kitchen. "We both love to cook, and I've always been a fan of the technology and features offered by Wolf and Sub-Zero," explains Stephanie of their appliance choices. "This kitchen design mainly centered on accommodating these statement appliances," agrees Dworak.
Another dose of functionality designed to enhance day-to-day living is the island's Galley workstation. "This is not just a sink but a complete workstation meant to be a kitchen centerpiece," asserts Dworak. Galley's stations range up to seven feet in length and are customizable with accessories for chopping and straining and various serving boards for entertaining. The Farrells opted for a three-foot model and a matching Galley faucet.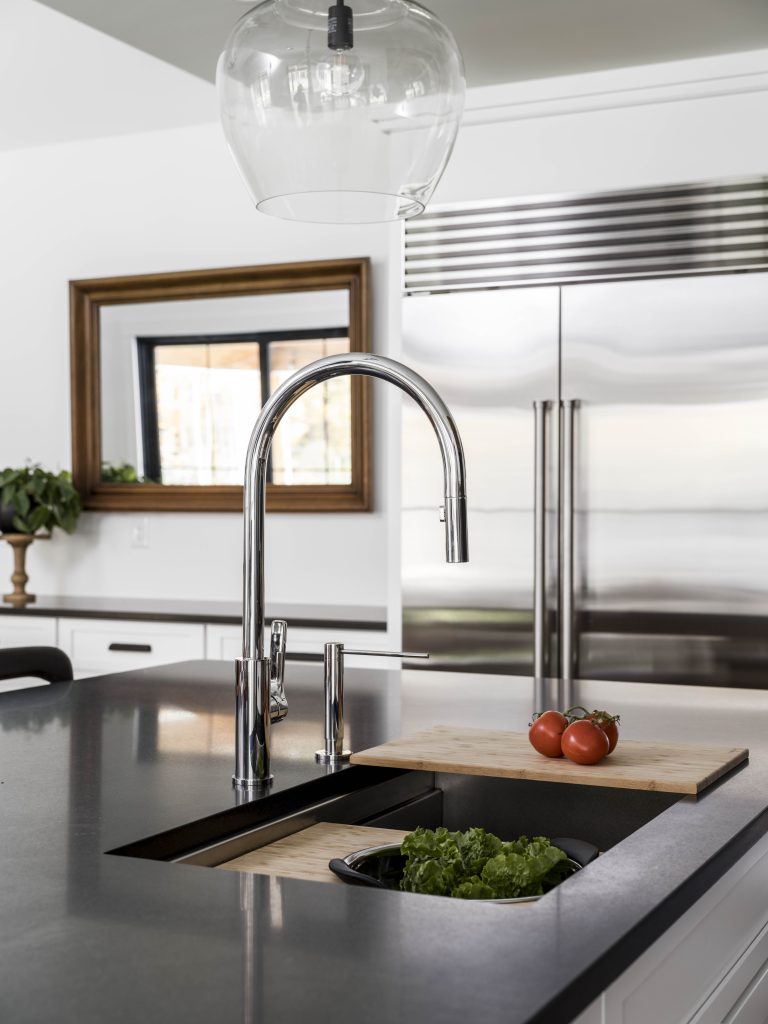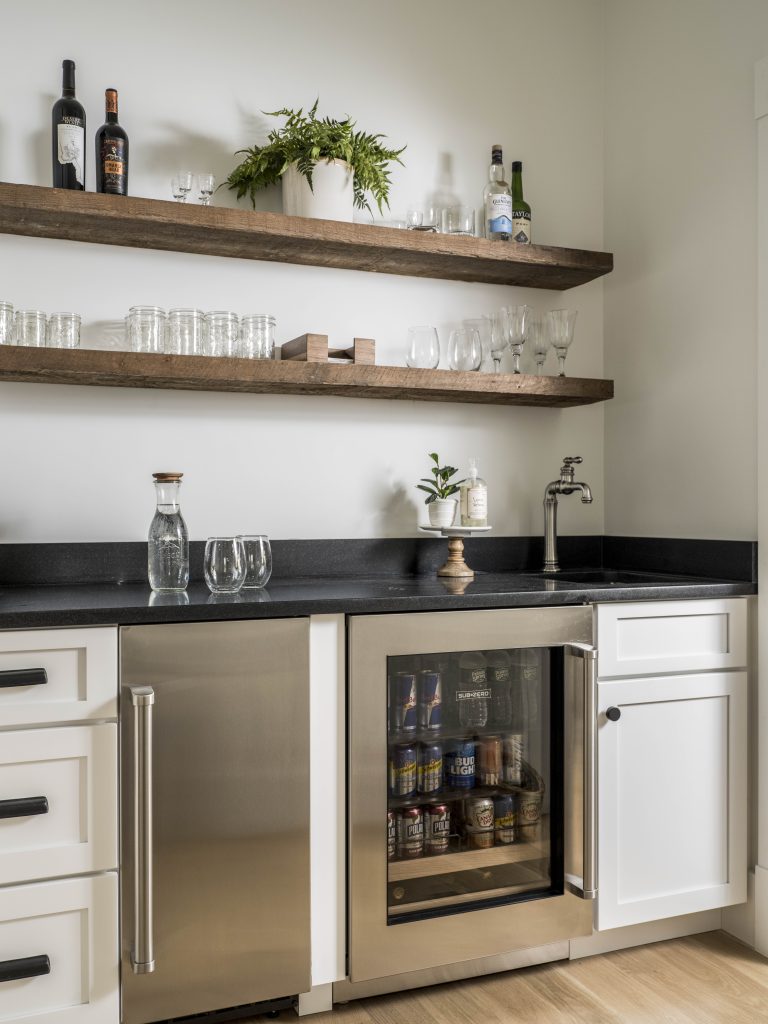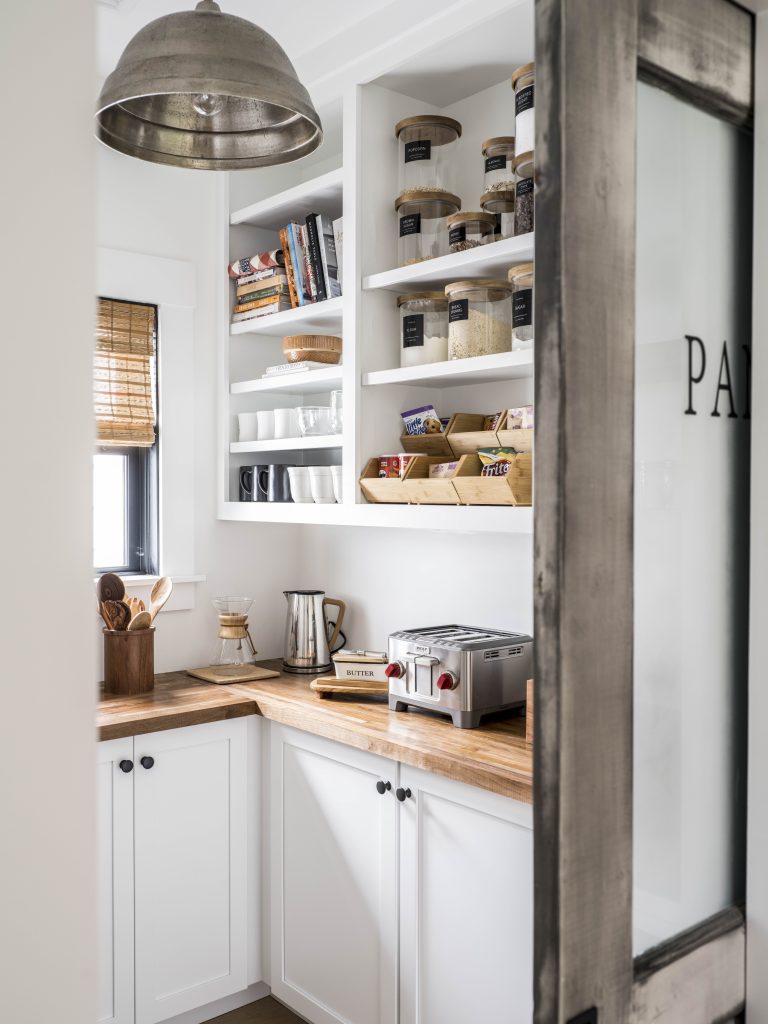 One of Stephanie's favorite features, her dry pantry, saves the kitchen from the clutter of small appliances. In between the kitchen and dining room, a butler's pantry with beverage fridge, wine, and glassware storage, and an ice maker accommodates the bustle of large parties and holiday gatherings. Floating shelves by Custom Home Finish lend extra polish to this pass-through space.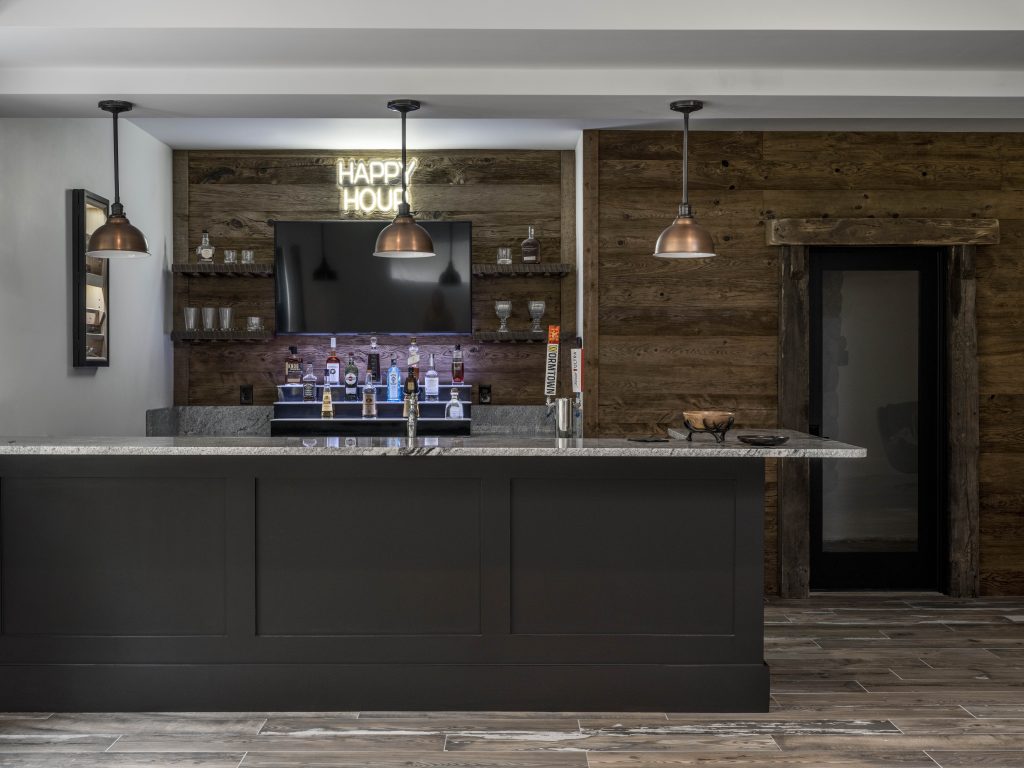 The home's finished basement provided the perfect spot for one of Jim's wish-list items: a fully outfitted bar. "He wanted the look and feel of a real bar, so we included a kegerator, ice maker, beverage fridge, dishwasher, even an air fryer," says Stephanie. "My goal was to make it feel authentic and fun." Other perks on this lower level include a full bath, wine cellar, gym, theater, and French doors leading out to a backyard firepit.
With bath expert Heather Laflamme as her guide, Stephanie outfitted six bathrooms, five of them full. "I wanted each to have a different feel but still be in keeping with the home's style," says the homeowner, who maintained their cohesive theme of black, white, and wood with some mixing of metals like chrome and oil-rubbed bronze.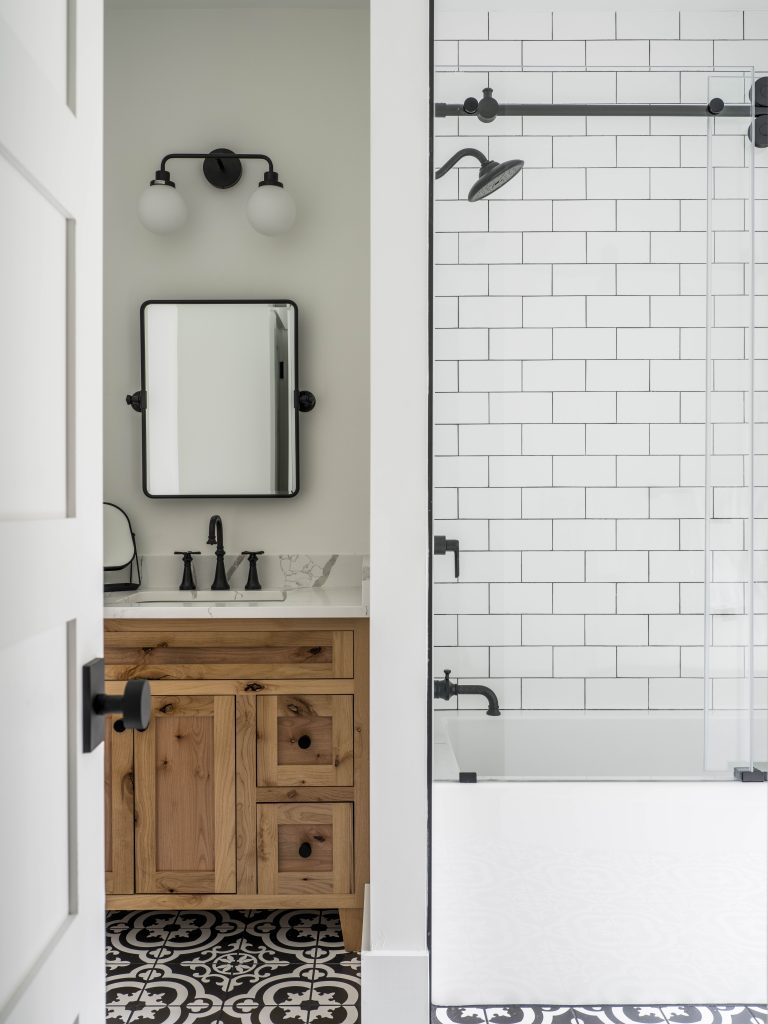 Luxurious, spa-like touches define the primary bathroom. Its floating vanity boasts open shelving for towels and lighting underneath. "The warm tone and texture of the toffee-stained cherry wood counters the coolness of the tile. It brings a comforting element that is sometimes lacking in a white bathroom," Stephanie contends.
Lined with veined marble, the glassed shower is large enough for two shower stations. Each has a rain head, shower head, body sprays, and a wand—all fixtures from Kohler's "Purist" collection. Another decadent destination is the soaking tub backed by a striking accent wall of river rocks. "The wall leans rustic, but its black tone keeps it from feeling too woodsy. It adds a big punch without overwhelming the space," observes Dworak.
Aged wood and sleek black achieve another successful partnership in the powder room, where a concrete vessel sink sits atop a vanity crafted by the finish carpenters. Stephanie sourced all accent woods from Jarmark in Oxford, Mass.—the powder room's wood is unique in that it was salvaged from an aquarium in Connecticut.
With the design of every room came myriad decisions, and Stephanie was grateful for the expertise of both design consultants. "It was so valuable to bounce ideas off them, and I was really impressed with their knowledge. Plus, we were dealing with the stresses of construction during the pandemic: rising prices and slowing supply chains. It was a trying time, but they helped us through it, staying positive and keeping everything moving forward."
Supply New England has 20 locations throughout Southern New England, and those with Kitchen & Bath showrooms grant homeowners access to luxury product lines like Kohler, Rohl, Newport Brass, and more without requiring a third-party designer.
"Clients come in with floor plans, and we can help design an entire space as a one-stop shop," asserts Dworak. "Our goal is always to keep the decision process fun and comfortable. We want you to really love the fixtures you'll be living with for years to come."