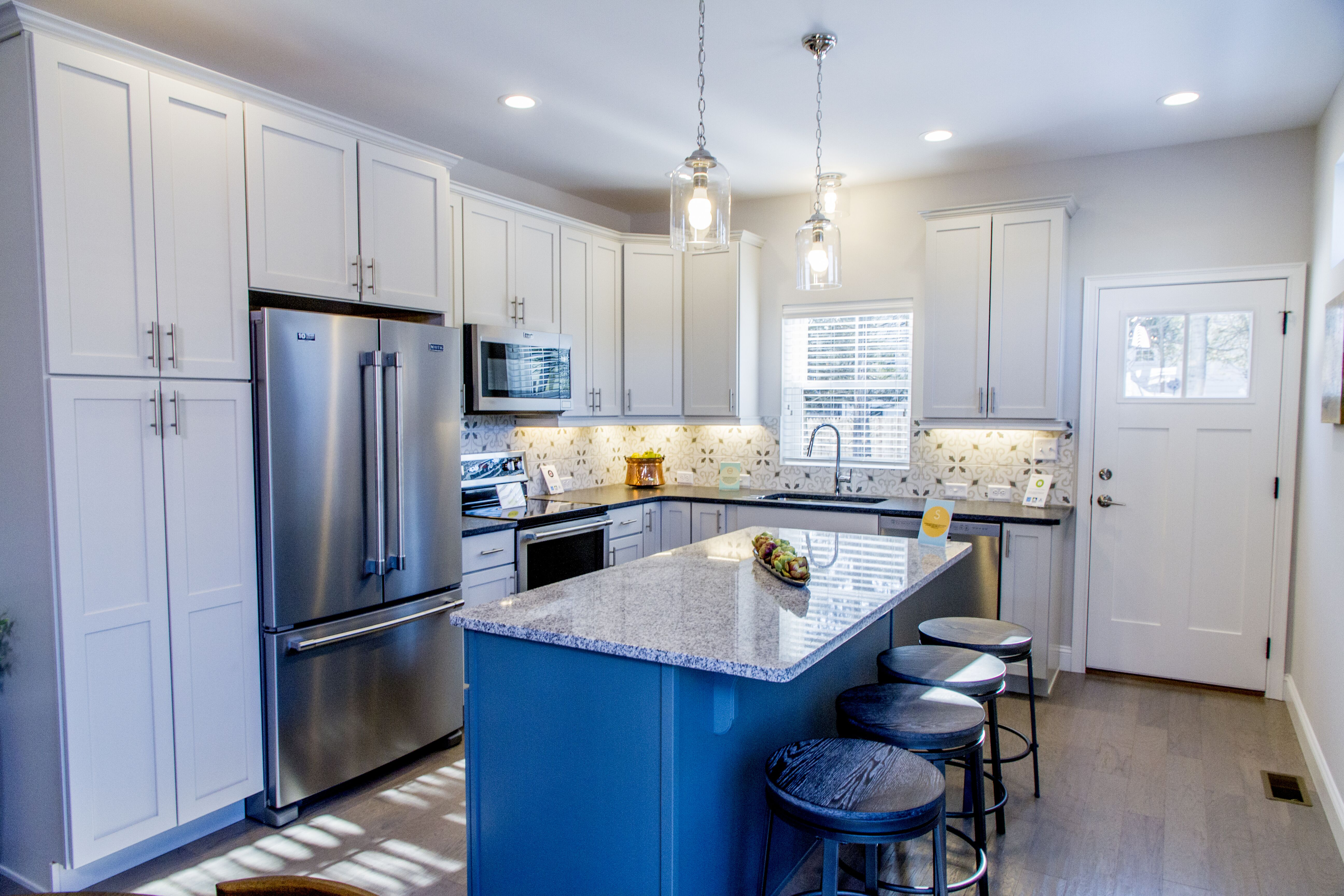 Written by Lisa Cavanaugh
Comfort, health, environmental sustainability and cost savings ~ there are numerous reasons to embrace a zero-energy home. Constructed (or renovated) to be so well-insulated, air tight, and energy efficient, net-zero energy structures are designed to produce as much power as they use, giving their owners net-zero heating and cooling costs, while still being tied to a local utility grid.  
The Net-Zero Energy Coalition estimates the US currently has around 17,000 net-zero energy single-family or multi-family homes, but that number is expected to increase expotentially in the coming years.  In California, where new home construction averages 80,000 houses per year, a law went into effect in January that mandates most new homes and low-rise multi-unit residential buildings must include solar rooftop panels, or in certain circumstances, be able to draw from "community shared solar" sites.
Closer to home, a Rhode Island builder has taken the lead by developing Wynfield Place, a residential neighborhood of nine single-level Net Zero-Energy ready condominiums in Warwick.  Hugh Fisher, Founder and President of h.a. Fisher Homes, explains that National Grid contacted them to be part of a pilot program in the state because their company has long incorporated innovative standards and designs.
"We care a lot about how people live in our homes, and we are proud that Wynfield Place is the very first neighborhood in the state to be Net Zero Energy Ready ," says Fisher.  A Net Zero Energy Ready home means it is built to all of DOE's Net Zero Energy Ready Home, as well as Energy Star and EPA's Indoor AirPlus, standards, while giving the homeowner the ability to add solar panels or shingles at later time.
In addition to adopting advanced energy efficient construction practices, Fisher Homes is also Rhode Island's exclusively licensed Woman-Centric Matters homebuilder. "The women-centric approach involves thoughtful design elements for storage, flexibility, relaxation and entertaining in a home, " says Sarah Fisher,  Vice President, Marketing & Design. "Those features are of course appreciated by both men and women, but research indicates that over 90% of all home purchases are made or primarily influenced by women.
Hugh Fisher, who has been building homes in Rhode Island since 1976, says that all the technology needed to make homes net-zero energy ready is available today. "It used to be a science problem, but we solved that, " he says. " The math problem of making it affordable for the average homeowner is what we are finding answers to now with Wynfield Place."  
Listed by Coldwell Banker's Stone Alliance Team in Warwick, the single-level units start at $319,900 and feature two bedrooms, two baths, pocket office, ample storage, attached garage, and a full basement. Sales Associate S. Stephen Marsocci says the condos are especially attractive to an older market who are looking for one floor living spaces that can save them money, while still being attractive and comfortable. "Not only are the condos centrally located, with shopping and the hospital only five minutes away, but gas and electric cost savings will be significant for homeowners," says Marsocci.
Another aspect that Marsocci likes to point out is the quality of air inside the new homes. "Honestly, the very best thing about these condos is the air, " he says. "Dual HEPA filtration system, and the air tight energy standards really means the air is the freshest, cleanest air possible. These are dream homes for anyone, but especially someone with allergies."
Hugh Fisher agrees, and adds that his team is thrilled to be able to offer the healthiest, highest quality and most efficient homes available in Rhode Island. " Our goal is to build health, comfort and beauty into your new home."