Bob Lobel is a New England sportscasting legend. He was sports director at WBZ-TV for 30 years and became as recognizable a face across the region as the famous athletes that he covered.
The Ohio native began his career in 1969 at WVNY in Burlington, Vermont after earning a Masters' degree in education from the University of Vermont. He moved on to WGIR in Manchester, New Hampshire in 1972 and joined WBZ-TV as weekend sports anchor in 1979. He became sports director in 1981, remaining in that role until 2008.
During a multifaceted career, Lobel, now 73, also did play-by-play work for the Boston Celtics, New England Patriots, the NCAA Men's Basketball Tournament and Boston College football, among many other assignments. He is currently co-host of the cable television program "Legends with Bob Lobel."
On the air, Lobel was known for his breezy personality and his good-natured sense of humor, along with such props as the "panic button," which he pushed when a local team was mired in a losing streak, and catchphrases such as "Why can't we get players like that?" which he would say whenever a former player for a Boston team made a big play for his new team.
New England Living recently caught up with the sportscaster.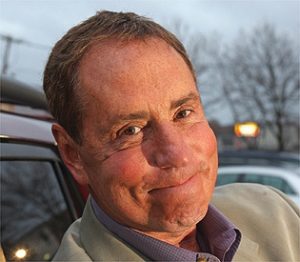 How has sports broadcasting changed since you were at WBZ-TV?
It's much less personal now. There is less time available for sports. I tell people that I was in the right place at the right time and I was just riding the wave. There were only three TV stations and we were the lone ones to deliver the sports news. This was before ESPN and all the other cable outlets. People turned to the three sports anchors in the evening to find out what happened during the day. Now they can find out on their phone five minutes after it happens. We were also allowed to tell stories. Now it's all results-oriented.
You brought Ted Williams, Larry Bird and Bobby Orr together for your Sunday night show, Sports Final, in 1992. People still remember that show. How did it come about and what are your memories of that night?
I asked Orr first and he said he'd do it. Then a friend talked to Larry and he agreed. My idea was to have just those two, because they were the winter sports guys. But a week before the show, Williams' son, John Henry, came into our office. He did that frequently because he was hitting on one of our interns. Really, the intern is the person who made it happen! He said, 'I heard you're doing a show with Orr and Larry. Can my dad come in as well?' Well, how long do you think it took me to say yes? There was only one person who could have screwed up that show, and that was me. I'll tell you how nerve-wracking it was; I still haven't watched the show. What's the point? I'll only end up criticizing myself for not asking this question or that question. But people say it was a great show, so I guess it was. The further we get away from it, the bigger the show becomes. What I remember is that there were so many people who came into the studio to watch it. There were people from WBZ that I never saw before that show and never again saw after it.
What are a few of your other career highlights?
That first Patriots Super Bowl win, just after 9/11, was big. That got everything started. But one of the most memorable nights was the Bill Buckner game, Game 6, 1986 at Shea Stadium. That stands out as the craziest, most interesting and ridiculous night of all. I remember standing outside the Red Sox clubhouse wearing this Columbo-like rain coat, because I figured I'd be showered with champagne [when the Red Sox won the World Series]. It was one of those moments that was almost culturally tragic.
Tell us about your most famous catchphrase, "Why can't we get players like that?" How did that come about?
It was just a wise-guy thing to say that I threw out on the air just to be sarcastic. It just seemed to work. [Red Sox general manager] Lou Gorman said, 'Why don't you stop saying that?' I told him, 'I can't. It's too good.' I don't think a day goes by when somebody doesn't come up to me and say that.
What is your favorite thing about living in New England?
I love the passion. It's not the friendliest place in the world, that's for sure. But here it's all about the passion that people have for sports. Sports goes deep into the past lives of the people who live here.