The third episode of New England Living TV finds us in Camden, Maine. With its large, boat-filled harbor, thriving downtown area and unique combination of mountains and ocean, summer visitors have been flocking to the mid-coast community for more than a century. Like many seaside resort communities, the summer months are teeming with activity in Camden while the shoulder seasons and winter months offer residents a slower pace. The home featured in this episode, affectionately known as the "Nested Neighbor," was designed to make the most of each season.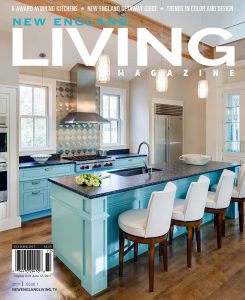 The exterior of the home at the heart of our Camden episode combines classic Maine farmhouse elements which have reinterpreted with a fresh, modern eye. With large, circular windows set into each peak, and oversized windows taking up much of the wall space throughout the home's first floor, windows are as much about form as they are function. A low-slung deck wraps around several sides of the home, which was designed and built by Phi Builders + Architects, and is a favorite spot for Lani, the homeowner, and her three-year-old son to spend time.
The unifying design element inside Lani's home is the color turquoise. The cheerful shade is sprinkled throughout the open floor plan living area; upholstering the dining room chairs and on its walls, in throw pillows on the sofa and, perhaps most notably, and on the kitchen's center island and cabinetry. Lani decided on the hue for the island first and the rest of the home's interior design, done by Margo Moore Interiors, was conceived to complement the unusual color.
After touring the home with Lani, Host Parker Kelley talks about its design with the team at Phi. She then visits nearby Cellardoor Winery, which is owned by a good friend of Lani's who is also the godmother of Lani's son. Wines from the celebrated winery will be poured at a dinner party later in the episode at Lani's home.
Because Lani is a caterer, there was no need to invite a chef in from a neighborhood restaurant in to cook dinner for the homeowner and her friends. Lani adroitly stepped into the role herself, preparing some of her signature dishes which are then savored by her guests that evening as the episode closes.
Please join us on Sunday, April 23rd at 11:30 a.m. for the Camden episode of New England Living TV. The program airs on WBZ | CBS Boston.