Paintings by Cape Cod artist Joe Diggs are part of a music-focused multidisciplinary show currently on exhibit at the Emerson Contemporary Media Art Gallery.
By Lauren Wolk     Photos: Robert Nash
Curated by Grammy Award–winning artist Terri Lyne Carrington and co-sponsored by the Berklee Institute of Jazz and Gender Justice, an exhibition entitled New Standards is at the Emerson Contemporary Media Art Gallery through August 4.
The show continues the theme outlined in Carrington's book New Standards: 101 Lead Sheets by Women Composers. Both celebrate the work of under-seen women composers and performers. Several abstracts and mixed media pieces by Joe Diggs join works from other award-winning talents, including musicians Cécile McClorin Salvant, Carmen Lundy, and Jazzmeia Horn and visual artists Monica Haslip, Yvette Rock, and Ramsess.
"Music is a major thread that ties my art together," says Diggs, who lives and creates in Osterville, MA. "So, the New Standards exhibit is a perfect fit for me." But art has not always been at the center of his life.
When Diggs was a teenager, basketball was a far greater influence than painting, which was simply a way to emulate his older brother and idol, Craig. But when Craig died at 19, and when college ball didn't measure up, Diggs began to listen to the professors who urged him to take his painting more seriously and to see, in his art, a way to tell his story.
That story began in France, where Diggs was born, the son of a military man, but eventually led him to Osterville, the village on Cape Cod where his grandfather, Joe Gomes, had acquired land early in the twentieth century. "I knew there were Black people all over the world," Diggs says, looking back. "But then I ended up in Osterville and was one of a very few." So, after graduating from Barnstable High School, Diggs crossed the bridge again in search of community and an arts education.
His professors at Southeastern Massachusetts University pushed Diggs to commit to his painting, but he harbored doubts about making a living as a painter. Instead, he worked as a flight attendant for 15 years before coming home to the Cape to manage the rental properties on his family's land and to run Joe's Twin Villa, the iconic tavern named for his grandfather.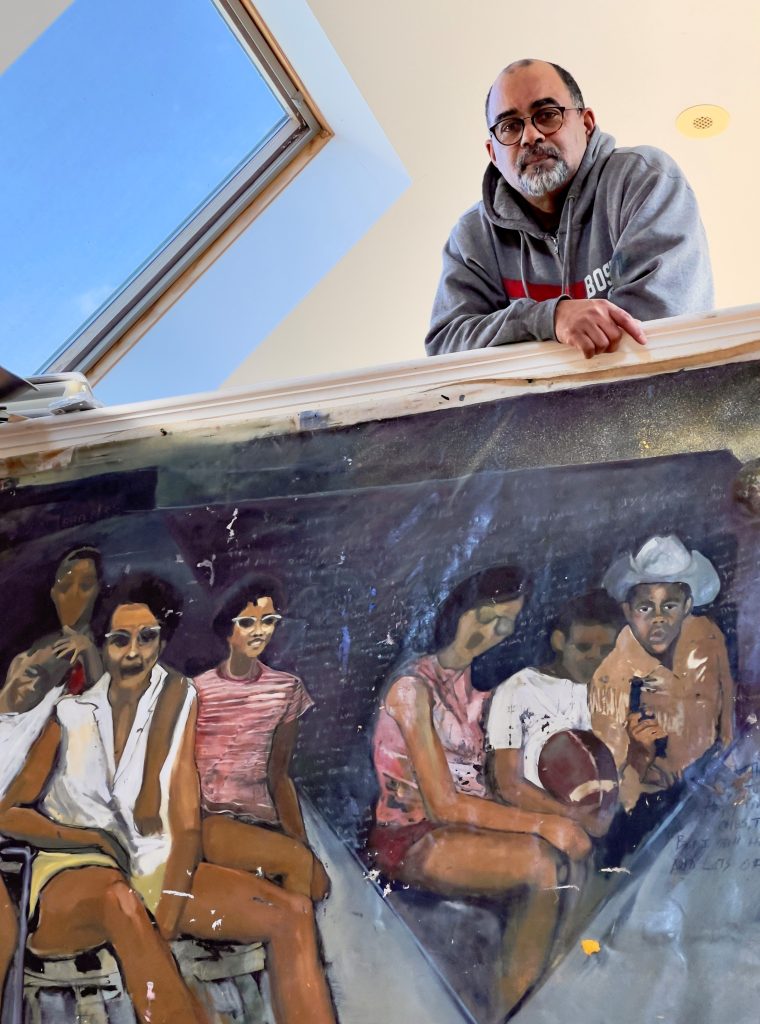 Throughout these years, Diggs still strived to honor his interior voice through painting. Eventually, he began to show his work, primarily at several arts institutions across Cape Cod, and then earned his master's degree from the Fine Art Works Center in Provincetown in 2014. Soon after, he gained representation at the prestigious Berta Walker Gallery in Provincetown.
Through it all, he fulfilled his seminal intention to tell his story honestly, authentically, and emotionally. But, in the process of making art, Diggs began to realize that the art itself had a story to tell.
So, he watched. And he listened. And he learned.
Take, for instance, the mixed media piece he created with paint and dental x-rays, an abstract over which he poured epoxy, which hardened into a clear topcoat that sealed the work, intensified its colors, and gave it depth. What he didn't anticipate was how, over time, the piece would acquire an interesting patina and evolve in other ways because of that epoxy.
Intrigued with this evolution, Diggs applied epoxy to photographs of his uncles, who had been Tuskegee Airmen, and watched as the images gradually broke down. "One piece, called Hobbled Dreams, shows my uncle Mitchell who wanted to be a commercial pilot after the service but couldn't get a job," Diggs explains. "To see an image of him in his uniform, slowly fading away, was poignant."
Likewise, during the Covid-19 lockdown, Diggs let unconventional materials show him new ways to make art and tell his story. When he began to use cardboard takeout dividers as palettes, he realized they were an opportunity to create art on materials he would ordinarily throw away. "I began to think, what if I could put fine art on affordable materials? Could it become affordable art?" Diggs now has a series of vibrant abstracts on takeout cardboard and paper grocery bags, all stunning reminders that anything can be a medium for an idea.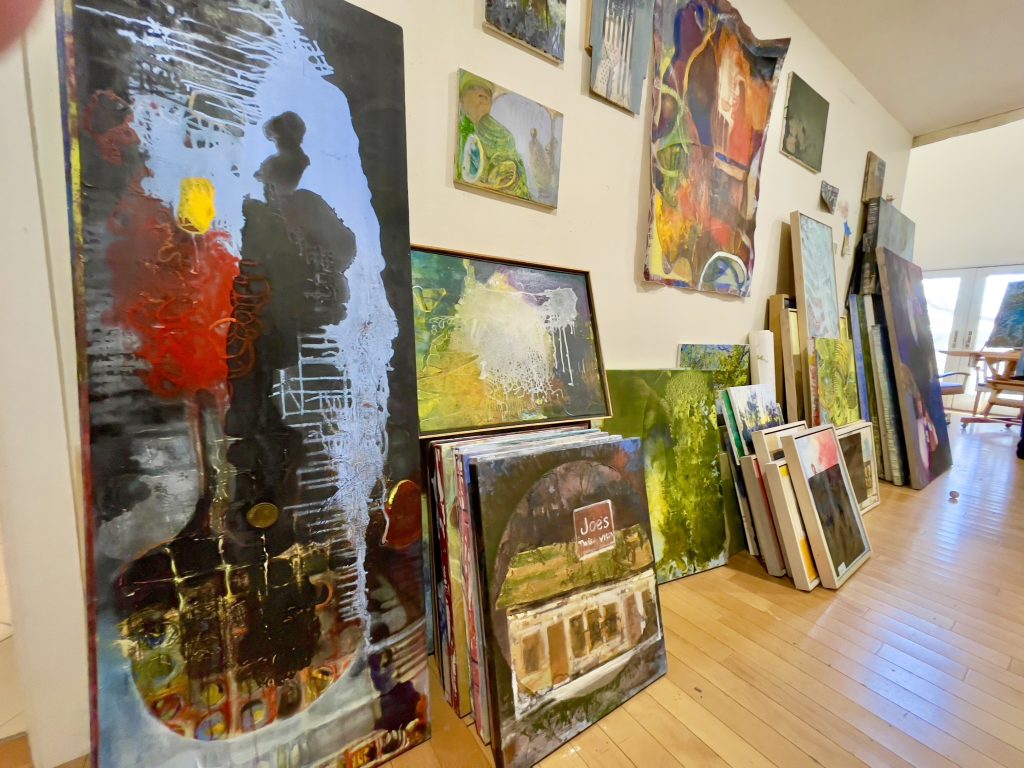 On any given day, Diggs is involved with several paintings that span a range of subjects, media, and palettes. But repeating motifs, characters, and influences bind everything he creates into one vast and varied collection. "I allow myself to act as a medium and concentrate on the images that come through onto the canvas."
Diggs remains dedicated to the place he has built for himself on Cape Cod. "The one consistent thing is that no matter what I do, the studio is here," he says, "the canvas is here, my mind is here. I can always just escape; I can just work it out. It's what I do."
For more information about Diggs and his work: bertawalker@bertawalker.com and https://joediggsart.com/