As rug hunters Lindsey and Josh Graziano of New England Loom were expecting their first child, the design for the new nursery naturally revolved around a distinctive piece from their thriving business.
 By Marni Elyse Katz
It all started when Lindsey and Josh Graziano decided to acquire a dozen vintage oriental rugs to create a path to their wedding tent. In the year leading up to their 2015 nuptials, the pair spent weekends scouring local antique stores and estate sales for vegetable-dyed rugs at reasonable prices. The thrill of the hunt never wore off.
After choosing a few to keep for their new North Shore home, Lindsey offered up most of the remaining rugs to friends and family via her personal Instagram account. "We didn't have spots for all of them, so I decided to rehome them," she says. The rugs were gone within minutes, which prompted her to entertain entrepreneurial ideas.
Thus, in July 2017, the couple officially launched New England Loom. Today, they have a tiny shop on Main Street in Wenham and, more importantly, over 50,000 Instagram followers. During the week, Lindsey teases 10 to 20 new rugs @NewEnglandLoom, and every Sunday at 8 p.m., the batch becomes available for purchase on their website (newenglandloom.com). Anything that doesn't sell immediately remains online, ready for the taking.
While New England Loom doesn't specialize in a particular niche—there are numerous types of Persian rugs, along with Caucasian and Turkish specimens—every rug is old, and if not pristine, then artfully well-worn. Lindsey chooses (and adores) every single one. "I look through hundreds to identify ten I want to sell," she says. "I think this curated experience is what our followers appreciate."
Earlier this year, as the couple prepared for the birth of their first child, Lindsey came across the Khotan rug that would inspire the scheme for the nursery in their Wenham home. "We obviously started with a killer vintage rug," Lindsey says. "This one in particular, with its orange base and pink and sage green details, really spoke to me."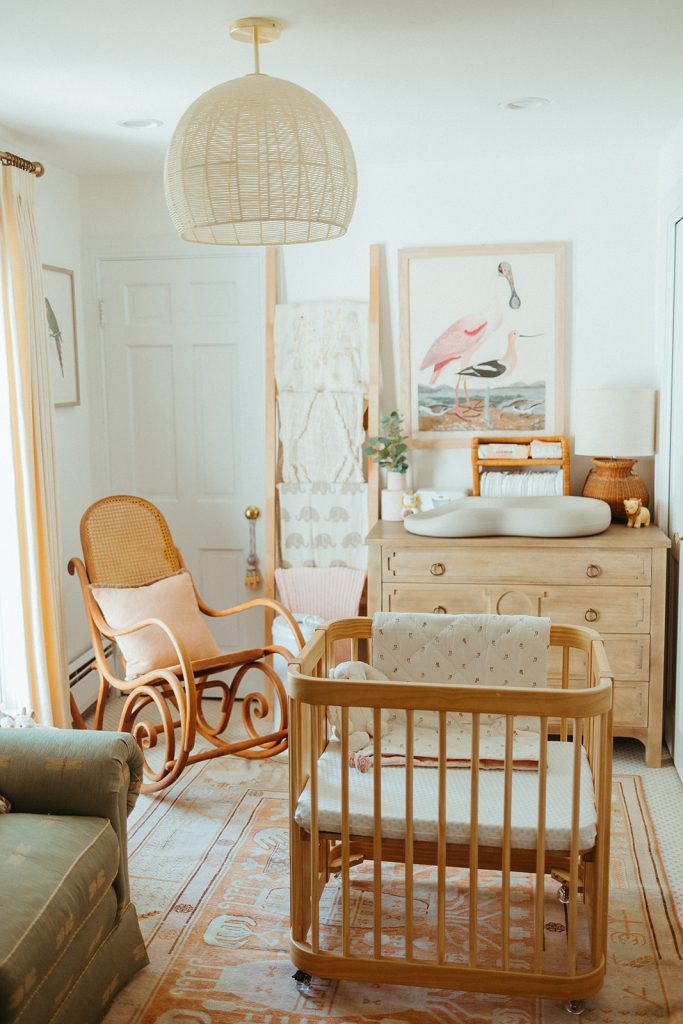 The baby's room occupies their former dressing room. "My first maternal sacrifice," Lindsey quips. Before they could decorate, however, the built-in chest of drawers in the middle of the room had to go. Removing it left a gaping hole in the center of the wall-to-wall Stark carpet, so Josh quickly filled it in with a vintage rug fragment. After repainting the dark blue walls in Benjamin Moore Simply White, Lindsey layered the Khotan rug atop the patched and leveled carpet.
The serene, bohemian-meets-grand millennial-style space embodies the couple's ethos of not buying new. "Most of the décor is vintage or handed down and has a memory associated with it," Lindsey says. They pulled a small, comfy sofa that they had used back in Boston, a hand-me-down that went from her grandparents to her parents to Lindsey and Josh, out of their barn, and relocated a dresser from another room. The green side table hails from Lindsey's childhood bedroom, and the authentic Thonet rocker was a gift from a thrifting friend.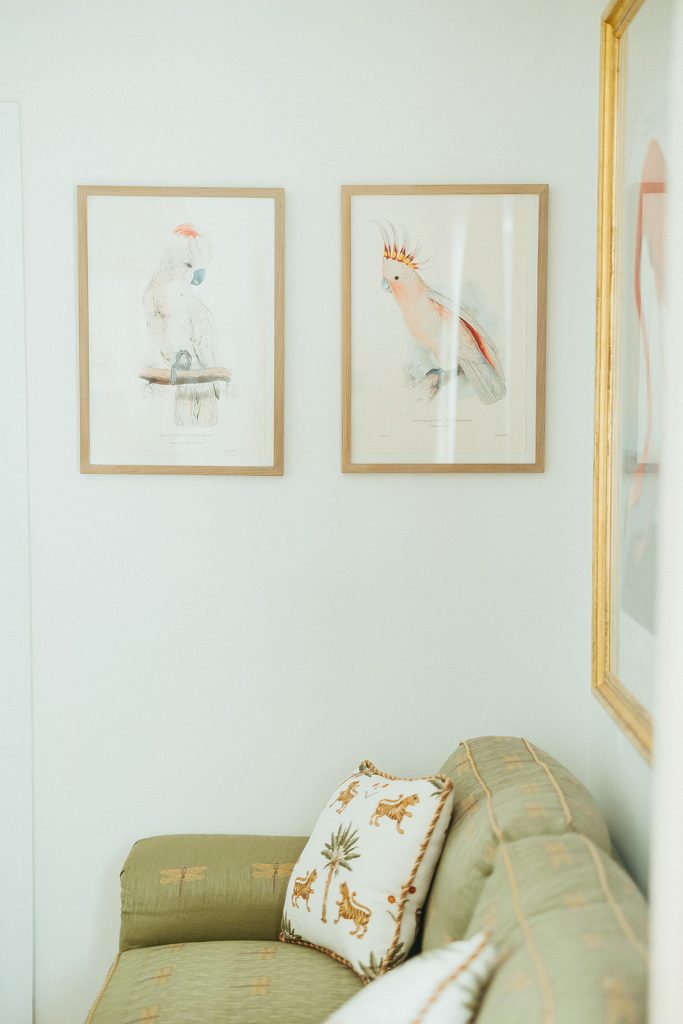 The art and accessories follow suit. The vintage rattan lamp, rattan diaper shelf, and wicker trivets on the wall are all online marketplace finds, as was the spoonbill and shorebird print by Alexander Wilson, whose ornithology book pre-dated John James Audubon's. Speaking of Audubon, a 1971 lithography of the naturalist's iconic American Flamingo hangs over the sofa. "My dad is an art collector; we have many of his Audubons throughout our house," Lindsey notes. "The flamingo is my favorite." The artist is also the creator of the displayed parrot prints, which Lindsey pulled from a book of illustrations by Edward Lear that her father found in the basement of her childhood home.
Vintage botanical prints from books the couple found at estate sales while sourcing rugs finish the décor. One is of a camellia in a woven rattan frame. "It was a not-so-subtle nod to our daughter's name," Lindsey says. "We also spent the summer growing camellias in our greenhouse, so they could bloom around the time she was born."