A new exhibition at the Peabody Essex Museum, Patrick Kelly: Runway of Love, pays homage to the creative life and legacy of fashion designer Patrick Kelly, June 25 – November 6. Kelly had an unprecedented rise in fashion, born in 1954, he drew inspiration from his Black heritage and his experiences growing up in the American South. His fearless yet lighthearted designs pushed racial and cultural boundaries and were rooted in expressions of love and joy.
The exhibition features footage from Kelly's exuberant and groundbreaking fashion shows and over 75 fully accessorized runway ensembles created between 1984 to 1989. After attending Parsons School of Design, in 1979 Kelly moved to Paris where he bought fabric at local street markets that he sewed on a borrowed sewing machine, turning out a number of items a day. Kelly dressed his model friends in body-conscious knits, which they would wear around the city, becoming living advertisements of his vision. Bergdorf Goodman found Kelly's designs fun, chic, affordable and Parisian and purchased his first collection, which skyrocketed his career.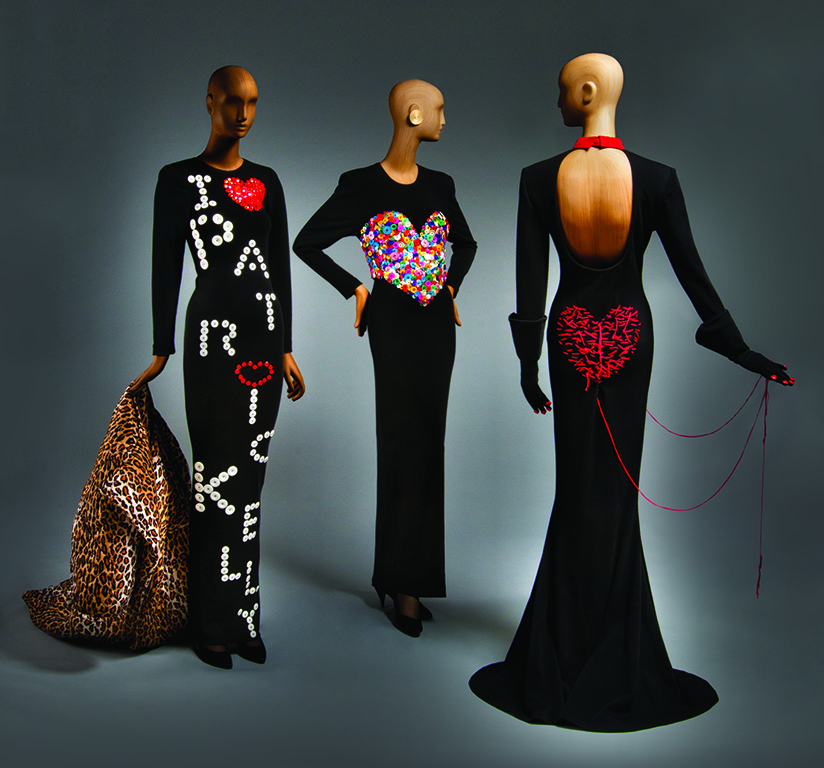 Kelly's colorful creations embodied fast fashion of the 1980s, a style that responded to fluctuating trends and allowed designers to be experimental in their use of fabrics. At the time, fast fashion was equated with simple, narrow silhouettes paired with interchangeable pieces that ensured maximum impact for minimal cost.  To keep wholesale costs down, Kelly, who passed away from complications related to AIDS in 1990, often featured dresses sold with separately packaged buttons, bows, and hearts that wearers could pin on themselves.
Kelly's originality and distinctive vision came through in his exuberant runway shows, which opened with the designer spray-painting a heart on the back wall of the stage in the spirit of urban street art. "Kelly's short but inspiring career produced ten collections in just six years. He promoted powerful messages of joy and love, while addressing important cultural and social issues head on," says Petra Slinkard, PEM's Director of Curatorial Affairs and The Nancy B. Putnam Curator of Fashion and Textiles. "Kelly and his work have subsequently become touchstones for a number of established and emerging designers." pem.org