By Stacey Marcus
'Tis the season of ripe apples, leaf showers, and air perfumed with cider donuts and pumpkin spice. Take a moment to inhale the awesomeness of autumn in southern Maine, a place where ribbons of foliage flow throughout mountains and along craggy coasts.
Fall in the Granite State means hiking, paddling, dining, shopping, and relaxing. All the good stuff. "I suggest viewing our fall color from the water on a boat or kayak tour," says Steve Lyons, director of the Maine Office of Tourism. Lyons adds that the best road trips involve plenty of impromptu stops for unexpected adventures along the way.
Where to Stay
The Tides Luxury Beach Residences in Kennebunkport is a truly unique accommodation option. It's a historic property that's been renovated into three private beach residences available for rent year-round. Each one features upscale furnishings, smart TVs, plush towels and robes, Frette linens, and Jonathan Adler décor. You also get a dedicated parking spot, beach chairs, Weber grill, and Peloton bike. The best part? These cool rental homes are right on Goose Rocks Beach and just steps away from the Tides Beach Club hotel. Ideal for both couples and families.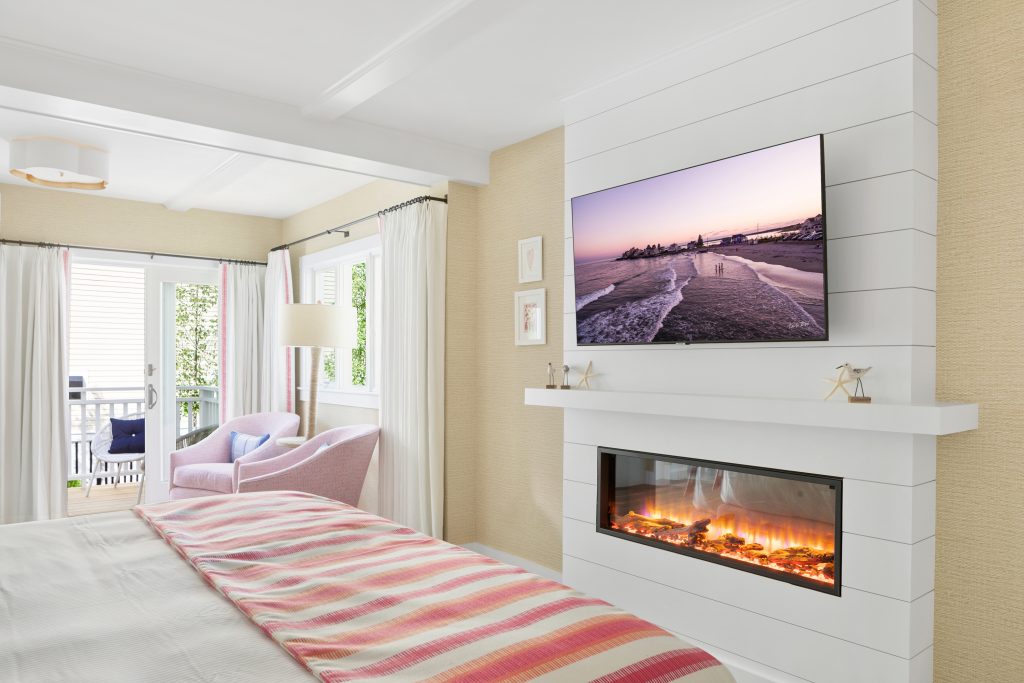 Set yourself on Kennebunkport's more serene side by staying at The Langford, right in the heart of Cape Porpoise village. It's within walking distance to Cape Porpoise Pier and harbor and a quick drive to Goose Rocks Beach and downtown Kennebunkport. This former guest house has been completely renovated into nine private units. The apartments, townhomes, and cottages embody the charm of coastal living.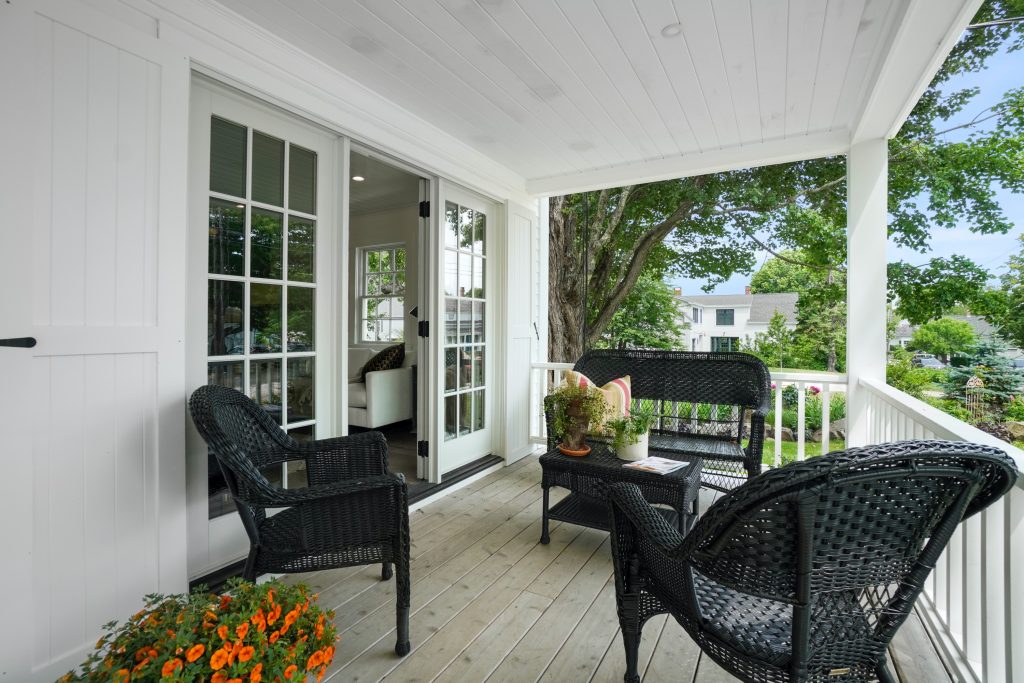 Check out The Boathouse Waterfront Hotel, situated in downtown Kennebunkport with sweeping views of the Kennebunk River's harbor side. The hotel is comprised of two buildings with 25 modern guest rooms and suites. Waterfront views are the norm, and private balconies are in demand. The Boathouse's onsite restaurant celebrates classic Maine cuisine with a twist—don't miss its raw bar with lobster, oysters, little necks, and scallop crudo.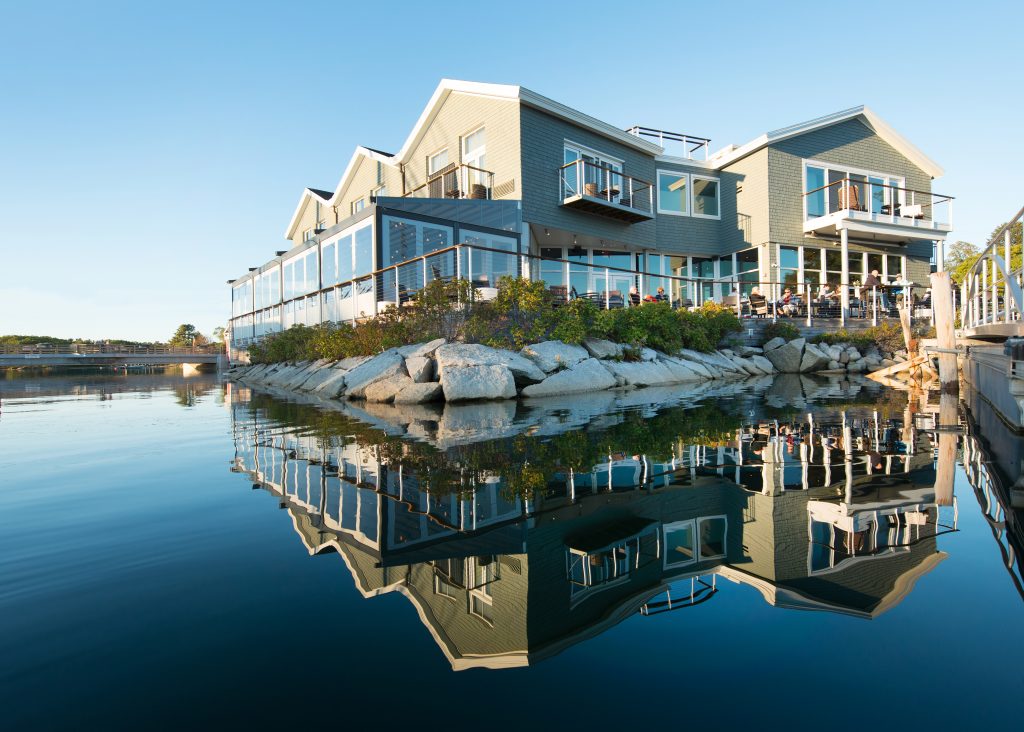 Want to bring along the family pet? Check out Cape Elizabeth's Inn by the Sea, where you and your four-legged friend can be pampered equally. This hotel offers access to Crescent Beach plus a cozy fire pit, outdoor pool (open seasonally), and complimentary use of bikes to tour the coast. And when you get hungry, the onsite Sea Glass restaurant serves up locally sourced ingredients. Plus, Inn by the Sea has restarted its foster dog program with Animal Refuge League of Greater Portland, so you might go home with an extra special souvenir.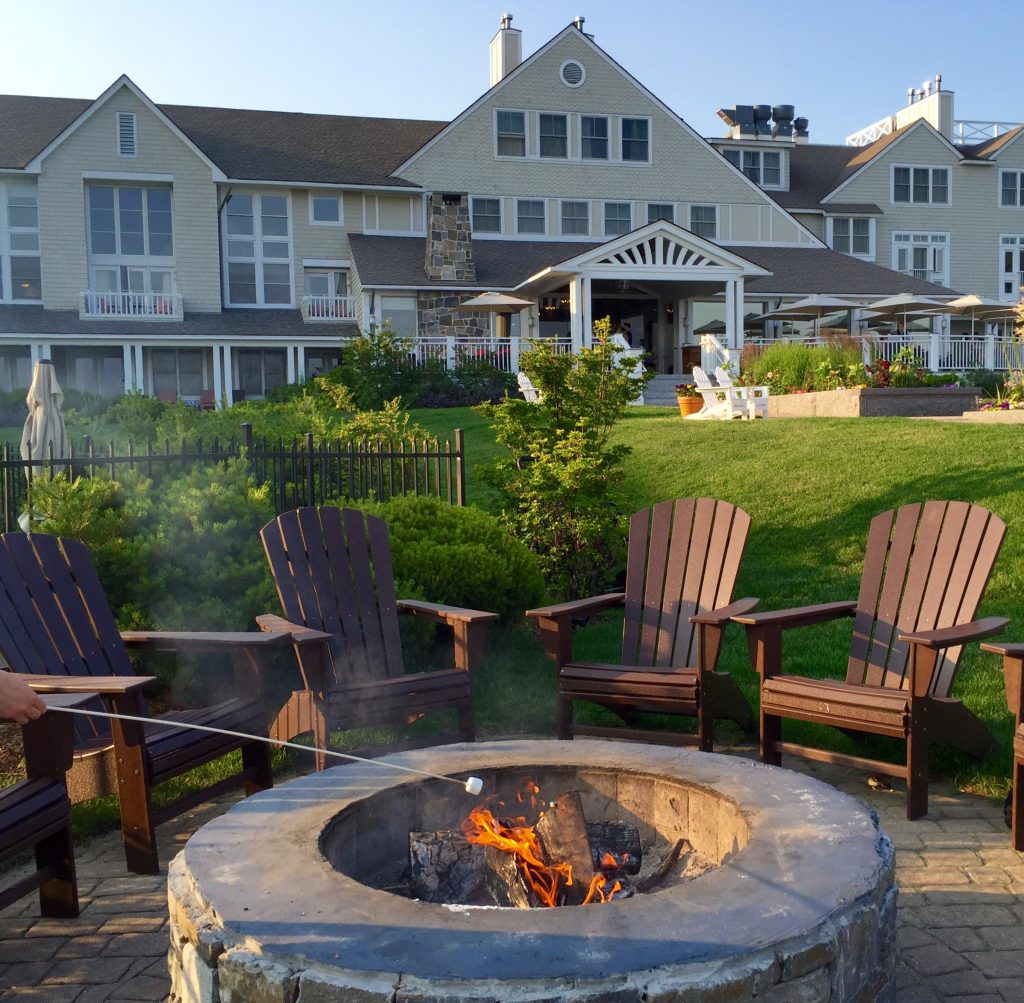 Indulge in a mini retreat at one of nine luxury suites at The ViewPoint Hotel in York. Situated on four lovely acres, the property offers a front-row seat to Nubble Lighthouse, which will be donned in holiday lights come late November.
What to Eat
Southern Maine has immediate access to fresh seafood from the Gulf of Maine, including amazing groundfish like haddock, cod, pollack, and cusk, along with peerless oysters and clams. "Oysters start to plump up and are their most delicious in the fall months when the water cools a bit," says Joe Schafer, executive chef at Earth at Hidden Pond in Kennebunkport. "Same with lobsters. During the cooler months, we get hard-shell lobsters, which are meatier and tastier," he adds.
Earth at Hidden Pond delivers a dining experience like no other. Earth is a rustic oasis, nestled among balsam trees and birch forest. Its walls were built from trees cut to clear the site. Suspended above the cement floor is a beautifully preserved apple tree dotted with lights. Each multi-course menu focuses on "farm to fork" freshness. A perfectly ripe heirloom tomato. Freshly caught lobster. A cocktail with muddled local fruits and fresh garden herbs. That's the Earth experience.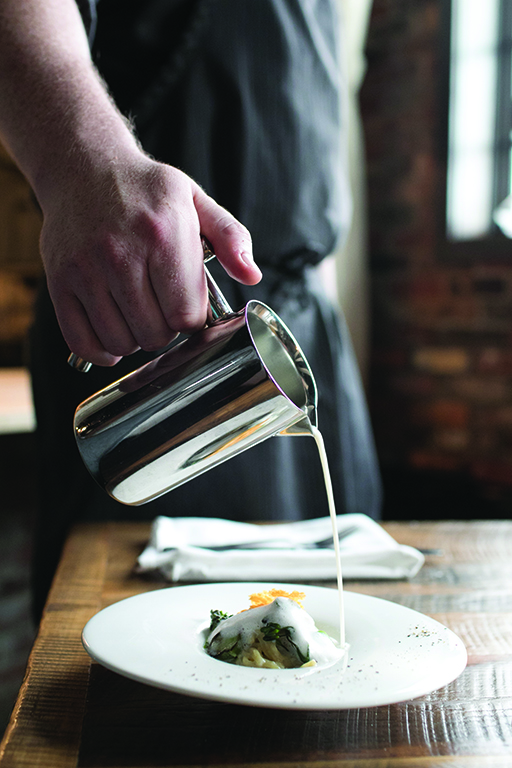 "Our state has great lobster, but what many people don't realize is how abundant and fertile our local farms are," notes David Turin, chef at and owner of David's Restaurant Group. With two locations, David's in Portland's Monument Square and David's 388 in South Portland, Turin is known for curating cuisine that is consistently imaginative yet still comforting. "Southern Maine rivals Tuscany with its vibrant crops during the fall harvest. Nearly everything we source for our restaurants is artisan fared and organically raised," he contends.
Top Things to Do
Wine Wise Wine Sails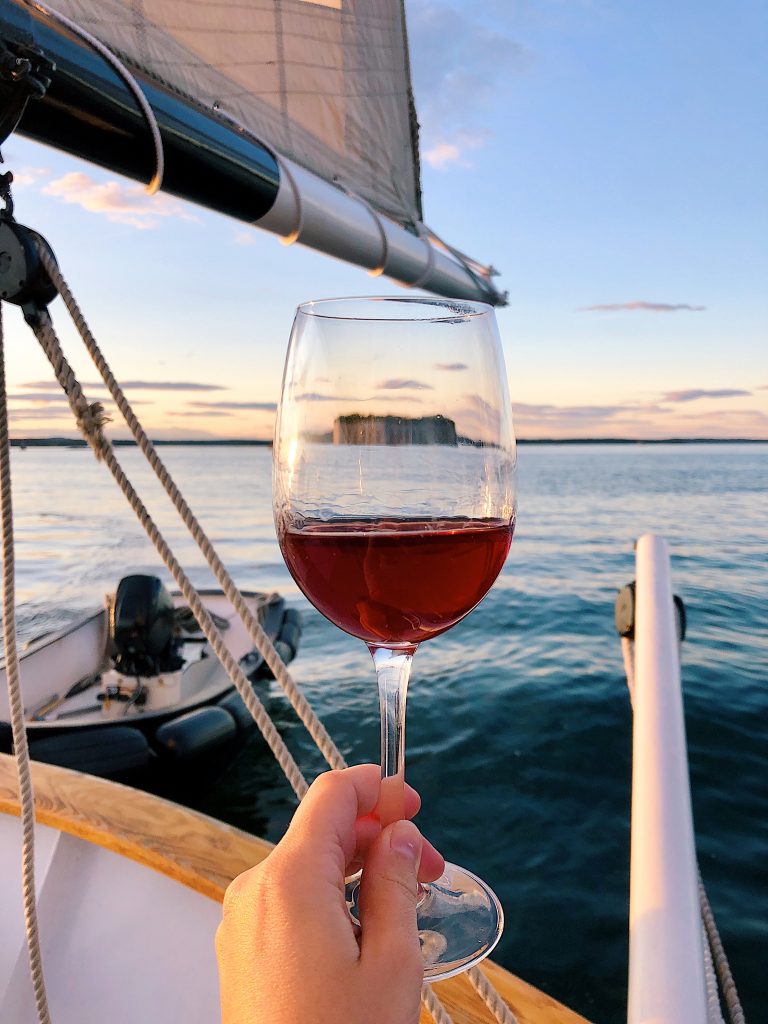 In Portland, take a scenic Wine Sail aboard the 74-foot sailboat Frances. Cruise through beautiful Casco Bay, taking in views of lighthouses, islands, and foliage, all while indulging in a wine education experience with sommelier Erica Archer. Archer is known for her fresh, interactive approach to building your wine knowledge.
Wine Wise Wine Sails offers three types of tours: Wine Sails include an individually plated selection of cheeses, cured meats, fruit, and crackers. Wine & Oyster Sails pair wine with freshly shucked Maine bivalves. And Wine & Food Sails feature cuisine by some of Portland's most acclaimed chefs.
Witness the Wonders of Nature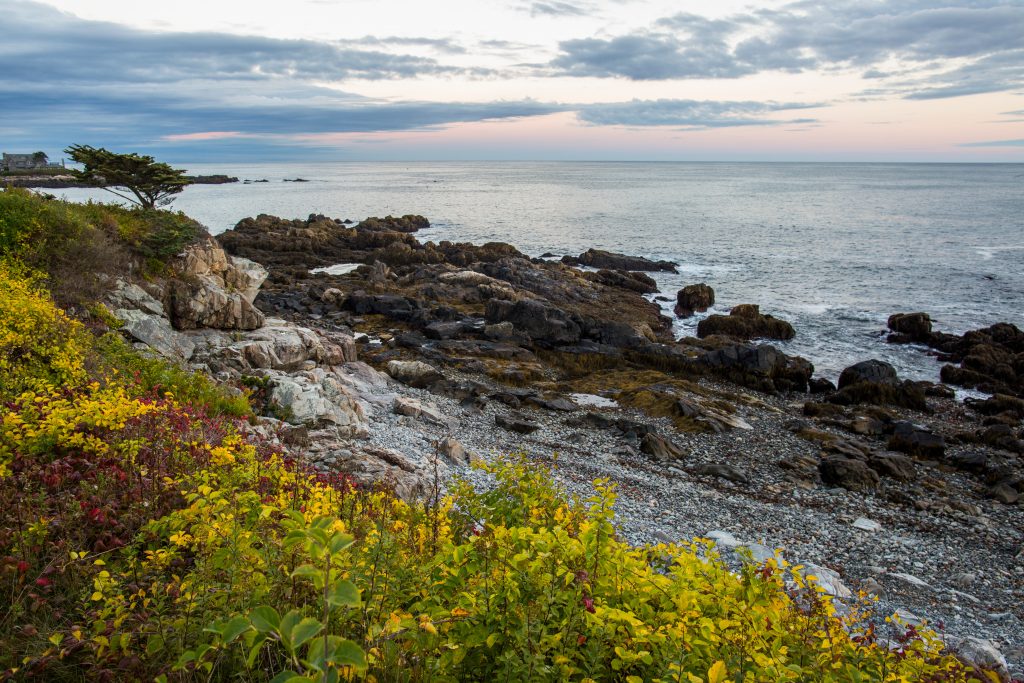 The Mount Agamenticus Conservation Region consists of thousands of acres, which, for avid hikers, means an extensive trail network. Its centerpiece is York's 692-foot Mount Agamenticus, a family-friendly and therefore popular summit, where views stretch from Mount Washington to the Boston skyline on a clear day.
Established in 1966 to protect valuable salt marshes and estuaries for migratory birds, the Rachel Carson Wildlife Refuge  in Wells is a great spot to visit. Here, you can meander through various habitats: forested upland, barrier beach/dune, coastal meadows, a tidal salt marsh, and rocky coast. The refuge's entrance is located on Route 9 in Wells, just minutes from Exit 19 on I-95.
With 2,250 acres, Wells Reserve at Laudholm is a scenic and historic spot. Its easy to moderate trails are ideal for hiking, snowshoeing, and cross-country skiing. Guided walks and kayak tours are fun for all ages and experience levels.
Shop 'Til You Drop
Visit the Kittery Outlets. Walk the fashion mile with over 120 popular brand name outlet stores, including the iconic Kittery Trading Post.
Tour Lighthouses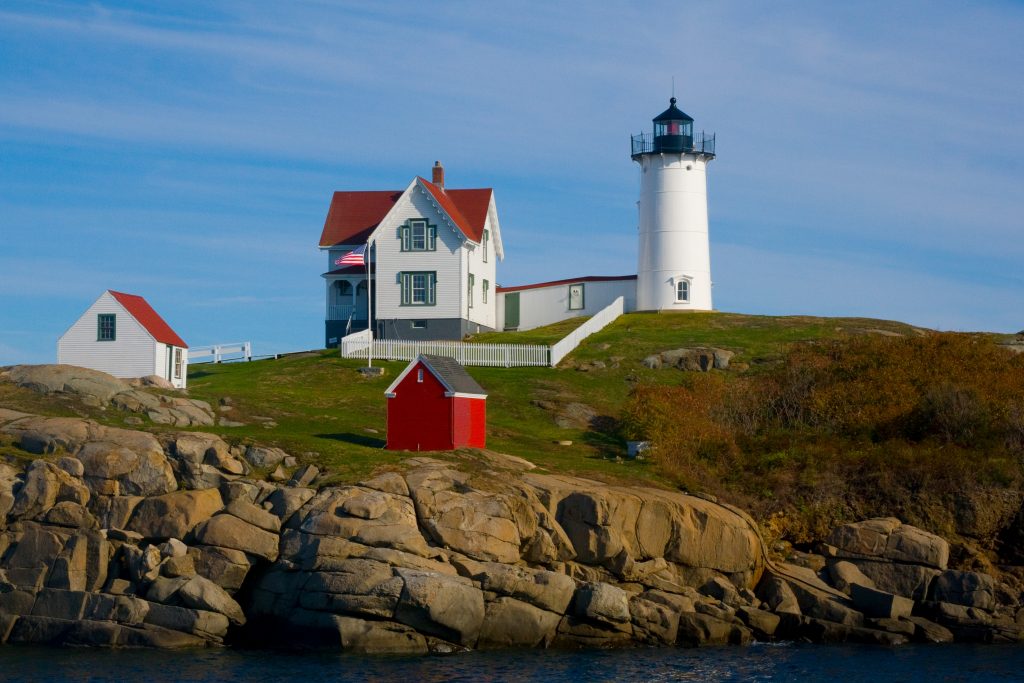 While you won't be able to see all of Maine's 60 lighthouses in one visit, the state's southern region contains some iconic beacons. Here are five for your list: Cape Neddick (Nubble) Light, Goat Island Light, Bug Light, Wood Island Light, and Portland Head Light, America's most photographed lighthouse. Check them off your life list!
Go Antiquing
If you adore vintage art, clothing, jewelry, and furnishings, you'll love riding along Route One and meandering in and out of antique shops. Three of our favorite haunts are R. Jorgensen Antiques in Wells, Old House Parts in Kennebunk, and Antiques on Nine, also in Kennebunk.
Indulge in Art
Winslow Homer and Andrew Wyeth found inspiration in Maine, and so can you. The Ogunquit Museum of American Art and the Portland Museum of Art (known for its deep holdings of Homer's work) are both excellent. But perhaps southern Maine's greatest art destination of all is the Winslow Homer Studio. This landmark building, perched on the rocky coast of Prouts Neck, is where the artist resided from 1884 until his death in 1910. It's where he painted some of his greatest masterpieces.
Take a Tour
Maine Foodie Tours & Maine History Tours is a premier food tour company that dreams up novel ways to experience Maine's local purveyors and rich history. Whether you sample delights from area bakers, breweries, distillers, or chocolatiers, you can be sure that the stops will be delicious. Or take a brisk walking tour to learn about the history and culture of Kennebunkport, Portland, Biddeford, and more.
Satisfy a Sweet Tooth
Enjoy handmade chocolates and other confections at Byrne & Carlson in Kittery, Harbor Candy Shop in Ogunquit, Dean's Sweets in Portland, or The Candy Man in Kennebunkport.
Pamper Yourself
Autumn is the perfect time to treat yourself to a little TLC. The spa at Cliff House in Cape Neddick has a treatment series called "Salt of the Seas." It features massage using warm salt stones and unique essential oil blends selected to represent each season. The "Autumn" treatment celebrates the season of harvest with a rejuvenating experience to inspire inner peace and promote clarity.