A passion for nature fuels Ryan Kelley's intricate wire art.
By Stacey Marcus
Sculptor Ryan Kelley smiles wryly when reminiscing about his high school experience. "I failed junior year English and had zero interest in reading The Catcher in the Rye," he admits. He credits his art teacher, Robyn Verrette, with inspiring him to "mess around with wire." Little did he know that twisting metal during study hall to create a diminutive deer would light the spark of a professional art career.
Since launching his business, Wire by Ryan, a decade ago, 28-year-old Kelley has created over 600 pieces of art and used 60 miles of wire. His creations—a tree topping a found stone commemorating a couple's honeymoon, a sapling for someone overcoming an illness—have found their way into collections around the world. He's also introduced thousands of students to the art of working with wire—and more importantly to the concept of doing what you love.
Kelley grew up in Byfield, a rural village in Newbury on the North Shore of Massachusetts. "Trees were always an inspiration for me," says the artist, who fondly recalls getting into stick fights and skipping pebbles in brooks with his brother Justin. The first tree he ever created—a wind-blown weeping willow—is proudly perched in the living room of his childhood home. "I wouldn't be where I am today without the support of my family," Kelley points out.
Although the artist sculpts non-tree works with stainless or self-weathering steel, copper, and aluminum, the medium of wire checks a lot of personal boxes for him. "It's affordable, it's malleable, and it's easy to work with," he relays. "There are so many different types and sizes to experiment with, and I love how it lets me capture motion and detail."
Not surprisingly, he's in demand for commissions, and each one starts with either photos or in-person observation. "Most of the time I'm recreating a special tree from someone's life, and I need to capture the details to really sell that particular tree," he says. An average sized tree takes anywhere from 15 to 50 hours, executed in either copper, tinned copper, or steel wire. The primary tool of his trade, needle nose pliers, is so vital that he had a pair tattooed on his right forearm.
Since his early days of creating in study hall, Kelley's résumé has expanded with accolades. In 2011, during his senior year, his emerging talent was recognized with a Silver Key from the Boston Globe Scholastic Art Awards Show. He's won numerous "best sculpture" nods from the Newburyport Art Association (NAA) and is represented by three galleries on the East Coast, including Creative Hands Gallery in Osterville on Cape Cod.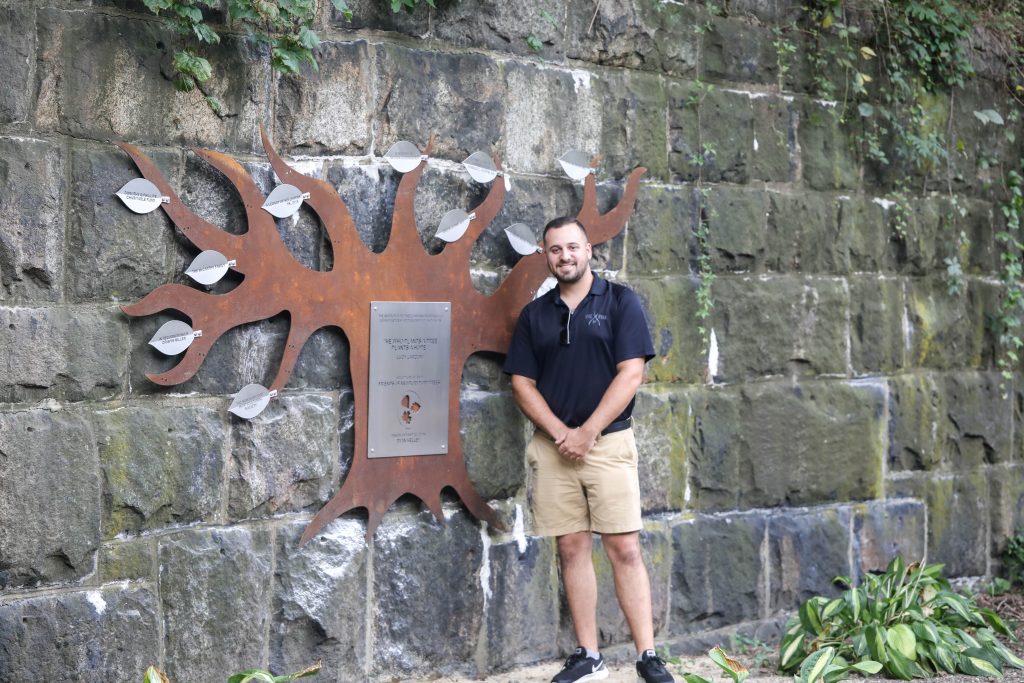 The young artist has been branching out recently with new projects, including copper roses and etched glass artwork. For the Newburyport Clipper City Rail Trail, he crafted a large metal tree as a donor recognition sculpture, plus a welded metal tree clinging to a rock as a thank you to an amazing local volunteer and lover of nature. A massive corporate commission is launching in the coming months—"I can't say too much," he says, "but it's the biggest and most high-profile project of my career!"
As a self-taught artist, Kelley is very giving of his time and expertise, and is always game to support the local arts community. Besides serving on the NAA's board of directors, Kelley contributed to the association's ArtLink Program, visiting area schools to teach and inspire. In 2021, he taught 353 students at the Winthrop School in Ipswich to twist metal trees in one week. He also leads classes at venues like breweries and teaches private lessons.
"I love how I can work with 5-year-olds or 60-year-olds and they can all create something with wire," the artist explains. "It's a fun challenge to create different textures, and there's minimal mess. It's a very friendly medium—at first," he adds with a laugh.